NFL Week 14 Betting Preview & Picks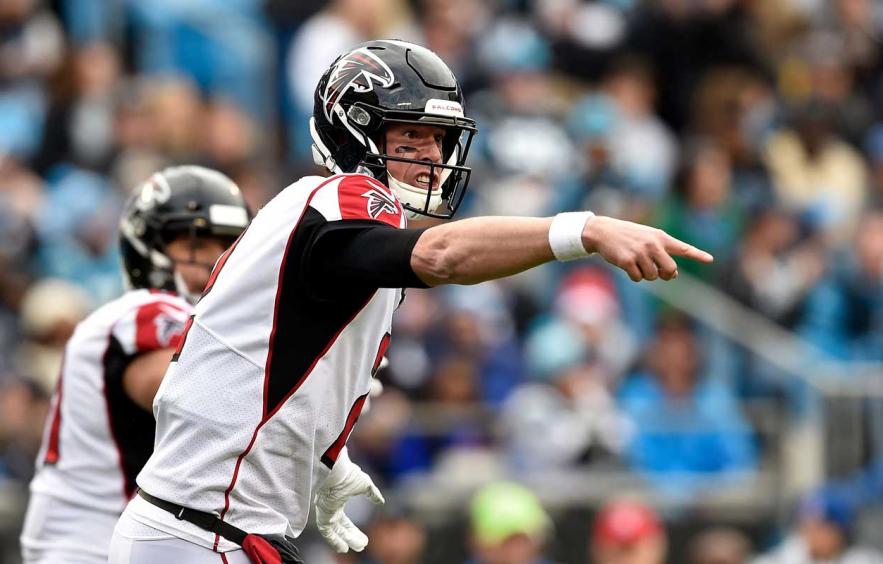 I had the under Thursday night in the Jaguars-Titans game. That, of course, was before I knew Jacksonville's defense decided its personal mission would be to turn Derrick Henry into Barry Sanders for a night. So, yeah, lost that one.
While still a healthy 42-26-3 against the spread this NFL season, I am now 1-4 over my last five picks. I've gone cold. I'm not going to make excuses or put together ingenuine guarantees about turning things around. Let's just get back to work.
Below are my picks for Sunday's Week 14 slate.
111 Atlanta
Falcons

at 112 Green Bay

Packers
Spread: Packers -4.5
O/U: 51.5
Time: 1:00 p.m. ET
Line Movement
The Packers opened as 4-point home favorites but the line is now up to 4.5, while the total sits at 51.5 after opening at 48.
Public Betting
As of Friday afternoon, the betting tickets for this game are split 50-50 but 52 percent of the money is on Green Bay. As for the total, 76 percent of the betting tickets and a whopping 96 percent of the money is on the over.
Trends
The Falcons are a perfect 5-0 against the spread in their last five games played at Lambeau Field and are 4-1 against the number in their last five games versus the Packers. The road team is also 9-3 at the betting window in the last 12 meetings between these two teams.
Prediction
This is the matchup of crushed dreams, as both teams expected to be preparing for playoff runs. Instead, the Falcons are knocking on the door of having a selection in the top-5 of next April's NFL draft and the Packers just fired head coach Mike McCarthy after losing outright to the Cardinals as a double-digit home favorite.
Both teams are also banged-up, especially along their offensive lines. That said, only one team has the running game and pass-rush to take advantage of their opponent's weakness on Sunday and that's Green Bay.
Over their last four games, the Falcons have not scored more than 19 points. While New Orleans, Dallas and Baltimore (three of their last four opponents) have good defenses, Atlanta's offensive problems mostly stem from an offensive line that has been horrendous over the past month. They lost both of their starting guards and are likely to bench right tackle Ryan Schrader because of ineffective play. It's nice to have Julio Jones and Calvin Ridley in the passing game but neither matter when Matt Ryan is on his back for most of the game. The Falcons' ground game has also been non-existent most weeks.
Despite getting middle linebacker Deion Jones back last week, Atlanta's defense continues to get gashed. Aaron Jones should have a field day against a Falcons defense that allows 5.0 yards per carry, which ranks 25th in the NFL. With Atlanta forced to deal with Jones, the passing game should open up for Aaron Rodgers.
While the Falcons are simply trying to get through these final four weeks as quickly as possible, the Packers got a jolt to the system last week with the firing of McCarthy. The last time Atlanta faced an opponent that just fired its coach was roughly a month ago in Cleveland. The rejuvenated Browns team waxed the Falcons that day and I believe it'll be déjà vu on Sunday.
Pick: Packers -4.5
107 Indianapolis
Colts

at 108 Houston

Texans
Spread: Texans -4.5
O/U: 50
Time: 1:00 p.m. ET
Line Movement
The Texans opened as 4-point home favorites but the line was bet up to 4.5 at most books. The total, meanwhile, hit the board at 49.5 but was bet up to 50.
Public Betting
Most of the betting tickets (54 percent) for this game are on the Texans but 59 percent of the money is coming in on the Colts. As for the total, 75 percent of the tickets and 95 percent of the money wagered at online sportsbooks are on the over.
Trends
The Colts are 4-0-1 against the spread in their last five trips to Houston and are 7-3-2 at the betting window in their last 12 games against the Texans overall. The under is also 11-5 in the last 16 meetings in this series but the over cashed in four of the previous five meetings between the Colts and Texans in Houston.
Prediction
One of my losses last Sunday was on the Colts but I see a great opportunity to "buy back" on Indy this week. Bettors are sure to fade the Colts coming off their worst performance of the year but the way I look at it, Andrew Luck and Co. are a shoo-in to bounce back. Remember, before last week's 6-0 loss to the Jaguars a lot of people were hyping this Colts team as a potential playoff contender. They merely stubbed their toe last week in Jacksonville. It happens.
The Texans are the hottest team in the league with nine consecutive victories, but they've also won four games by a field goal or less and were out-gained in four of their nine wins. One of those wins came against the Colts in overtime earlier this season but that was the Frank Reich game (Reich went for it on fourth down in overtime, the Colts failed to convert and the Texans were set up to kick the game-winning field goal on their next possession).
What we essentially have here is a team that is perhaps overvalued (the Texans) and one that is undervalued (the Colts), not to mention desperate. At 6-6, Indy knows it can't suffer another loss or else its playoff hopes will be crushed. Houston can afford to be fat-and-happy after steamrolling the Browns a week ago. I think this game comes down to a field goal either way.
Pick: Colts +4.5
119 Los Angeles
Rams

at 120 Chicago

Bears
Spread: Bears +3
O/U: 51.5
Time: 8:20 p.m. ET
Line Movement
The Bears opened as 4-point home dogs but the line has been bet down to the all-important number of 3. The total, meanwhile, opened at 54 but was bet down to 51.5.
Public Betting
Most of the betting tickets (75 percent) and money wagered online (65 percent) are on the Rams, while 75 percent of the tickets and 94 percent of the money is also on the under.
Trends
The Rams have failed to cover the spread in six of their last eight games against the Bears.
Prediction
I don't like this spot for the Rams. First of all, they're playing on the road for the second straight week and their offense was sluggish last Sunday in a win over the Rams. With that victory, they also clinched first place in the NFC West and while the No. 1 seed is on the line for them in December, I'm banking on a natural letdown this weekend.
Did I mention the weather in Chicago will be cold and nasty? This Rams team is going to be walking into a hornet's nest on Sunday night. A freezing hornet's nest filled with drunk Bears fans that have been tailgating for about 10 hours before kickoff.
Jared Goff didn't play well a week ago and perhaps that was because he and the Rams were coming off their bye. Still, the Bears pose a much stiffer challenge this week than Goff and Co. saw a week ago in Detroit. Like Dallas, which held New Orleans' explosive offense to only 10 points last Thursday night, Chicago has the athletic defenders to play in space and slow down Sean McVay's offense. I expect the Bears to force the Rams to earn every yard, much like the Cowboys did to the Saints. The McVay vs. Vic Fangio matchup will be intriguing.
Getting Mitchell Trubisky back under center is a benefit for the Bears, although this matchup to me is more about the situation and the line. While I think Chicago wins outright, getting a field goal with the home team playing in primetime against an opponent that is traveling for back-to-back weeks and forced to play in the elements is too good to pass up.
Pick: Bears +3
ATS Season Records
Week 1: 5-0
Week 2: 3-2
Week 3: 4-1
Week 4: 3-1-1
Week 5: 3-2
Week 6: 4-1
Week 7: 2-3
Week 8: 3-2
Week 9: 4-1
Week 10: 3-2
Week 11: 2-2-2
Week 12: 5-3
Week 13: 1-3
Week 14: 0-1
Overall: 42-26-3
Photo by Grant Halverson/Getty Images.