2018 Projected Three-Down Linebackers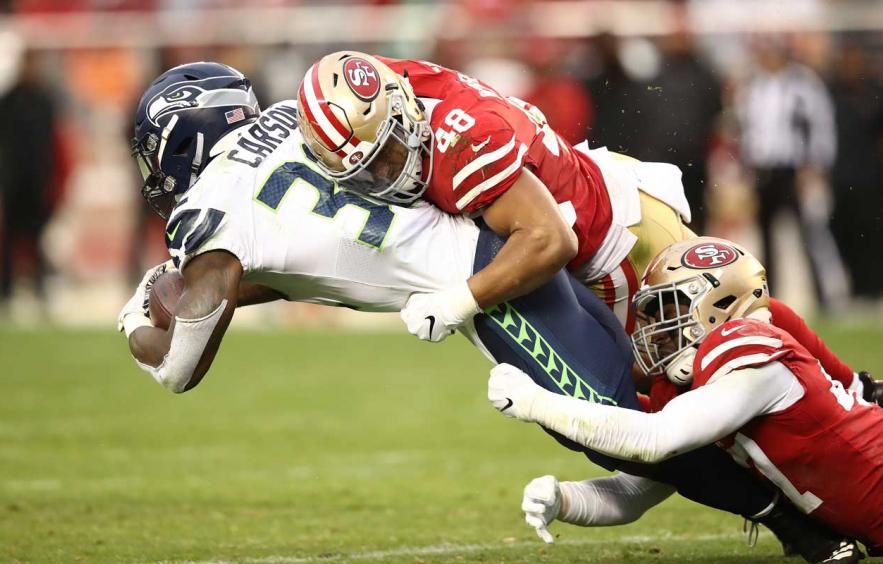 Finding linebackers who don't leave the field is as important as finding running backs with heavy workloads. It's all about opportunity. If you're not on the field, you can't score fantasy points. With that in mind, below you will find the projected three-down linebackers for every NFL team. The linebackers wearing the communication device (green dot) are highlighted separately, as they are the playcallers of the defense. These projections are based on past formations and what I've seen through training camp and preseason play. This list will be updated throughout the rest of the NFL season as injuries and changes occur.
Let's go dot-hunting for the 2018 season...
The Cardinals have switched their defensive scheme to a base 4-3 defense. Deone Bucannon will be manning the weak-side and it looks like Josh Bynes will man the middle. Hasson Reddick loses some IDP appeal as their Sam backer. Reddick will be taking on tight ends and called into pass-rush situations. Bynes has always been "just a guy", but is really cherishing and taking advantage of his role. Bucannon and Bynes are slated for three-down work, while Reddick could receive 70 to 75 percent of the snaps.
Week 12 Update: Reddick and Bynes remain your three-down LBs.
Green Dot: Josh Bynes
There's no doubt Deion Jones is the captain and signal-caller of the defense. Duke Riley has been playing more weak-side with De'Vondre Campbell manning the strong-side. Campbell has been playing with the edge rushers, so he's in the process of converting to a pass-rush specialist. Jones is locked in as an elite LB. I thought Riley would challenge for a three-down, but he's had a bad preseason. It appears De'Vondre Campbell is setting himself apart from Riley in the race.
Week 12 Update: Campbell still calling plays, but only on for 70 percent of the snaps. Week 12 might have been the last week of usefulness out of Foyesade Olukuon, as the return of Deion Jones looms.
Green Dot: De'Vondre Campbell
C.J. Mosley returned as the leader of the defense in 2017 with the retirement of Zach Orr. I thought Kamalei Correa was going to be his wingman. However, it was Patrick Onwuasor who received more snaps and that should continue in 2018. Onwuasor ended up playing in 60 percent of the snaps, while Correa received a paltry 148 total snaps in 2017. Mosley has reached the 100-tackle plateau in three of his four seasons.
Week 12 Update: Still Mosley. Only Mosley.
Green Dot: C.J. Mosley
The Bills have tweaked their linebacker group. Gone is Preston Brown, their leading tackler. They drafted Tremaine Edmunds and immediately slotted him in the middle. Not only does Edmunds find himself in an IDP-friendly position, but also the friendly confines of New Era Field—that features a home stat crew that consistently awards tackles at a high rate. Matt Milano looks to be the favorite at weak-side linebacker and should get the bulk of the snaps alongside Edmunds.
Week 12 Update: Bills coming back from bye week. Edmunds played in 95 percent of the snaps in Week 10, while Milano on for 79 percent.
Green Dot: Tremaine Edmunds
The only thing that really gets in the way of Luke Kuechly is his concussion history. Last season, he missed just one game—he missed nine games over the prior two seasons before that. Kuechly is the unquestioned leader and captain, so he'll continue his three-down role. Thomas Davis will serve a four-game suspension, leaving the door open for Shaq Thompson.
Week 12 Update: Kuechly and Davis are playing 100 percent of the snaps.
Green Dot: Luke Kuechly
Danny Trevathan and Roquan Smith are shaping up to be Chicago's three-down ILBs this season. Smith, Chicago's first-round pick, allowed Chicago to move on from Freeman completely. Trevathan hasn't been the picture of health over the last few seasons, missing 25 games over the last four seasons. I love Smith this season. If Trevathan strings together 14+ games, he'll produce decent IDP value as a late-round flier.
Week 12 Update: Danny Trevathan and Roquan Smith still the three-down LBs. Trevathan calling the plays.
Green Dot: Danny Trevathan
The surprise of the year, Vontaze Burfict is suspended for the first four games (okay, not surprised). The Bengals' linebacker situation is muddled, especially with them bringing in Preston Brown. As of now, I think Brown has a three-down role nailed down. Looking at initial depth charts, I see Carl Lawson at Sam linebacker, and with Burfict's suspension, Vincent Rey could man the weak-side.
Week 13 Update: Bengals messed with their LB rotations again. Vontaze Burfict moved to MIKE and is now wearing the dot. Jordan Evans played in 95 percent of the snaps. Week 12 starter, Hardy Nickerson, is droppable as he played just two snaps.
Green Dot: Vontaze Burfict
After playing every snap, and earning an alternate Pro Bowl nod, you'd think Joe Schobert has things nailed down—that is until the Browns brought in Mychal Kendricks. In Gregg Williams' defense, all three LBs played, virtually, every snap. Schobert and Kendricks could spell each other at MLB, however, I still see Schobert getting more snaps when all is said and done. The only LB I'd be targeting is Christian Kirksey. Schobert should have value in deeper leagues where you're starting three to four LBs per week.
Week 12 Update: Browns coming off bye week. Joe Schobert back to calling the plays. He and Collins are the three-down 'backers.
Green Dot: Joe Schobert
The Cowboys let Anthony Hitchens walk in free agency and drafted Leighton Vander Esch, who will back up Jaylon Smith at middle linebacker. Smith appeared in 63 percent of the defensive snaps in 2017. So far, Sean Lee should be a three-down linebacker and we'll see how the Smith/Vander Esch playing time shakes out. If Smith earns a three-down role, there's sleeper appeal.
Week 12 Update: Jaylon Smith and Leighton Vander Esch are the three down LBs in Dallas.
Green Dot: Jaylon Smith
Seems like every season I'm expecting Todd Davis to get a three-down opportunity, but it doesn't happen. Brandon Marshall and Von Miller are the ones staying on the field.
Week 12 Update: Simmons still calling the plays. Todd Davis was on for 88 percent of the snaps in Week 11.
Green Dot: Justin Simmons
The Lions let Tahir Whitehead walk to the Raiders, so Jarrad Davis has the Mike spot locked up. Jalen Reeves-Maybin could get a crack at sub-package duties this season manning the weak-side. Put JRM on your sleeper list as a potential break-out, as he's turning heads in camp.
Week 12 Update: No changes. Still Davis. Devon Kennard is making a case to be rostered in big play scoring formats.
Green Dot: Jarrad Davis
Blake Martinez enjoyed a breakout campaign in 2018. I imagine with Morgan Burnett going to Pittsburgh, he'll take over the play-calling duties. Jake Ryan suffered a season-ending injury in training camp, leaving the door open for rookie Oren Burks to have a signifcant role in 2018.
Week 12 Update: No changes.
Green Dot: Blake Martinez
Benardrick McKinney and Zach Cunningham are set to stay on the field at ILB for Houston in 2018. Cunningham is in line for a breakout sophomore campaign.
Week 12 Update: Texans coming off the bye week. Zach Cunningham is expected to play Monday night.
Green Dot: Benardrick McKinney
Indianapolis Colts
We saw a bit of rebuilding of the linebacking group in Indianapolis. Jon Bostic is in Pittsburgh and the Colts switched up to a base 4-3 scheme. Initial depth chart shows Anthony Walker running at Mike and Darius Leonard at Will. Keep an eye on Skai Moore throughout the season, though.
Week 12 Update: Leonard calling the plays. No major changes.
Green Dot: Darius Leonard
Myles Jack is set to take over at Mike in 2018. Last season, he was the base Sam but moved to the middle in subpacakges. With Paul Posluszny retiring, he'll man a three-down role in the middle. Telvin Smith is staying in his three-down weak-side role.
Week 12 Update: No changes.
Green Dot: Myles Jack
Reggie Ragland and Anthony Hitchens are set to man Kansas City's ILB spots in 2018. Hitchins is in line for a huge 2018, as he should see little competition for tackle opportunities. Hitchins managed a 15.4 percent tackle rate over 12 games (545 snaps) in 2017.
Week 12 Update: Hitchens still wearing the dot, but played in just 72 percent of the snaps. Dee Ford worth owning in big play scoring formats, as he was on for all but three snaps.
Green Dot: Anthony Hitchens
The Chargers are another defense with a muddled LB group. As of now, I'd project Denzel Perryman and Jatavis Brown as the linebackers who'll get the majorty of the snaps. Initial charts showing Perryman manning the middle and Brown at weak-side.
Week 12 Update: Jatavis Brown now calling the plays. He's worth owning in most formats for the ROS. Adrian Phillips is a DB playing up the near the LOS more, as well.
Green Dot: Jatavis Brown
Los Angeles Rams
Alec Ogletree was dealt to the Giants, so it appears Mark Barron will occupy one of the ILB slots. The favorite for the three-down role opposite Barron is Cory Littleton. Littleton will have IDP value in deeper leagues should he win the job.
Week 12 Update: Cory Littleton is really the only startable Rams LB. Mark Barron was on for 75 percent of the snaps in Week 11. He should be on rosters where you're playing 3 or more LBs weekly.
Green Dot: Cory Littleton
Raekwon McMillan is set to play his first season in a Dolphins uniform after a knee injury sidelined him for all of 2017. It was good to see him on the field in Week 1 preseason (15 snaps). Kiko Alonso is set to man the weak-side spot in a three-down role, however, Jerome Baker is going to be breathing down his neck.
Week 12 Update:Miami coming off their bye week. Alonso was on the field for all snaps in Week 10. McMillan received 79 percent of the snaps.
Green Dot: Kiko Alonso
Anthony Barr and Eric Kendricks should be manning the three-down duties for the Vikings defense. While Barr has been manning the dot, Kendricks is the more appealing play in IDP leagues. Kendricks is looking for his third-straight 100-tackle campaign.
Week 12: Anthony Barr appears set to return in this week. Eric Kendricks has been calling the plays, but Barr could get those duties upon return.
Green Dot: Anthony Barr (if active, otherwise, Eric Kendricks)
Patriots run an intriciate defensive system that usually doesn't yield much IDP fruit. Kyle Van Noy and Dont'a Hightower are projected to be the three-down LBs with Hightower calling the plays.
Week 12 Update: Patriots coming off bye week.
Green Dot: Kyle Van Noy
The Saints added fomer Jets LB Demario Davis this offseason. Davis is coming off a huge IDP year, where he amassed 135 tackles and a 12.1 percent tackle rate over 1,100 defensive snaps. A.J. Klein should return to his Sam role. Manti Te'o is manning the middle, however, he's coming off the field in sub-packages. Davis is the LB to own from this group regardless.
Week 12 Update: Demario Davis was calling plays against the Falcons in Week 12..
Green Dot: Demario Davis
The Giants addressed their LB situation by bringing in Alec Ogletree over from the Rams. He'll slot in as one of the ILBs in their new 3-4 scheme, with BJ Goodson alongside him. Goodson has some injury history, however, there's some sleeper appeal. Ogletree is a strong LB2.
Week 12 Update: Alec Ogletree back to calling the plays.
Green Dot: Alec Ogletree
New York Jets
With Demario Davis in the Big Easy, the Jets brought in former Titan Avery Williamson. He was a solid IDP producer and will man Davis' spot, so there's upside for IDP digits this season. He and Darron Lee should receive the majority of the snaps.
Week 12 Update: No changes. Williamson and Darron Lee are the three-down guys.
Green Dot: Avery Williamson
The Raiders struggled at linebacker last season until they brought in NaVorro Bowman. It doesn't appear he'll return, so they brought in Tahir Whitehear and former Chief Derrick Johnson. Johnson has been a shell of his former self and is coming off his second Achilles tear. He'll be 36 in November and isn't a guarantee to make the roster. Emmanuel Lamur and Nicholas Morrow are battling for a spot, as well.
Week 12 Update: Whitehead still the only three-down LB.
Green Dot: Tahir Whitehead
Philadelphia Eagles
Jordan Hicks is healthy after suffering an Achilles injury that caused him to miss most of 2017. He takes over the reigns as the defensive playcaller. Nigel Bradham is set to serve a one-game suspension, so he should return to his three-down role in Week 2.
Week 13 Update: Hicks missed last week and is danger of missing this week. Nigel Bradham is calling the plays and is the only Eagle LB worth owning with Hicks on the bench.
Green Dot: Nigel Bradham (with Hicks out this week)
There's a training camp battle between Jon Bostic and Tyler Matakevich for the spot opposite Vince Williams. Williams has his role solidified.
Week 12 Update: Vince Williams still calling the plays. TJ Watt on the field for nearly 90 percent of the snaps.
Green Dot: Vince Williams
San Francisco
49ers
It appears Reuben Foster will avoid any legal trouble from offseason domestic violence charges. He appears set to man the middle with Malcolm Smith alongside at the weak-side spot. Foster produced an elite 13 percent tackle rate in 10 games last season and he's working with a position coach to improve his tecnique—he was responsible for 10 missed tackles last season.
Week 12 Update: 49'ers coming off the bye week.
Green Dot: Fred Warner
Death. Taxes. Bobby Wagner and KJ Wright. Repeat.
Week 12 Update: KJ Wright still dealing with injuries. Bobby Wagner the only three-down LB in Seattle. Austin Calitro has been playing the majority of the snaps alongside Wagner.
Green Dot: Bobby Wagner
Kwon Alexander and Lavonte David have the three-down role on lock. They have been responsible for 24 percent of the defense's tackles over the last three seasons.
Week 12 Update: Lavonte David out this week. Adarius Taylor calling the plays in his absence. Devante Bond playing the weak-side. Taylor played all but one snap, while Bond was on for 81 percent of the snaps. Bond is a sleeper in deeper leagues.
Green Dot: Adarius Taylor
Wesley Woodyard returns this season, however, teammate Avery Williamson is in the Big Apple playing with the Jets. The Titans traded up for Rashaan Evans, who looks to be the favorite for the three-down role opposite Woodyard.
Week 12 Update: Wesley Woodyard only played 71 percent of the snaps while Jayon Brown was in on 81 percent. Not looking too much into as the game was a blowout.
Green Dot: Wesley Woodyard
Zach Brown and Mason Foster return to Washington and look to be the three-down linebackers. Brown has been a tackle-machine and is an LB1 this season.
Week 12 Update: Mason Foster still the only three-down LB. Zach Brown was in on just 69 percent of the snaps against Dallas in Week 12.
Green Dot: Mason Foster
Photo by Ezra Shaw/Getty Images.
---
Related Articles