2017 Initial Rankings: A Closer Look at Tyrod Taylor, Ben Roethlisberger and Marcus Mariota Our 2017 projections are up, so it's a good time to discuss a few players that jump out at each position. I'm going to start with the quarterback position since I'll often plan my entire draft strategy with the intention of drafting a particular passer in a particular round.
The position is once again extremely deep, so there's no reason to draft a top five quarterback in the early rounds. While it's true that an elite passer having an elite season can carry a team to a fantasy championship, there is risk associated with drafting a quarterback early. Last year, Cam Newton was the consensus top pick at the position, and he finished as the #17 fantasy quarterback after a #1 finish in 2015. Ben Roethlisberger was the 5th QB off the board, but finished the season as the #18 QB thanks to two missed games. Russell Wilson was the 3rd QB off the board, but he finished as the #10 QB after playing through a bad ankle injury early in the year.
In 2015, Andrew Luck was the 1st quarterback off the board, and he struggled (due to injury) to a #28 finish. Peyton Manning was the 4th QB drafted in 2015, yet he finished #34 after playing just 10 games.
So it's not all puppy dogs and ice cream when drafting a top 5 quarterback in the first five or six rounds. While quarterbacks drafted early will generally outperform those drafted later – something that's true at every position – there's so much value available later in the draft that drafting a passer early is wholly unnecessary.
Here are a few quarterbacks who jump out as particularly good values heading into the 2017 season:
Tyrod Taylor

,

Bills

(11th round of 12-team drafts)

Taylor was my primary target in 2016 drafts and he still produced top 8 numbers with Sammy Watkins in and out of the lineup. He was also a top 8 quarterback on a per-game basis in 2015, so he has now produced solid starter-caliber numbers in two straight seasons. The table below shows that his numbers are pretty comparable to Russell Wilson's, and Wilson is considered to be one of the best quarterbacks in the league: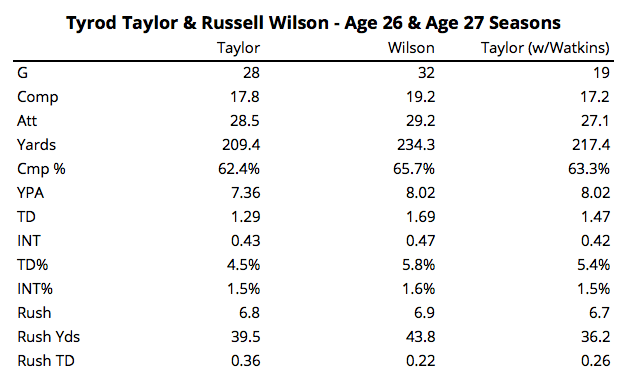 I'm pretty confident that Taylor will out-produce a few of the passers ranked ahead of him, but I'm not as confident that he'll remain the starter the entire season given how the Bills have handled Taylor and the position in general over the past few seasons. There is no passer ranked in the top 20 who seems to be on thinner ice than Taylor, which is both confusing and somewhat alarming when considering drafting Taylor as a starter.
For this reason, I think Taylor is best suited as a starter in traditional redraft leagues, where owners can easily find another option on the waiver wire if things go sideways for Taylor in Buffalo. He's certainly a good value in best-ball formats as well, but the chances that he's not starting in Week 15 for non-injury reasons are higher than the other quarterbacks I have ranked in the top 20.
I was happy to see that the Bills finally addressed the receiver position in the draft by taking Zay Jones in the 2nd round. He should thrive playing for Bills WR coach Phil McGeoghan, who actually coached Jones last season at East Carolina. Jones is big and athletic, and if both he and Watkins can stay healthy, Taylor will have a pair of nice weapons to throw to. In addition, Taylor consistently targeted TE Charles Clay late in the season (23 targets and 209 yards in Taylor's last four games), which adds a dimension to the Buffalo passing game.
Ben Roethlisberger

,

Steelers

(10th round)

There are a couple of things weighing down Roethlisberger's ADP right now. For one, he hasn't played 15-plus games since the 2014 season (when he threw for 4,952 yards and 32 touchdowns). The other issue is the drastic disparity in his home/away splits, which have been well documented.

Provided Martavis Bryant is fully reinstated, I think Roethlisberger bounces back in a big way. In 11 games since 2013 with Bryant in the lineup, Roethlisberger has averaged 347 yards (8.37 YPA) and 2.8 touchdowns per game. He has averaged 279 yards (7.65 YPA) and 1.7 touchdowns in 47 games without Bryant in the lineup.

If Ladarius Green is a full go in August, watch out.
Marcus Mariota

,

Titans

(9th-10th round)

In his first 27 games, Mariota has averaged 17.7 fantasy points per game, which would have extrapolated to about what Dak Prescott scored last year as the league's #6 fantasy quarterback. When his six-attempt game against the Patriots (from his rookie year) is removed, his average jumps to 18.3 FP.

The point is that Mariota isn't being discounted for his fantasy production. He's been a solid QB1 on a per-game basis since entering the league, so why is he going in the 9th-10th round? The answer, I think, is his (lack of) durability. He has missed five games through two seasons, so he's the 10th quarterback off the board instead of the 5th or 6th. Complicating matters, he's not able to participate in OTAs (or the preseason) thanks to his recovery from a broken leg.

Injury concerns might scare me off if he were going two or three rounds earlier, but at the price of a 9th round pick, I have no problem investing in Mariota as my starter with the understanding that he may not play a full season -- but when he is in the Titans' lineup, he'll be in my starting lineup as well.

Throw in the addition of Corey Davis, the #5 overall pick and an instant upgrade over Tajae Sharpe, and Mariota now has Davis, Rishard Matthews, Delanie Walker and another draft pick, Taywan Taylor, who figures to take over in the slot.
The Bottom Line
These are three quarterbacks that look like particularly good values at this point in the offseason, but the position is so deep that I could probably make a case for any of the passers I have ranked in the top 21. (Yes, that includes Blake Bortles.)
For now, in early drafts I'll start thinking about drafting a quarterback in the 9th round, but wouldn't have a problem waiting until the 11th round (Taylor, Andy Dalton, Philip Rivers, Eli Manning, Carson Wentz) to draft a passer. At a minimum, that gives me eight picks to build my roster around running backs, receivers and maybe even a tight end.
---
Related Articles
Listen to the Most Accurate Podcast's Big Free Agency Pod with John Paulsen: