Raybon's Review: What We Learned From Week 9 DFS on FanDuel & DraftKings Analyzing the prior week's results is one of the most valuable investments of your time as a DFS player. In this space, I will deconstruct the winning lineups from FanDuel and DraftKings' biggest GPPs. I will also list general DFS takeaways from the past week.
Editor's Note: This article is a FREE sample of content included in 4for4's DFS subscription. Rate has gone down to $59. Subscribe now here!
DraftKings
Week 9 Millionaire Maker Winner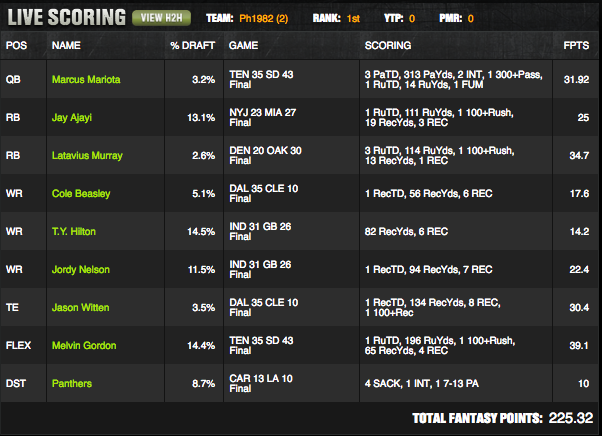 Congrats to Ph1982, who took down the Week 9 Milli' Maker with naked Marcus Mariota and a pivotal contrarian play in Latavius Murray. Murray -- a guy who, despite being high on him in the preseason, I admittedly had begun to waver on after a third member got added to his backfield committee -- had a matchup that probably wasn't as difficult as public perception would lead you to believe. Leading up to last Sunday night's game, the Broncos had allowed 4.1 yards per carry to RBs, including 5.1 over the previous two games in which all three RBs that received double-digit carries posted at least 4.8 yards per carry (Melvin Gordon 23-111, Alfred Blue 11-63, Lamar Miller 11-61). Beyond the Broncos playing like mere mortals against the run, another thing that could have gotten us on Murray more heavily was the fact that he'd averaged 18 touches in two games since returning from a toe injury. That kind of volume at $4,000 is almost always in play, regardless of matchup.
As far as Mariota, he is seemingly one of the exceptions to the rule that we're looking for QBs on home favorites. Because the Titans' offense is run-heavy, Mariota tends to put up the best numbers when his team needs to put the ball in his hands more because they're an underdog. In five games as an underdog this season, Mariota is averaging 35 passing attempts and 2.4 total TDs, compared to 29 pass attempts and 1.75 total TDs as a favorite.
Cole Beasley and Jason Witten were not only good plays for the leverage they provided off Ezekiel Elliott and Dez Bryant, they were sensible plays in their own right, as the Browns had been battered over the middle all season. They had already given up three 114+ yard, one-TD games to slot receivers and had been one of the worst teams in the league at defending the TE position.
As I mentioned in my Week 9 GPP write-up, Melvin Gordon and Jay Ajayi were guys that warranted more attention due to their recent production and usage. Both had overcome early-career hiccups and had been jumping off the screen on tape for the past few weeks leading up to Week 9.
One final note: T.Y. Hilton and Jordy Nelson are an example of a correlated passing game stack, which was craftily used without one of their expensive QBs in order to save salary.
FanDuel
Week 9 Sunday Million Winner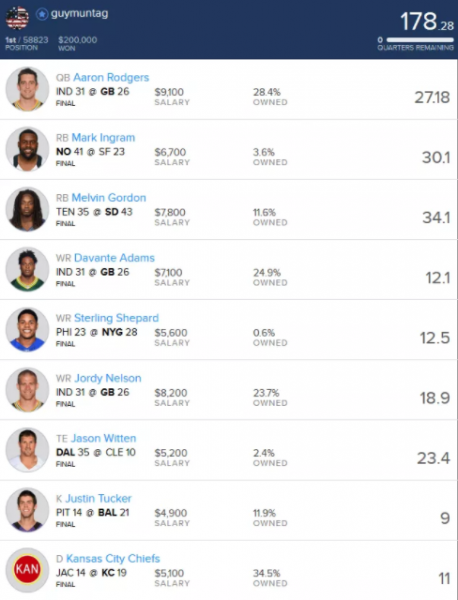 Guymuntag won the Week 9 Sunday Million with only three of the same plays as the winning lineup on DraftKings. Because only 3.6% of entrants had Mark Ingram, the amount of entries containing both Ingram and Melvin Gordon -- two of the top three scorers of the week -- was miniscule. Add in Jason Witten, the highest scoring TE, at 2.4%, and there just weren't many lineups that could compete. This allowed Guymuntag to take home the victory despite relatively medicore showing from two of his WRs. This shows the importance of getting those big games into your lineups; for advice on how, be sure to check out TJ Hernandez's big game profiles and GPP guidelines.
Quick Hitters
If you watched Antonio Gates run or otherwise move, you probably wouldn't want to roster him in DFS. But like six who's great in bed (or so I've heard), looks can be deceiving. Despite missing two games, Gates is tied for fourth in the league in red zone targets.
Regardless of Ben Roethlisberger's health, the Steelers continue to lay eggs on the road. Since 2014, Pittsburgh averages 30.8 points and 429.1 total yards at home, compared to just 20.4 points and 387.0 total yards on the road.
Charcandrick West burned a ton of people, but rostering cheap RBs slated to receive major volume is still the right play. Just like a few weeks ago when the chalk hit and then chalk was even higher owned next week and busted, I suspect DFS players will be leery of cheap RBs in the near future. They shouldn't be. I don't have the 2015 numbers yet but in 2015, 4for4 had a running back projected for at least 18 touches at a DraftKings salary of $4,500 or below 43 times, or 2.5 times per week. Those backs averaged 14.5 points and returned a stellar 3.57 points per $1,000. There's always a probability that a player may bust, and you should set your GPP exposure accordingly, but be careful to not let recency bias move you off of a +EV in the future. Remember, Devontae Booker was 65.5% owned in the Millionaire Maker in Week 8 and still did fine and appeared in the winning lineup. West himself burned GPP players last year in his first start as well, tallying only 3.9 DraftKings points at a salary of $4,000. His next three games? Point totals of 23.9, 22.2, and 31.1 -- all at salaries of $4,800 and below.
Editor's Note: This article is a FREE sample of content included in 4for4's DFS subscription. Rate has gone down to $59. Subscribe now here!