How Odell Beckham to Cleveland Impacts Fantasy Football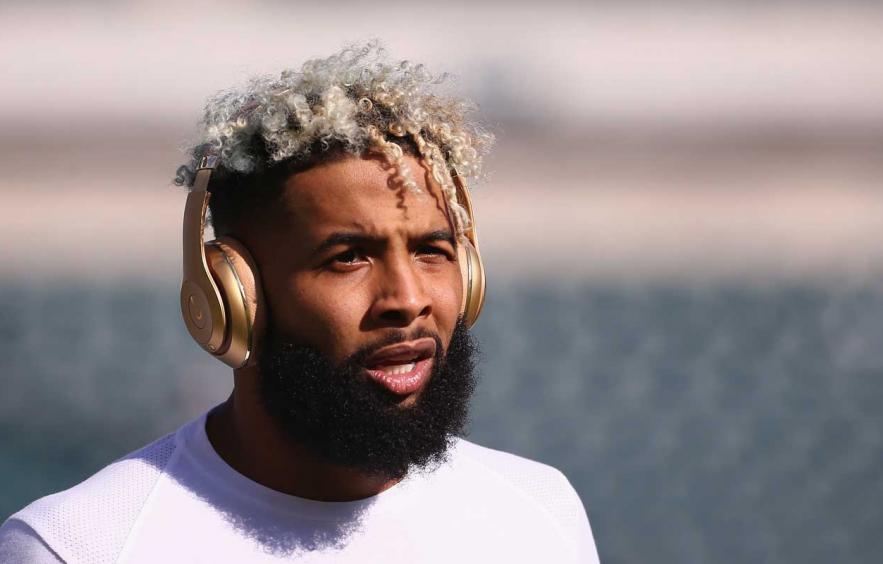 Mitchell Leff/Getty Images
The news broke Tuesday, March 12 but when the new league year officially began on March 13, 2019, Odell Beckham was formally introduced as a member of the Cleveland Browns. In exchange for arguably the best receiver in the league, the New York Giants received a first- and third-round pick and safety Jabrill Peppers.
The following will explore how the trade alters the fantasy landscape for both offenses.
After Baker Mayfield showed promise as a rookie in 2018, he and Beckham set up to be one of the most exciting batteries in fantasy in 2019. In short, this is a huge upgrade for the second-year passer and his new primary target.
Let's start with the man of the hour. Since entering the league in 2014, Beckham has been one of the best fantasy assets available, averaging 20.6 PPR points per contest, ranked second among all receivers in that span. Odell has dominated in spite of dreadful quarterback play—since 2014, Eli Manning has averaged just 6.96 yards per attempt, 31st among active quarterbacks with at least 300 attempts in that time period.
In Cleveland, Beckham will see a significant upgrade in quarterback play. Over the last three seasons, Manning has averaged 0.53 fantasy points per pass attempt (FP/Att) when targeting Beckham but just 0.39 FP/Att to all other pass catchers. This season, OBJ will be paired up with a quarterback in Mayfield who averaged 0.52 FP/Att as a rookie, or virtually the same numbers Manning posted when throwing to one of the best receivers in the league. Furthermore, Mayfield posted a 5.6% touchdown rate in his rookie season, while Manning has hit 5.0% or higher just four times in his career and has been at or below 4.3% in each of the last three seasons.
The addition of Beckham gives Cleveland one of the most dynamic receiving corps in the league, so the question is naturally whether or not Beckham can maintain the volume that he saw in New York—he has never averaged fewer than 10 targets per game in a season. Players of Beckham's caliber rarely see a drop off in target share, as target volume is largely reflective of talent level—Beckham was on pace to account for 28.7% of the Giants' targets last season and he should be able to approach that number in this offense (more on that later). 
Cleveland threw 571 times last year. Given Odell's historical yearly target share of roughly 27-30%, 571 is right around the minimum attempts Beckham would need from this offense to maintain his 10 targets/game average over the course of an entire season. With an ascending young quarterback and a top-three receiver in the game, passing numbers should climb in Cleveland.
As for Mayfield, we've already seen evidence that Beckham can boost a quarterback's level of play by comparing Manning's numbers when targeting Odell compared to other receivers. While Mayfield was more efficient than Manning on a per-attempt basis last season, he still has room to grow. The rookie's 0.52 FP/Att tied for 17th among quarterbacks with at least 200 passes in 2018. What's especially exciting about the Mayfield-Beckham combo is that there's evidence that they match each other's strengths. 
According to SportsInfoSolutions, over the last three seasons, Beckham's three best routes in terms of yards per target compared to the league average have been the comeback, the slant, and the corner1. Two of Mayfield's best routes in his rookie year compared to the league average yards per attempt were the corner and the comeback2. Down the stretch under Freddie Kitchens, Mayfield began to dominate on slants, as well. 
Over the final nine weeks of 2018 with Kitchens at the helm, Mayfield ranked 10th among all quarterbacks in FP/game. With Beckham in town, the second-year passer should be able to at least maintain, if not exceed, that pace over 16 games.
The Remaining Browns Receivers
The most obvious threat to the massive target share that Beckham has become accustomed to is his former LSU Tigers teammate, Jarvis Landry. In his first season as a Brown, Landry accounted for just over 26% of Cleveland's targets but that comes with a caveat—after Freddie Kitchens took over in Week 9, Landry saw just 21% of his team's targets. Here is a look at the target share for the other pass catchers down the stretch:
Even if Landry maintains his 20%+ target share and David Njoku continues to ascend as a pass catcher, Odell should easily exceed a quarter of his team's targets, like usual. Cleveland has reportedly been fielding trade offers for Duke Johnson, which would free up nearly 11% of targets from last season and OBJ will surely eat into the target shares of Antonio Callaway and Rashard Higgins. While Odell likely remains a dominant fantasy commodity, Landry's reasonable expectation is as a low-end WR2 at best—from Weeks 9–17, his 12.7 PPR points per game were tied for 29th among receivers. While Beckham may somewhat cap Njoku's ceiling, the tight end is squarely in the mix as a high-end TE1 in a potentially potent offense at a position with little depth.
There isn't much to say about Eli Manning at this point. Even with Odell in his corner for most of 2018, Manning finished 24th in FP/game at his position (min. 200 attempts). At 38 years old, in arguably the most poorly-run organization in the league, on an offense that reportedly wants to be more run-heavy now that Beckham is gone, Manning is nothing more than a streamer in 2QB leagues or the deepest of deep 1QB leagues. In standard leagues, Manning is undraftable.
Beckham's departure should theoretically open up opportunities for the other pass catchers in New York. With Odell out for the final month of 2018, we got a glimpse as to what this passing attack looks like without the star receiver.
With few impact options available as free agents and rookie pass catchers rarely making a year-one impact, a similar target share should shake out in 2019. Again, David Gettleman and Co. want to "transition to a...run-first attack" on a team that already offered Saquon Barkley over half of the team touches in 2018, so the ceiling is low for Sterling Shepard and Evan Engram. Still, it's worth noting that over the last two seasons, Shepard has averaged 1.9 more PPR points per game in 11 games without Beckham than in games with him; Engram, meanwhile, has seen a 4.4-point jump in 15 games without Odell.
At the shallow tight end position, Beckham's exit makes Engram much more palatable as a top-10 pick at his position on draft day. While Shepard figures to lead the Giants in targets by at least a small margin in 2019, the competition at wide receiver will likely make New York's new primary pass catcher an unexciting, low-ceiling WR3.
UPDATE: On Thursday, Match 14, the Giants added another wide receiver in free agency, as expected. New York agreed to terms with Golden Tate on a four-year, $37.5 million deal. Between the Lions and Eagles last year, Tate spent nearly three-quarters of his snaps in the slot, where Shepard lined up almost 60% of the time in 2018. With redundant skill sets, Tate and Shepard cap each other's ceilings and floors in what is already expected to be an anemic passing game. This move shouldn't impact Engram much but if either receiver breaks the top 36 at their position, consider it a win.
---
Footnotes
1. Odell Beckham's yards per targets by route, 2016–2018: Comeback - 10.9 yds/tgt, +3.0 vs league average; Slant - 10.5 yds/tgt, +2.6 vs league average; Corner - 10.9 yds/tgt, +1.3 vs league average
2. Baker Mayfield's yards per attempt by route, 2018: Dig - 13.0 yds/att, +4.1 vs league average; Corner - 13.4 yds/tgt, +3.7 vs league average; Comeback - 8.9 yds/tgt, +1.3 vs league average