Demaryius Thomas is a Value at His ADP in 2018 Drafts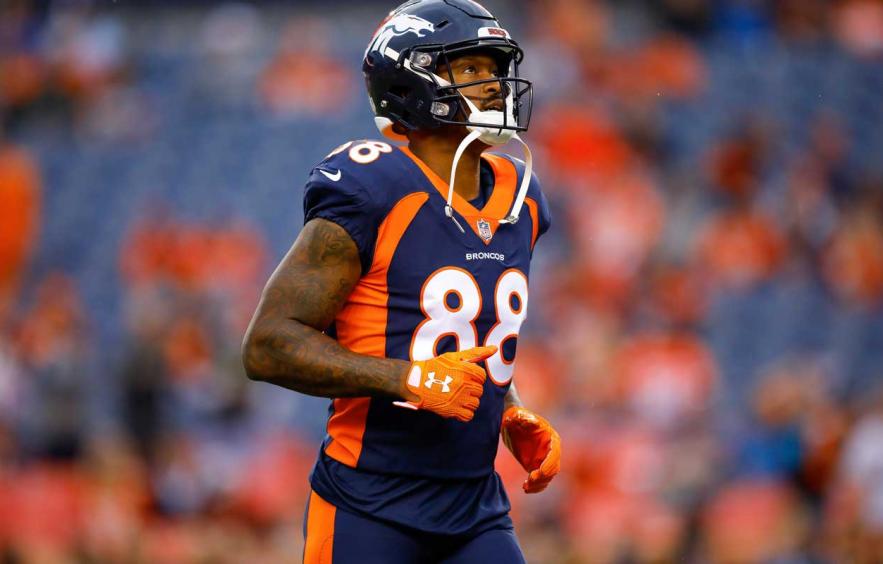 Many of the people we play with in our fantasy football leagues have short-term memories on draft day. Managers put too much of an emphasis on the previous season's results, instead of properly factoring in changes in conditions for the upcoming season.
Broncos wide receiver Demaryius Thomas is a perfect example of that in 2018.
Last season, Thomas was the 14th WR off the board in late summer drafts with an ADP near the 3-4 turn in drafts, but this season he comes at a discount after posting his lowest reception and yardage totals since 2011.
Editor's Note: Find all our 2018 Player Profiles here.
Here are the reasons why he presents value in 2018 drafts, where his ADP sits in the sixth round on Draft as the 28th WR off the board, and at the 4-5 turn at Fantasy Football Calculator as the 19th WR selected.
Still a Target Monster
Look at the enormous amount of targets Thomas has commanded for each of the past five seasons—regardless of who his quarterback was in Denver:
Demaryius Thomas - Last Five Seasons

| SEASON | GP | TGTs | REC | YDS | AVG | TD | PPR WR Rank |
| --- | --- | --- | --- | --- | --- | --- | --- |
| 2013 | 16 | 143 | 92 | 1,430 | 15.5 | 14 | WR1 |
| 2014 | 16 | 184 | 111 | 1,619 | 14.6 | 11 | WR2 |
| 2015* | 16 | 176 | 105 | 1,304 | 12.4 | 6 | WR11 |
| 2016 | 16 | 145 | 90 | 1,083 | 12 | 5 | WR16 |
| 2017 | 16 | 141 | 83 | 949 | 11.4 | 5 | WR16 |
(*Peyton Manning's final season)
Thomas has ranked in the top 10 in the NFL in targets three of the past five seasons and has been no worse than 13th in that department since 2013. However, he has seen his touchdown totals and yards per catch average decrease, thanks to increasingly worse quarterback play and fewer big plays.
However, another checkmark in Thomas' favor is that he has not missed a single game over the past five years, keeping his fantasy floor stable and no worse than PPR WR16 in that span.
Moreover, Thomas is in no danger of seeing his enormous target volume decrease. Using our Player Targets App, look at the number of targets Denver has to replace from 2017:
That's more than 200 targets not returning in 2018. The Arizona Cardinals are the only other team this season with more than 200 targets gone from their 2017 offense. It's feasible for Thomas to see his targets go up this year from his 141 a year ago.
This may come as a surprise to some, given the fact Minnesota chose not to keep Keenum, but sometimes one team's trash is another team's treasure. That's what we find in Denver, which should only help Thomas increase his production in 2018.
Compare Denver's QB play last season to both what Keenum did last season and what's he's done in his career, and you will find it crystal clear Thomas will have a far more effective quarterback in 2018.
Across the board, Keenum's statistics show an upgrade over the quagmire of Denver's 2017 quarterbacks, even if you consider what he did last season as his ceiling.
It should also be noted that John Elway passed on Josh Allen and Josh Rosen in the NFL Draft, further solidifying Keenum as the 2018 starter with Paxton Lynch as the backup.
Bottom Line
Thomas is being drafted below his floor, considering he has finished no worse than WR16 over the past five years, presenting good value to those who draft him in 2018.
He is one of the safer WR2 selections after the third round, with upside from there, given an upgrade at quarterback and more than 200 targets gone from Denver's 2017 offense.
Photo by Justin Edmonds/Getty Images.
---
Related Articles