FanDuel Hindsight Week 6: Vintage Stafford Welcome to FanDuel Hindsight, where we'll recap the previous week on FanDuel, focusing on the Sunday Million tournament, which has a $1 Million grand prize. We'll use the benefit of hindsight to see what lessons can be learned about the Sunday Million winner's low-owned, difference-making plays, then check in on how the most popular plays of the week fared.
Editor's Note: 4for4 has an ALL-NEW DFS SUBSCRIPTION! It includes our revolutionary Lineup Generator, Stack Value Reports, Ceiling & Floor Projections, GPP-Specific Articles, Ownership Outlooks, DFS Theory Articles, Lineup Construction Articles, a Downloadable .csv with Projections and Salary Data, and much more! DETAILS HERE! Previous subscribers don't worry, you'll get the same DFS content you got last season, but we think you'll want to UPGRADE to our DFS subscription because it takes our DFS content to the next level!
After a few weeks of rising ownership in the Sunday Million winning lineup, FanDuel user adrianbeatyerson (no comment on that username) took a contrarian approach to take down the $1 million grand prize.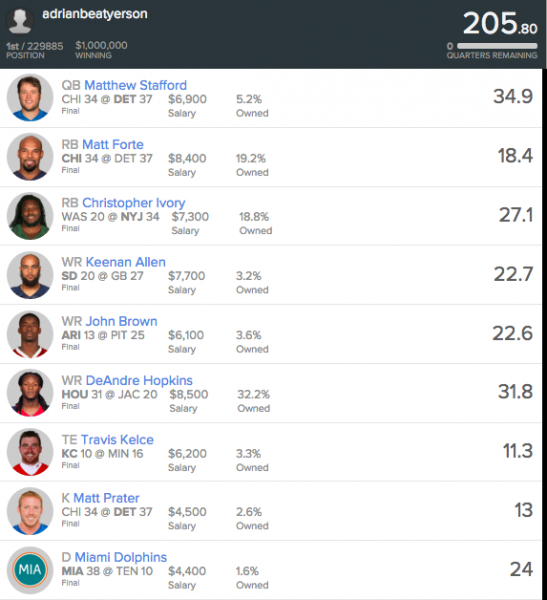 The lineup contained six players owned 5.2 percent or less. Every player except Travis Kelce scored at least two points per $1,000, with four scoring over three points per $1,000. Another notable thing is that a QB-WR stack wasn't used. Instead, a QB-K stack -- which is also positively correlated, albeit not as strongly as QB-WR -- was deployed. It's also worth noting the Dolphins' defense was facing the Titans, who were allowing the most schedule-adjusted fantasy points to defenses, according to our aFPA tool. Let's break down the lineup's key low-owned plays.
Why No One Was On Him: Stafford was coming off a string of disastrous performances for the 0-5 Lions, including a benching his last game.
Hindsight Bias: Stafford's price was the lowest it had been in years. Stafford was certainly struggling, but did face a string of the league's top pass defense in Denver, Seattle, and Arizona. The Bears were giving up a high rate of passing TDs per attempt.
WR Keenan Allen
Why No One Was on Him: Allen had been a boom-bust WR this season. Many users went with Antonio Gates as their Chargers pass-catcher of choice.
Hindsight Bias: Allen's "booms" were monstrous: 15-166 in Week 1 and 12-133 in Week 3. The Chargers were expected to have to throw a ton as 10-point underdogs facing a Packers team with a 30-point implied Vegas total. Allen put up this big game despite leaving in the third quarter with a hip injury.
WR John Brown
Why No One Was On Him: Brown had been playing good "real" football, but it hadn't translated into fantasy numbers, with his season-high in yardage at 75 coming into the game.
Hindsight Bias: Brown was drawing an excessive amount of long pass interference penalties, so he was getting the deep targets necessary for an explosion. As the number-two WR attached to red-hot Carson Palmer, a blowup was in the cards.
D Miami Dolphins
Why No One Was On Them: They just fired their coach and no one knew what to expect from them. Also, they were a road underdog.
Hindsight Bias: As I mentioned above, the Titans were ranked 32nd in aFPA to defenses.
How Did the Most Highly Owned Plays of the Week Do?
QB Tom Brady 26.4% Owned, 23.4 Points
Brady did what was expected of him: throw for 300 yards and three TDs. However, six QBs outscored Brady -- five of which were $7,500 or below.
RB Matt Forte 19.2% Owned, 18.4 Points
Usage monster Forte had a solid game, but was vultured at the goal-line by Jeremy Langford on what would have added a second TD to his ledger.
RB Eddie Lacy 19.1% Owned, 3 Points
Lacy is obviously still not 100 percent from a Week 2 ankle injury. He was out-snapped by James Starks 28-20, and out-touched by Starks 11-6. While Starks gained 112 all-purpose yards and added two TDs, Lacy amassed only 20 scoreless yards.
WR Julian Edelman 40.8% Owned, 14.2 Points
Edelman probably would have had a bigger game if he hadn't broken his finger after a first-quarter TD. He proceeded to commit three egregious drops and Tom Brady eventually starting looking elsewhere. Edelman finished with a 6-50-1 line, most of which was accumulated before the broken finger.
WR DeAndre Hopkins 32.2% Owned, 31.8 Points
Hopkins is a perfect example of why we try to roster receivers who see a lot of targets. Coming in to Week 6, he was leading the league in targets by a wide margin, and parlayed 15 more into a 10-148-2 line.
WR Larry Fitzgerald 27.6% Owned, 13.3 Points
The underpriced Fitzgerald had another good game with an 8-93 line, but failing to reach the end zone ultimately made him a non-factor for owners.
TE Antonio Gates 34.5% Owned, 14 Points
Gates could have had a much bigger day, but had a bunch of near-misses in close to the goal line. He finished with a 9-95 line.