FanDuel Hindsight Week 4: Devonta Freeman was 87.5% Under-Owned Welcome to FanDuel Hindsight, where we'll recap the previous week on FanDuel, focusing on the Sunday Million tournament, which has a $1 Million grand prize. We'll use the benefit of hindsight to see what lessons can be learned about the Sunday Million winner's low-owned, difference-making plays, then check in on how the most popular plays of the week fared.
Editor's Note: The 4for4 Championship is still going strong in Week 5 - and now we're rolling out something special! This week's tournament still awards 5 Championship seats and $7,000 in cash prizes, but in Week 5 you can enter for only $5 (instead of $10) and you can also win a FREE VIP TRIP to Las Vegas for the World Fantasy Football Championship Event in December! The trip will include a hotel room and round trip flight, as well as access to FanDuel's exclusive parties the weekend of the event. This will be the weekend of a lifetime, and your best chance to get there is in the 4for4 Championship. Draft a team now!
Devonta Freeman's 35-touch, three-touchdown outburst in Week 3 didn't keep nearly nine out of every ten entrants from bypassing him, but he kept rolling in Week 4 with another three-touchdown effort that won FanDuel user brettrau24 a million dollars. It all started with Freeman, but brettrau24 also made a nice play at QB to claim the $1 million grand prize.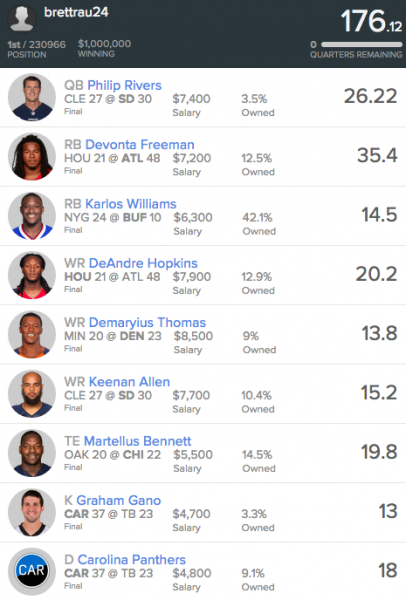 At $7,400, Philip Rivers was one of the cheaper QBs owned in the contest, yet led all QBs in FanDuel points. Rostering the inexpensive Rivers afforded brettrau24 the cap space necessary to pivot off the most popular WR options by paying up (his average WR cost over $8,000) for wideouts who ended up outscoring them. He also employed a correlated kicker-defense stack with the Panthers that netted him 31 points. Let's break down his best plays.
Why People Weren't On Him: A combination of recency bias (Rivers posted only 10.84 points in Week 3) and a Browns defense that looked like it would be more susceptible to the run than the pass. Plus, he was playing with a makeshift offensive line.
Hindsight Bias: Rivers was a prime buy-low candidate whose price hadn't been lower since Week 4 of 2013. The Browns defense had allowed multiple TD passes in all three games.
Why People Weren't On Him: Two other running backs in his price range (Latavius Murray at $7,500 and Joseph Randle at $7,400) also had big Week 3's and better on-paper Week 4 matchups.
Hindsight Bias: Touchdowns are the money-makers on FanDuel, and Freeman was leading all RBs in red zone opportunities. In addition, volume shows a stronger correlation to fantasy points than efficiency for RBs, and the Falcons had shown they were willing to feed Freeman: he had 35 touches in Week 3. While the Texans defense against RBs was strong on paper, Freeman had a better matchup from from a game script standpoint (Falcons were six-point favorites with a 26.5 team total) than Murray (Raiders -3, 23.5) and Randle (Cowboys +3, 22.5).
WR DeAndre Hopkins, Keenan Allen, Demaryius Thomas
Why People Weren't On Them: There were a half-dozen WRs in a quarter of lineups each, which meant there was a large gap between the most popular plays and the rest of the player pool.
Hindsight Bias: In fading all of the top-owned WRs, brettrau24 needed to accept a mindset that is crucial to GPP success: the most popular players may be the best on-paper values, but that far from guarantees they'll be one of the day's top performers at their position or in their salary range. Hopkins and Allen were $500 more expensive than Larry Fitzgerald and Amari Cooper, respectively, yet Hopkins (20.2) and Allen (15.2) outscored Fitz (11.4) and Cooper (12.9) by 11.1 points combined. Similarly, Demaryius Thomas was $8,500, but his 13.8 points outdid $8,400 A.J. Green (11.4) and $8,200 Randall Cobb (6.9). In choosing his WR trio, brettrau24 emphasized target volume: Allen-Thomas-Hopkins ranked 2-3-4 in the league in total targets coming in to Week 4 (amongst players available on the Sunday Million slate).
Why People Weren't On Him: Panthers-Buccaneers had a low over/under and Gano had missed a few kicks already this year.
Hindsight Bias: Carolina was a three-point road favorite, and Gano had attempted at least two field goals in every game.
D Carolina Panthers
Why People Weren't On Them: The Cardinals were the most popular play coming off of a standout game with two pick-sixes and now facing the Rams, and the Broncos were the second most-popular option at $100 less than Carolina.
Hindsight Bias: The Panthers were facing a rookie QB who had shown a tendency to be careless. The Bucs had an 18.5 team total.
How Did the Most Popular Plays of the Week Do?
QB Aaron Rodgers $9,200, 20.4% Owned, 16.26 Pts
Rodgers had a fine real-life game, going 22-32 for 224 yards with a TD and no interceptions, but his chances at a big game were thwarted by two three-and-outs early in the second quarter that were both the result of incomplete passes on third-and-short. The 49ers could muster only three points, so the Packers ran the ball 33 times and threw it only 32 times, including runs on 10 of their last 11 plays of the game.
RB Karlos Williams $6,300, 42.1% Owned, 14.5 Pts
The Giants continued their strong run defense, limiting Williams to 40 scoreless yards on 18 carries. The Giants continued to be vulnerable in their non-cornerback pass coverage, however, permitting Williams a 23-yard TD catch.
RB Latavius Murray $7,500, 28.8% Owned, 5.6 Pts
Murray went to the locker room with a shoulder injury in the second quarter and later returned, but never got it going. Backup Roy Helu scored right after Murray had to come out, and later took over after Murray appeared to be benched late in the game for fumbling.
WR Julio Jones $9,400, 30.1%, 5.8 Pts
Jones wasn't needed much on a day when the Falcons scored four rushing TDs and two defensive TDs. The Falcons were up 28-0 at halftime, and Jones didn't see a target in the second half.
WR Amari Cooper $7,200, 29.5% Owned, 12.9 Pts
Cooper caught a TD early in the game but wasn't involved in the second half en route to an underwhelming 4-49-1 line.
WR James Jones $6,000, 29.2% Owned, 12.3 Pts
​Jones led the Packers with 98 receiving yards, but reminded us that a high per-game TD pace is difficult to sustain, failing to score for the first time in four games.
WR A.J. Green $8,200 28.1% Owned, 11.7 Pts
Green proved how tough it is to repeat outlying performances even in good matchups. He notched a 7-82 line -- which equates to 112-1312 over a full season -- but failed to reach the end zone, which is essentially a requirement to reach value at his price point.
WR Randall Cobb $8,200, 26.9% Owned, 6.9 Pts
Cobb seemed bothered by a shoulder injury, and wasn't needed for more than his 5-44 line with Aaron Rodgers only needing 32 pass attempts in a 17-3 win.
WR Larry Fitzgerald, 23.5% Owned, 11.4 Pts
Fitzgerald showed why he was a popular play with a 7-99 line, but failed to score after scoring five times in the last two games. He also lost a fumble.
TE Greg Olsen, 24.7% Owned, 3.8 Pts
​Cam Newton attempted only 22 passes in a game with a paltry 40-point over/under total. Olsen led the Panthers with six targets, but turned them into only 28 scoreless yards.
D Arizona Cardinals, 21.4% Owned, 1 Pt
For a fantasy defense to pay off, they generally need to be playing with a lead to force the other team to be more aggressive, and consequently, mistake-prone. It never happened for the Cardinals, who fell behind because they couldn't finish drives in the red zone on offense. Playing with a lead, the Rams were able to run the ball effectively and maintain a balanced approach, finishing with more rushes (26) than passes (24).
About Author