The Fantasy Football Impact of Rashaad Penny to the Philadelphia Eagles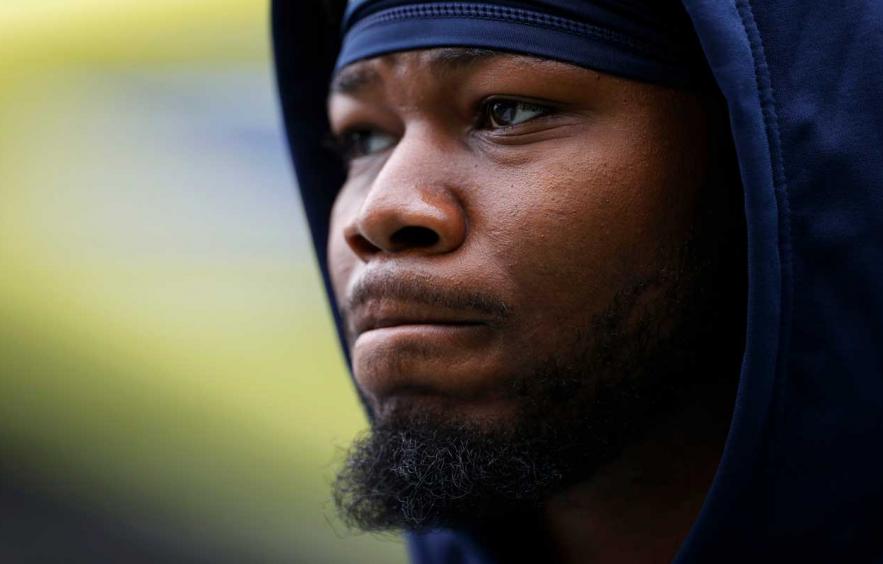 Steph Chambers/Getty Images
On Tuesday, March 14, former first-round pick Rashaad Penny signed a one-year, $1.35M deal with $600,000 guaranteed. It's a massive discount for an explosive player who has dealt with a constant stream of injury issues since Seattle selected him in the 2018 NFL Draft. Penny will be afforded an opportunity to slide directly into Miles Sanders' old role after the latter signed with the Carolina Panthers in free agency.
---
Click here for more 2023 Player Profiles!
---
Rashaad Penny

's Running Back Profile

It has been a long, winding road for Rashaad Penny and the Seattle Seahawks. The initial first-round selection of Penny was criticized at the time, as the team already had Chris Carson and Mike Davis on the roster and other needs that felt more pressing. Penny, in turn, had less than 100 carries that season and seemed to prove the detractors' points. Nonetheless, he provided glimpses of what he could offer with the ball in his hands.
Rashaad Penny

Career Stats

| Year | G | GS | Att. | Rush Yards | Rec. | Rec Yards | Scores | Half-PPR FP/G | FP/G Rank |
| --- | --- | --- | --- | --- | --- | --- | --- | --- | --- |
| 2018 | 14 | 0 | 85 | 419 | 9 | 75 | 2 | 5.5 | RB74 |
| 2019 | 10 | 0 | 65 | 370 | 8 | 83 | 4 | 7.1 | RB50 |
| 2020 | 3 | 0 | 11 | 34 | 0 | 0 | 0 | - | - |
| 2021 | 10 | 6 | 119 | 749 | 6 | 48 | 6 | 10.4 | RB29 |
| 2022 | 5 | 5 | 57 | 346 | 4 | 16 | 2 | 9.7 | RB31 |
While Rashaad Penny flashed brilliance at times, there are large swaths of gaps in his resume due to a litany of injuries that would simply feel rude to recap. The biggest one we do have to mention is the running back's torn ACL that he suffered in 2020. What was once a death knell to the position, the injury is now at least possible to come back from, and Penny has proven —in small doses— that he can still perform at a high level.
In the two seasons since that particular injury, the former San Diego State Aztec has yards after contact per attempt marks of 4.52 and 4.23. If extrapolated over the 2022 season, each of those marks would have ranked first by a long way. This is to say when Penny is healthy, he makes the most out of every run.
How
Rashaad Penny

Fits in Philadelphia

Miles Sanders had performed well enough in the Eagles' run-heavy attack in his two years with Jalen Hurts. Still, looking at the contract that he got with the Carolina Panthers —four years, $25M, $13M guaranteed— it's clear that the Eagles were going to have to fork over plenty of cash to keep his slightly above-average production in the city of brotherly love.

When we look at situational usage, particularly situations that the Eagles like to operate out of, a healthy Rashaad Penny can offer all the things that Miles Sanders can, if not more.
Penny and Sanders Situational Comparison

| Player | Season | Between-the-Tackles YPC | Shotgun Formation YPC | Broken + Missed Tackle% |
| --- | --- | --- | --- | --- |
| Miles Sanders | 2021 | 5.1 (12th) | 5.9 (8th) | 8.0% (88th) |
| Rashaad Penny | 2021 | 6.0 (5th) | 6.6 (5th) | 20.2% (13th) |
| Miles Sanders | 2022 | 2.6 (24th) | 4.8 (34th) | 16.2% (38th) |
| Rashaad Penny | 2022 | 2.7 (19th) | 8.4 (1st) | 15.8% (44th) |
As the Eagles are going to want to keep defenses honest with Penny by pounding him up the middle when possible, it's important that we see that he is efficient on those runs. Philadelphia has also ranked second (2022) and third (2021) in rush attempts out of shotgun, as they run almost the entirety of the offense from there so that the constant threat of Jalen Hurts taking off with the ball is on the defense's mind.
Not only does Rashaad Penny deliver as well or better than Miles Sanders in those scenarios, but he's also still adept at forcing missed tackles, even two-to-three years removed from his ACL rehabilitation. This adds an extra level of usefulness behind arguably the best offensive line in the NFL and should lead to some explosive fantasy games.
Fantasy Outlook for the
Eagles

' Backfield

While we can project some solid rushing games from the newly acquired Rashaad Penny, there are still more pieces to the puzzle before we can declare him a slam-dunk fantasy asset. To begin with, there are going to be very minimal opportunities in the passing game, and the few balls that do get thrown to the running backs in this offense are almost assuredly not going to Penny.

Through 42 career games as a Seattle Seahawk, Penny was targeted 36 times. A whopping 29 running backs had more targets than that just last year. His lack of volume through his career in Seattle is further compounded by his move to Philadelphia; Jalen Hurts targeted the position on only 11.5% of his throws, the lowest mark of any starting quarterback in the league last year. If Penny manages somehow to leapfrog Kenneth Gainwell and Boston Scott for third-down snaps, he's almost assuredly only doing so to pass-protect or run routes on air.

Speaking of those two backs, they are both still under contract with the Eagles following news that Boston Scott re-signed on a one-year $2M deal. Last season, Scott and Gainwell combined for 601 offensive snaps, nearly matching Miles Sanders' 671.

While the two backs have flirted with fantasy relevance —particularly after Gainwell's 50-target rookie season or Scott's seven-touchdown 2021— but it's unlikely that swapping out the early-down option is going to impact their respective roles much at all. If anything, we may want to keep an eye on former second-round pick Trey Sermon, who is making just slightly less on his contract than Penny and fits the early-down mold if the former Seahawk were to miss extended time.

Bottom Line