The Fantasy Football Impact of James Robinson to the New England Patriots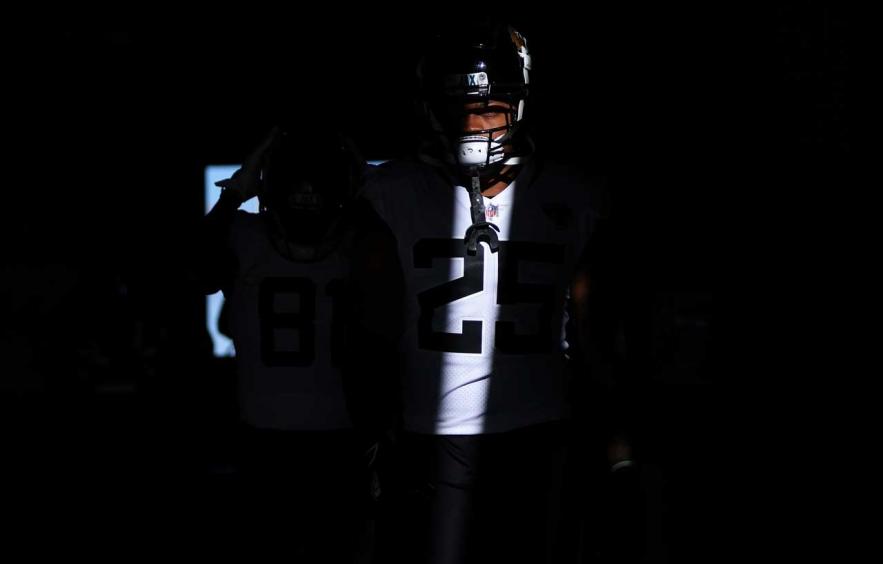 Dustin Satloff/Getty Images
On Wednesday, March 15, the New England Patriots signed running back James Robinson to a two-year, $8M contract. Robinson is coming off of what most would consider a wasted year, being traded to the Jets during the middle of the season and accruing only 29 rushing attempts from Week 8 on.
His third-year usage was easily the lowest of his career, but he'll have a chance to redeem himself with a Patriots offense that has long used a multi-back approach.
---
Click here for more 2023 Player Profiles!
---
James Robinson

's Running Back Profile

James Robinson came into the NFL as an undrafted free agent out of Illinois State and took the fantasy world by storm. His 1,400+ scrimmage yards were a handsome reward for those who followed the Jaguars camp hype and took him late in 2020 fantasy drafts.
James Robinson

Career Stats

| Year | G | GS | Att. | Rush Yards | Rec. | Rec Yards | Scores | Half-PPR FP/G | FP/G Rank |
| --- | --- | --- | --- | --- | --- | --- | --- | --- | --- |
| 2020 | 14 | 14 | 240 | 1,070 | 49 | 344 | 10 | 16.1 | RB7 |
| 2021 | 14 | 13 | 164 | 767 | 31 | 222 | 8 | 11.3 | RB23 |
| 2022 | 11 | 5 | 110 | 425 | 11 | 51 | 5 | 7.6 | RB48 |
Following the release of former fourth-overall selection Leonard Fournette, the Jacksonville backfield was represented by Robinson, Dare Ogunbowale, and perennial roster-bubble guys like Chris Thompson and Devine Ozigbo. With that sort of competition nipping at his heels, Robinson would end up scoring 16.1 half-PPR points per game, finishing the season as the RB7.
That rookie season has proven to be the pinnacle of his career to this point, as the entire offense faltered in 2021 during the failed Urban Meyer experience. Robinson tore his Achilles late in the year, and he was eventually traded to the New York Jets for a sixth-round pick halfway through last season. He would appear in four games, logging more than 13 offensive snaps in only one of those games.
Though a clause in the trade turned the sixth-rounder into a fifth-rounder if Robinson rushed for 260 or more yards with the Jets, he simply wasn't even close to that number (85 yards). This sparked questions as to why New York would ship off a draft pick in the first place if they simply wanted a body on the team post-Breece Hall ACL tear.
Luckily for both sides, Robinson was not tendered a contract from the Jets, instead being signed on with a division rival who has been pounding the rock as of late.
How
James Robinson

Fits in New England

The initial problem with projecting an exact role for Robinson in New England is all of the recent shakeups to the Patriots' offensive coaching staff, starting with Tom Brady's departure, to a 2022 season that saw a defensive coordinator operate as an offensive coordinator, and now with Bill O'Brien, who took a pitstop with Alabama before returning to the NFL and his former employer.

The most obvious thing to do with Robinson is plug him into the Damien Harris role. But first, let's look at what the Texans' backfield splits looked like during O'Brien's seven-year stint looked like. This may give us an idea of what that workload split could look like if Robinson is a 1v1 replacement for Harris.
Texans

Backfield Splits Under Bill O'Brien

| Year | RB1 Backfield% | RB2 Backfield% | RB3 Backfield% |
| --- | --- | --- | --- |
| 2020 | 56.1% 12th | 32.7% 39th | 5.3% 100th |
| 2019 | 64.2% 11th | 32.0% 38th | 2.5% 112th |
| 2018 | 56.4% 11th | 40.8% 31st | |
| 2017 | 59.1% 9th | 18.1% 64th | 16.8% 67th |
| 2016 | 62.4% 11th | 23.4% 55th | |
| 2015 | 38.4% 33rd | 22.3% 56th | 16.5% 65th |
| 2014 | 55.9% 14th | 34.5% 36th | |
We see from the table that O'Brien has leaned pretty heavily on his first two running back options through the years, leaving only scraps for the teams' respective RB3s. What the chart doesn't capture is how those Houston teams faded in running back usage through the years. In 2019, they ranked 27th in RB touch percentage and fell all the way to 31st in 2020. Those seasons also conveniently correlated to the two best years of Deshaun Watson's career and one of the best passing attacks in the NFL.
The Patriots' backfield shouldn't have that issue in the 2023 season, which opens up the possibility of the team's RB2 handling a respectable workload when it comes to fantasy output, making Robinson intriguing as he gets pushed into that Damien Harris role.
Fantasy Outlook for the
Patriots

' Backfield

One thing is for certain: no matter how well Robinson is welcomed into his new offense, Rhamondre Stevenson is the clear RB1 in New England. Stevenson had a fantastic 2022, even while sharing the field with Damien Harris. In those 11 games, Stevenson would average 91 scrimmage yards. He actually averaged 1.3 more receptions per game, accruing 12.6 half-PPR points on average, just slightly lower than his 12.8 average with Harris in the lineup. Those are fringe RB1-numbers for fantasy, and it's hard to see a scenario in which Robinson comes into town and forces the team to lighten that workload.

With that said, we can look at the Patriots and Bill O'Brien's historical record of running back rotation and see that there's still some room for a sometimes-impactful fantasy RB behind him. That is very unlikely to be 2022 fourth-rounder Pierre Strong, who logged nearly as many fullback snaps as he did running back snaps last season. He operates more as the classic Patriots special teamer who can line up all over the field, not someone who is likely to cipher meaningful snaps on a game-by-game basis.

This would leave a good chunk of the running back workload to Robinson. Even if he were only to log 35% of the backfield touch rate, that would provide him with a role that would land him in the RB4 range in fantasy football and would be in line with how O'Brien used his team's RB2 in the past.

Bottom Line