SharpClarke's Best Week 14 NFL Bet: MIA @ LAC Matchup Spotlight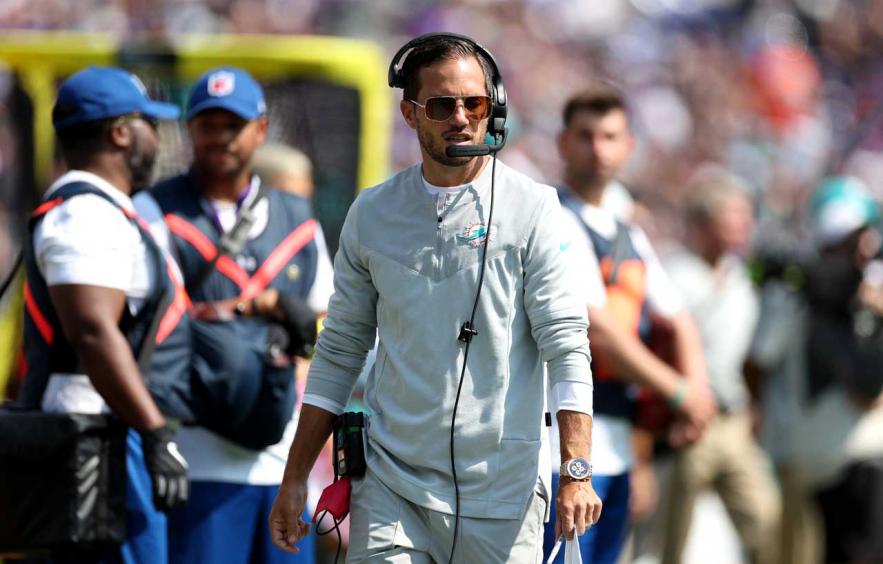 Rob Carr/Getty Images
In this week's matchup, I spotlight the exciting Sunday Night Football matchup between the Los Angeles Chargers and the Miami Dolphins. The matchup has strong AFC playoff implications and pits two early quarterback picks from the 2020 draft, so there is plenty to get excited about here. It also features one of the most exciting young NFL head coaches going against a former analytics darling in Brandon Staley, who might have fallen out of favor a little bit this year for some. Ultimately, these are two teams likely not competing for a Super Bowl this year but should have plenty of promise in the coming years. Let's dive in.
My Numbers
Miami Dolphins: 6th (Offense: 4th, Defense: 21st)
Los Angeles Chargers: 19th (Offense: 12th, Defense: 25th)
Baseline: MIA -3

Matchup Breakdown
MIA Offense vs. LAC Defense
If you missed my recap article this week, I came away from the 49ers-Dolphins matchup with some pretty strong conclusions about the Dolphins' offense. They faced arguably the NFL's toughest defense, without two starting offensive linemen (including their stud left tackle Terron Armstead), and their offense still worked as it should. By that, I mean the receivers were getting open and Tua Tagovailoa was able to throw on-platform for the most part. The problem was his inconsistent accuracy. This issue has plagued him all season, but he has gotten away with it due to some easier matchups and fortunate variance (such as dropped interceptions). The misses didn't surprise me. What surprised me was how easily the Dolphins' receivers were getting open. They could have easily scored 30 points on San Francisco if Tagovailoa had just connected on a few of those misses.
But even with projected inconsistency from Tagovailoa, this game should be a different animal. Not only are the Chargers a much softer defense up front, allowing the Dolphins to play more balanced on offense and take some of the pressure off Tagovailoa being perfect, but the Chargers are much less effective at controlling the clock. Last week the 49ers held the ball for over 40 minutes. So, the Dolphins essentially scored 17 points in 19 minutes, thanks to some big plays. This game should have a much more balanced time of possession, meaning more chances for explosive plays and touchdowns for Miami. The Chargers' pass rush might get home once or twice, but for the most part, the Dolphins' offense is built around quick throws to negate pressure. This means that offensive line absences are less impactful overall. Of course, it would be great to see Terron Armstead back in but it's not necessary for the offense to succeed.
What we learned from the 49ers matchup is that, until proven otherwise, this offense is virtually matchup-proof. Tagovailoa will make mistakes against any defense but should be able to overcome those mistakes with relentless downfield passing (as long as Tyreek Hill and Jaylen Waddle are healthy). That should hold true here in Los Angeles.
LAC Offense vs. MIA Defense
It's not hard to understand what has happened with the Chargers' offense this season. They lost Rashawn Slater for the year early on, and then played an early stretch of games without multiple additional offensive linemen, including star center Corey Linsley and tackle Trey Pipkins. They aren't particularly deep, and the offensive line has been terrible with those three out. Oh, and they played a stretch of games without any healthy starting wide receivers, as both Keenan Allen and Mike Williams missed games. Some blame also needs to fall at the feet of offensive coordinator Joe Lombardi, who continues to neglect some of Justin Herbert's biggest strengths. If you take out the games where Linsley and at least one of the receivers were out, the Chargers' offense looks much more respectable.
This brings us to Sunday. My matchup breakdown depends heavily on the availability of Linsley, Pipkins, and Williams. As of Thursday's practice, it looks like Linsley and Williams should be back for this one. This is huge. The Dolphins' banged-up secondary does not have the horses to keep both Allen and Williams under check, and Linsley makes a significant difference in the pressure allowed to get to Justin Herbert. So we could have an elite quarterback in Justin Herbert with more time than he's had in previous weeks and better weapons available downfield. Sign me up. The Dolphins' defensive strength is against the run but the Chargers don't rely on the run. Instead, they opt for a short passing attack that gets players to the outside, offsetting the aggressiveness the Dolphins will bring. Like most elite quarterbacks, Herbert excels against the blitz because he can process so quickly and make off-platform throws. That's good news in this matchup because the Dolphins will surely blitz aggressively.
If Mike Williams does play, that also means more explosive passing downfield. Without him, they lack a downfield target of his caliber. In case you can't tell, I like points on both sides of the ball here on the fast track in Los Angeles.
Prediction
The Dolphins get on the fast track with some explosive plays and touchdowns early. Tagovailoa also misses on some key third downs, and maybe even throws an interception or two. These mistakes lead to Chargers points and the game heads into the second half around 17-14. But the second half turns into a shoot-out, with both offenses delivering when needed and an exciting back-and-forth finish. Whoever has the ball last wins. I'll go with the home team.
Final Score Prediction: MIA 37-34
Market Evaluation
I'm not looking to play a side here, with the game lined at MIA -3 or -3.5. If we get confirmation on Linsley and Williams playing, there could be some value if LAC +3.5 is still available. Instead, I'm looking to attack the total. The line opened at O/U 51.5, and books have been dealing between 51.5 and 52.5 so far. This is a high total by this season's standards but is absolutely justified. The metrics for both teams are impacted by injuries and unfortunate circumstances (such as time of possession for Miami), bringing some of the models lower than where they should be. I'm comfortable with this market action but I would definitely grab the over early because injury news in favor of the Chargers should push this up. I wouldn't be surprised to see a number as high as 53.5 on this game.
Best Bets
I bet over 51.5 earlier in the week, and you should check all your outs to see if there is still one available. When I drafted this on Thursday night, it was still available on BetMGM. However, this morning on publication day, I am only seeing 52.5 across the board on my sportsbooks. The number 52 isn't key, but it does matter. I would still play over 52.5.
Over 52.5 (-110) (BetMGM)
Los Angeles Chargers Over 24.5 (+100) (BetMGM)
Miami Dolphins Over 27.5 (-110) (DraftKings)
If you enjoyed this matchup breakdown, you can access all my picks with detailed write-ups for every play with a 4for4.com Betting Subscription. Sign up using the Promo Code SharpClarke for 10% off and get every bet I make in real-time. For the most up-to-date picks check out my Twitter and subscribe to our Discord. This sheet from Dan Rivera tracks all my betting picks (and those from the rest of the betting staff) on the year. Just click on the tab with my name on it for the results.
---
This article is intended for entertainment purposes and adult users only. Call 1-800-GAMBLER if you have a gambling problem.