SharpClarke's Week 13 Betting Recap: The Dolphins Drown in San Francisco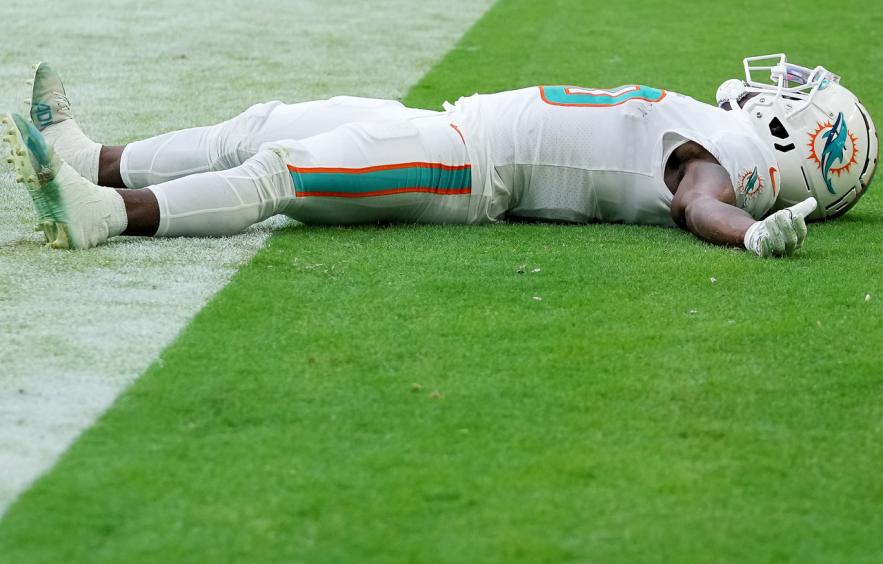 Eric Espada/Getty Images
Week 13 was another strong week, both in terms of my bets and in validating my analytical framework. Oh, and the games were exciting as well. Some of the big results were only a little surprising, including a tie between the Commanders and Giants that left some major uncertainty in the NFC Wild Card race, and another clutch win by Joe Burrow and the Bengals over the Chiefs. But one outcome was particularly shocking: San Francisco buried, 33-17, despite losing Jimmy Garoppolo on the first series. As someone who bet on the 49ers, I was happy with the result. However, to be a successful bettor you have to be able to evaluate results objectively. And you might be surprised by my objective conclusions after watching the game. Let's dive in.
---
---
SF 33, MIA 16
Effectiveness Ratings
SF: 5.37
MIA: 6.20
Effective Result: MIA by 9.96
First, let's talk about why the Dolphins lost. Despite the commentators' constant expressions of shock and surprise every time Tua Tagovailoa missed a throw, he has been missing throws all season. Anyone who has watched all of his film instead of just looking at the numbers will likely share my sentiment. But he has gotten away with it due to a combination of easy opposing defenses, dropped interceptions, and plays negated by a penalty. Unlike in previous weeks, these misses really cost the Dolphins here. A throw behind Tyreek Hill got intercepted and he missed several open receivers downfield. ending multiple important drives.
This may sound pessimistic, but I was actually extremely encouraged. Dolphins receivers were still open downfield, and Tagovailoa had the opportunity to get them the ball. Even without Terron Armstead and Austin Jackson on the offensive line, this offense simply worked. Of course, inconsistent passing will always be a challenge. But this was a particularly tough scenario. The 49ers held the ball for over 40 minutes of the game, so the mistakes were amplified. The question heading into this game was whether the Dolphins would be able to run their offense against the best defense in the league. The answer, based on my view of the game, was yes.
What does this mean for betting moving forward? The Dolphins offense will not be particularly matchup-dependent, at least for now. They will play aggressively and throw downfield against anyone. That means their upside is huge in any given game. But it also means that mistakes will continue to impact them. Against teams that are able to dominate the clock and control the game on offense, the lack of possessions will be the biggest detriment to the Dolphins' scoring opportunities. But against a team with an inconsistent but explosive offense of their own (ahem), the sky is the limit for how much the Dolphins can score.
As for the 49ers, I think that's a conversation for another day. Brock Purdy played admirably in relief of Garoppolo, but they needed a lot of low-percentage conversions to win the game the way they did. If they played that game 10 times with Purdy at quarterback for the whole game, I would be on Miami more often than not.

Week 13 Betting Recap
Week 13 was extremely strong for my bets, going 7-3-2 for +5.36 units. I had three teasers, and not only did all six legs win, but all six legs would have won outright if I had bet on the spread. It's a little disappointing in terms of how much profit I could have generated playing spreads; however, I chose teasers for a reason and was happy with these bets. I only tease sides I like anyway, so this was a very strong encouragement for my process. Some bets I lost were also extremely close, including underdog Moneyline bets on the Jets and Saints that were certainly better value than the price I paid.
I did have one major swing-and-miss. Early in the week, I expected to like the Titans +5.5 against Philadelphia, so I bet it, anticipating the line moving down. Later in the week, once I had reviewed and analyzed all the film, updated my team ratings, and broken down the matchups, my numbers actually made it Eagles -7. But instead of hedging out or closing the position, I just let it ride, hoping that the line movement down to +4.5 was a signal. That was a mistake. The Eagles dominated the game and were clearly the right side.
But losses are an opportunity to learn. Starting this week, I am re-working the order of my weekly process. Instead of waiting until I've graded every game to run the numbers and break down the matchups, I will do it team by team as I finish each game. That will allow me to get in on games early in the week where I think the line will move, but only where I have true conviction. Hopefully, this will help me hone down and further refine my betting process.
But I come out of the week once again encouraged that my system is working and will continue to push for a strong season finish.
For all my bets and analysis, you can join the 4for4 Discord via a 4for4 betting subscription (10% off with code SharpClarke) and follow @SharpClarkeNFL on Twitter for alerts. This sheet from Dan Rivera tracks all my betting picks (and those from the rest of the betting staff) on the year. Just click on the tab with my name on it for the results.
---
This article is intended for entertainment purposes and adult users only. Call 1-800-GAMBLER if you have a gambling problem.