Will Kenneth Walker III Carry the Load in Seattle?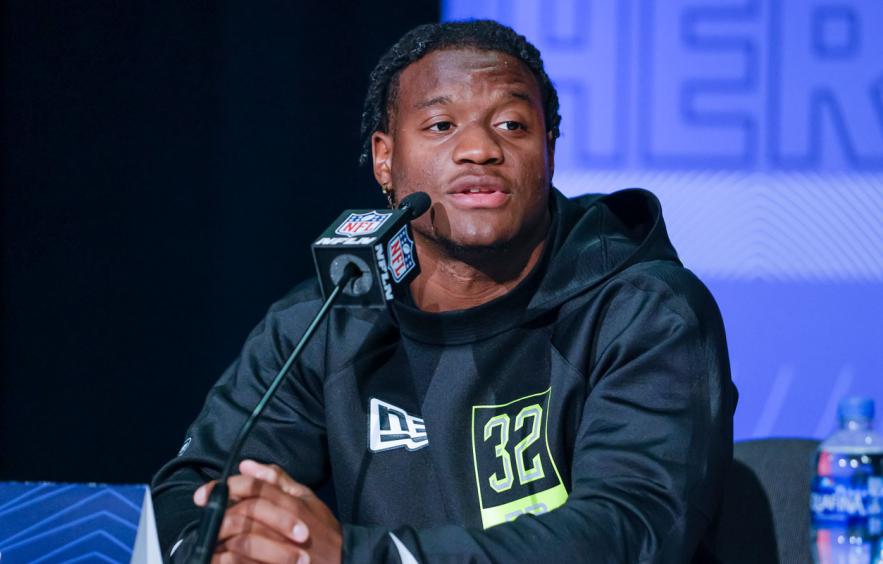 Michael Hickey/Getty Images
Once Russell Wilson was traded to the Denver Broncos this offseason, it seemed inevitable that the Seahawks would draft a running back. Head coach Pete Carroll lucked into Wilson in the 2012 NFL Draft and despite Wilson'sother-worldly level of play, Carroll has been committed to the running game as much as anyone has ever been committed to anything. Running the football is in his DNA. It's who he is. It didn't matter that his quarterback is tied for the ninth-highest touchdown percentage in NFL history at 6.2%. It didn't matter Wilson averaged 7.83 yards per attempt, which is the 11th-highest in NFL history. Pete Carroll is going to establish the run or die trying.
To that end, there simply was no way he could enter the 2022 season with Rashaad Penny as his lead back with the depth chart as it was. He's only appeared in 57% of the games since being drafted in the first round of the 2018 NFL Draft. He's started just six contests. He's never had a season with more than 125 touches. Going into the 2022 season with just Penny, Travis Homer, DeeJay Dallas, and an uncertain Chris Carson is the definition of playing with fire, so it should come as no surprise the Seahawks drafted a running back so early. The question now becomes whether anyone in this backfield will have any fantasy value.
---
Click here for more 2022 Player Profiles!
---
Kenneth Walker III

's Draft Portfolio

Walker committed to Wake Forest and while he showed a lot of potential rushing the football, he was likely disappointed with the number of touches he received. In 13 games he received just 98 carries despite a very impressive 5.9 yard per carry average. The starting running back, Cade Carney was given 158 carries and struggled to just a 3.9 yard per carry average. Quarterback Jamie Newman also carried the ball 180 times for an even worse, 3.2 yard per carry average. While Newman and Carney couldn't even muster a 4.0 yard per carry average, Walker averaged 4.3 yards after contact per attempt – an elite number. It certainly seemed like Walker had earned a bigger role in his sophomore season.

Unfortunately, that never came to fruition. Christian Beal handled 142 carries to Walker's 119. However, after scoring just four touchdowns as a freshman, he found the end zone 13 times in his sophomore campaign. He wasn't quite as effective on the ground. His yard per carry average dipped to 4.9. His 3.8 yards after contact per attempt also fell a bit, but it still stayed in an elite tier. He continued to display top-notch efficiency.

Through two seasons at Wake Forest, Walker displayed the ability to be a quality runner. His yards after contact per attempt averages in both his first two seasons were very encouraging and showed his ability to churn out tough yardage even if he doesn't receive great blocking. However, there was a major flag, an almost non-existent role in the passing game. Through two seasons, Walker earned a measly nine targets. He caught five of them for 40 yards. This isn't always true, but it's a pretty good rule of thumb—if it doesn't happen in college, it's fairly unlikely it's going to happen in the NFL. With standard scoring leagues becoming rarer and rarer, running backs need to be involved in the passing game for fantasy purposes.

With the hope of leading a backfield, Walker transferred prior to his junior season and landed on his feet at Michigan State. They were more than happy to feed Walker in a big way. He received 262 carries, which ranked seventh-most in the country. He finished with 1,634 rushing yards, which was second only to Lew Nichols III out of Central Michigan. His 6.2 yard per carry average was tied for 19th among running backs with at least 100 attempts. His 18 touchdowns were tied for the seventh-most.

The advanced statistics were just as kind to Walker in 2021. He averaged 3.8 yards after contact per attempt, which was ranked second. He also averaged 16 missed tackles per 100 attempts, which ranked third, and 14 broken tackles per 100 tackles, which ranked 10th. Despite the elite level of rushing efficiency, his involvement in the passing game was once again disappointing.

He finished with just 16 targets, 13 receptions, and 89 yards. After his junior season, Walker declared for the 2022 NFL Draft. For his college career, he finished with just 19 receptions and 136 receiving yards. That's as big of a red flag as there can be for a running back's fantasy prospects. However, he's an elite athlete and appears to be one of the better pure rushing prospects in recent seasons.
Kenneth Walker III is a RB prospect in the 2022 draft class. He scored a 9.24 RAS out of a possible 10.00. This ranked 121 out of 1586 RB from 1987 to 2022. https://t.co/BCqSqq72xj #RAS pic.twitter.com/tfcScY158q

— Kent Lee Platte (@MathBomb) April 4, 2022
While he might be an elite-level rusher, the margin of error for running backs who has a minimal to non-existent role in the passing game is extremely small. The backfield in Seattle looks somewhat crowded, but the bigger concern is just how the workload will be distributed. What kind of role will Walker have in his first year and will it be something fantasy managers can trust on a weekly basis?
Deciphering Seattle's Crowded Backfield and Kenneth Walker's Role
Fantasy managers need to brace themselves for the fact that this might be a really, really bad offense. As of now, the Seahawks are planning on lining up either Geno Smith or Drew Lock behind center. There are no winners in that kind of quarterback battle. In the past five seasons, Seattle has finished in the top-15 in yards gained just one time. However, they've managed to finish in the top-12 in points scored in four out of five seasons. Doesn't seem to make sense, does it? But this goes back to Wilson's elite efficiency—in the four years the Seahawks had a top-12 scoring offense, Wilson finished third, second, fifth, and second for the highest touchdown rate among quarterbacks. This goes without saying, but Lock and Smith will not do that.
Despite having one of the most efficient quarterbacks in NFL history, Pete Carroll was still determined to establish the run at almost any cost. Now with Wilson in Denver and likely bad quarterback play on the horizon, you can guarantee the Seahawks are going to do what they can to get the ground game going. The question will be how effective that will be without Wilson behind center. His high-level efficiency forced opposing defenses to still have to respect the passing game. There will be no such respect given to Lock and Smith. Defenses will be stacking the box in order to stop the one thing they know Carroll wants to do. Below is a chart detailing Carrol's infatuation with the run game over his career as the Seahawks coach.
| Year | Attempts Per Game | NFL Rank |
| --- | --- | --- |
| 2021 | 24.3 | 26 |
| 2020 | 25.6 | 18 |
| 2019 | 29.5 | 3 |
| 2018 | 32.8 | 2 |
| 2017 | 25.6 | 21 |
| 2016 | 25.7 | 15 |
| 2015 | 30.0 | 3 |
| 2014 | 32.7 | 2 |
| 2013 | 31.8 | 2 |
| 2012 | 33.5 | 1 |
| 2011 | 27.8 | 15 |
| 2010 | 23.3 | 30 |
In 12 seasons, the Seahawks averaged 28.5 rush attempts per game. The median was 28.6. This is where Carroll and the Seahawks would love to live, but if they can't keep drives alive as regularly without Wilson, is that a realistic number for fantasy managers to expect in 2022? It should be noted in the two seasons prior to Wilson's arrival, 2010 and 2011, the Seahawks ranked 15th and 30th with an average of 25.6 attempts per game. This is likely a more realistic expectation, which would give the Seahawks around 425 attempts at season's end. Figuring out the distribution of these carries will be key in assessing Walker's fantasy potential in 2022.
Fantasy managers will remember Rashaad Penny finishing the 2021 season as an absolute freight train. Over the last five weeks of the season, he amassed 671 rushing yards and averaged 18.4 attempts per game—a career-best heater and one that will not be repeated or even approached, most likely. Throughout Penny's four-year career saying that he's struggled to stay healthy would be putting it mildly. He's missed 28 out of a possible 65 games and has only appeared in 57% of his games. During that time, he's only ever been given more than 10 carries in a game 11 times and six of those were the last games of the 2021 season. While he's been incredibly efficient with his attempts based on his career 5.6 yard per carry average, he's averaged just 7.57 attempts per game in his career. The Seahawks declined his fifth-year option but decided to bring him back on a one-year deal.
The other running backs on the roster (that we know will be ready to start the season) are Travis Homer and DeeJay Dallas. In two seasons in the league, Dallas has not recorded more than 35 carries in one season and has averaged just 2.3 per game. Homer's run-game usage is even worse. He's never had more than 25 carries in a season and has a per game average of 1.6 carries. Fantasy managers should be expecting Walker and Penny to handle almost all of the rushing work this season. What might that kind of split look like?
Fantasy managers should expect Walker to lead this backfield based on his draft capital and Penny's inability to stay healthy. It would make sense to limit Penny's touches in an attempt to keep him healthy for the duration of the 2022 season. This type of workload split would result in Walker handling about 47% of the rush attempts and Penny would be hovering around 41%. The biggest question then will be who the goal-line touches go to. What cannot be ignored, however, is the kind of workload that would await Walker in the event of a Penny injury.
- Seattle averaged just over 24 carries per game.

- Both DeeJay Dallas and Travis Homer have never averaged more than 3 carries in a game in their career.

- Kenneth Walker is one Rashaad Penny injury away from close to 300 carries.

- Penny has missed 43% of his career games.

— Rob (@RobFFSlayer) May 7, 2022
As great of a runner as Walker might be, the number of targets this offense has historically dedicated to its running backs is a troublesome sight for fantasy managers. Since 2013, the Seahawks have targeted their running backs at one of the lowest rates in the NFL. Over the last nine seasons, Seattle has averaged just 88 running back targets and the median during that time is even worse at 83.
| Year | Total RB Targets | NFL Rank |
| --- | --- | --- |
| 2021 | 79 | 31 |
| 2020 | 98 | 19 |
| 2019 | 83 | 27 |
| 2018 | 85 | 30 |
| 2017 | 104 | 21 |
| 2016 | 95 | 19 |
| 2015 | 80 | 29 |
| 2014 | 74 | 28 |
| 2013 | 67 | 28 |
Here's a look at running backs drafted in the top-100 but after the first round since 2011. One subset is RBs with sub-8% reception shares, the other is greater than 8%. The box on the right shows the percentage of players who hit different max-season PPG thresholds in Years 1-3. pic.twitter.com/69hj7Sy8FK

— JJ Zachariason (@LateRoundQB) April 6, 2022
Last year, Homer and Dallas handled 43 of their 79 targets, or roughly 54%. The rest was a mixture of Penny, Carson, and Alex Collins. Even during Penny's epic five-game stretch to end the 2021 season, he earned just six targets. In his four-year NFL career, Penny's high in targets per game has been 1.1, which comes out to roughly 19 targets over the course of a full season. His career target per game average is 0.8. We've already discussed the concerns regarding Walker's collegiate role in the passing game. Needless to say, fantasy managers should not be expecting any meaningful target numbers for either Penny or Walker. The likely scenario is Homer and Dallas splitting the passing situations and third-downs in a similar fashion Walker and Penny will split early-down and short-yardage work.
Fantasy managers should be bracing for Walker's role in the passing game to be dangerously low. Expecting 10 receptions as the floor and 20 as the ceiling seems fairly reasonable based on the limited number of targets Seattle has distributed to their running backs over the years and the likelihood Walker will be last in that pecking order. Even though Penny has not displayed the skillset to be a quality pass-catcher, he has four years in the league and knows the Seattle offense. This will give him the early edge for passing situations since rookies often struggle with pass protection.
Walker currently owns an Underdog ADP of 89.5 and is being drafted as the RB30. This range feels about right, but with such a limited role in the passing game, fantasy managers may be inclined to look at players such as Tony Pollard (ADP: 94.6, RB31) or Devin Singletary (ADP:101.2, RB33). Pollard is much more heavily involved in his team's passing attack and Singletary is the starting running back on a top-five offense.

The Bottom Line
Walker is a gifted athlete and displayed elite efficiency rushing the football in college.
In Seattle, he'll be in some sort of timeshare with Rashaad Penny for early-down and short-yardage work.
The Seahawks target their running backs at an extremely low rate.
Fantasy managers should only expect about 10–15 receptions.
With such limited involvement in the passing game, who becomes the team's preferred goal-line back between Penny and Walker will be extremely important in deciphering which one is the better fantasy scorer.
Walker possesses 18–20 carry per game upside in the event of a Penny injury.
He's best viewed as a mid-range RB3 and is likely stuck in a timeshare with no meaningful role in the passing game.