Kyler Murray is Undervalued at His Fantasy Football ADP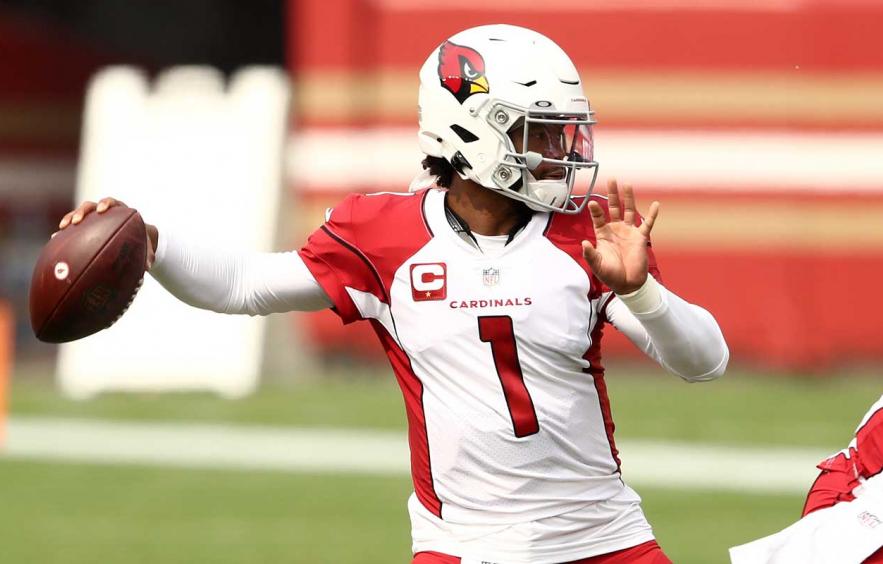 Ezra Shaw/Getty Images
Update 8/26/22: Arizona Cardinals quarterback Kyler Murray's Underdog Fantasy ADP has dropped to 62.5 (6.03), QB6, giving fantasy drafters an even bigger opportunity to add a difference maker.
Hot off a five-year contract extension, Arizona Cardinals quarterback Kyler Murray belongs firmly in the overall fantasy football QB1 discussion. Murray has flashed that kind of upside in spurts throughout his career but has been hampered by injuries more than once. With his current Underdog Fantasy ADP of 59.6 (5.12), QB5 is must-draft territory.
---
Click here for more 2022 Player Profiles!
---
Kyler Murray

's Recent History

Murray's last two seasons have featured dominant play interrupted by frustrating injuries. In 2020, Murray was the overall QB1 from Weeks 1-10, averaging 29.3 fantasy points per game, 2.3 points more than the next closest quarterback. The 5-foot-10, 207-pound spark plug lost wattage after suffering an AC joint sprain in Week 11's loss to the Seattle Seahawks and averaged just 16.5 fantasy points per game (QB14) from Weeks 11-17. The following year Murray suffered a high-ankle sprain in Week 8. Weeks 1-7, Murray was the QB4, posting 24.1 points per game. Murray missed four weeks due to the injury but averaged 20.5 points per game (QB7), through the final six weeks of the regular season.

The injuries hurt, but the resulting confluence of events should give one hope. By parsing quarterback scramble data, we can see that Murray's designed run rate dropped by 15% in 2020 and 8% in 2021. He still scrambled effectively when the opportunity presented itself, but the primary takeaway is that the promising passer was able to maintain a mid-tier QB1 production level upon his return in 2021 even with the reduced rushing workload.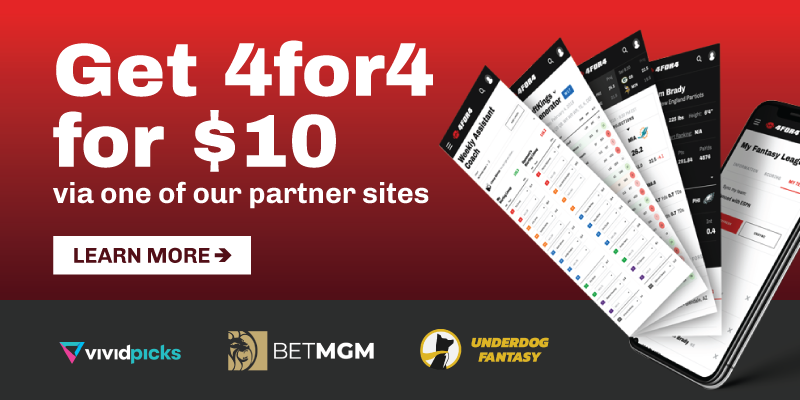 Potential Game Scripts in 2022
Head coach Kliff Kingsbury prefers to operate with a run-to-pass ratio that skews slightly towards the pass so it is helpful when an opponent can force Arizona to push the pace. In 2020, NFL schedule-makers set up the NFC West to face the AFC East and the NFC East. The AFC East offered two solid opponents in the Buffalo Bills and the Miami Dolphins but the NFC East was the league's biggest loser; Washington needed just a 7-9 record to win the division. Neither of these divisional pairings forced Arizona to crank up the passing volume and yet Murray was still lighting the league on fire. 2021 scheduling brought bouts with the NFC North and the AFC South. Between the two divisions, only the Green Bay Packers and Tennessee Titans were truly great teams.
Looking ahead to 2022, the NFC West will face off against the AFC West and the NFC South. From top to bottom, the AFC West looks like the best division in football with all four teams featuring high-flying aerial attacks. The NFC South quietly offers shootout potential as well, beyond the mighty Tampa Bay Buccaneers, as the Carolina Panthers just added quarterback Baker Mayfield and both the New Orleans Saints and Atlanta Falcons added dynamic wide receivers in Round 1 of the 2022 NFL Draft. Intra-division play also brings shootout potential with the defending Super Bowl Champion Los Angeles Rams and the San Francisco 49ers, who appear committed to the cannon-armed youngster, quarterback Trey Lance. The Seattle Seahawks don't offer much in the shootout department, but their defense is at least a pushover. Arizona's remaining 2022 opponents include matchups against three great teams; the Philadelphia Eagles, Minnesota Vikings, and New England Patriots.
How
Kyler Murray

Wins

Murray ranks second among quarterbacks in both rushing yards (1,786) and rushing touchdowns (20) over the last three years. Though known as a shifty, open field yardage gobbler, Murray's ball-carrying ability in scoring position is lethal. Over the last two years, per SportsInfoSolutions (SiS), the young quarterback has scored touchdowns on 8 of his 13 carries from inside the opponent's five-yard line. On 50 total red zone carries during that span, Murray has found the end zone a total of 16 times.

Further diversifying his toolbox, Murray has improved his completion rate from 64.4% as a rookie, to 67.2% as a sophomore, to 69.2% in 2021. Last year's mark was second-best in the league among quarterbacks with at least 100 passes thrown, as was his on-target throw rate of 82.2%. Murray's pocket awareness has also dramatically increased since 2019 when he posted an 8.1% sack rate, ranking 27th-of-33 qualifying passers. Murray kept his eyes on the prize though, averaging a promising 64.6% on-target throw rate while under pressure, good for 13th best (SiS). In the following seasons, Murray's sack rate went from 4.1% in 2020 (11th-of-36) before dipping back to 6.1% in 2021 (17th-of-33), perhaps as a result of the high-ankle sprain. Despite the sack fluctuation, the young quarterback has continued to develop as a passer under pressure. In 2020, Murray's on-target throw rate under pressure progressed to 66% (18th) and continued its ascent, in 2021, to a league-high 76.3%.

This offseason, Arizona traded for Baltimore Ravens star wide receiver Marquise Brown. Teammates at the University of Oklahoma, Murray and Brown led the Sooners to 48.4 points per game, best in the FBS. Brown has developed into one of the league's most talented field-stretchers, which meshes perfectly with Murray's big arm. Murray racked up a league-best 50.7% completion rate on passes traveling 20 or more yards downfield (min. 50 attempts) last year, an area where Brown earned the sixth most targets (28).
How Murray Stacks Up With The Field
Over the last two seasons, Murray has produced an average of 23.7 and 21.5 fantasy points per game, respectively. Both marks earned him QB4 finishes among quarterbacks who played at least 10 games or more.
4for4 currently has Murray projected for 312 fantasy points on the year, good for a QB5 finish overall.
While a QB5 finish would suffice, given Murray's ADP, his potential ceiling outcome is notably higher. Through the first three years of his career, Murray's respective per-game pass attempt averages are 33.9, 34.9, and 34.4. As mentioned above, schedule makers set up NFC West teams for shootouts galore, which puts Murray's ceiling outcome firmly within his crosshairs. It is not unreasonable to think he could hit 35 attempts per game—with even marginal improvements on his career averages in touchdown rate and yards per attempt, Murray could surpass 300 fantasy points through the air alone.
In Murray's career, he has averaged nearly seven rushes per game. Applying the same idea as above, Arizona's play volume could increase due to the tough matchups, meaning he could maintain that rushing average alongside increased passing volume. Projecting a reasonable, high-end outcome of five yards per carry, Murray could easily access a ceiling of 500+ rushing yards this year. With that much rushing, Murray's ceiling outcome is likely 8–10 scores on the ground.
If everything breaks right for Murray, he could blow away his 312-point projection and approach a 400+ point fantasy season much like the one Josh Allen posted in 2021.
The Bottom Line
When healthy, Kyler Murray has already shown an overall QB1 ceiling in flashes but his end-of-season numbers have suffered because of injuries.
Arizona has a schedule that could be one of the most shootout-heavy in the league. With Murray and a full stable of weapons, they should be able to score with any team in the league.
Murray has already shown as much rushing upside as any quarterback in the league—with the addition of Marquise Brown, Murray's big arm could translate to one of the quickest-hitting offenses in football, especially after DeAndre Hopkins returns.
While projected as the QB5 at 4for4, Murray's high-end outcome is the overall QB1 as one of just a handful of quarterbacks that could approach 400 fantasy points, making him well worth his QB5 ADP.