Depth Chart Battle: Julio Jones vs. Russell Gage (Fantasy Football)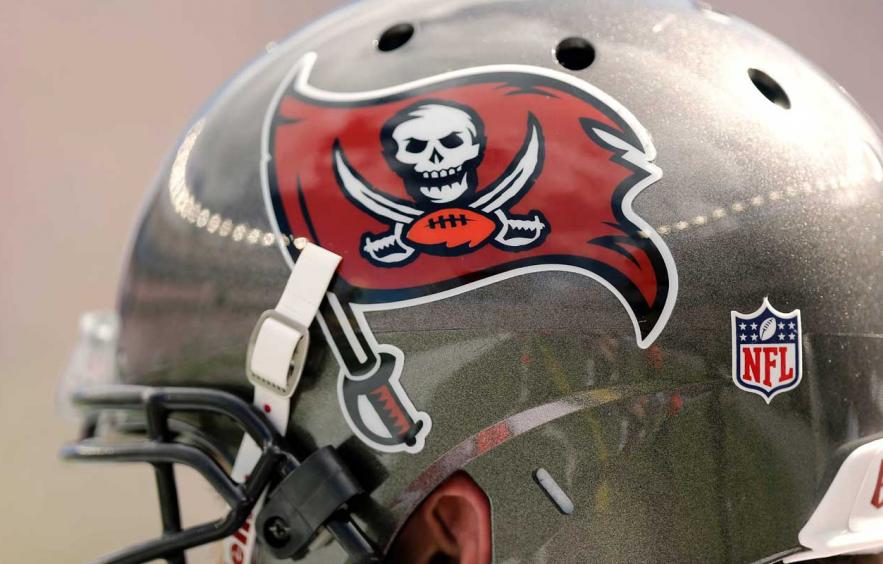 Winslow Townson/Getty Images
Being attached to Tom Brady has never been a bad thing. Coming off a season where he threw 5,316 yards and almost as many touchdowns (43) as years he's been on this planet (45), Brady went out and did some recruiting this off-season to replenish his receiving options after Antonio Brown hit the ejector seat mid-game, Rob Gronkowski called it a career, and it looked like Chris Godwin may not be back until the middle of the season. In stepped Russell Gage with a 3-year, $30 million contract and an ADP that was just six spots off of Godwin's by mid-July.
---
Click here for more 2022 Player Profiles!
---
However, in one fell swoop, Godwin avoided PUP to start training camp and the Bucs signed Julio Jones to add depth to the receiver room and Gage's ADP has since plummeted. So where do we stand as you're getting ready for your fantasy draft? Mike Evans is at top of the pecking order. Presumably, when Godwin is fully healthy he'll be the 1B option, and with no real tight end of note, that leaves Gage and Jones in a battle for valuable targets as Brady's third option.
Russell Gage

(Underdog ADP 123.3, WR56)

2021 was the year Russell Gage broke out as a fantasy asset. He went from an afterthought buried on a mediocre depth chart to the guy who, along with rookie tight end Kyle Pitts, led the way for an average passing attack in Atlanta and finished WR39 in half-point PPR scoring in 2021. Antonio Brown, who only played seven games, finished as WR58 as Tom Brady's third or sometimes fourth option last year.

Some of the underlying metrics are even better for Gage, like his 2.0 yards per route run (via SportsInfoSolutions) would have been top-25 among all receivers last year. Plus, a completion percentage of 70.2% of passes in his direction ranked 14th. His drop percentage of 6.4% is higher than you would prefer, but overall he's a useful receiver that can make the most of his opportunities. The hope, of course, is that he gets a similar number of opportunities in Tampa Bay that he got in Atlanta last year.

Also in Gage's defense, one of the first calls Brady made after unretiring was to Gage to recruit him to Tampa. In fact, it was so out of the blue that Gage thought he was getting prank called! Throughout the early portions of training camp, Gage was described as "uncoverable" and "looking to have a big year" and that was even after Jones was signed.

However, there are some negatives with Gage. He suffered a hamstring injury on August 10th and has yet to return to practice. Obviously, that's not great news. Combined with Chris Godwin's earlier return date and that's more target competition earlier in the season than people were expecting when he was going as a sixth-round pick in mid-July. Godwin may not be ready for Week 1, but if he avoids PUP he'll be back at some point in the first four weeks.

*While Gage does have a hamstring injury, it was described as "minor" and supposedly will not impact him for Week 1. We'll keep this updated if anything changes.
Julio Jones

(Underdog ADP 117.3, WR54)

Any argument in Julio Jones' favor starts and ends with the fact he's Julio Jones, right? His WR92 finish in just 10 games in 2021 is well short of what we expect from one of the best receivers of the last decade. However, there were some faint signs of hope.

His 1.9 yards per route run was not bad, per SIS. Again, if you just saw the WR92 finish, you might not expect that (I didn't!). He was also averaging an average depth of target of 11.6 yards, the same as A.J. Brown. Again, pretty good! Obviously, everything else that happened in Tennessee will need to be forgotten in order to click the button to draft Jones in 2022, but there were some positive signs he may not be completely washed.

However, there is also this from Albert Breer:

🧵 5 from @Buccaneers 🧵



1) Akiem Hicks, at 32, has been a revelation—virtually unblockable. He'll slide in at 3-tech. If healthy, he and Vita Vea = a problem.



2) Julio Jones needs be managed (2 on/1 off camp sked) but is playing fast, looks smooth, has clicked with Tom Brady.

— Albert Breer (@AlbertBreer) August 24, 2022
The key to this season for Jones is staying healthy and that sounds like he's going to need to be managed throughout the season and have his reps limited. If I were a betting man, I'd think Tampa Bay is viewing Jones more as a Gronk replacement in the red zone than an Antonio Brown replacement. Is a part-time player who will see mostly reps in the red zone worthy of a top-50 WR selection?

Who Should You Draft?
My cop-out answer is both, possibly. They both have cheap ADPs and looking at last year they'd be around where Kalif Raymond and Byron Pringle finished the season. It's certainly possible for both to beat Pringle's 42-catch, 568-yard, and 5-TD season. In theory, it is possible for all four to be top-50 receivers but seems more likely that one of these two will underperform their ADP. In theory, Jones being a part-time player probably makes him the less desirable answer, but early in the season, he's going to be needed as Godwin makes his way back to 100%. Something that might help Gage over Jones - the offensive line. Brady is going to have to get the ball out quickly with the injuries mounting on the offensive line. Layup low-ADoT throws to Gage might not be the highlight plays prime Julio put on tape, but they'll do the job in fantasy - especially on full-PPR sites. Gage is also the cheaper answer right now and where I'd lean given the financial commitment made to him as well as some better underlying numbers.