Can Tyrion Davis-Price Strike Gold as a 49er in 2022?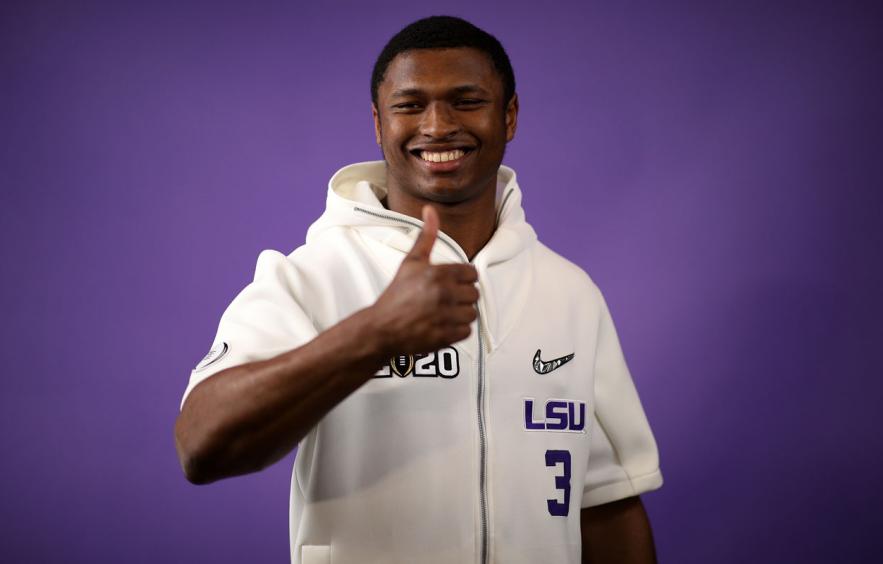 Chris Graythen/Getty Images
Last season, the 49ers had to depend on sixth-round rookie, Elijah Mitchell after injuries knocked out Jeff Wilson Jr. and Raheem Mostert. Third-round rookie, Trey Sermon spent the majority of his first year in the NFL glued to the pine, the most recent example of how unforgiving Kyle Shanahan's doghouse can be. Unfortunately, for Sermon, he would never make it out in 2021 and his standing with the team is in question considering just how bad his rookie season went. The fact that the 49ers drafted a running back wasn't a surprise, it was pretty much a guarantee.
Mostert left in the offseason to sign with the Miami Dolphins. It left the San Francisco backfield with Mitchell—a sixth-round rookie who missed six games last season—Wilson—who has played in just 57% of his games since entering the league in 2018—and Sermon. The team desperately needed some reinforcements, which is where Tyrion Davis-Price enters the picture. He was selected in the third round, a pick most draft analysts felt was a reach, but who is Davis-Price and what can fantasy managers expect in his first year?
---
Click here for more 2022 Player Profiles!
---
What Does Tyrion-Davis Price Bring to the Table?
Davis-Price's inaugural season at LSU was in 2019. You might remember it as the year of Joe Burrow and Ja'Marr Chase. Davis-Price was backing up Clyde Edwards-Helaire who led the Tigers in rushing with over 1,400 yards on 215 attempts. The 4-star recruit received 64 carries as a true freshman and gained 295 yards. He would also find the end zone six times on the ground and catch 10 passes. Considering the strength of the Tigers' passing game and a solidified veteran running back on a National Championship squad, it was a pretty good first season for Davis-Price.
In 2020, with Joe Burrow leaving for the NFL and Ja'Marr Chase choosing to sit out during the Covid-19 season, the Tigers struggled mightily. Davis-Price would go on to lead the backfield for LSU, but for all intents and purposes, this was a committee backfield. Davis-Price was given 104 carries compared to John Emery Jr.'s 75. Davis-Price finished his sophomore campaign with just 446 yards and 3 touchdowns. Emery out-played Davis-Price in regards to yards per carry and total receptions, but the truth is neither of them really stood out much.
In his final season at LSU, Davis-Price would finally seize the entire backfield to himself. He finished with 211 attempts and 1,015 rushing yards. According to Sports Info Solutions, he averaged six broken tackles per 100 attempts, which ranked 29th in the country. He also averaged five missed tackles per 100 attempts, which ranked 24th. He created 2.4 yards after contact per attempt, which ranked 28th.
In three seasons, he finished with 37 targets, 28 receptions, and 184 receiving yards. His yard-per-route run average in his LSU career was 0.48. His best season in this metric was his freshman season when he posted a 1.03 yard per route run average. His final two seasons were both under 0.40. He was rarely used in the passing game and when he was, he struggled to make it worth his team's time.
The one area that likely endured him to Kyle Shanahan was his speed and size. He was listed at 223 pounds for LSU, but weighed in at 211 pounds at the combine and blazed a 4.48 forty. He also had elite times in the 20-yard and 10-yard split at 2.6 and 1.53 seconds respectively. Lance Zierlein, NFL.com's lead NFL Draft analysis had this time to say about Davis-Price,
"He's an engimatic back featuring urgency, indecisiveness, physicality, and finese on any given carry... Davis-Price's athletic ability and hammerhead finishes will help him create yardage. He has the size and upside worthy of consideration in the middle rounds."
The 49ers' backfield looks less crowded heading into 2022 than it has in recent seasons. There's no reason for fantasy managers not to expect Elijah Mitchell to lead this backfield after what he did in his rookie season, but who the No. 2 is in San Francisco is a giant question mark at this time. Can Davis-Price claim that role and be someone fantasy managers need to keep an eye on?
Where Does
Tyrion Davis-Price

Fit Into the

49ers

' Backfield?

It's no mystery for fantasy managers and the NFL alike that Kyle Shanahan wants to run the football. Since Shanahan took over in 2017 as the head coach, the 49ers have been in the top-15 in rush attempts in four out of five seasons.

Last season, the running backs in San Francisco handled 437 total touches, which was roughly 25.7 per game. Below you will find a table that displays how many touches Shanahan has given to his group of running backs since becoming the head coach.
| Year | Total Touches | Touches Per Game |
| --- | --- | --- |
| 2021 | 437 | 25.7 |
| 2020 | 489 | 30.6 |
| 2019 | 504 | 31.5 |
| 2018 | 455 | 28.4 |
| 2017 | 471 | 29.4 |
| Average | 2,356 | 29.1 |
Last year, Mitchell ranked seventh in total touches per game with 20.5. Unfortunately, we've seen this backfield have to deal with a plethora of injuries each season, it's hard to fully get the feel for how Shanahan would use his backfield in the perfect situation. What we do know, however, is that only two running backs in five seasons have ever had more than 200 touches. Twice in five years, three running backs generated more than 100 total touches in the same season.
Fantasy managers should expect Mitchell's total touches per game to decrease in 2022. If he stays in that 15–16 range of touches per game, based on Shanahan's five-year average there are roughly 14–15 touches left to go around between Wilson, Davis-Price, and Sermon.
It will be important to see how that camp battle plays out for that No. 2 spot. If Davis-Price is able to separate himself from those two other guys and earn 10 touches per game, he could find himself with RB4 value and someone fantasy managers could use in a pinch during bye weeks. However, the most interesting part about Davis-Price if he earns that No. 2 role is his handcuff status. While fantasy managers should expect a committee approach to some extent if Mitchell gets hurt, Davis-Price has the opportunity to be the lead man in that scenario.
He currently has an Underdog ADP of 175.2 and is being drafted as the RB53. That's an appropriate spot to be drafting Davis-Price. There's a lot left to be decided in regards to who wins that spot behind Mitchell, but if it Davis-Price is victorious, his handcuff status and pathway to 10 touches per game of his own will likely increase his ADP.

The Bottom Line
Tyrion Davis-Price didn't excel in any one category at LSU. He had a solid junior season but was not a great prospect coming out.
He possesses good size and speed to be able to hit the home run if he gets going.
Davis-Price brings very little to the passing game and any involvement there should be considered a bonus
He has the opportunity to beat out Wilson and Sermon to be the No. 2 running back in Kyle Shanahan's offense – that's a good spot to be.
The backfield behind Mitchell is murky and undecided. Fantasy managers should be cautious about overvaluing any of these players because Shanahan has a tendency of switching it up at any moment.
Davis-Price is best viewed as an RB4/5 who could have some additional upside depending on how training camp goes.