Can Christian Watson Take Advantage of a Golden Opportunity?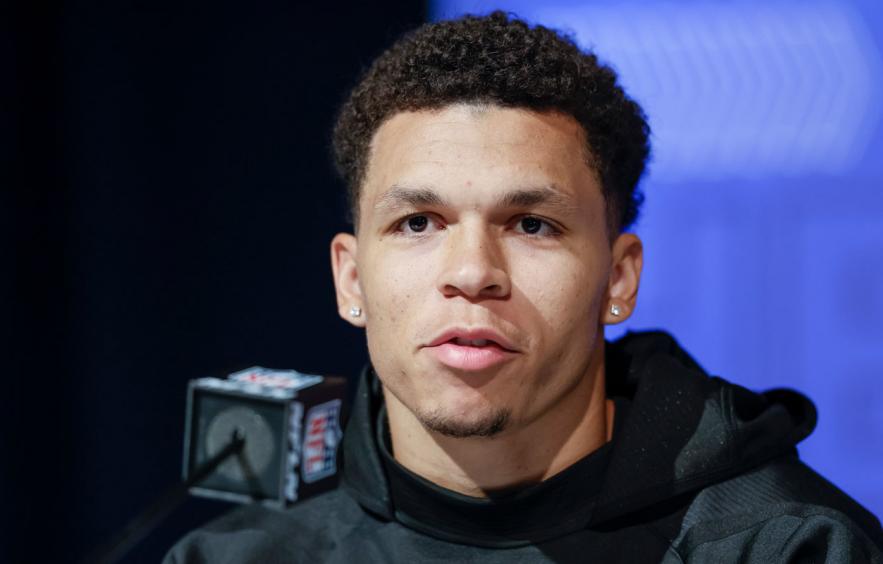 Michael Hickey/Getty Images
In the aftermath of the Davante Adams trade, no team in the NFL had as much opportunity as the Green Bay Packers. When the only veteran receiver added was Sammy Watkins the stage was set for some rookie to walk into a situation that could not get any better. Aaron Rodgers, the back-to-back MVP was going to be behind center and the Packers had lost their No. 1 and No. 2 receiver during the offseason. The receiver depth chart is widely viewed as being one of the bottom five in the league, which would provide plenty of room for any rookie to climb the ranks. If that wasn't enough, the Packers also employ one of the best young and offensively-gifted coaches in the NFL. In the past two seasons, the Packers have ranked no worse than 10th in points scored and yards gained.
---
Click here for more 2022 Player Profiles!
---
Aaron Rodgers

' History With Rookies

There's a narrative Aaron Rodgers won't trust a rookie receiver. Jordy Nelson, Davante Adams, Randall Cobb, and James Jones are pointed to as examples to prove this storyline. However, the truth of the matter is Aaron Rodgers hasn't had to trust a rookie receiver and the Packers haven't needed a rookie receiver to be productive in year one.

When James Jones was drafted in 2007, the Packers already had entrenched starters Donald Driver and Greg Jennings who combined for over 1,950 yards and 14 touchdowns. In 2008, Jordy Nelson's rookie season, Driver and Jennings combined for over 2,300 yards and 14 touchdowns. During Cobb's rookie season, Jennings, Nelson, and Jones had over 2,800 yards and 31 touchdowns. Nelson and Cobb teamed up for more than 2,800 yards and 25 touchdowns in Adams's rookie season.

When you consider the players that previous rookie receivers in Green Bay have had to compete with and then look at what Watson will be going up against, the difference could not be any larger. The leading receivers left on the roster from 2021 are Allen Lazard and Randall Cobb. They combined for 888 yards and 13 touchdowns. Needless to say, the opportunities are endless for Watson.
Who Is
Christian Watson

?

It's a fair question considering he played his college ball at North Dakota State, but one thing fantasy managers should know is this kid is insanely athletic. The term "freak" gets thrown around when talking about players who are simply bigger, faster, and stronger than everyone else. Well, in that sense, Watson is the freakiest of the freaks.
Christian Watson is a WR prospect in the 2022 draft class. He scored a 10 RAS out of a possible 10.00. This ranked 2 out of 2613 WR from 1987 to 2022. https://t.co/WGDb5WvptX #RAS pic.twitter.com/aLnSDCyrS1

— Kent Lee Platte (@MathBomb) March 23, 2022
Relative Athletic Scores (RAS) are used to gauge a player's athleticism versus players at the same position. Everything comes into play—their height, weight, 40 times, vertical leap, bench press, among several other combine drills. Dating back to 1987, Watson ranked as the second-most athletic receiver out of 2,613 qualifiers. The only receiver who bested his RAS was Hall of Famer, Calvin Johnson. Watson is often defined as being a raw prospect, but the tools at Green Bay's disposal are absolutely endless. Unfortunately, when looking at his collegiate stats, it appears at first glance he wasn't able to use his athleticism to his full advantage.
| Year | Targets | Receptions | Yards | Touchdowns |
| --- | --- | --- | --- | --- |
| 2021 | 62 | 43 | 801 | 7 |
| 2020 | 46 | 18 | 440 | 1 |
| 2019 | 57 | 34 | 734 | 6 |
While the argument of Watson being a raw prospect is fair, the stats in the table above need to be taken with a grain of salt. The Bisons simply did not pass the ball. In 2021, they attempted just 257 passes compared to 678 rushes. It was more of the same in 2020 when the Bisons ran the football 426 times to just 189 pass attempts. Unfortunately, Watson did not have much opportunity in an extremely run-heavy system. However, he was extremely efficient with the targets he did receive.
There were 468 receivers in FBS and FCS who had at least 50 targets in 2021 and Watson ranked 26th with an 18.6 yards per reception. Watson really shined in just about every rate statistic where his lack of opportunity could not be held against him. He averaged 8.0 yards after the catch (YAC) per reception, which ranked 23rd. Out of all the receivers drafted in the first three rounds, only Treylon Burks had a better average. While the former Bison may have ranked just second in YAC per reception, he finished with a higher yard per route run average than every other receiver with 50+ targets – all 467 of them. He closed out his senior season with a 4.33 average. The next closest was Burk at 3.57.
Rookie A: 729 routes run, 140 targets, 93 catches, 1,827 yards & 18 TDs. 19.6 YPR. 8.5 YAC/Rec. 2.51 Y/RR. 3-years.



Rookie B: 726 routes run, 180 targets, 104 catches, 2,140 yards & 14 TDs. 20.6 YPR. 8.5 YAC/Rec. 2.95 Y/RR. 4-years.



Stats courtesy of PFF. Who is who?

— Rob (@RobFFSlayer) May 5, 2022
Rooke A is first-round selection, Jameson Williams. Rookie B is Christian Watson. Despite Watson having spent an extra year in college, their routes run are almost identical. While Williams was the one with the huge season, it's impossible to catch the ball on a run play, which is something North Dakota State did a lot of. Still, it's notable that on roughly the same number of routes, Watson compiled more targets and yards.
Most draft experts believe Watson has some work to do when it comes to the nuance of playing receiver and that he'll need to work on his technical skills. Matt Harmon of Reception Perception had this to say about Watson,
"He shows some flashes, but there's no hiding from the fact he's an extremely raw route-runner with way too many round "cuts" on tape... There's some ability to find the soft spots in the intermediate areas against zone coverage, but he needs to get much more technically precise and smooth as a route-runner against man coverage."
There is no question he's not a finished product yet—no rookie is—and the increase in competition will be substantial, but his athletic gifts and the Packers' history of hitting on second-round receivers gives him a lot of potential moving forward.
Will
Christian Watson

Be Someone Fantasy Managers Can Trust?

There's ample opportunity available in Green Bay in terms of available targets. The Packers have the second-most air yards available and the fifth-most targets. Watson will be coming to Green Bay having to beat out Allen Lazard and the ghost of Sammy Watkins. Based on his draft capital alone, Watson should be on the field early and often. If nothing else, he'll provide Rodgers the speed element they lost when Marquez Valdes-Scantling signed with Kansas City.

While incumbent head coach Mike McCarthy ran a system predicated on his receivers being able to beat man coverage, Matt LaFleur has incorporated a new system that uses a lot of pre-snap motion to scheme his preferred targets the ball. Watson will likely be a big part of this as the Packers look to make Watson's job easier on him and get him in space where he can use his athleticism and speed to make plays with the ball in his hands.

Fantasy managers shouldn't expect Watson to command a large target share in year one. The most likely scenario is a receiver-by-committee approach in Green Bay and it shouldn't be a surprise if Aaron Jones handles the most targets of his career. General manager Brian Gutenkunst talked about the need for speed in their offseason multiple times and Watson provides that.

It also shouldn't be a surprise if the Packers attempt to utilize his deep speed in year one. While many may believe Watkins can bring that speed element, the reality is he hasn't been an effective deep ball threat since 2017, which was the last year he had a yard-per-reception average over 15. Prior to 2021, he had three straight seasons in Kansas City with an average depth of target of 9.5 yards or below.

The Packers have averaged 34–36 pass attempts the last three seasons with LaFleur in charge of calling plays. The loss of Adams and a depleted receiver room will likely result in a slightly more run-heavy approach, but there's no reason to expect a drastic change—they still have Aaron Rodgers after all. Assuming the Packers pass the ball around 550 times, the chart below will display what the Packers' target share could look like in 2022.
| Player | Target Share | Total Targets |
| --- | --- | --- |
| Allen Lazard | 21% | 115 |
| Christian Watson | 19% | 105 |
| Running Backs | 20% | 110 |
| Tight Ends | 18% | 100 |
| Watkins, Cobb, Rodgers, Doubs | 22% | 120 |
As previously stated, the Packers are unlikely to have a true No. 1 receiver and a committee-like approach is most likely. If Watson is able to command roughly 105 targets, he could finish with around 60 catches, 850 yards, and 6 touchdowns. This type of stat line would result in Watson finishing as a WR4, but the depth chart leaves plenty of room for potential if Watson is up to it.

The Bottom Line
Watson is one of the most athletically gifted wide receivers of all-time.
His counting stats, such as targets, receptions, and yards, in college are negatively impacted by an incredibly run-heavy offense at North Dakota State.
He was extremely efficient with his opportunities in 2021 and had a higher yard per route run average than every receiver drafted.
The Packers have an incredible amount of targets and routes available after the losses of Davante Adams and Marquez Valdes-Scantling.
Watson has a lot of potential, but the upgrade in competition may create some growing pains in year one.
Watson is best viewed as a WR4 with WR3 potential if he's able to acclimate to the NFL game faster than expected.