Brandon Aiyuk Could be Fantasy Football Gold in 2022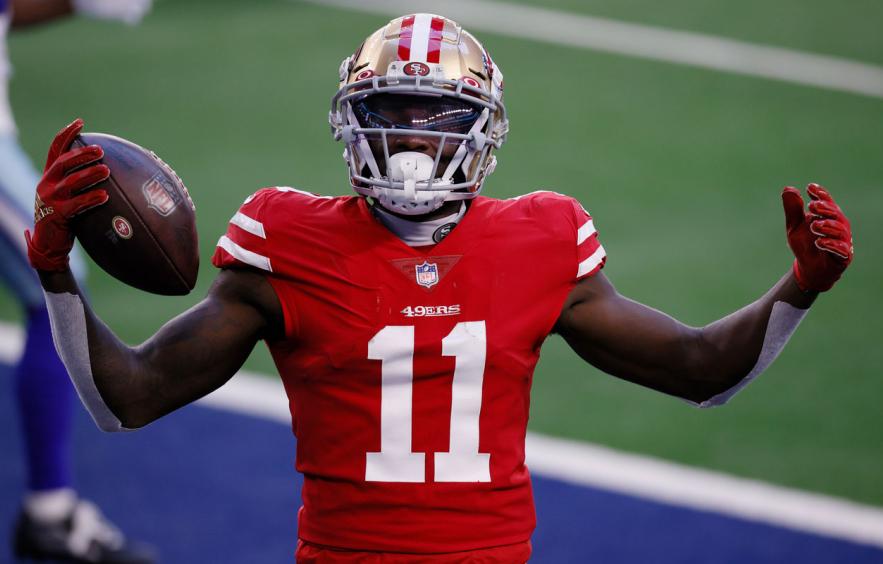 Tom Pennington/Getty Images
Brandon Aiyuk is an unquestionable playmaker on an offense that routinely finds ways to move the football, and thus score lots of points. This makes him, in theory, an attractive prospect for any fantasy manager. But after a mixed season in 2021, and some changes coming at the quarterback position, is he a player that fantasy managers must roster?
---
Click here for more 2022 Player Profiles!
---
Aiyuk was in the Early-Season Doghouse
On paper, Aiyuk's 2021 numbers are nothing to scream at an obscenely loud volume about. He caught 56 of his 84 targets for 826 yards with five touchdowns. Yet as with most things, these numbers do not tell the full story.
Despite an impressive rookie campaign in 2020, for reasons best known to 49ers coach Kyle Shanahan, Aiyuk began the 2021 season firmly in the doghouse. In the first seven weeks of the season, Aiyuk played an average of 66.6% of the 49ers' offensive snaps. He commanded a 9.6% target share, seeing an average of 2.7 looks per game, on which he delivered 1.5 receptions for 16 yards. As you would expect, these stats did not exactly make him a fantasy superstar. Aiyuk posted 3.5 half PPR points per game, and after seven weeks he was the WR107 in points per game.
Aiyuk's Second-Half Comeback
Something must have changed drastically after this initial period because Aiyuk was much more involved and far more productive from Week 8 onwards. He was on the field for 92.3% of the plays, and his target share jumped to 24%. Aiyuk drew an average of 6.3 targets per game, catching 4.3 for 66.4 yards and 0.36 touchdowns per outing. This increased role did wonders for his fantasy output, too. Aiyuk saw his points per game jump to 11.0, enough for WR24 in points per game and WR14 overall for the period.
Despite a relatively low workload (41 wide receivers saw more targets in 2021) Aiyuk was able to boast impressive efficiency when called upon. He was 11th among all wide receivers with 9.6 yards per target, and his 382 yards after the catch were the 19th most at the wide receiver spot. Aiyuk showed off his ability to get open throughout the season, as captured by Matt Harmon in his Reception Perception profile for Aiyuk. Harmon logged Aiyuk's success rate against both man and zone coverage as being in the 64th percentile, while against press he was up in the 80th percentile. This guy is a proper wide receiver and deserves a ton of respect and acclaim.
A Changing Offense in San Francisco
The 49ers' offense is going to look a bit different in 2022 than it did a year ago, and none of the differences are things that Aiyuk can control. There is a new quarterback in town (technically, he was in town last year. But you take my meaning.) with Trey Lance set to become the full-time starter after seeing mere spot duty in 2021. This might have slightly dinged Aiyuk, given that he averages 9.88 adjusted yards per attempt when targeted by Jimmy Garoppolo. But it's not like Aiyuk and Lance showed no chemistry at all last season, with their linkup worth "just" 9.69 AYA.
There is something of an elephant in the room, namely that Aiyuk has to share work with Deebo Samuel. Samuel was a beast in 2021, finishing the season with 77 receptions, 1,405 yards, and 6touchdowns, with an additional 365 yards and eight scores on the ground. But Samuel has expressed his displeasure with the 49ers organization this offseason, and made a trade request as far back as April that at the time of this writing he has not rescinded. While it seems unlikely that the 49ers will honor this request, it cannot be ruled out. I mean, it's been a crazy offseason for wide receivers, right?
Should Samuel be moved, this would be great news for Aiyuk, based on his work so far in his career in games that Samuel missed. Aiyuk has seen 5.7 targets per game with Samuel in the lineup, catching 3.7 for 53.4 yards and 0.32 touchdowns, posting 9.6 half-PPR points per game. Without Samuel for company, Aiyuk's numbers jump to 8.1, 5.0, 57.1 and 0.43, with 12.2 fantasy points per game.

Brandon Aiyuk

's 2022 Outlook

Aiyuk is currently being taken as the WR41 at Underdog, behind players like Chris Godwin, who will miss a big chunk of the season with injury (WR29), and rookies like Drake London (WR35) and Treylon Burks (WR40). As you read this, he is undoubtedly not the lead guy in his own receiving corps, which is always likely to ding anyone's fantasy appeal.

However, Aiyuk showed in the second half of last season that he can produce at a solid WR2 level, despite playing in an offense with an unquestioned stud on the other side of the field that also wants to run the ball a ton. The 49ers' neutral game pass rate in 2021 was a mere 53%, good for the fifth-lowest in the league. There is also the possibility, however remote, of Samuel not being a 49er in 2022, in which case Aiyuk is likely to see his role increase. He might even see some of the carries that Samuel has been force-fed, a task that he has not been awful at over his two seasons in the NFL. Aiyuk averages 8.5 yards per attempt on the ground on 11 rushes.

Aiyuk is a WR2 currently going as a WR4, which makes him a tremendous value. He's a player I want on all of my rosters in 2021.
The Bottom Line
Aiyuk's second half of 2021 was a truer indicator of the type of player he is, and just what he can offer fantasy managers in 2022.
Aiyuk has shown he can produce fantasy-friendly numbers based on his efficiency, which we will always enjoy if we can't get huge volume.
Should the 49ers move on from Samuel in 2022, Aiyuk should see his volume increase, which in concert with his efficiency makes him a player that is currently wildly undervalued in terms of ADP.