12 IDP Free Agents With the Best Landing Spots in 2022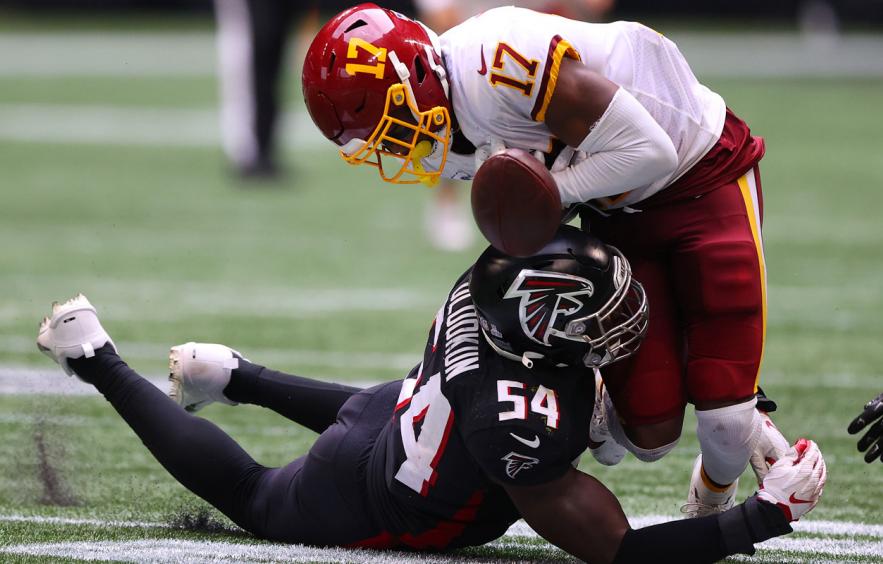 Todd Kirkland/Getty Images
The madness of free agency has settled down. The money has been doled out and some of the bigger defenders have settled into their new zip codes, or in some instances, remained on their same team.
Which signings will have the most impact on IDP leagues as we head into the 2022 season? I'll look at the IDPs who find themselves in ideal situations and how they'll potentially be deployed and their usage on the field.
Foyesade Oluokun, LB, Jacksonville
Jaguars
Jacksonville played the part of Harry and Lloyd from Dumb and Dumber. They discovered a briefcase full of cash and handed it out, only they won't be giving out IOUs. They established some position markets, especially at the WR and LB positions. Tackles are great for IDP, but they don't necessarily measure how good a player is.
Oluokun signed a three-year deal worth $45 million with $28 million guaranteed. Oluokun led the league in tackles (192) and pitched in on three INTs, and two sacks. On the field, he was below average. His average tackle depth was just over three yards, so he was making tackles beyond the second level. However, I'm not here to judge his on-field play. What does this mean for Oluokun from an IDP standpoint?
He becomes a top-5 LB for 2022. The Jaguars released Myles Jack, so this opens the door for Oluokun to be the leader of the defense and play-caller, as I project him to wear the dot. Over the last two seasons, even with Deion Jones opposite, he's recorded consecutive 100-plus tackle campaigns and a 15.1% tackle rate - which is an elite rate.
He's been a durable player and has displayed leadership traits, as he took over the playcalling duties from Jones in 2021. He's missed just one game over his four seasons. He won't deliver many big plays, but is a consistent tackler and has been, on average, an LB5 over the last two seasons. For 2022 redraft leagues, he's a top-5 LB.
Bobby Wagner, LB, Los Angeles
Rams
The Rams reeled in the big fish of the Free-Agent linebackers. Wagner stays in the NFC West and the Rams have their anchor in the middle.
Wagner has been an IDP mainstay since being drafted by Seattle in 2012. He's been the anchor of Seattle's defense and posted fewer than 120 tackles twice over his 10-year career. Wagner has been as consistent an IDP producer as you can find. He's produced a 14.4% tackle rate over 9,618 defensive snaps. He's had three consecutive seasons of 1,000-plus snaps and has been a reliable LB option since entering the league.
So, what's in store for 2022? Wagner plays behind the most dominant defensive linemen - Aaron Donald. Wagner should have clean gaps with the attention Donald attracts. Even at 31, Wagner is still a downhill runner, big hitter, and has sideline-to-sideline range. Wagner is also a consistent pass-rusher, so I could see Raheem Morris deploying him on more blitzes. Wagner had a 20% pressure rate, so behind Donald and with Leonard Floyd alongside him, Wagner has some sack upside this season.
He continues to be a rock-solid LB1 in 2022 and should call the plays for the defense, or at the very least, be a three-down LB. I also think the addition of Wagner may not be a complete death knell for Ernest Jones. With Wagner on the field, Morris may keep Jones on the field with him more often. Is Jones an LB1? No, but I don't have an issue drafting him as an LB3/4 if your league mates are scared off.
Haason Reddick, DL/EDGE, Philadelphia
Eagles
I thought Haason Reddick cashed in on his 2020 contract year, but he continued to develop into a solid edge rusher. Reddick signed a three-year contract worth $45 million. Only four players have had more sacks than Reddick over the past two seasons - TJ Watt, Aaron Donald, Myles Garrett, and Trey Hendrickson. That's pretty good company.
Reddick blossomed like an awkward teenager in 2020 with Arizona when he recorded 12.5 sacks and a 13.6% QB pressure rate. After producing 7.5 sacks over his first three seasons, Arizona put him in a position to succeed. Reddick showed he was more of an edge rusher than an off-ball LB. So it still is a mystery to me, as to why the Cardinals chose to let their homegrown player walk in FA after the 2020 season.
Reddick exceeded expectations in another contract year. He saw a career-high 438 pass-rush snaps, though the pressure rate dropped to 10%. He took advantage of his volume and still finished with double-digit sacks (11).
This will be Reddick's third team in three seasons, but he managed just fine in Carolina playing opposite Brian Burns. In Philadelphia, he'll line up opposite Josh Sweat. I'm not too concerned with volume, as the Eagles have over 1,000 vacated snaps between Derek Barnett and Ryan Kerrigan (yeah, he was on the Eagles in 2021). Deploying Reddick as an edge rusher seems like the no-brainer move here - see QB, go get QB. If I'm Jonathan Gannon, I'm not getting cute and using him as a SAM backer, which resulted in a failed experiment in Arizona. As far as coverage, please don't drop him. If Gannon allows Reddick to use his talents, as opposed to fitting him into his scheme, Reddick should retain his IDP value in 2022. If they use Reddick like they used Genard Avery, this could be a disaster. Just carbon copy how Arizona and Carolina used him over the last two seasons. He has the explosiveness and move set to get to the QB. I'm still comfortable with Reddick as a DL2 in 2022.
JC Jackson, CB, Los Angeles
Chargers
I love the JC Jackson addition for CB-required leagues. He joins a loaded AFC West division that's going to be airing it out.
The Broncos added Russell Wilson, while the Raiders acquired the best WR in football in Davante Adams. These moves have made us forget that Patrick Mahomes is still the king of this division. Seeing this monumental shift, the Chargers made it a priority to add a pass-rusher opposite Joey Bosa (Khalil Mack) and Jackson to shore up the backend of the defense.
Jackson has been a ballhawk, so it's curious as to why New England would let someone as productive as Jackson walk. Maybe it was the five-year, $82.5M deal. Jackson allowed a QB rating and completion rate of 52.4 when targeted. Over his four-year stint with the Pats, he has a play on ball rate of 25.4% - resulting in 25 INTs and 53 defended passes. 37 defended passes have come over the last two seasons which has resulted in a 30.3% play on ball rate.
In 2021, QBs targeted Jackson 103 times. Will he be targeted that many times in 2022? With an emerging Asante Samuel and Derwin James lurking, I don't see why that won't be the case especially if he takes on the task of covering the AFC's top receivers. The INTs, as always, are tough to project, but he's been a consistent turnover machine so I don't think it's out of the realm of possible outcomes to expect at least five - facing the Chiefs, Raiders, and Broncos twice and teams like the Jaguars, Texans, and Seahawks on the docket. In CB-required leagues, Jackson is a CB1 in 2022 redraft.
De'Vondre Campbell, LB, Green Bay
Packers
This is a case where the status quo is a great move from an IDP standpoint. The Packers retained their best defensive player from 2021, and because he's staying in Green Bay, he remains locked in as an LB1 for 2022.
I think the question for would-be IDP owners, or current dynasty owners, is 2022 repeatable? Campbell has been a consistent tackler over his six-year career. He had produced an 11% tackle rate over his first five seasons while playing no more than 91% of the snaps in a season - he had averaged around an 83% snap rate.
I don't think any of us had Campbell on our IDP radars, even when he landed in Green Bay. It was toward the end of the preseason when his stock started to rise. He established himself as a leader and wore the dot as the play-caller. Campbell had a 97% snap rate which led to a 14.8% tackle rate - resulting in a career-high 146 tackles (including 102 solos) and 0.29 points per snap.
Campbell fit like a glove in Joe Barry's scheme. He looked spry when running down ball carriers sideline-to-sideline and was one of the top coverage linebackers. He allowed just 2.8 yards per target and limited yards after the catch. He was also their best run defender with an average depth of tackle of 2.7 yards and just four missed tackles. He recognizes his gaps and fills them quickly.
His role will remain unchanged and because he does everything so well, it allows Preston Smith, Rashan Gary, and Kenny Clark to do their thing. Campbell should be looked at as a top-10 LB and LB1 for your LB corps in 2022.
Jordan Hicks, LB, Minnesota
Vikings
Jordan Hicks ruined the IDP value for rookie Zaven Collins in 2020, but the Cardinals moved on and the Vikings scooped him up and signed him to a two-year deal with the ability to earn up to $12 million, which is nothing to sneeze at.
I think this could be an underrated and overlooked signing. Say what you want about Hicks, he's overcome his injury-prone moniker, as he's been one of the more durable LBs and currently holds a 51-consecutive-starts streak (which is third-longest among NFL linebackers) as really invested in his body and health. Hicks was an anchor for Arizona's defense, although his tackles and efficiency went down slightly, he did end up playing more snaps in 2021. He has three consecutive seasons of 1,000+ snaps and is producing a 12% tackle rate over that span.
While his 150-tackle 2019 season is probably an outlier, he falls more into a range of 115-120 tackles. Vikings are getting a quality starter for around $5 million per year. Minnesota is transitioning to a base 34 and Hicks was identified as a disruptor and someone the Vikings were tired of playing against. I'm hoping Ed Donatell utilizes Hicks in a similar fashion as he did during his time in Arizona. He had 310 pass-rush snaps and generated a 14.5% QB pressure rate, so I could see him being an Anthony Barr-type blitzer opposite Eric Kendricks. With Minnesota signing Za'Darius Smith, I like Hicks' sack upside a bit more now. He recorded a 2.8 average depth of tackle and he stopped the ball carrier just short of the first down on just over 40% of his tackles. Hicks also had his fewest missed tackles (12) since 2018 (5).
Hicks is going to slot in as the RILB opposite Kendricks in their new 34 but should run some 43 and multi-front concepts. Kendricks will still man the green dot, but I do project Hicks to be in on around 80% of the snaps, as a conservative estimate. Anthony Barr dealt with injuries over the last two seasons, however, he was a 90%+ snap guy and has vacated around 950 snaps. He has LB3/4 value in deeper leagues that require you to start 3 LBs or roster more than 6. He looks to be a budget LB in 2022 and worth rostering this season.
Myles Jack, LB, Pittsburgh
Steelers
Myles Jack was released by Jacksonville upon the signing of Foyesade Oluokun. Jack had a rough year, but Pittsburgh scooped him up and inked him to a two-year deal worth $16 million.
The change of scenery narrative on Jack will be something to watch, as it's one of those intangibles we don't see in the data. Is the Mike Tomlin mentality something Jack will soak up and embrace after years of beatdowns in DUVAAAAAAL?
From an IDP standpoint, Jack is projected to be a three-down player, especially after the release of Joe Schobert. Jack is playing behind All-Pro defenders Cameron Heyward and TJ Watt. He's also being coached by another guy who has some motivation; Brian Flores, who's a damn good coach. Now, anyone who thinks Pittsburgh is getting the next Jack Lambert probably needs to pump the brakes. Jack struggled against the run and was exposed weekly in coverage. Even though he didn't get a sack, he was a solid blitzer and produced a 15.2% pressure rate.
However, we're talking IDP and he's going to see the field, so volume will present the opportunities for tackles - even though they may be downfield. He's appeared in 900+ plays over the last two seasons, producing a tackle rate of 12.2%. At times, he tends to be reactive, but hopefully, playing alongside Devin Bush or getting coached up by Flores may help. The potential snap volume puts him on the LB3 radar in redraft leagues for 2022.
Kamu Grugier-Hill, LB, Houston
Texans
The sixth-year LB had a breakout season in 2021 and was rewarded with a one-year deal worth $4 million. Houston also brought in Jaylen Reeves-Maybin, but I think KGH is the more viable target for IDP.
Grugier–Hill filled in admirably while Christian Kirksey was dealing with various ailments and COVID. KGH made impact plays over his 777 defensive snaps but had his warts as well. Grugier-Hill had an average depth of tackle of 2.4 yards and 13 of his tackles were for a loss. His three sacks were a nice bonus, and staying in Houston, he should see around 40 rush snaps, but we can't count on the efficiency.
KGH ended up appearing in 77% of the snaps and was a near three-down player throughout the entire season, only appearing in fewer than 80% of the snaps four times finishing as the LB23 in most formats. Grugier-Hill produced 0.27 points per snap and a 13.9% tackle rate. I think he has a leg up on JRM just because of his familiarity with the defense. JRM could be on the field for base snaps, however, could be the LB to come off the field for sub-packages. KGH is going to be a cheap LB4 in 2022 and if he doesn't get the full-time role, he can be dropped for another LB during the season.
Sebastian Joseph-Day, DL, Los Angeles
Chargers
The Chargers beefed up their defensive line, adding Sebastian Joseph-Day. I really like the signing and landing spot for Joseph-Day.
SJD reunites with his defensive coordinator from 2020, so he's coming in with familiarity with the system and he gets to play alongside Joey Bosa and Khalil Mack. He's coming off a 2021 season where he tore his pectoral. Up until that point, he had a career-high snap rate (69%) and was on pace for over 800 snaps.
Joseph-Day generated a near 7% QB pressure rate and 9% win rate from the interior, which are solid numbers for an interior lineman. His tackle rate is what stood out to me. He produced an 11.1% tackle rate and was on pace for a ridiculous 90-tackle season. He was stout against the run and missed just two tackles over his 119 run snaps.
Joseph-Day is strong on the line and point attack and knows his assignments and gaps. SJD has the upside to be a top-5 DT and should be one of the top interior defenders off the board in DT-required leagues in 2022.

Jayon Kearse, S, Dallas
Cowboys
Jayron Kearse enjoyed a fine season overall in Dan Quinn's defense. The Cowboys retained one of the best defenders of 2021 in a steal - even more so than the apartment in Friends. Kearse remains in Dallas for two years at $10 million.
Kearse enjoyed a breakout 2021 season under Quinn's tutelage and was deployed strategically throughout the field. His play resulted in a career-high in tackles (101) and tackles for loss (9). Kearse played 61% of his snaps in the box or in the slot. He also was deployed on the defensive line for 176 snaps. He generated a 27.5% pressure rate and notched a sack and five QB hits.
The combination of Quinn staying on as DC and Kearse staying in Big D will have a positive impact on Kearse's IDP value in 2022. Kearse is among a group of 15 DBs who can be counted on as a weekly DB1 this season.
Jordan White

head, S, New York

Jets

Jordan Whitehead leaves the winning locker room of Tampa Bay for a complete 180 and joins the J-E-T-S, GUH, GUH, GUH!!! Throwback Keith Olberman reference from SportsCenter. Whitehead signs with New York and lands a three-year deal worth up to $33 million. I think this is a solid spot for Whitehead to have a productive IDP season.

Whitehead is a big hitter and has amassed nearly 300 total tackles in his first four seasons and has produced a 3:1 solo-to-assist ratio. He's been a durable player throughout his career - appearing in 59 of a possible 65 and is more than capable of being a three-down player.

Over his career, he's recorded an 8.9% tackle rate but hasn't had that 100-tackle campaign. Last season, he played 57% of his snaps in the box or in the slot, which represented an increase from 2020 when he played 48% of those snaps deployed from those positions. He had to play behind Lavonte David and Devin White, so tackle opportunities were limited.

He now plays behind CJ Mosley and Quincy Williams, while capable tacklers they do miss quite a few. Mosley and Williams missed a combined 31 tackles in 2021, so Whitehead is going to be cleaning up a lot of messes in the second level of the defense. Whitehead is already being talked up as a Jamal Adams/Marcus Maye-type safety, so he has 100-tackle upside heading into 2022.
Marcus Maye, S, New Orleans
Saints
Marcus Maye had a few injury-plagued seasons while with the Jets, but overall, played well over the last few seasons after a rough rookie year. Maye is coming off an Achilles' injury that knocked him out for most of the 2021 season. The Jets moved on from Maye and New Orleans scooped him up and signed him to a three-year $28.5 million contract.
The Achilles' injury isn't the only thing Maye is dealing with heading into 2022. The Saints are getting a good football player once he's cleared for contact. He's also dealing with a potential suspension stemming from a February 2021 DUI arrest. He's looking at a two to three-game suspension based on precedents.
Maye, up until the injury, was recording a 12.7% tackle rate and was on pace for a monstrous 120-tackle campaign, playing behind CJ Mosley and Quincy Williams. He had an impact at the line of scrimmage, matching his career-high in TFLs (4) through six games. His missed tackles were ugly though - missing on 13. Maye had been deployed in the box and slot for 60% of his snaps, so he was consistently positioned to make plays.
Maye was originally looked at as a Marcus Wiliams replacement, however, Malcolm Jenkins has since retired. Maye is projected to play all-around the defense, however, slot snaps may be limited with Chauncey Gardner-Johnson moving back to nickel corner. Maye should be a solid DB2 this season.