NFL Week 4 Lookahead Lines Report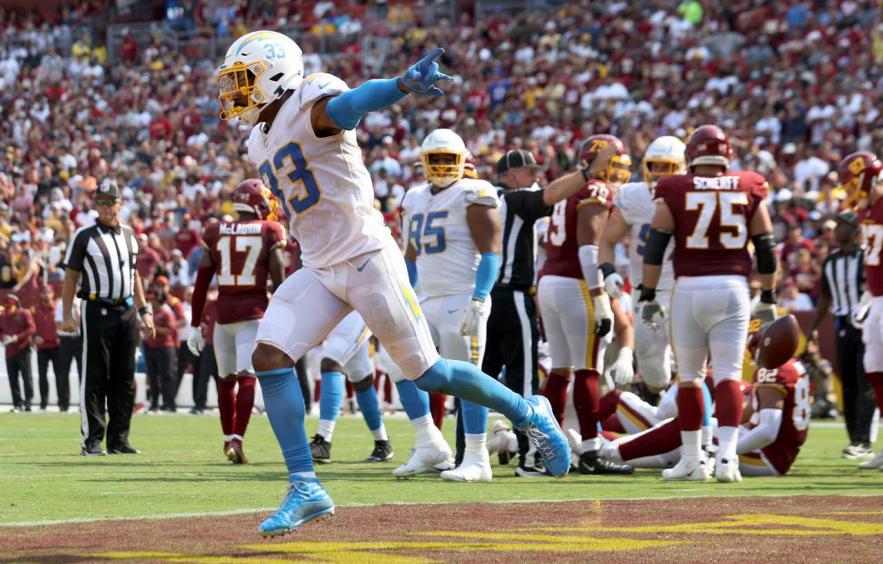 Rob Carr/Getty Images
Last week, I highlighted four games to bet on immediately, and if you did, you gained a massive advantage in closing line value heading into this weekend. The well isn't quite as deep this week, but let's see what we can dig up for Week 4.
Friends don't let friends bet NFL sides on game day. I understand the appeal of getting action down on a game that's about to kick off, but please, for the love of all things sacred, don't do it. I understand the majority of casual bettors don't have time to comb through every news blurb and injury report. It's difficult for most bettors to feel informed early in the week, or even more, right when next week's line is posted on Sunday evening for the following week's games.
In my opinion, the only way to consistently put yourself in a position to gain positive expected value (+EV) while betting on NFL sides is to beat the closing line. Sportsbooks gradually increase the limits they let bettors get down as the week progresses, which is an indication the book feels they've priced the game correctly. Unless you're waiting until later in the week because you're betting five-to-six figures on a side, your +EV increases if you can get down on a number before it's sharpened by the whales.
Each week of the season, I provide a first glance at the upcoming NFL slate through the lens of lookahead lines. This brief lookahead window provides a sneak peek at how teams are valued by bookmakers prior to the start of the week. It's also an opportunity to act before the games are posted and sharpened on Sunday evening after the previous week's games are complete. These lines are a true indicator of how bookmakers value each team, without the influence of the recency bias that comes after watching eight hours of football earlier in the day. Depending on the bookmaker, and bettor for that matter, you may or may not be able to get the type of action down you'd like, depending on your unit sizing. The key is understanding where the value is on the board in any given week, and that is easier to do once you know what the opening number was.
When I take a position on a lookahead line, I believe the current number will beat the closing line. At times, it ends up being the best of the number, which is ideal. Basically, I'm parlaying my handicap. In essence, if I'm right in my Week 3 evaluation of the team and market, I'm going to have an advantage in predicting where the line movement will come first in Week 4.
For reference, I'll be using the initial odds released by Westgate back in May to show you how the game opened. You can use the game tiles below to find the best number, and the spread listed is based on the home team:

Week 4 Lookahead Lines Takeaways
It matters less early in the year, but I'm always on the hunt for scheduling and travel advantages. For the most part, these things are already baked into the number, but I believe there are instances each week that aren't accurately accounted for in the market.
Jaguars

@

Bengals

(-6.5)

Targeting rookie head coaches on Thursday Night Football makes a lot of sense intrinsically. The quick turnaround and lack of rest are difficult for players, but the lack of preparation time for the coaching staff is a massive issue when you've never done it before. Urban Meyer never had to play Alabama on Saturday and then play Alabama again on the following Wednesday. If you think the Bengals are live to win this week in Pittsburgh, you'll want to take advantage of this 6.5 because a Bengals win will move this to 7 or higher.
Panthers

@

Cowboys

(-3.5)

This is back-to-back road games for the Panthers, but they'll have the rest advantage after playing on Thursday night, catching Dallas on short rest after their divisional tilt with the Eagles on Monday night. The preseason number on this was 5.5, and there's some resistance on this 3.5 that could easily push it back to 4-4.5. The Panthers will likely head to Dallas with a 3-0 record, and while they've taken advantage of a soft opening schedule, I believe the gains are real. I'm taking a small piece of Carolina to ensure I get the hook at 3.5, but I'll be cheering for a Dallas blowout on Monday night to push this up even higher come Tuesday morning.
Giants

@

Saints

(-6)

This will be the home opener for the Saints after they played their first three games on the road. I think the Saints need to win in New England in Week 3 to drive this number up, but I don't think that happens. The Giants host the Falcons in a coin-flip spot this week, but a Giants win paired with a Saints loss in Week 3 will bring this below 6—and I'll be in on New Orleans.
Browns

@

Vikings

(+1.5)

Browns head coach Kevin Stefanski spent the first 15 years of his coaching career in Minnesota. If you enjoy a good narrative, I'm sure he's looking forward to this one. Home field advantage still exists in a few spots, but overall it's proven to be negligible more times than not. I believe the Browns are a far superior team, and anything under 3 is a play for me.
Colts

@

Dolphins

(-2.5)

I'm actively fading both of these teams whenever possible, but the universe will not allow me to continue that trend this week. Miami in September is one of the spots where I'm still baking in home-field advantage. We don't know who either club is rolling out at quarterback, and the fact that it's fairly irrelevant speaks to why I'm fading these clubs whenever possible. This is the second of three consecutive road games for the Colts, meaning they'll be featured here again next week. Under 3, I'm laying the points with Miami.
Cardinals

@

Rams

(-5.5)

This is more of a 'watch this space' than 'play this now'. The Cardinals are the belle of the ball right now. They're putting up video game numbers under Kyler Murray, and will likely enter this NFC West tilt with a 3-0 record after their Week 3 matchup with Jacksonville. The Rams face Tampa Bay in what's perhaps the best matchup in Week 3, and a Buccaneers win will drive the Rams price down in Week 4. I'm looking to bet the Rams here, but believe we'll get a better number.
Raiders

@

Chargers

(-3)

I love this spot for the Chargers. This will play as a home game for the Raiders in terms of fans in the stadium, but the Chargers bring a different dynamic offensively than what the Raiders have faced in their first three contests against the Ravens, Steelers and Dolphins. I supposed a Chiefs blowout of the Chargers paired with a Raiders win versus Miami could move this number, but sharp bettors won't let it stay at 2.5 very long if it dips there. I'm going to secure the 3 because I think 3.5-4 is more likely than a move to 2.5.