Stay Away from Melvin Gordon in Fantasy Football This Year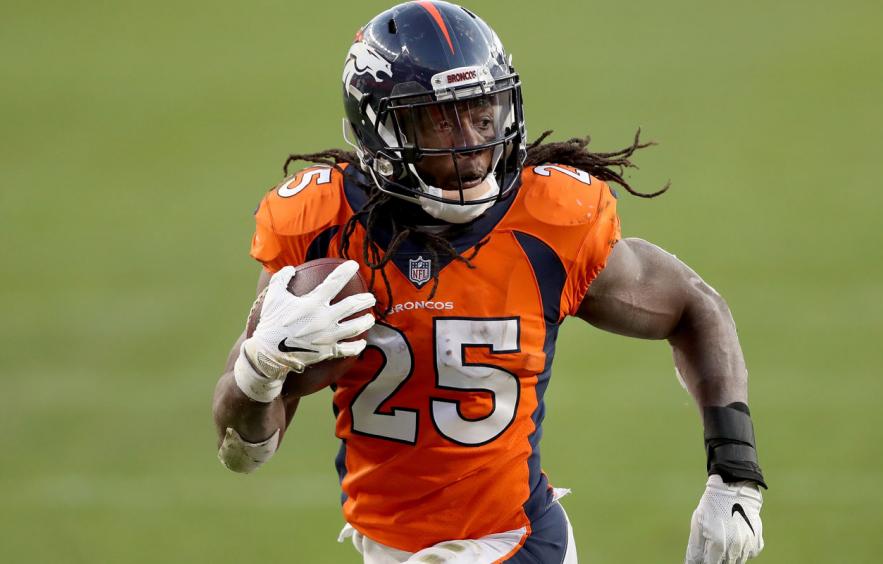 Matthew Stockman/Getty Images
One of the most influential developments in the NFL over the past few years has been the reimagined value of running backs. It has been found that running backs have a very short shelf-life and often lose their value after just a couple of years in the league. In recent years, this has applied to former superstar running backs like Devonta Freeman, Todd Gurley, Le'Veon Bell and David Johnson. All had excellent, overall RB1 fantasy seasons and were signed to big contracts, but just a few years later, found themselves in a much worse spot. Cue the death knocking on the door meme because Broncos running back Melvin Gordon might be next. Given his age and situation, Gordon fits the bill as another one of these running backs, making him a very dangerous pick in fantasy football this season.
---
Editor's Note: Read more player profiles from the 4for4 staff!
---
Best Days Behind Him
Gordon has had quite a productive career since being selected with the 15th overall pick of the 2015 NFL Draft. He's finished as a top-15 fantasy running back in four of his six seasons in the league, including three straight top-seven finishes from 2016 to 2018. In this three-year stretch, he proved to be valuable as both a runner and a receiver, with the fourth-most rushing yards among all running backs and the eighth-most receptions. However, Gordon is now entering his age-28 season. While this might seem like the prime age for some positions in football, it signals the beginning of the end for most running backs. Here's a look at how some formerly elite running backs have performed before turning 28, compared to after.
Gordon closely matches these rushers who experienced a significant drop in production after turning 28. He has a lot of wear on his body already, with 1,274 rushing attempts since entering the league in 2015 (this ranks fourth among all running backs), and has played in 82 games. As a matter of fact, Gordon has already started to show some signs of decline. Pro Football Focus gave him an offensive grade of 72.5 last season, which ranked 32nd among running backs. Furthermore, despite historically offering a solid pass-catching floor, Gordon had the fourth-worst PFF receiving grade in 2020, ranking 66th out of 70 eligible running backs. Given all this information, it's not hard to imagine a situation where Gordon takes an even larger step down this season.
New Guy in Town
The most concerning factor surrounding Gordon is rookie running back Javonte Williams. The Broncos traded up to draft Williams in the second round of the 2021 NFL Draft back in April. New Broncos General Manager George Paton, who moved up from pick 40 to 35 to select Williams, described the running back as "A three-down back, really good on first and second down, he can pass protect and he can catch the ball (out of) the backfield." Gordon, on the other hand, has no such connection to the current people in power, as he was signed by the previous Broncos regime. This doesn't bode well for him, as there might be little hesitation to switch starters in the backfield. One Broncos beat reporter even predicted Williams would be Week 1 starting running back for Denver. Even if it's not that soon, it seems more a question of when Williams supplants Gordon as the starter, as opposed to if.
Where's the Upside?
Fantasy managers love to chase upside. A player who is incredibly inconsistent or unreliable is still valuable for fantasy if they have the potential to win you your week. Unfortunately for Gordon, it's hard to see much upside with him this season. Even if he is the starter to begin the year, he will almost certainly split carries with Williams. Additionally, the touches Gordon does see might be the less valuable ones, as Williams has the makings of a red-zone machine–he was third in the NCAA in rushing touchdowns last season. Gordon has also been notorious for losing the ball, with the second-most fumbles among running backs since entering the league. Putting all this together, we can see that Gordon has little room to elevate his play in fantasy football this season.

The Bottom Line
Gordon has had a productive career since entering the league out of Wisconsin in 2015. However, given the historical precedent surrounding his position and age, his future looks much darker than his past. In fact, Gordon has already started to show some signs of decline in the past couple of seasons.
The Broncos trading up and drafting rookie Javonte Williams in the second round of this year's draft does not bode well for Gordon, as Williams appears to be the heir apparent in the Denver backfield. Gordon also has no connection to the current Broncos regime, meaning that a decision to switch to Williams might have little hesitation.
Gordon lacks the upside needed to justify selecting him in drafts. He will at the very least be in a timeshare with Williams and might lose out on a good chunk of the red zone touches. His issues with fumbling only make the situation gloomier.
Gordon is currently being selected as the RB39 according to Underdog half-PPR ADP. 4for4's rankings have him even lower than that, at RB43. Simply put, Gordon doesn't seem to be worth it at any point in drafts. His volume and age concerns make him dangerous in higher rounds, and you're better off taking higher upside players in the lower rounds.