The Owners Club: Fantasy Football Meets NFTs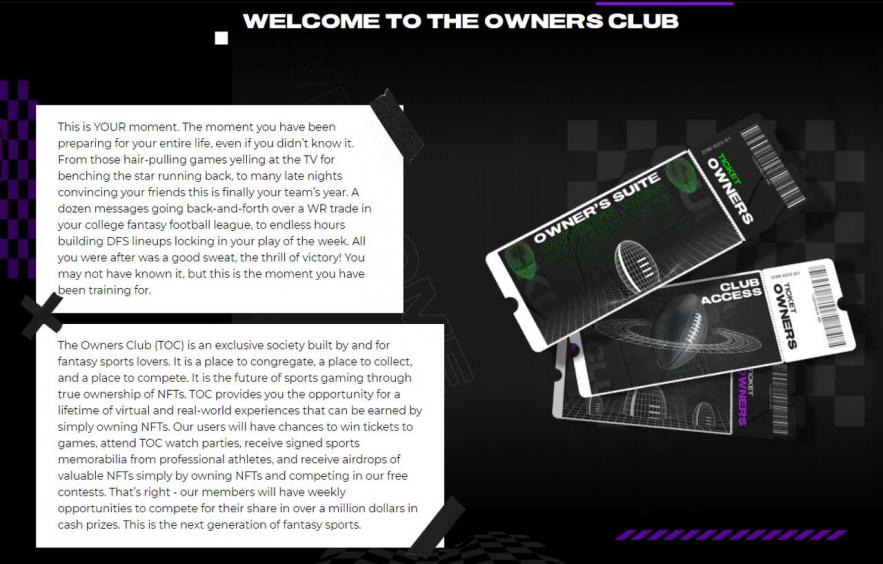 Own The Moment
On September 7th, Own the Moment (OTM) will be releasing a first-of-its-kind product, blending the worlds of fantasy football and non-fungible tokens (NFTs). The Owners Club (TOC) will drop at 5 PM EST this Tuesday, just in time for the NFL's regular season. If you are new to NFTs, or are only familiar with NBA Top Shot, it's important to get a handle on what an NFT is and how they function. For starters, an NFT is a unique, non-replicable digital asset that exists on the blockchain. Without going too deep down the rabbit hole, the blockchain is essentially a public ledger, providing a digital certificate of authenticity, transactional records, and proof of ownership, giving you the ability to buy, sell and trade assets at your discretion. This might sound a bit esoteric but fear not. In most cases, NFTs are purchased using cryptocurrency, usually Ether (ETH), though Top Shot and DraftKing's Marketplace are notable exceptions, where assets can be purchased using a credit card, a formula that TOC will be expanding on. In some cases, the asset itself has "utility", meaning it can be used to do something. In the case of TOC, the cards can be used to participate in fantasy football tournaments. If you're interested in learning more about NFTs, you can check out this guide.
The Basics
At its core, TOC is a hybrid model between DFS and season-long fantasy football, though there are some important differences. Unlike either of these formats, TOC uses team position cards rather than individual players. There are five positions: Quarterback, Running Back, Wide Receiver, Tight End and Defensive/Special Teams. For example, you might get lucky and score a Kansas City QB card in TOC, whereas you would select Patrick Mahomes in DFS or season-long. In TOC, if you own the Kansas City QB card you'll get points for whoever is playing that position. If Chad Henne ends up starting or throws a garbage-time TD, you'll still get points. This dynamic puts emphasis on the overall positional strength of a team, removing the frustration of a third-string RB vulturing touchdowns at the goal line, or the famous practice squad WR catching a 90-yard bomb. Scoring metrics will be like other forms of fantasy football, relying heavily on touchdowns, yards, and turnovers.
Getting Started
First and foremost, you'll need to create an OTM account if you don't already have one. To build a lineup and compete in TOC, you'll need cards—at least one of every position. This can be accomplished either by participating in the initial drop this Tuesday, or by purchasing cards on the secondary market via OpenSea. If you're interested in participating in the drop on Tuesday, you have two options:
Buy packs: comes with five random cards, one of each position.
Buy single cards: comes with one random card.
Unlike most NFTs, you'll be able to use a credit card, PayPal or ETH to make purchases. Packs cost $200 and individual cards cost $50. Only 4,000 packs and 5,000 individual cards will be available, for a total initial supply of 25,000 cards. Additional cards are likely to come on the market each week, so keep an eye out for future drops.
One of the most interesting and valuable aspects of TOC is the ability to buy and sell cards on the secondary marketplace, a key component of NFTs and the utilization of blockchain technology. Say that you pull one of the lower-end positional groups, like the Jets RBs. While that may not be a highly coveted card, the market may change dramatically from week-to-week depending on matchups, providing savvy players ample opportunities to capitalize, both in their lineups and monetarily by buying and selling at the right times. Or, say you land a card that is a bit more of a crapshoot, like the Rams RBs. In addition to the season-ending injury of Cam Akers, Los Angeles starts the season with some difficult offensive matchups, drawing the Colts in Week 2 and the Buccaneers in Week 3. The duo of Darrell Henderson and newly acquired Sony Michel isn't exactly awe-inspiring, but the schedule becomes markedly easier from Weeks 6-8, where the Rams face the Giants, Lions and Texans. Like pricing on DraftKings and FanDuel, the market will likely see wide swings on different positional groups throughout the season, but the ability to decide when to buy, sell and use these cards is a variable never seen before in fantasy sports.
Game Types and Payouts
Each week, there will be two different types of tournaments, a "Main Event" and a "Side Hustle." The Main Event is a five-card lineup comprised of a quarterback, running back, wide receiver, tight end and defensive/special teams. The Side Hustle is a two-card competition that requires two different positions of your choosing. You'll be able to compete in up to three different Main Events per week, but each tournament will require unique cards. For example, if you own the Dallas QB, Cincinnati QB and Miami QB, you can enter each of those cards into a Main Event tournament, but you can't enter the Dallas QB into two tournaments unless you owned two distinct Dallas QB cards. To play in three Main Events each week, you would need at least three cards of each position group. If you have any cards leftover or just want to get your feet wet, you can enter two cards into the Side Hustle tournament, so long as they have not been used in a Main Event tournament that week.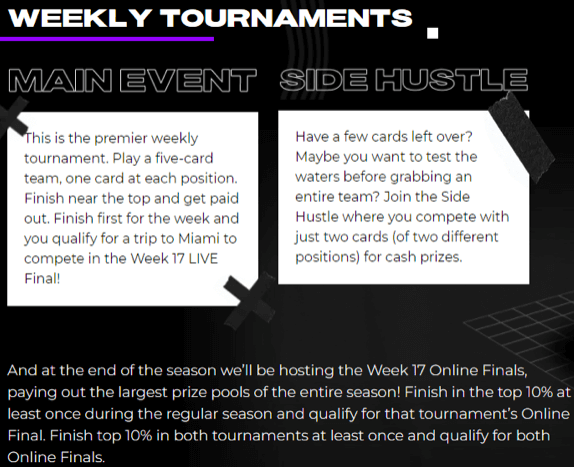 Once you have your cards, you'll be able to enter lineups each week at no cost. Weekly prize pools will depend on how many TOC NFTs sell during the inaugural sale this Tuesday. If the NFTs sell out, Main Event prize pools will be around $40,000 per week, and the final week of the season is looking at $150,000 in prizes. Payouts will be distributed to lineups that finish in the top 10% of each contest, which will simultaneously qualify you for the Week 17 online final and a shot at the larger prize pool. Similarly, Side Hustle contests could have a prize pool up to $10,000 per week, with a Week 17 prize of $50,000. If you finish first for the week in any Main Event slate, you'll qualify for a trip to Miami for the Week 17 live final, pitting the best TOC players against one another for a shot at glory.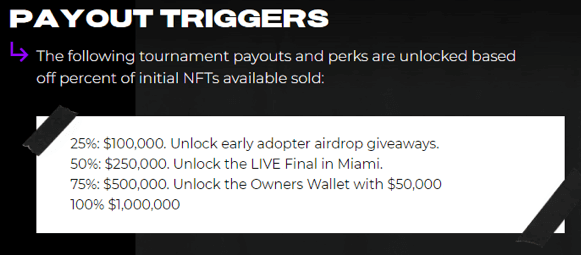 Strategy and Nuances
TOC has some very important nuances that differ from any other form of fantasy football, resulting in an awful lot of game theory. A team that employs a traditionally frustrating timeshare may find itself with an advantage in TOC. While Nick Chubb might be one of the best backs in the NFL, Kareem Hunt's presence could throw a wrench into his weekly productivity, leading to some frustrating outcomes. However, in TOC, the team's overall ground game (or pass-catching ability out of the backfield) will be the determining factor. Furthermore, while injuries could dramatically alter game script, you won't be faced with a situation where your starting RB got injured on the first drive, leaving you dead in the water. Instead, any stats accumulated by the backup will also go towards your total for that card.
In addition to the major foundational differences of TOC, one of the most interesting differentiating factors revolves around Thursday night and Sunday morning games played in London. In TOC, the weekly slate will lock before the 1 PM EST games on Sundays. That means that the Thursday night games will have already taken place, along with the London games in Weeks 5 and 6. Unlike any other platform, you can choose to play cards for games that have already happened, adding a major strategic wrinkle. For example, assume that you purchased two packs during the drop on Tuesday, comprised of the following:
Tampa Bay QB, Minnesota QB
Dallas RB, Arizona RB
Washington WR, Carolina WR
New England TE, Tennessee TE
Baltimore DST, Buffalo DST
In Week 1, the Buccaneers and Cowboys will kick off the NFL season on Thursday night, meaning that when the slate locks on Sunday, the result from this game will already be in the books. In this case, you'll know the point totals for Tampa Bay QB and Dallas RB and will then be faced with the decision of taking the known commodity or hoping that your alternatives can put up bigger games. The inclusion of being able to play a card from a team that has already played could also lead to some interesting secondary marketplace dynamics and frenetic activity. Maybe Tom Brady shreds the Dallas defense this Thursday and puts up 40 points—how much will people be willing to pay up to lock that card into their lineup for the week? Or maybe Brady has a dud and puts up four points, will there be a mass sell-off providing some attractive long-term value to players willing to take a risk after a bad game?
Outside of the scheduling variables, another important nuance to be aware of is the presence of Joker cards. These cards are exceedingly rare, with a max distribution of 400 in total—80 at each position. Owning a Joker will allow you to select any team for that position. For example, a Joker QB card would allow you to play the Kansas City QBs in Week 1 and Arizona QBs in Week 2, or whatever else your heart desires. The flexibility and scarcity of these cards make them extremely valuable, opening a ton of different strategic plays. Values on cards will ebb and flow depending on performance, speculative value and future matchups, which will test players' abilities to identify value and make savvy moves, both in terms of lineup construction and secondary market transactions. For a deeper look into some TOC strategy, check out the recent "Studs and Sleepers" article.
Bottom Line
One of the questions that regularly comes up is the long-term value associated with these NFTs. These cards can only be used for the 2021 season, but OTM has hinted at various mechanisms of retaining value after this season, ranging from offseason memorabilia raffles to tickets for other sporting events, to trade in opportunities for future seasons. More information about these options is expected to be released as the season progresses.
With the drop fast approaching, TOC is almost here, which is sure to usher in some wild secondary market activity. The innovative game format provides a unique take on fantasy sports and promises to kick off an exciting NFL season. The ability to buy and sell cards at your convenience means you'll always have an opportunity for a fresh start that week, leaving players with a wide-open approach to the game. For more information about TOC, check out the FAQ section. You can also join their Discord or follow them on Twitter. Good luck this Tuesday, and may the fantasy gods be with you!