Nico Collins is a Sneaky Sleeper in a Written-Off Offense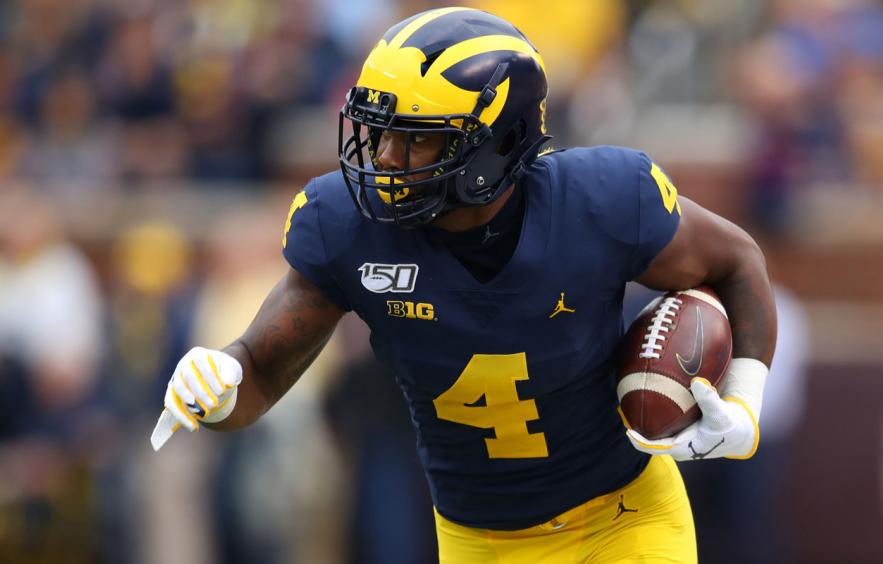 Gregory Shamus/Getty Images
Despite a tumultuous spring packed with over 70 roster moves and an upcoming season shrouded in uncertainty, the Texans did indeed participate in the 2021 NFL Draft, selecting WR Nico Collins in the third round as the 89th overall player off the board.
---
Editor's Note: Read more player profiles from the rest of the 4for4 staff!
---
While the landing spot seems a bit undesirable at first glance, Collins actually has a potentially clean path to fantasy relevancy his rookie season, and here's a look at why.
But First, a Look Back
At the University of Michigan, Collins' freshman season was pretty forgettable, as he only appeared in two games, catching just three passes for 27 yards with zero end-zone appearances. As a sophomore, his usage heightened to a 13-game season with a 38-632-6 line, followed by his junior (and final) collegiate season of 37 catches for 729 yards and seven touchdowns.
While those numbers don't exactly scream NFL wideout, Collins was affected by a not-so-great offense at Michigan, including inconsistent QB play and a mess of a passing game via Jim Harbaugh. One knock is that despite not much NFL-caliber competition, Collins was never the WR1 as a Wolverine, finishing behind Donovan Peoples-Jones his sophomore year, then overtaking him the next season only to be outperformed by sophomore WR Ronnie Bell.
Collins opted out last season as a senior, citing the need to prepare for the draft and too many questions surrounding the Big 10's schedule due to COVID-19.
Collins Isn't Far from the Shallow (Depth Chart) Now
Yea, I know that one was a stretch but my bad puns will continue as long as I write these rookie profiles.
The Texans WR room is indeed pretty shallow. We're looking at Brandin Cooks as the clear WR1, which is not super confidence-inducing, to be honest, followed by Randall Cobb, Keke Coutee and newcomer Chris Conley.
Houston lost 11 targets per game, or 31.4% of their target share from last season is no longer on the roster, making way for someone or a few players to step in and get that work. If Collins has a productive summer and flashes at camp, he has as good of a shot as those others to assume the WR3 role in this offense.
The
Texans

are Bad on Defense

Last year Houston was among the worst in nearly every defensive category. To get an idea of just how bad they truly were, check out this table showcasing their brutal performance on the defensive side of the ball.
Houston Defensive Rankings, 2020

| Category Name | Category Results | Texans' Rank |
| --- | --- | --- |
| Points Allowed | 464 | 27th |
| Yards Allowed | 6,668 | 30th |
| Takeaways | 9 | 32nd |
| Interceptions | 3 | 32nd |
| Passing Yards Allowed | 4,104 | 24th |
| Rushing Yards Allowed | 2,564 | 32nd |
| Rushing Yds Allowed/ Attempt | 5.2 | 32nd |
| Yards Per Offensive Play | 6.2 | 30th |
You have to be in rough shape as a unit to only force nine total turnovers, with just three interceptions for an entire NFL season. Only one other team, the 2018 49ers, put up worse numbers in both of those categories in the league's entire history (7 turnovers, 2 picks).
Not surprisingly their defensive coordinator is no longer in Houston and they brought in Lovie Smith, who's coming off a five-year stint as the head coach at the University of Illinois. Smith has had a mixed bag of success at the NFL level but hasn't called a defense in several decades since he was in charge of the St. Louis Rams defenders from 2001-2003.
While we may see some improvement in this bottom-feeding unit, expectations should be tempered which bodes well for the offense's fantasy potential, regardless of who's slinging the ball.
The Elephant in the Room
Speaking of the question mark at QB, I can't write this piece without at least addressing the fact that we're still not sure who will be under center for the Texans in 2021, and we may not be anytime soon.
Unless you've turned off all NFL notifications and stayed totally away from social media this offseason, you're most likely aware that DeShaun Watson is currently facing more than 20 accusations of sexual misconduct. There has been chatter about a potential settlement, but the NFL will still determine his playing status separately even if that happens.
Houston signed veteran Tyrod Taylor this offseason and drafted rookie Davis Mills to round out their QB room for 2021. While neither is better than Watson, Taylor is capable of supporting fantasy-relevancy and Mills could see a few starts at some point this season if it goes according to the 2021 expectations, which are not super positive.
What to Expect from Collins
All signs point to garbage time, and lots of it. If the defense is still bad, and the Texans are playing from behind in most games, Collins could be a pretty sneaky fantasy asset. Whichever QB is in the game will be forced to throw plenty of passes to mount some sort of comeback, giving all their pass-catchers plenty of upside.
After Cooks, they have two oft-injured veteran wideouts (Cobb and Coutee), and it's not inconceivable that Collins carves out a nice role for himself in Year 1. He's pretty raw and is coming off a year without football, so I wouldn't reach to take him in redraft leagues unless they are super large. However, keep an eye on him in training camp, because if the rookie is turning heads and is looking like a sure thing for the Texans WR3 spot, he could sneak in as late-round redraft worthy.
At the 22-year old's current ADP of 201 in Underdog best ball drafts, he's worth that late-round click. Collins is leaving boards as WR88 and has situational upside to outperform that WR7/8 designation. Houston stacks are very contrarian in 2021 due to the perception of a lost season, so if the offense produces at all, you've exceeded value for all players involved, including Collins.
Bottom Line