D.J. Moore is Set to Explode in 2021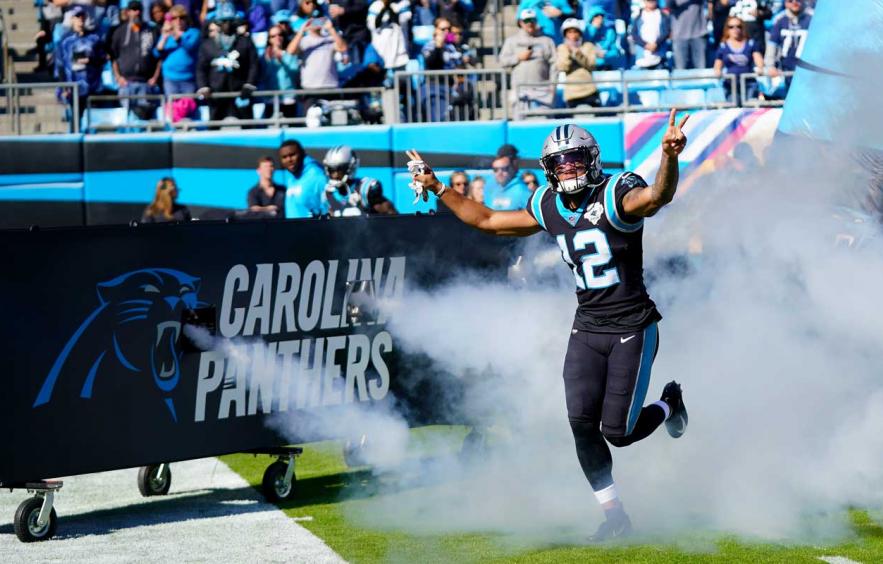 Jacob Kupferman/Getty Images
Every year as fantasy football managers our main goal is to find as much value as we can in drafts to set ourselves up for success during the football season so we can ultimately win a fake championship.
One of the best ways to do that is to pinpoint the ADPs of players who have slipped from one year to the next. One of my favorite examples of this is D.J. Moore in 2021. After having a top-30 best ball ADP in 2020, his ADP has fallen by almost 15 spots going into 2021, but his situation is largely the same as it was in 2020 when his ADP was a lot higher.
---
Editor's Note: Read more player profiles from the 4for4 staff!
---
D.J. Moore

is Mispriced

D.J. Moore, who is going into his fourth NFL season, has seen his ADP fall this redraft season and is currently mispriced according to the information we have. Why are we down on a wide receiver who looks certain to have another stellar season in 2021?

If we look at the above table, we see a receiver who has continuously improved year over year, yet the market hasn't adjusted to a range of outcomes that could see him put it all together and have a Stefon Diggs-like jump. Has Moore's situation really changed from 2020 when he was going as a top-30 pick?
We've seen some personnel changes for the Panthers during the offseason. Curtis Samuel and his 97 targets are now in Washington catching passes from Ryan Fitzpatrick. Mike Davis's 70 targets—and huge thighs—are now in Atlanta catching passes from Matt Ryan but those targets should all revert back to Christian McCaffrey (who missed all but five games in 2020). The Panthers also drafted Terrace Marshall Jr., a rookie from LSU, in the third round in the 2021 NFL Draft. As our very own Joe Redemann showed us, we shouldn't be afraid of rookie wide recivers impacting the target share of those at the top of the depth chart. One thing I am sure about is Carolina's offense will be more concentrated in 2021 than it was in 2020.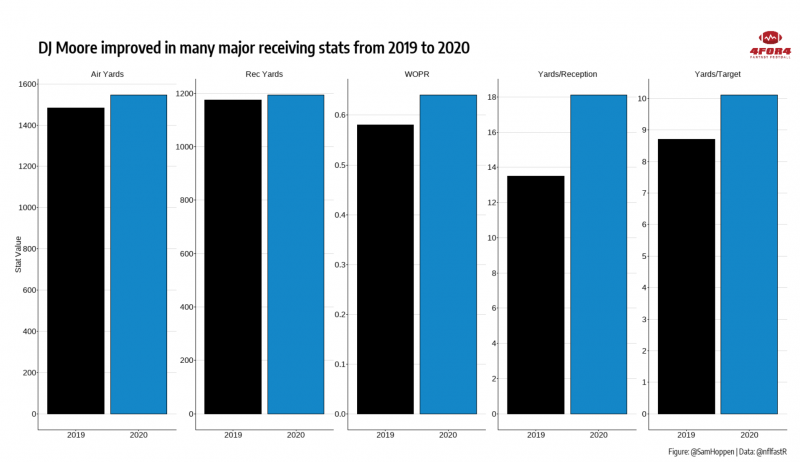 2020 Carolina
Panthers

Review

The Panthers had a lot of excitement going into 2020... Teddy Bridgewater seemed like a perfect comeback story, Joe Brady was just hired, who happened to coach Teddy Bridgewater when they were both with the New Orleans Saints, and Matt Rhule came over from the college ranks after turning around a dead-for-the-water Baylor college program into a perennial Top 10 college football squad.

Unfortunately, we learned life had other plans and proved to be harsh to the Panthers faithful as they fell to a measly 5-11 and had a Top 10 pick in the 2021 NFL Draft. If we want to look at the bright side, Teddy Bridgewater ended up having his best statistical season to date with Joe Brady as his play caller. He threw for a career-high in pass attempts (493), pass completions (340), passing yards (3725), yards per attempt (7.6) and completion percentage (69%). He did all of this without the best fantasy running back in the NFL in Christian McCaffrey for the majority of the season.

2021 Carolina
Panthers

Overview

Heading into 2021, the Panthers have a similar narrative shaping up as they did in 2021, as Joe Brady and company are looking to turn around another first-round draft selection quarterback career. The Panthers, right before the NFL Draft, made headlines by trading for Sam Darnold, giving up a 2021 sixth-rounder, a 2022 second-rounder and a 2022 fourth-rounder for the former Jet. This may not seem like much but trading a top-60 pick in 2022 is a strong indication the Panthers are committed to Darnold as their quarterback. They even doubled down by picking up his 2022 fifth-year option, which guarantees him $18,000,000 in 2022. Darnold has left the grasp of Adam Gase, which has a lot of people excited because the last time an Adam Gase coach signal-caller escaped his grasp he turned into a top-10 fantasy quarterback. The narrative is cute to push, but we still don't know how good Sam Darnold really is. Comparing him to Ryan Tannehill isn't an apples-to-apples situation and I don't think we should assume it is a thing.
Is
Sam Darnold

Really a Downgrade?
If we take a look at the table above, the peripherals surrounding Sam Darnold aren't as bad as they seem. He hasn't had as much volume since he's been in New York as the boys in Carolina have, but that should change this year with Joe Brady calling the plays. By all accounts and metrics, Sam Darnold has been a bad quarterback ever since he was drafted third overall by the New York Jets. However, the one area where Darnold has excelled in which Bridgewater failed has been the middle of the field and intermediate throws.
Sam Darnold was atrocious last year, but he could be a good thing for D.J. Moore.



Darnold has historically targeted the intermediate (10-19) area 3 to 5% more than Bridgewater.



Moore out targeted Anderson 42 to 29 on intermediate throws in 2020 and boasted a 13.7 ADOT vs. 9.7.

— Context Matters (@dwainmcfarland) June 29, 2021
Also, according to Sports Info Solutions, D.J. Moore was ninth in receiving yards last year despite being 29th in catchable targets in 2020. Moore was also one of the most efficient wide receivers in the NFL last year, ranking 11th in yards per route run (2.23) among all wide receivers with 50+ targets. He also ranked 10th in yards per game last year (79.5). Even if Darnold gives us another season of being mediocre, it shouldn't affect Moore and his standing in the Carolina Panthers offense.
If 2021 is the year Sam Darnold puts it all together, D.J. Moore will be a primary beneficiary because of it, and his 40th overall Underdog ADP will look silly a year from now.
Bottom Line
D.J. Moore is an ascending player who we should be excited to draft, especially since we're looking at 97 targets from 2020 up for grabs.
Sam Darnold is most likely a lateral move from Teddy Bridgewater.
The Panthers offense will be more concentrated in 2021 than it was in 2020.
D.J. Moores's target share shouldn't be affected by an incoming rookie.
We have all the makings of a breakout superstar WR with a cheap price tag.