2021 NCAA Tournament Second Round Bets: Day 1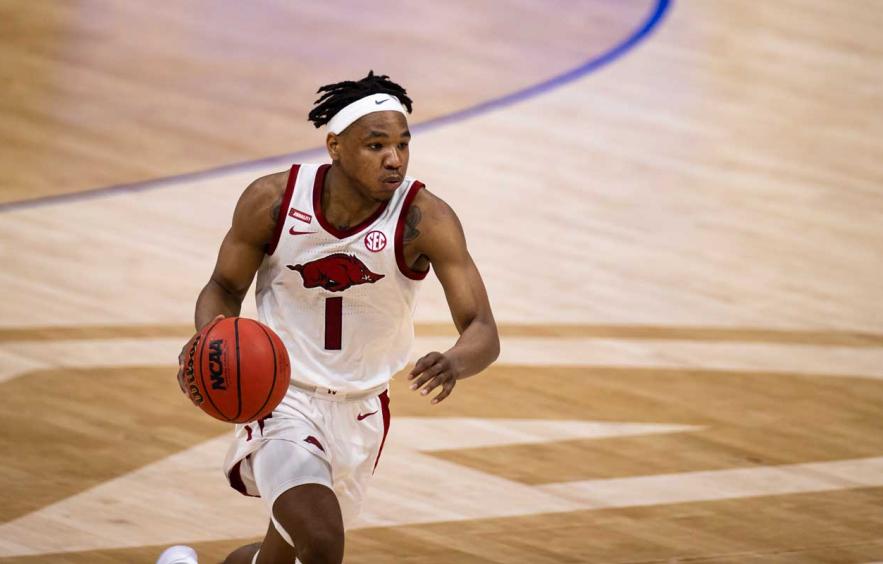 Brett Carlsen/Getty Images
My first column had its fair share of successes and failures. Utah State did slow down Texas Tech's offense, allowing them to only score 23 points in the first half. Texas Tech proceeded to go on a 22-2 run in the second half, ending any hopes or dreams of Utah State winning, or even covering. Utah State also shot themselves in the foot with 21 turnovers. Despite shooting lights out in the second half, Texas Tech still went under their team total of 67.5 points, which cashed one of our bets from that game. Our bet on Arkansas looked to be in danger early but when the lights shined bright, Colgate showed their true colors as an inexperienced mid-major, while Arkansas closed the game out with excellent free throw shooting and efficient offensive play. Even after a lackluster start to the tournament on my end, followers are up 0.92 units.
Before we dive into my recommended bets, a few metrics I'll cite are from KenPom.com that are important to understand:
Adjusted Efficiency Margin: How efficient a team is on offense and defense, adjusted for how good their opponents were.
Adjusted Offensive Efficiency: How efficient a team is on offense, adjusted for how good their opponents were.
Adjusted Defensive Efficiency: How efficient a team is on defense, adjusted for how good their opponents were.
This key provides a more in-depth explanation. Onto the second round…
2021 NCAA Tournament Second Round Bets: Day 1
Arkansas (3) vs. Texas Tech (6)
Arkansas to Win (+100 Moneyline at BetMGM)
I get that we just bet on Arkansas last time around while fading Texas Tech, but we are going back to the well. Arkansas' adjusted offense ranks 36th but their adjusted defense ranks 10th. Texas Tech's offense is slightly better than Arkansas' 33rd-ranked offense, but their defense ranks only 20th. The biggest difference between these two teams will be their pace. Texas Tech has played at one of the slowest speeds this year, ranking 317th in adjusted tempo. The Razorbacks play at the third-fastest pace in the country. I'm not sure either way is necessarily better but their styles will certainly differ to start.
The biggest difference for the Red Raiders in their previous game was turnovers. They force turnovers at the sixth-highest rate in the country and obliterated Utah State in this department, forcing 21 turnovers. Arkansas is much better at protecting the ball, ranking well above average in both turnover rate and non-steal turnover rate.
---
March Madness Sportsbook Promos
BetMGM: Bet $10 on any game, get $160 in free bets
PointsBet: Bet $20 on any team, win $150 if they score a point
DraftKings: Bet $4, win $256 on any underdog
William Hill: Get a $2,021 risk-free bet
BetRivers: Get $250 in free bets on the tournament
Unibet: Get a $500 risk-free bet, plus $40 in free bets
---
While both teams have played against good teams, Texas Tech's success—or lack thereof—against good opponents should be scary. Using KenPom's adjusted efficiency margin:
Against Top-10 teams: 0-3
Against Top-30 teams: 3-10
Their best win to date came against No. 23-ranked Texas twice, with the other being against No. 27 LSU. Beating a surging 17th-ranked Arkansas team would be their best win of the entire season. On the other hand, Arkansas has a win against seventh-ranked Alabama and is 10-1 since February. During that stretch, they beat the aforementioned Crimson Tide, Kentucky (49th in AdjEM), Missouri (48th in AdjEM) twice, Florida (37th in AdjEM) and LSU (27th in AdjEM).
Risk: 1 unit on Arkansas Moneyline on BetMGM to win 1 unit.
West Virginia (3) vs Syracuse (11)
Syracuse +3.5 at DraftKings (-108)
Syracuse to Win (+142 Moneyline at FanDuel)
Syracuse's 2-3 zone defense gave a strong San Diego State team fits on Friday, a seemingly annual occurrence in the tournament. I think there is reason to believe West Virginia might similarly struggle. If they can't break down Syracuse's zone defense, they will be stuck taking long and awkward three-point shots. West Virginia currently takes three-point shots at a 32.9% clip, good for 280th in the country. They are relatively strong at shooting three-pointers, though, at 36.2% (64th in the country), so was San Diego State. Syracuse's overall defensive efficiency metrics aren't that strong at just 91st in adjusted defensive efficiency. That being said, the Mountaineers now have one day to prepare their team to break down a pesky zone defense that can give even the best offensive team fits.
On the other side of the ball, Syracuse's offense ranks 13th overall. They also take care of the ball, ranking 36th in turnover rate and 25th in non-steal turnover rate. They'll now square off against West Virginia's 65th-ranked adjusted defense—a defense that is at its best when forcing turnovers.
On paper, West Virginia is the better team. With no time to prepare against Syracuse's 2-3 zone defense and a tough matchup on the defensive side of the floor, I like Syracuse and the points. I'll also be putting half a unit on Syracuse winning outright.
Risk: 1.08 units on Syracuse +3.5 on DraftKings to win 1 unit.
Risk: 0.5 units on Syracuse Moneyline +142 on FanDuel to win 0.7 units.
Thanks for reading and be sure to follow me on Twitter @ConnorAllenNFL for early best bets!
*All lines accurate at the time of publication.
---
This article is intended for entertainment purposes and adult users only. Call 1-800-GAMBLER if you have a gambling problem.