Week 9 NFL Betting Picks: Game and Team Totals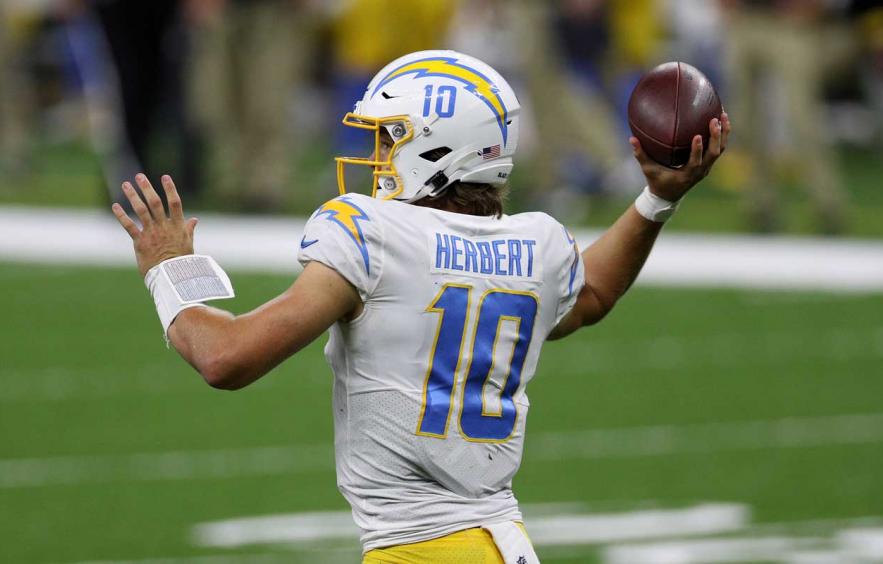 Chris Graythen/Getty Images
I'm so relieved that the weather will not be a factor this week. I like to get most of my action in early, and that put me on the wrong side of the number in a few spots by the time last Sunday rolled around. I still managed to have a winning week, I hope you did too, and I feel great about this slate of games.
Handicapping NFL sides and totals is not a perfect science, though it does get easier to navigate as the season moves along. The more we can contextualize the data we have and adjust it for the situation and opponent, the better. I have more conviction in using in-season data to make decisions now, and that pool gets deeper with each passing week.
Make sure you join our discord if you haven't yet. This week, I posted most of these picks in the chat because these lines are always moving. So far, the hit rate on the season here is 60% (24-16-1) and growing.
Let's dig into this week's picks.
Seattle
Seahawks

@ Buffalo

Bills

- Over 54.5 (DraftKings Sportsbook)

This 54.5-point total is the highest of the week, but it's still about 2.5 points short of where it should be. Both offenses are top-eight in points per drive, yards per drive, and overall offensive DVOA. Anytime two successful offense's interact, the likelihood of each reaching their ceiling is increased.

Inversely, each team's defense is providing a runway for their opponent's offense. As noted by our very own TJ Hernandez, Seahawks' games are averaging the highest average combined points per game this season at 62.7. I don't know where to begin with the Seattle offense. They rank first in both rushing and passing success rate, and only the Packers are scoring more points per drive than the Seahawks. Defensively, they're 30th in yards per drive allowed, with a disproportionate amount coming through the air, so Josh Allen should have a field day. Seattle ranks 28th in adjusted sack rate, ensuring that Allen will be able to work from a clean pocket.

With a clear forecast on the docket, I can't envision a scenario where this game doesn't shootout.
Detroit
Lions

@ Minnesota

Vikings

- Under 52.5 (PointsBet)

This game is off the board in some spots, but if you have access to it, grab it quickly. It's off the board because Matthew Stafford is on the COVID list, and he's trending towards a Saturday night decision. I'm going to pretend like he's playing for the sake of this breakdown, and I only like it more if he's out. I'd lean under down to 50, and FanDuel has it at 50.5 at the time of this posting.

We know both clubs want to run the ball and will have success doing so. They're bottom barrel run-stopping units, and both offenses run at an above-average rate on early downs. Chain-moving and clock-killing drives aided by handoff after handoff to Dalvin Cook is the recipe for an under.

We've already seen a version of this Lions' offense sans-Golladay, and it's not pretty. They're 30th in rushing success rate, 25th in passing success rate, and they just lost their best player.
Los Angeles
Chargers

- Over 25.5 (DraftKings Sportsbook)

The arrow continues to point up for Justin Herbert and the Chargers offense. The rookie's supporting cast is strong, and together they're changing the narrative around the former snail-paced Chargers' offense. Over the past four weeks, the Chargers are playing at the league's seventh-fastest pace. They're 11th in total offensive DVOA driven by their seventh-ranked passing offense. Herbert is mobile, which is crucial because of Los Angeles' inability to slow down a pass rush, but the Raiders let each of their opponents off the hook in that regard. On top of being 31st in points per drive allowed and defensive DVOA, Las Vegas is just 29th in adjusted sack rate. I think the game total is viable here as well, but I trust the Chargers' offense more in this spot.
Miami
Dolphins

@ Arizona

Cardinals

- Under 49.5 (FanDuel Sportsbook)

A year after having one of the league's worst defenses of all time, the Dolphins have made quite the turnaround. With two exceptional cornerbacks in Byron Jones and Xavien Howard, Miami ranks third in pass defense DVOA, and they're allowing the third-fewest points per drive in the league. They also have one of the league's top special teams units, an important yet often unaccounted for part of the game.

We all, myself included, want the Cardinals offense to be better than it is. They play fast and have name-brand players, but it's still a lot more horizontal-raid than all-out air-raid that we've all hoped for. Arizona is just 19th in passing success rate and 20th in explosive passing rate on the season. Just like last season, their strength lies in their creative running game, buoyed by willing-runner Kyler Murray.

The Dolphins are looking to get more out of Tua Tagovailoa in his road debut, but a backfield of Jordan Howard and Patrick Laird definitely complicates things. This might even reach 50, but I'm on the under still at 48.5.