Perfect Draft: 1st in a 12-Team ESPN Standard League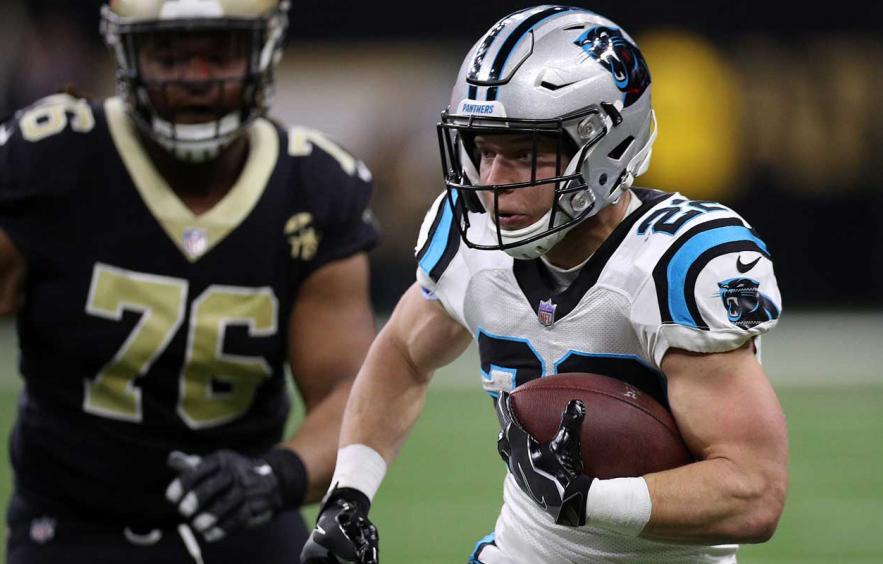 Chris Graythen/Getty Images
Getting the first pick in your draft is like winning the lottery. The board is open for any possible selection, but the viable choices (or choice) are slim. The Big Three at running back are the consensus choices. Christian McCaffrey, Saquon Barkley, and Ezekiel Elliott are the few players that find themselves in bellcow situations in 2020. There's some debate as to who has the highest ceiling, but their overall profile compared to their peers is undeniable. With as much excitement that surrounds the first round of drafts, there's some nitpicking that occurs as to who is worthy of the 1.01 overall selection. However, the challenge isn't the first pick. It's what options await you, or the lack thereof, that causes an issue as you close out the early phase of your draft.
Fantasy gamers are encouraged to enter a draft without a strategy. The keywords in the previous sentence are 'enter a draft'. Draft slot, ADP, and your league-mates will likely determine the optimal pick in the early rounds of your draft. However, your focus should shift from solely finding value and productive situations to employing a structural approach to your draft. By looking at your team from a macro level (e.g. number of players at each position), you can gauge how best to start your season and what construction best sets you up for a run at a championship.
In this article, I will walk through a perfect draft with the first pick in a 12-team ESPN standard league. Each pick was optimized using projections and value-based rankings from the 4for4 Draft Analyzer tool.
Draft Analyzer Settings
Roster Settings: 1 QB, 2 RB, 2 WR, 1 TE, 1 Flex (WR/RB/TE), 1 Kicker, 1 DEF, seven bench spots.
No QB or TE until after Round 5: I still prefer approaching the onesie positions with a late-round view. Unless I plan on attacking them early (QB especially), I'll wait until my core is set to invest in those positions. However, it's critical to remain cognizant of who/how many have been selected. Late-round QB (or TE) doesn't mean you have to wait until a specific round. It's about waiting until enough have been drafted (while you draft other positions) to maximize value with your own selection of a QB. For that reason, I set the Draft Analyzer to wait until at least the fifth to even recommend either position.
No Kicker or D/ST until the last three rounds: The volatility and replaceability at both positions make them a lesser priority. There might be some late-round darts at other positions I like, but I typically wait until the end of drafts to fill out my starting roster.
Limit 2 QB and TE, 1 K, and DEF: We can trick simulators into allowing the bot teams to draft, unlike your leagues. It makes our teams look good, but they don't reflect reality. With that in mind, I made sure that the other teams would only spend their draft capital in a manner that most other teams would in the draft. While value is the main driver, we have to be realistic in our approach.
Targets: It's good to have your own guys. Fantasy football should be fun! Having 'your guys' on your team gives you an added rooting interest week in and week out. I had a few in mind and watched their ADP (and compared them against their VBD) as the draft progressed.
ADP Settings: Another great feature of Draft Analyzer is the ability to choose which ADP you use. In most cases, choosing the site ADP of your hosting site will lead to the most optimal drafting strategy. You can also upload custom ADP, which I did here since most platforms are still relying on mock draft data rather than paid leagues.
For a comprehensive tutorial on setting up Draft Analyzer for your league, read our Draft Analyzer Walkthrough.
Jump to Pick: 1 | 2 | 3 | 4 | 5 | 6 | 7 | 8 | 9 | 10 | 11 | 12 | 13 | 14 | 15 | 16
Round 1, Pick 1 (1) - RB
Christian McCaffrey

,

Panthers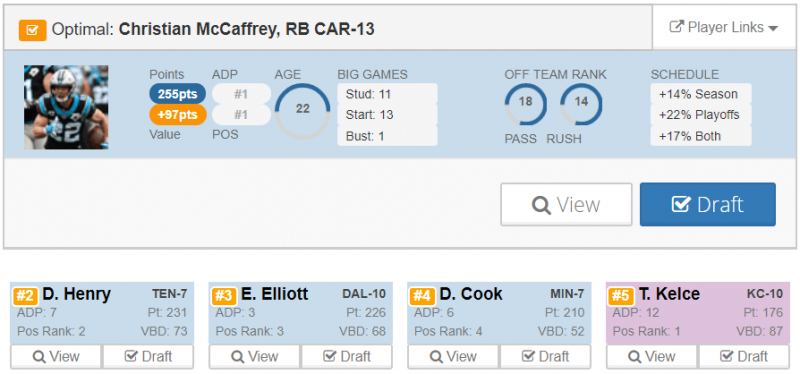 There's no need to overthink it. Christian McCaffrey's value is impervious to scoring format. He outscored the RB2 in standard scoring by 78.6 points. The gap only widened in PPR as he held a 156.4-point lead on the RB2. While we won't benefit from the receptions, his usage is unmatched. He had a 22% target share to go with his 91.8% touch share in Carolina. He is the league's true bell-cow and 2020 sets up similarly for 2019's RB1.
Now, it's fair to lay out the concerns. Historically, you'd have to go back to 2005 to find the last time the overall RB1 finished with more points than they did the previous season. Todd Gurley in 2018 was the last to come close to his previous year-end total with a -11.2-point differential. In addition, McCaffrey finds himself in a completely different situation with a new coaching staff and quarterback. But he's still without significant competition in the backfield and the Panthers' young defense lends itself to negative game scripts which will force volume his way.
It should be noted that Draft Analyzer mixed in two wide receiver suggestions in their top five, so there are multiple options here for managers who have different preferences in roster construction.
Structurally, there's a reason that the top running backs are the highest recommended options at the start of the draft. Their projected volume and touchdown equity offer unique floor and ceiling combinations that are often impossible to replicate elsewhere in the draft without an injury. It's worth noting Travis Kelce was included in the recommendations. While he wasn't considered, his profile (floor, ceiling, target share, etc.) aligns with the discussion. But pass-catcher scoring is more volatile leading us back to the running back position.
Each round, Draft Analyzer suggests the top available suggestion along with four alternatives, as shown at the top of this section. Throughout the rest of the article, I will note those suggestions as well as my top alternative to the player that I actually selected.
My Top Alternative: Saquon Barkley
Round 2, Pick 12 (24) - RB
Clyde Edwards-Helaire

,

Chiefs

The first overall draft spot is where most fantasy managers want to draft, but the 2.12 poses its own concerns. Draft strategies have centered around RBs as a focal point and this simulation was no different. After drafting McCaffrey, there were 12 more RBs drafted over the next 22 picks. The draft board may cause a sense of FOMO and force sub-optimal decisions to 'catch up'. It's here that setting tiers will help build a better roster. Because normally, I'd avoid the pitfalls of reaching for an RB and look to pass-catching options. However, Clyde Edwards-Helaire stuck out from the players available here.

Edwards-Helaire was a top prospect in the 2020 class, drafted to the reigning Super Bowl champions, and his direct competition opted-out of the 2020 season. John Paulsen has projected Edwards-Helaire as his RB9 in standard formats. Kevin Zatloukal placed the rookie in Tier 3 using projected scores to delineate replaceability. There are obvious concerns as to how the backfield touches will be split, but his likely role as both a runner and receiver in an offense that passed at the highest rate in neutral situations is hard to ignore. After securing McCaffrey in Round 1 and having another pick immediately after, I could build a strong starting RB stable with little risk.

Suggested Alternatives: Allen Robinson, Amari Cooper, Patrick Mahomes, Kenny Golladay

My Top Alternative: Allen Robinson
Round 3, Pick 1 (25) - WR
Allen Robinson

,

Bears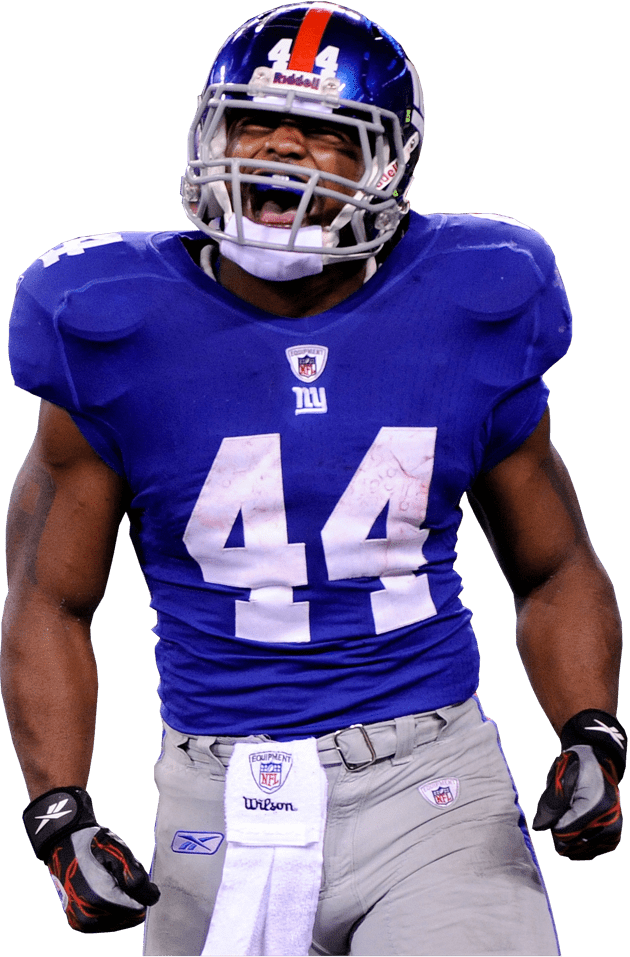 You're Missing Out!
Get access to this article and all our tools and rankings:
All Premium Content
The most Accurate Rankings Since 2010
Expert Draft Picks w/DraftHero
Highest Scoring Lineup + Top Available Players w/LeagueSync
...and much much more