Making Sense of the Patriots Backfield in 2020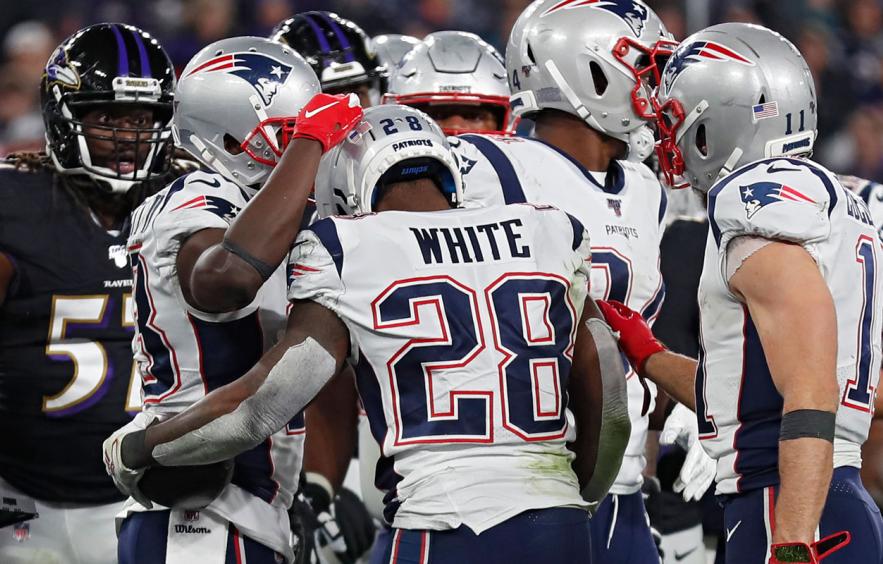 Scott Taetsch/Getty Images
Death, taxes and a cloudy New England backfield. This year's version is part courtesy of COVID-19 and part due to off-season surgery, along with the addition of an aging veteran recovering from a devastating injury.
Create or join a 2020 Yahoo Fantasy Football League for free today
So how should we approach the Patriots' running backs in our upcoming fantasy drafts? I'll attempt to sort it all out for both redraft and best ball formats below. Of course, with Bill Belichick at the helm, nothing is as it seems so proceed with that in mind.
All ADP is from My Fantasy League drafts from August 15th to the present.
Sony Michel

(ADP:118, POS ADP: RB59)

The former Georgia Bulldog's ADP took a nosedive over the past month or so, as rumors of starting the season on the active/PUP made the rounds across the fantasy community. Sony Michel went from an eighth to ninth-rounder in July to a late-10th and even much later draft pick on certain sites in recent weeks.

Michel surprised his doubters by suiting up for practice on Wednesday, August 26th, nearly a week after his running backs coach said the 25-year old could be ready for Week 1. This is reminiscent of 2018 when Michel appeared likely to miss time, but ended up on the field in Week 2.

Fellow back Damien Harris has turned heads so far in training camp and could overtake Michel in early-down volume, but of course, that may not happen at all. On a positive note for Michel, Harris's involvement and the addition of Lamar Miller may keep him fresher and potentially more efficient. If Michel retains his role as the featured goal-line back—he saw the sixth-most attempts inside the 10-yard line last season—there will be weekly touchdown upside for the third-year rusher.

New England starts out with four contests against defenses who were ranked in the lower half of the NFL in RB aFPA last season, so if he can get onto the field to start out 2020 he could be a great buy-low candidate. Michel is currently leaving boards in the double-digit rounds and makes for a cheap flier in all league formats.
Damien Harris

(ADP: 138, POS ADP: RB59)

The Damien Harris express has reached a decent hum in recent weeks with Michel absent from practice. He's made a name for himself with his route running, pass blocking and solid hands. Ready to make an impact in his second year in the league, Harris appears to be on track to nab most of the early-down work from Michel. The combination of Harris and Cam Newton could bring a more dynamic and explosive look to the Patriots' ground game, one that we haven't seen there for quite some time.

Of course, because it is New England, things can never just be clear in their running back room. Michel returned to the practice field this week which creates a small roadblock for the Harris bandwagon, but with his three-down skillset and Michel's injury history, Harris is still a nice target in the 12th round. He's especially juicy for those going with a Zero RB or a similar strategy, as his upside is pretty high for such a late-round guy.
James White

(ADP:77, POS ADP: RB32)

Always a PPR darling, James White has surprisingly seen little ADP movement this summer, despite getting a new quarterback who has had success with a pass-catching back in his past. In 2018, Christian McCaffrey saw 124 targets, averaging 54.2 receiving yards per game which is not in the realm of possibility for White in this crowded backfield, but it not out of the question to see White best his current draft spot.

The duo of white and Cam Newton could put up some solid numbers this season, especially in the red zone. Last year White was RB1 in targets (19) and receptions (16) from inside the 20-yard line and was RB2 in touchdowns with four from that same space.

Considering White is the only one in this backfield with a locked-in role and has finished above RB32 in three of the last four seasons in both full and half-PPR formats, his ADP is something that certainly has the potential to be exceeded in 2020.
James White

Fantasy Finishes, 2015-2019

| Year | Half-PPR Finish | Full-PPR Finish |
| --- | --- | --- |
| 2019 | RB22 | RB18 |
| 2018 | RB8 | RB6 |
| 2017 | RB41 | RB38 |
| 2016 | RB28 | RB26 |
| 2015 | RB45 | RB40 |
With New England's schedule peppered with tougher opponents than in recent years, they may be forced to play from behind more often than this team is used to. Favorable game script and a start against teams weaker at defending the running back position could lead to some boom weeks for White this season. This is especially advantageous in best ball formats and full-PPR leagues. However, White has the makings of an ADP overachiever in half-PPR leagues as well.
Rex Burkhead

(ADP:201, POS ADP: RB80)

Despite his nickname, Sexy Rex Burkhead isn't really a fantasy player you can count on consistently and only makes an impact if there's an injury to someone above him on the depth chart. In 2019, he posted a season-high six receptions with White sidelined, and in 2018 he saw 18 carries with Michel out to start the season in Week 1. He appeared to be on track to more volume last year in Week 3 leading the backfield with 11 carries, however, he suffered an injury and split carries the rest of the way.

As a change-of-pace guy and not likely to see much more, Burkhead should not be drafted in redraft leagues and is mostly a last-round dart throw in best ball formats. He'll be chilling on the waiver wire in the event of an injury to someone in this backfield, but should remain there until called upon.
Lamar Miller

(ADP: 208, POS ADP: RB83)

Still yet to practice in a Patriots uniform, Lamar Miller is currently on the active/PUP list with a knee injury. He was signed a few weeks ago and will compete for early-down work once he takes the field. Miller is returning from a torn ACL and MCL he suffered last August and is nearing the wrong side of 30 years old.

However, in 2018, Miller saw some of the best numbers of his career, rushing 210 times for 973 yards, plus nabbing 25 receptions for 163 yards and six combined touchdowns. It's tough to see exactly where Miller will fit into the backfield upon return, it's like he's there to mess with the fantasy managers out there. If Brandon Bolden hadn't opted out for the 2020 season, Miller would most likely be playing golf or sitting on his couch.

He's a guy to draft at will super late if at all in best ball leagues, and leave on the board in redraft formats, unless it's a super large league with deep benches.
Bottom Line
Due to the uncertainty surrounding the backfield as a whole this season, there is value to be had in the Patriots rushers.