Justin Jefferson: High-Floor Rookie or Redundant Asset?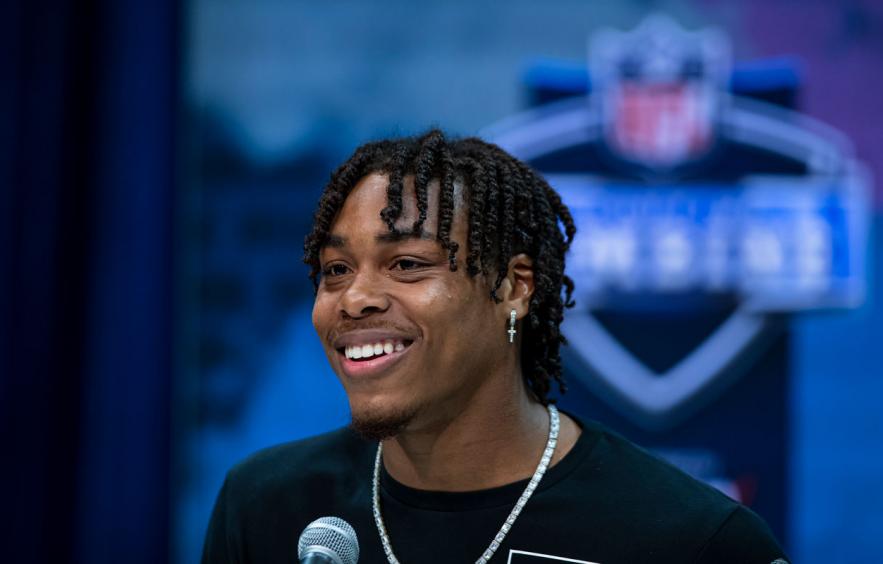 Michael Hickey/Getty Images
With the 22nd overall pick of the NFL Draft, the Minnesota Vikings selected Justin Jefferson, the fifth receiver off the board. With Stefon Diggs shipping off to the Buffalo Bills, Jefferson will slot in as Adam Thielen's number two and free-agent addition Tajae Sharpe will compete with incumbents Olabisi Johnson and Chad Beebe for clean-up duty.
Does Justin Jefferson have the skills to be a true number two in this offense? What type of production would that equate to in fantasy? Let's find out.
---
---
At 19 years of age, Jefferson had his breakout sophomore season, totaling 54 catches, 875 yards and six touchdowns under offensive coordinator Steve Ensminger. Joe Brady left his post as an offensive assistant with the New Orleans Saints to take over play-calling duties in 2019 and churned out some next-level production in Jefferson's junior season. Brady wanted to accentuate the receiver's route running by sliding him into the slot more (his percentage of slot snaps rose from 29% to 81% from 2018-2019), and the results were immediately palpable.
Joe Burrow targeted Justin Jefferson 134 times in the receiver's junior year, connecting with him for 111 receptions, 1,540 yards and 18 touchdowns.
Above-average size and a great athletic profile, Jefferson used loose hips and double moves to create space for himself to become an easy target for his quarterback. Though he gobbled up production as a drag route/shallow cross maven, he was not a "catch and fall" receiver. He consistently fights for the ball and extra yardage once he gets the ball in his hands. He and Burrow had a strong enough rapport that Jefferson was often the benefactor when and if a play broke down; finding open space and settling in when his QB had to leave the pocket.
Because of his heavy slot usage in 2019, JJ rarely saw press coverage with defenses needing to play off-ball due to LSU's ample five-wide formations. Jefferson has a great "get-off" at the snap, so it will be interesting to see how affected he will be by a big, strong cornerback punching him in the chest plate the moment the ball is snapped.
Regardless of how impacted he is by the change in competition level right off the bat, he'll have plenty of time to adjust as his career goes along. Because of his early breakout age, Justin Jefferson will play his entire rookie season at only 21-years old.
This video shows the mind-meld between wide receiver and quarterback. You can see what kind of weapon he is in the short and intermediate pass game.
With the previously mentioned departure of Stefon Diggs, there is a clear path to immediate production for Jefferson, and it could be argued that he has the best year-one landing spot of any 2020 rookie. Minnesota suffered 7.2 vacated targets per game to go along with a whopping 1,424 air yards, and responded in free agency by picking up Tajae Sharpe, who has 51 receptions in the last two years combined.
Jefferson's skill set seems to be a perfect fit for where Kirk Cousins likes to win in the short and intermediate areas of the field. Cousins has consistently ranked among the bottom of the league in average intended air yards, finishing with 7.9 IAY in 2019 (25th), 7.4 in 2018 (29th), and 7.8 in 2017 (27th). Jefferson will have a healthy target share to take underneath and dig routes and turn them into yards after catch opportunities.
The problem is certainly not going to be what size of the pie Jefferson is going to have; the problem is: how big is the pie?
As a Mike Zimmer team and a Gary Kubiak offense often want to do, the Vikings leaned on the run whenever possible last season; running the ball in a neutral game script at the fifth-highest clip. As a result, the team's leading receiver — Stefon Diggs— easily led the team in targets with 94, but that only ranked him 46th in the league. Vikings receivers touched the ball a total of 147 times in 2019. That 18.5% touch rate at the position ranked them 29th. Between the lack of touches and Kirk Cousins' lack of aggressiveness —his 18.2% deep ball rate ranked him 23rd— where is the upside for a rookie receiver who wins in the slot?
Minnesota ran out of 12-personnel (one back, two tight ends) 35% of the time last year, the second-most in the league behind the Eagles. On top of that, Adam Thielen has historically been the beneficiary when the Vikings do line up with three (or more) wide receivers; since 2017, Thielen has 218 targets for 153 receptions and 1,974 yards while lining up in the slot. His role there lessened in 2019 but it would be a fool's errand to completely phase him out of the role he has been so productive in. Justin Jefferson is going to have to get used to life away from the slot quickly, and he may have to do it without a rookie mini-camp or a lengthy training camp.
Bottom Line
Even with his powerful first-round draft capital, Justin Jefferson is likely to be a better real-life asset than a fantasy asset coming out of the gates.
Jefferson has the clearest path to targets of any rookie receiver, but a clogged path to a high weekly ceiling.
Kirk Cousins is going to fall in love with his underneath route running.
He may have difficulty with press and "jam" cornerbacks at the next level.
Currently going in the 11th round range in bestball drafts at the time of writing but his —and all other rookies'— ADP will continue to climb now that we have a team associated with the name. I view Jefferson as a stay-away once he climbs into the single-digit rounds of redraft leagues, but see him as a definite buy at his current 1.11 ADP in dynasty rookie drafts.
Rock-solid WR3 without much upside to grow in 2020.