The Fantasy Upside of the Seahawks' Backfield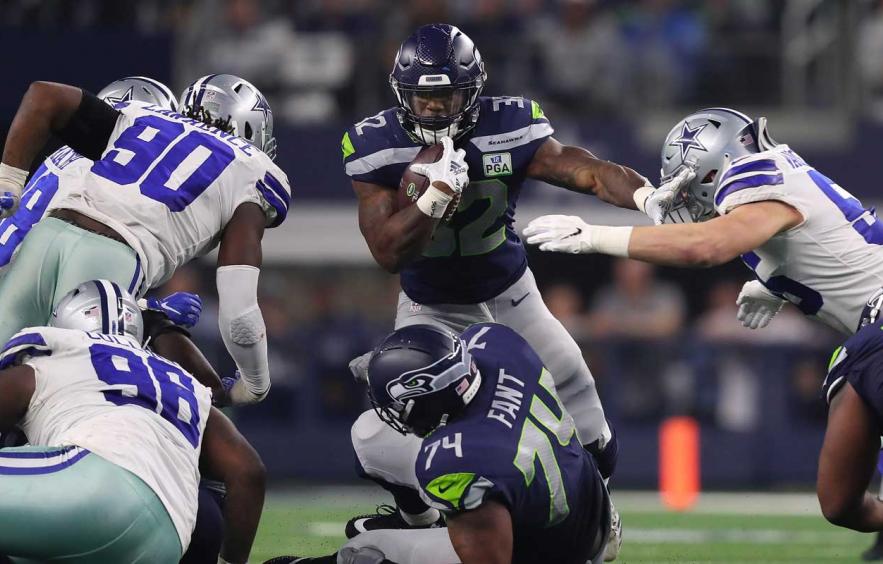 Tom Pennington/Getty Images
With both Chris Carson and Rashaad Penny suffering serious injuries last season the Seahawks were a dark horse to select another running back early in the NFL Draft.
Even though Pete Carroll wouldn't have been able to contain his excitement if his team took another running back in the first round, they waited until the fourth round, selecting RB DeeJay Dallas out of Miami. They also wasted no time in continuing to stock the cupboard full of running backs after the draft signing free agent RB Carlos Hyde.
A lot of this likely has to do with HC Pete Carroll has saying that Rashaad Penny had "more than just a normal ACL tear" and there were "other things they just had to clean out." Carroll wouldn't commit to Penny being ready for Week 1 and left the door open for him to start the year on the PUP. This means we will see some combination of Carson, Dallas, and Hyde share the workload to open the season. Most running back by committees (RBBC) aren't super exciting for fantasy purposes but Seattle's is a bit different. In one-score games last year the Seahawks ran the ball at the fourth-highest rate (47%). Seattle running backs (Carson, Penny, CJ Prosise, Travis Homer, Marshawn Lynch) combined for 396 carries last season (24.75 per game). Carson led the way with 278 carries (15 games) which he parlayed into 1230 yards and seven touchdowns.
Hyde was a low-risk depth signing by the Seahawks in order to shore up their backfield. It is some security for them in case Penny has to start the season on PUP and Dallas doesn't pan out quick enough as a rookie. I also don't think it limits Carson's upside at all and the Seattle Times added that the Seahawks still intend for Chris Carson to be their primary running back in 2020.
Carson is recovering from a season-ending fractured hip injury but Carroll expressed optimism in his likeliness to be ready for the season. If we take Carroll's word for how Carson and Penny will likely recover we are looking at Carson as the starter and featured back to start the season.
There were four games in which Penny missed that Carson played last season:
Chris Carson Stats with Rashaad Penny Out

| Week | Carries | Yards | TDs | Targets | Receptions | Rec yards | TDs | Fantasy points |
| --- | --- | --- | --- | --- | --- | --- | --- | --- |
| 3 | 15 | 60 | 0 | 1 | 1 | -2 | 0 | 6.8 |
| 4 | 22 | 104 | 0 | 4 | 4 | 31 | 0 | 17.5 |
| 6 | 24 | 124 | 1 | 4 | 4 | 35 | 0 | 25.9 |
| 15 | 24 | 133 | 2 | 2 | 1 | 4 | 0 | 26.7 |
Even though he didn't score a lot of fantasy points in Week 3, he saw 25-or-more touches in the other three games. In Weeks 6 and 15 he absolutely smashed, scoring 25.9 and 26.7 fantasy points, respectively, in PPR leagues.
Even when Penny returns, Carson should remain the 1A in the running back rotation as we saw last year. Penny only out-carried Carson once all season (Week 12 with 14 carries to Carson's 8).
Right now Carson's ADP is RB22, below a player like Devin Singletary. That's a massive mistake according to our latest projections which have Carson outscoring him by 31 fantasy points and ranked eight spots higher.
Beyond a solid median projection, his ceiling is a solid RB1. There were rumors of the Seahawks looking to trade Penny last season which could still come true this year and would leave Carson in a great position to exceed expectations. There's also a chance that Penny suffers a setback with his rehab. Carson becomes locked into 18+ touches per game if either of these scenarios plays out. Even with Carlos Hyde recently entering the equation, it doesn't impact Carson's upside all that much.
Even though I just spent a couple of hundred words explaining my excitement about Carson's fantasy upside, Penny should also be an interesting late-round target or waiver-wire pickup in some leagues.
His median projection (103 fantasy points) isn't very exciting but that's also not what you are hoping for when drafting a player like him.
Pete Carroll has been pessimistic about Penny's recovery but there's always a chance he is wrong. We are still multiple months out from the beginning of the season. If that happens he'll likely outproduce his current ADP of RB56.
Like with Carson, there are some exciting alternate scenarios that are reasonable and would make the former first-round pick a massive value. Carson's rehab from his hip injury isn't a sure thing to go smoothly. If he is the one to suffer setbacks and Penny recovers he'll likely be utilized as their top running back. In this scenario he'd probably be a weekly fantasy RB2 in Seattle's run-heavy offense.
I hinted at it above, but Penny could be traded. It's unlikely a team will trade for a running back to not utilize him in some aspect. If that happens we obviously have no idea how it'll impact his value but that's kind of the point. When I'm drafting my RB5's I'm looking for players with volatile value. There needs to be a reasonable scenario in which they could be in my starting lineup and make a real impact. Penny has that upside and volatility. With the news of Hyde signing with the Seahawks it will push Penny's ADP down even further. In deeper leagues I still think he is worth a dart-throw but in leagues with shallow benches he may be best left on the waiver wire until there is more clarity on his injury.
Before the Hyde signing I wrote: "Former Miami RB DeeJay Dallas was scooped up by the Seahawks in the fourth round this year. The 5'10 runner weighs in at 217 pounds and ran a 4.53-second 40-yard dash at the NFL Scouting Combine. Dallas was never a workhorse at Miami (265 carries in three seasons) but was very efficient with his touches (6.0 yards per carry). The tackle-breaking savant runs with a purpose and could play a role early on his career. As long as one of either Carson or Penny isn't fully healthy prior to Week 1 he'll probably see a handful of touches per game. The issue is I'm not sure that provides much upside. He would have to play extremely well during training camp in order to carve out a bigger role in the offense or put himself in the conversation as the 1B to either Carson or Penny's 1A. If both are healthy, he has essentially no value. In redraft he's no more than a late-round dart-throw."
Even after the Hyde signing the summary I provided above remains accurate and actually decreases his chances of making an impact as a rookie. It would take a lot of breaks his way to be fantasy-viable.
Hyde signed a one-year contract with the Seahawks worth "up to $4M dollars." It's unclear how much of the contract is guaranteed and how much is tied to incentives but i'd bet that he will have to play in order to make a good majority of that money. He's recovering from an offseason labrum surgery but is expected to be ready for Week 1. Right now Rashaad Penny is expected to start the season on PUP meaning Hyde will look to win the No. 2 spot behind Chris Carson. Even if he wins that battle it's unlikely the Seahawks decide to utilize Hyde as much more than a clear No. 2. That means his fantasy value is largely an upside play if Carson were to go down prior to Penny's return. In that scenario, Hyde would likely assume lead duties.
The Bottom Line
As long as Carson continues to progress in rehab, he's a high-floor, high-ceiling pick in the mid-late fourth round.
Rashaad Penny has a low median projection but has legitimate upside if news of his rehab becomes positive.
DeeJay Dallas has essentially no path to early work with the signing of Carlos Hyde.
Hyde has speculative fantasy value that hinges upon either a setback with Carson's rehab or Penny starting the season on PUP.
About Author