7 Players to Target In Best-Ball Drafts Before Free Agency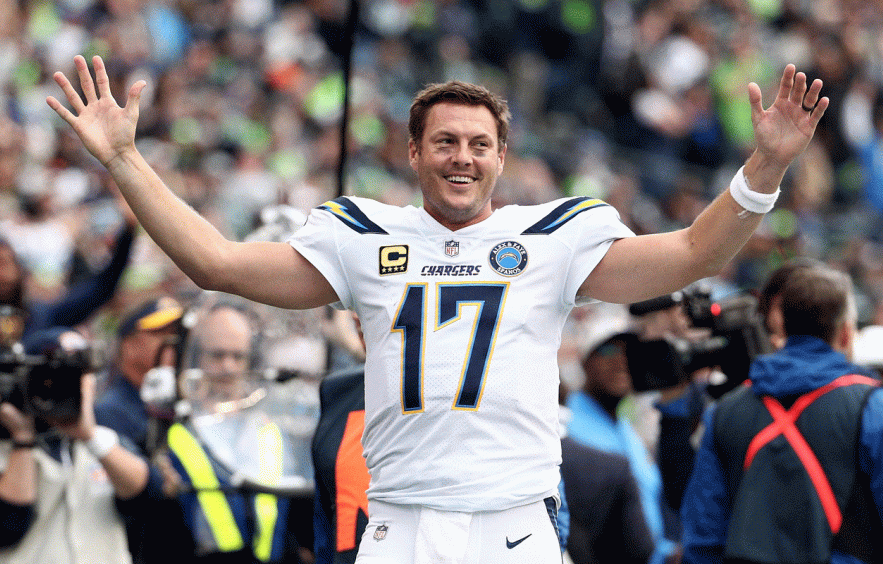 Abbie Parr/Getty Images
Drafting in March takes a certain brand of fantasy crazy. Things like bye weeks, schedules and depth charts are still unknown, plus a faction of players don't even know what color uniform they'll be rocking, or which city will be their home.
If you've started jumping in on best-ball drafts, taking advantage of some pre-free agency ADPs can be highly beneficial, but of course, can also leave you tilting six months before a snap is even taken.
Here are some players whose draft stock has the potential to rise depending on landing spot in the upcoming free agency period—guys you may want to snag now before their price tag becomes any heftier.
The NFL's legal tampering period beings on March 16 and free agency officially begins at 4:00 pm EST on March 18. ADPs referenced in this article are based on BestBall10s.
Free Agents to Target
Philip Rivers

, QB

Rivers has not missed a single contest since becoming the starter for the Chargers in 2006, which is a rarity in today's NFL. He's coming off a dreadful season where he averaged just 7.8 yards per attempt with an arm that looked shot at times, and his 20 interceptions were the second-most in his 16-year career.

The 38-year old has been stuck behind a bottom-five offensive line for three straight seasons so the question is, does he have enough tread on the tires to be successful with another franchise? With the quarterback landscape as thin as it is, Rivers should land somewhere in a win-now situation, perhaps Tampa Bay or Indy. Both spots have a plethora of weapons and could use his knowledge and ability both on-field and in the locker room.

Without knowing where Rivers will be playing, his current ADP is 194 in best-ball drafts, an early 17th rounder. If he does end up on a team with a solid o-line and a legit receiving corps, he could easily outperform this draft spot and add plenty of value to your squad.
A.J. Green

, WR

Rumors are swirling that the Bengals could franchise Green if a deal isn't reached, but the veteran supposedly wants out of Cincy so getting an extension signed could prove difficult. If he is tagged, he'd make $18.5 million and a hold-out is probably not ideal since he missed all of 2019.

That being said, Green is still a free agent and there are some teams that could use his services like Arizona or Philadelphia. If he does remain in Cincy, Green's fantasy value should still improve as he'll be the WR1 in a pass-heavy system, likely with a young, stud quarterback. However, becoming Kyler Murray's go-to wideout is pretty enticing for fantasy value, as well.

Green is currently being drafted in the late-sixth round of best-balls and if he's healthy and in the right spot, he could easily blow past that in 2020.
Jameis Winston

, QB

Of course, the guy I lovingly refer to as my "garbage angel" makes this list. Winston is a great fantasy quarterback and there are many managers out there who haven't accepted this yet. Use it to your advantage and scoop him up before his draft stock rises depending on his landing spot.

Last season, Winston finished as QB5 in fantasy points, throwing for 5,109 yards, 33 touchdowns and of course, 30 interceptions. Bruce Arians and the Bucs staff don't appear to want to roll with the 26-year old anymore but seem to be using a wait-and-see approach. Teams like the Chargers, Raiders and Jaguars could be potential landing spots, and Winston could produce in each of these systems, elevating their pass-catchers, as well.

Currently, he's being drafted around QB15 in the 11th round which could fluctuate depending on his new zip code.
Robby Anderson

, WR

Stuck on a putrid Jets offense for the past handful of seasons, Anderson could find himself in a much better situation in 2020. He does his best work down the field as an elite vertical threat, which has been underutilized with Sam Darnold under center.

Some interesting places to speculate Anderson going would be a long-ball complement to D.J. Moore in Carolina or Joe Burrow's new deep threat in Cincy. Regardless of where he signs, unless it's staying in New York with the Jets, his fantasy value should see an uptick.

Anderson's ADP is currently in the ninth round, which has the potential to climb after the free agency period.
Hunter Henry

, TE

Fantasy managers either love Henry or are scared of his injury-filled past. When healthy, he's a stud but the 25-year old has missed 23 games in his four-year NFL career. The Chargers are rumored to be using the franchise tag on their mismatch of a tight end, but if he does walk there are certainly teams that could use his ability to win in-line, in the slot or outside.

Presently, Henry is being drafted in the seventh round as the eighth tight end coming off draft boards. If he lands somewhere with a better offensive situation like Dallas or even possibly Carolina, his value could spike a bit.
Teddy Bridgewater

, QB

Bridgewater filled in admirably for Drew Brees last season, throwing for 1,384 yards and nine touchdowns, along with a win in all five starts. His performance put him in the conversation as a potential starter for 2020, as long as he makes solid decisions and limits mistakes. It comes down to him or Taysom Hill behind Brees for New Orleans and it seems like Bridgewater may be set free to compete for a job in another city.

Right now, he's not really on the fantasy radar for best-ball leagues and makes for a great dart throw as your QB3 or even QB2 depending on how long you wait to address the quarterback position. If Bridgewater signs somewhere with the potential to compete as a starter, his ADP could surge in the coming weeks.
Eric Ebron

, TE

This one is a bit tough on my gag reflex, but hear me out. Sure, Ebron is as inconsistent as they come in both real NFL and fantasy football. He put up TE4 numbers in 2018 then returned to dropping balls and quitting on routes last season.

He obviously has the potential and athleticism to succeed, but last year was a tough one for the Colts as a whole as they were dealing with the loss of their franchise quarterback and seemed committed to more of a run-heavy approach.

Perhaps a fresh team could be good for Ebron, a place like Green Bay, Jacksonville or Dallas. The 26-year old is just one season removed from 13 touchdowns, so outperforming his 14th-round ADP isn't too much of a stretch. Just hold your nose when you click that draft button and you'll be fine.