2 NFL Draft Props to Bet: Player Draft Position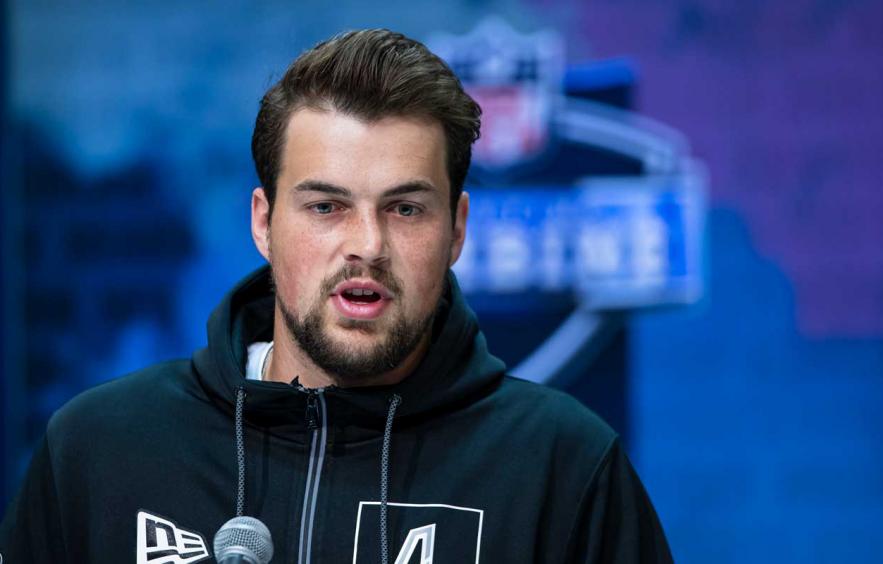 Michael Hickey/Getty Images
With most major sports halted across the globe, the NFL has decided to press on the Draft. Now sitting in the spotlight, DraftKings continues to release NFL Draft props. With the NFL Draft still weeks away, a potential edge appears for those with intimate knowledge of these players and teams. With that said, here are a few draft props that stand out on the DraftKings Sportsbook.
---
---
Jacob Eason

, Washington – Over 47.5 (-118)

Perhaps the most egregious line on the DraftKings Sportsbook, Washington's Jacob Eason is listed with a player position prop of 47.5. While these odds recently moved from -110 to -118, many view Eason as a day-three prospect in this class of rookies. Sitting with favorable odds, this NFL Draft prop remains a premier target.

After starting as a freshman at Georgia, Eason lost the starting job to Jake Fromm in 2017 after suffering an injury. Transferring to Washington, Eason only started one year due to transfer regulations. Wildly mediocre, Eason's 7.7 yards per attempt ranked in the 38th-percentile, while his 65.9 College QBR finished in the 27th-percentile. Making matters worse, he notched PFF's second-lowest passing grade while pressured in the PAC-12 in 2019. Also limited as an athlete, Eason never rushed for positive yards in any single season.

Looking at most consensus draft boards, Eason ranks outside the top five behind Joe Burrow, Tua Tagovailoa, Justin Herbert, Jordan Love and even Jalen Hurts. Over the last five seasons, the sixth quarterback selected in the NFL Draft comes off the board at pick 104.8, on average. Even if we drop the threshold, the fourth and fifth quarterbacks come off the board at picks 48.8 and pick 82.6, respectively.

Widely viewed as a developmental, day-three quarterback, Jacob Eason's player position prop remains laughable at 47.5. While a chance remains that a team fall's in love with Eason's skillset as a pocket passer, the more likely outcome remains that Eason falls past pick 47.5.
---
Want in on the action? Get a sign-up bonus up to $1,000 with DraftKings!
---
Jake Fromm

, Georgia – Over 60.5 (-110)

A similar wager here, Jake Fromm's player position prop remains at 60.5 with -110 odds. Like Eason, many people view Fromm as a developmental day-three project at the quarterback position. Clearly outside the top five, Fromm's chances of getting drafted in the second round remain slim.

Looking at Fromm's profile, he started all three years in a slow Georgia offense, predicated on the run. While Fromm's counting stats appear decent, he completed only 62.6% of his passes in his final season at Georgia. Making matters worse, 25.4% of Fromm passes were deemed uncatchable by PFF. Also, one of the more unathletic prospects at the quarterback position, Fromm turned in a 5.01 40-yard dash at the NFL Combine. Without any true redeeming quality, Fromm looks destined for a day three selection.

With four quarterbacks coming off the board inside the top two rounds on average, Fromm's player position prop of 60.5 looks like a pricing error on the DraftKings Sportsbook. Right now, the odds remain favorable at -110, making this NFL Draft prop a high priority.
Pick Summary
Note: All advice in this article is based on odds available on the date of publishing.