Dead Weight Report: Week 8 Droppables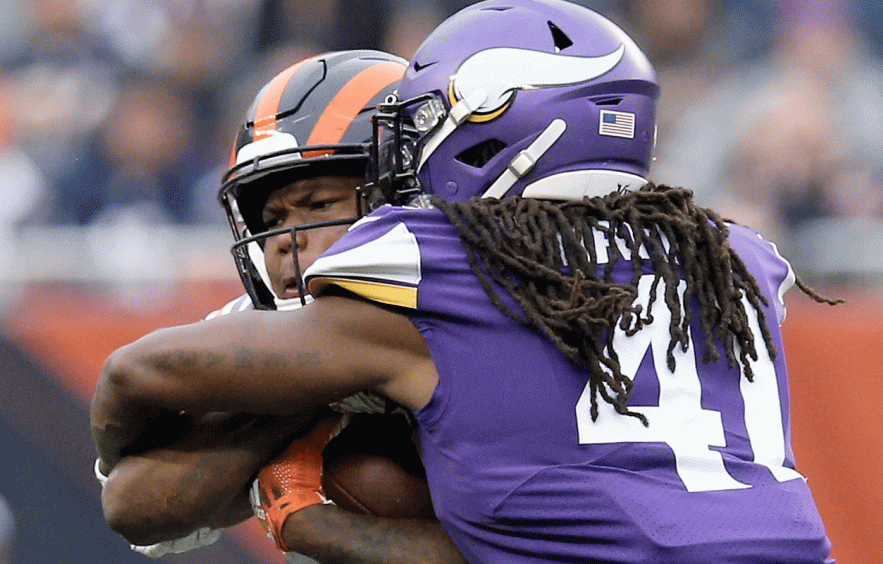 Dylan Buell/Getty Images
Whether they've made the starting lineup or have been hanging out on the bench, we all have players who've underperformed so far in 2019. Should you hang on to them for another week or cut them loose now?
In this weekly article, I comb through the weak and underwhelming performances to see who's droppable in favor of some waiver wire magic. There are many variables in determining a player's remaining worth, including their own production, offense, and health among others, and all will be taken into consideration when determining each week's dead weight.
David Montgomery

, RB –

Bears

While I am sure there are plenty of you who aren't ready to jump off the careening Montgomery train, it may be time. The rookie is RB42 in PPR points so far, and is being outproduced by Tevin Coleman in just three games, Frank Gore and even fellow newbie Miles Sanders, who isn't having a great start himself. The Bears offense is a mess and outside of Allen Robinson, they can't be counted on for fantasy purposes through their first six games.

I'm not saying dropping Montgomery is right for everyone, but if you are in need of wins now in order to get to the postseason, you may want to seek the services of a running back with a higher floor. If you're sitting pretty, have the bench room and want to wait for his big breakthrough then go for it. Otherwise, the 45% of you hanging on to hope may want to grab Chase Edmonds or Ty Johnson, who should see more production and volume due to injuries.
Noah Fant

, TE –

Broncos

Rookie tight ends barely pan out fantasy-wise, but Fant was one with the potential to break tradition. His talent coming out of college was evident and he was in a great spot with the position-loving Joe Flacco under center in Denver. Sadly, a breakout or even a serviceable roster spot was not in the cards for Fant in 2019.

He has just 15 catches for 159 yards and one score on the season, along with his share of drops and mishaps along the way. He's not only underperforming himself, but Flacco and the Broncos' offensive line is a collective mess presently and it doesn't appear things will be getting any better. And yes, I'm aware of how shallow tight end is, but there are better streaming options available.
Demarcus Robinson

, WR –

Chiefs

A boom-or-bust candidate for the Chiefs, Robinson hasn't posted more than 43 receiving yards since Week 2 and has only found the end zone once in that same time frame. Even with Patrick Mahomes tossing the rock, the 25-year-old receiver isn't a weekly reliable fantasy option and now that Matt Moore is under center, his stock has plummeted to barely rosterable.

Robinson is currently sitting on 36% of your benches, and even with bye week needs, he shouldn't be. Hit that waiver wire and pluck out a receiver with more consistent volume in their respective offense.
Josh Gordon

, WR –

Patriots

I know dropping Gordon is probably a tough sell for some of you who believe in him no matter what, but I feel like I have to at least throw it out there. Gordon is averaging just 9.1 PPR points per game when healthy and is experiencing knee issues that kept him off the field in Week 7. New England certainly has the ability to put up big numbers as an offense, but have struggled with consistency, plus Tom Brady himself isn't exactly lighting up the fantasy scoreboard these days.

You can try to deal Gordon before your league's trade deadline, but you may just have to let him go if you're in need of immediate help. His knee issue could linger and he could find himself Wally Pipped by Phillip Dorsett or Jakobi Meyers in the meantime. Oh, and New England just traded for Mohamed Sanu so there's that.
Chris Thompson

, RB – Redskins

Usually a PPR darling of sorts, Thompson is on a crap offense and is also dealing with turf toe. He most likely won't play on Thursday Night and then has just one game before Washington's Week 10 bye. The seven-year back is currently RB40 in total fantasy points, averaging just 9.4 PPR points per tilt.

He will probably be there to pick back up if you really want him later on, but for now, Thompson just isn't producing enough to warrant a spot on a competing roster.