The Top DFS Running Back and Defense Stacks: Week 6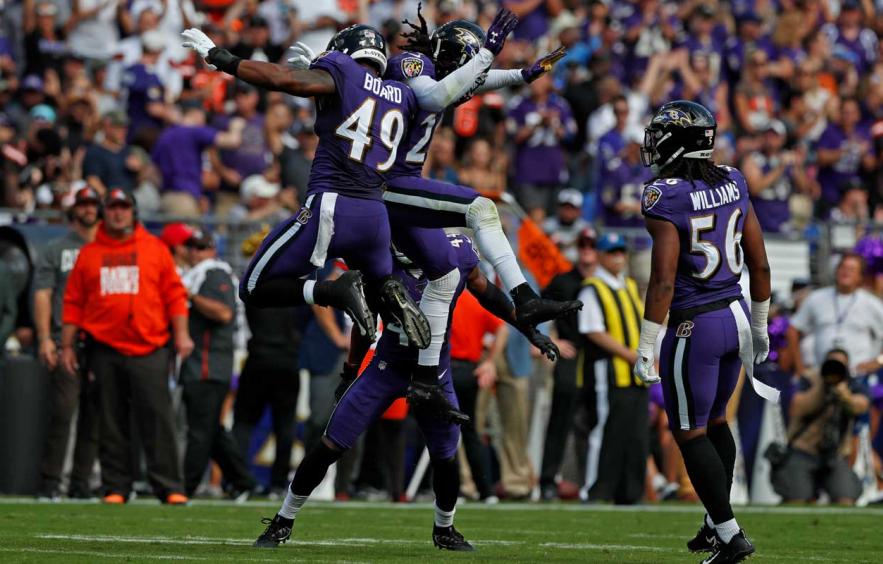 Todd Olszewski/Getty Images
These are the Week 6 running back-defense stacks on FanDuel and DraftKings. I'll examine where we might be able to get a solid defensive performance and volume-driven running production, including at least one RB-defense stack that will have minimal usage.
One should not base their weekly DFS lineup composition on the RB-DEF stack, as the correlation isn't nearly as strong as the QB-WR1 combo, for example. But considering RB1s—and only RB1s—get a decent bump in production when their team's defense scores at least 15 fantasy points, it's worthwhile to see where this stack might offer upside and differentiation for those who play large-field DFS tournaments. Running backs and defenses from the same team often face positive circumstances together.
It's these conditions that lead to fantasy points. Sometimes a lot of fantasy points—the kind that swing DFS tournaments.
Last week's James White-Patriots combination led to 28 fantasy points, while Derrick Henry and the Tennessee defense combined for 22 points. Jordan Howard and the Eagles defense— thanks to a dominant performance against the zombified Jets—put up 48 fantasy points.
Mark Ingram

/

Ravens

Combined percentage of FanDuel salary: 20.8%

Combined percentage of DraftKings salary: 21.4%

DraftKings pricing of this dandy little stack isn't ideal since we're working with full-PPR scoring on DK and Ingram has caught nine passes in five games this season. Nevertheless! This combo clearly has upside to spare: the Ravens are 12-point home favorites with an inflated implied total of 29.25 points going against a Bengals defense allowing the third-most yards per play and the fifth most points per game.

Only the lowly Dolphins see more rushes attempted against them on average, with Bengals opponents rushing 33.2 times per game through five weeks. This, you might say, makes sense since the team is horrific in every phase of the game, subject to nonstop negative game script. Mark Ingram, meanwhile, has at least 15 touches in four of the Ravens' five games. To the consternation of Justice Hill Truthers of America, Ingram ($7,500 FD/$6,600 DK) is clearly the team's RB1, and in this space, we only care about RB1s. Baltimore runs the ball around 57% of the time when they have a lead of at least eight points and when they face neutral game script. We can't say that about many teams. Ingram is a candidate for multiple touchdowns in this one.

The Baltimore defense ($5,000 FD/$4,100 DK), sporting the week's third-highest projected ceiling, per the 4for4 machine, gets a crack at a Cincy offense allowing the seventh most schedule-adjusted fantasy points to defenses. The Ravens could (should) feast if the Bengals are indeed forced into a pass-heavy script: Andy Dalton has been sacked on almost 9% of his dropbacks this season. Only five teams allow a higher sack percentage. The Bengals have given up ten turnovers through five weeks—a product of flailing in comeback mode for much of the season. The hope is that the Baltimore defense's hefty Week 6 price tag will push DFS players away in favor of cheaper defensive plays.
Adrian Peterson

/Washington

Combined percentage of FanDuel salary: 15.8%

Combined percentage of DraftKings salary: 15.4%

Please don't close this tab. I haven't had a mental break. I swear.

There is a process to this RB-defense selection: Adrian Peterson ($5,300 FD/$4,500 DK) is the team's early-down back, like it or not, and he has seen double-digit carries in three of his four games in 2019 despite Washington facing massive deficits early on in almost every contest.

Washington enters this game as a 3.5 point road favorite against one of the worst NFL teams in living memory. Case Keenum looks to be back at quarterback for Washington, lifting hopes of the offense benefiting from neutral game script. Then there's Washington's new head coach, Bill Callahan, who has talked like a classic run establisher since taking over for Jay Gruden on Monday. Callahan doesn't even pretend to understand the connection between rushing attempts and wins. Let's roll with it. Another plus for Peterson: offensive lineman Brandon Scherff is expected to return for Week 6 against Miami. The Dolphins sieve of a defense has given up an unbelievable 820 total yards and nine touchdowns to running backs in four games this season.

Miami's offense, a gift from the gods for those who stream defenses in redraft leagues, allows an average of 2.2 turnovers and 4.6 sacks per game. That's nine fantasy points just in interceptions, fumbles, and sacks. The Dolphins give up 19 schedule-adjusted points to defenses; no other team is in the same universe. It doesn't take much for game script to turn sour for this Miami team. The hope is that even Washington's middling defense ($4,200 FD/$3,200 DK) can pile up sacks and turnovers.

The Peterson-Washington stack has top-10 upside among RB-defense combos in Week 6, according to 4for4 projections. Peterson is the 35th priciest running back on the DraftKings main slate. We won't see a cheaper opportunity to take advantage of positive game script all year.
Melvin Gordon

/

Chargers

(Full Slate)

Combined percentage of FanDuel salary: 19.3%

Combined percentage of DraftKings salary: 19.2%

Melvin Gordon ($6,600 FD/$6,300 DK) resumed his role as the early-down banger—with some passing game action—last week against the Broncos. Gordon, coming off his lengthy holdout, took 12 carries and saw six targets as the Chargers played catchup against the Broncos. I suppose Austin Ekeler is also viable in a stack in the LA defense, though I prefer the beneficiary of a run-heavy script. That would be Gordon.

Pittsburgh's defense has proven susceptible to the run when opponents grab a lead and milk the clock via the ground game. The Steelers have allowed 125.8 rushing yards per game this season, along with 6.6 running back receptions per contest. While the Steelers have stiffened against the pass in recent weeks, enemy offenses continue to find success with the run. In fact, 46.2% of the plays run against Pittsburgh this season have been on the ground—the sixth-highest rate in the league. The Bolts come into this one as seven-point favorites with an implied total of 24.25. These are the conditions we're seeking in this stacking space. Let's not forget that Gordon notched 14.4 carries and 3.8 catches in Chargers wins last season. Twenty touches for Gordon is well within the range of outcomes this week.

It appears Mason Rudolph will require at least one more week to recover from his horrifying Week 5 head trauma, leaving Devlin Hodges as the Steelers starting quarterback against LA. While Hodges completed seven of nine passes last week against Baltimore in relief of Rudolph, I'm not sure we can put much stock in that limited sample. He's a third-stringer on the road against a decent Chargers defense ($5,000 FD/$3,300 DK), which just happens to sport the week's second-highest projected ceiling, according to the floor and ceiling machine. For $1,000 less than this week's top-priced defense, the Chargers make for something close to a no-brainer. Obviously we aren't the only ones who will be on LA's defense this week—a minor downgrade, at least, for differentiation purposes in large-field tournaments.

This stack features Week 6's seventh-highest projected ceiling on DraftKings, and the sixth-highest ceiling on FanDuel.