The Top DFS Contrarian Stacks: Week 17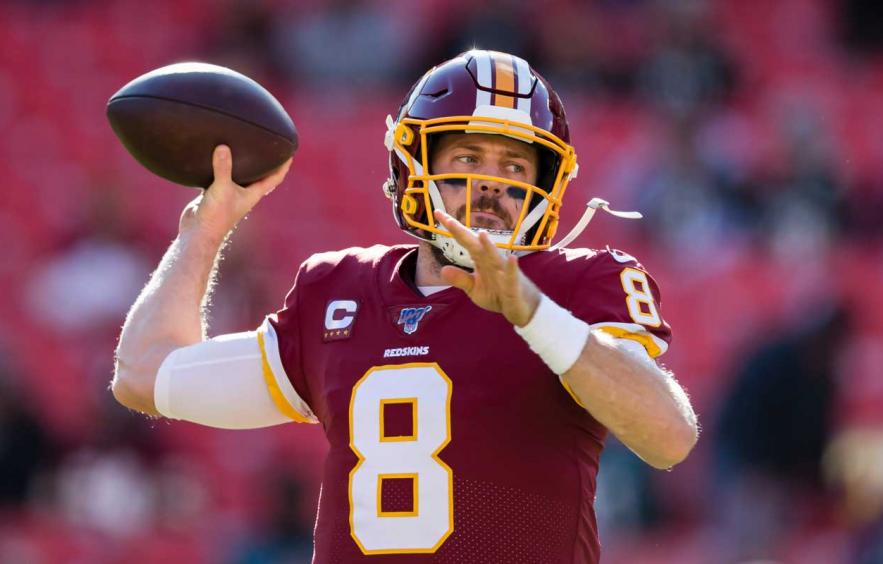 Scott Taetsch/Getty Images
When laying out Week 17 NFL DFS contrarian stacks, I'll be using a combination of our Stack Value Reports and GPP Leverage Scores to find unique stacks that can take down a tournament. I encourage you to read the series on how to win a GPP in the DFS Strategy Hub. You'll quickly realize that taking down a tournament requires a balance of players ranging from low-owned to chalky.
I like building contrarian stacks around my chalkier core of players because you only have to get one instance correct for it to hit. For example, if we hit on a contrarian quarterback play while having a pass-catcher or two from that same game, the positive correlation of those stacks is technically getting one contrarian play correct despite filling multiple roster slots. I feel this is easier than having a chalkier stack while trying to hit multiple individual low-owned plays throughout the rest of your lineup. Keep in mind that these are contrarian stacks, so you don't have to use these stacks in a large percentage of lineups to be overweight on the field. They should be used in tandem with a chalkier core of players.
QB/WR1/Opp. WR1 Stack
QB
Case Keenum

($4,500 DK/$6,800 FD)

WR

Steven Sims

Jr. ($4,700 DK/$6,000 FD)

WR

Michael Gallup

($5,400 DK/$6,500 FD)

While everyone is drooling over Robert Griffin, I'll be loading up on Case Keenum at an even cheaper price. Dwayne Haskins won't suit up this week and Keenum takes the reigns for one last hurrah. In four of the five games, Keenum started and finished he threw multiple touchdown passes. He looked great in relief of Haskins last week as well, throwing for 158 yards and scoring two total touchdowns on only 22 attempts. We see this all the time at the end of the NFL season. Backups come in care-free against a team that has everything to play for and outplays them. The Cowboys have been putrid down the stretch and I wouldn't be surprised if the Redskins give them a run for their money in this game. Steven Sims has been a stud over the last three weeks. In that span, he has been targeted 28 times and has scored three touchdowns. Terry McLaurin is in concussion protocol and if he doesn't suit up he's going to push for double-digit targets again. The Cowboys rank eighth in adjusted fantasy points allowed to wide receivers, however, it's not a matchup that I'm afraid of, especially since Sims won't be a priority to put the clamps on.

We can go a few different ways running it back with the Cowboys. If you think the 'Boys are going to jut out to a lead and the Redskins will be playing catch-up, you can run this stack back with Ezekiel Elliott. He has had a healthy workload this season and has been involved heavily in the offense as expected. He has eclipsed 20 PPR fantasy points in four of his last six games, only coming up shy against two very solid run defenses in the Eagles and Patriots. He has two games in that span with seven targets as well, so his work in the passing game has a pretty high ceiling as well, especially in shootouts. Michael Gallup is the stackable piece that I like if you think the Cowboys take to the air against the Redskins' secondary. Gallup's production has fluctuated this year, but it's directly tied to his usage. That's not the case with all players. Some receivers see consistent targets every game, but their efficiency is inconsistent with those targets. Gallup's fantasy points correlate strongly to his involvement in the offense. In the last seven weeks, he has been targeted 10 or more times in four games. He has averaged nearly 20 DraftKings fantasy points in those contests. He's a great candidate to approach double-digit targets again this week in a must-win contest in which Prescott should be throwing often.
QB/WR1/WR2 Stack
QB
Andy Dalton

($5,900 DK/$6,900 FD)

WR

Tyler Boyd

($6,100 DK/$6,600 FD)

WR

John Ross

($4,500 DK/$5,200 FD)

Week 17 is always a difficult proposition when you're dealing with teams that have nothing to play for. Some coaches will leave their starters in as if it was a normal game in the middle of the season, others will treat the game more as an evaluation of deeper roster players. For the most part, unless stated to the media I assume everything is status quo. Andy Dalton has looked decent in his return from a "birthday benching". Even in the previous game against the Browns, the Bengals moved the ball well, but just couldn't convert in the red zone. The Browns rank 20th in raw fantasy points allowed to the quarterback position. If Dalton can convert in close, or even better hit a few deep shots against a demoralized Browns' defense we can be in business with this stack. The Bengals are locked and loaded for the top draft pick in 2020, so there is no motivation to tank this game either.

Tyler Boyd and John Ross will be the top go-to options for Dalton in this matchup. The two combined for 28 targets last week (Boyd 15, Ross 13). When Dalton was lighting it up in the first month few weeks of the season, it was mostly due to John Ross having a breakout campaign. Then we have Tyler Boyd who remains the top option for Dalton in the short to intermediate range. The two receivers have been targeted on over 30% of snaps in the last two weeks, which is an extremely high percentage. This recommendation has more of a gut feel to it. A lot of the trends and stats that we prioritize week in and week out through the season go out the window in Week 17 because coaches can be unconventional. I think the Bengals are going to come out with the fire we saw last week in their furious comeback effort in Miami. If that's the case, Boyd and Ross should be the main benefactors of a pass-heavy scheme.
QB/RB/WR1 Stack
QB
Daniel Jones

($6,400 DK/$7,500 FD)

RB

Saquon Barkley

($8,700 DK/$9,300 FD)

WR

Golden Tate

($5,100 DK/$5,900 FD)

I guess we can say this is another gut feeling, but the Giants' offense has been clicking with both Daniel Jones and Eli Manning at the helm over the last month. Jones is the epitome of a boom-or-bust option at the quarterback position. He's been a turnover machine in certain games, but he's also had four fantasy outings of 32+ DraftKings points. While there's technically no motivation for the Giants, they'll obviously want to knock the Eagles out of the playoffs with a victory in this game. The Eagles defense is not the same easy target we saw earlier in the season, however, the Giants' passing attack has improved as well. The Eagles still rank in the bottom third of the league in adjusted fantasy points allowed to quarterbacks. Jones also adds the ability to scramble and keep plays alive and score with his legs when the Giants get inside the red zone. He is averaging 25 rushing yards per game in starts.

Saquon Barkley needs 90 yards to eclipse 1,000 yards rushing for the season. These milestones are often the only thing players care about in Week 17. Barkley has this milestone and the thought of keeping the rival Eagles from the post-season. He has been absolutely amazing in his last two efforts, which is the Saquon we all expected. I think he's finally 100% healed from his ankle injury. It's possible his struggles were as a result of the Giants bringing him back a bit too early. Barkley has received 55 opportunities (targets plus touches) in his last two contests. Barkley made it known he didn't want to be shut down to end the season and the Giants seem to be granting his wish. The Eagles present a difficult matchup, but that's what makes him a solid contrarian piece in this stack. I don't think many will roster Saquon this week.

You can select any of the Giants' pass-catchers here, however, Golden Tate seems to be the favorite target of Daniel Jones. He received 11 targets last week and despite not scoring was the most involved Giants' pass-catcher. His price is still very affordable compared to the elevate tags of Sterling Shepard and Kaden Smith. All three are viable options and if you're creating multiple lineups you can rotate these through your Eagles/Giants game stacks, but Tate has the best point-per-dollar projection from a median and ceiling standpoint in my opinion.