Winners and Losers from the 2019 NFL Schedule Release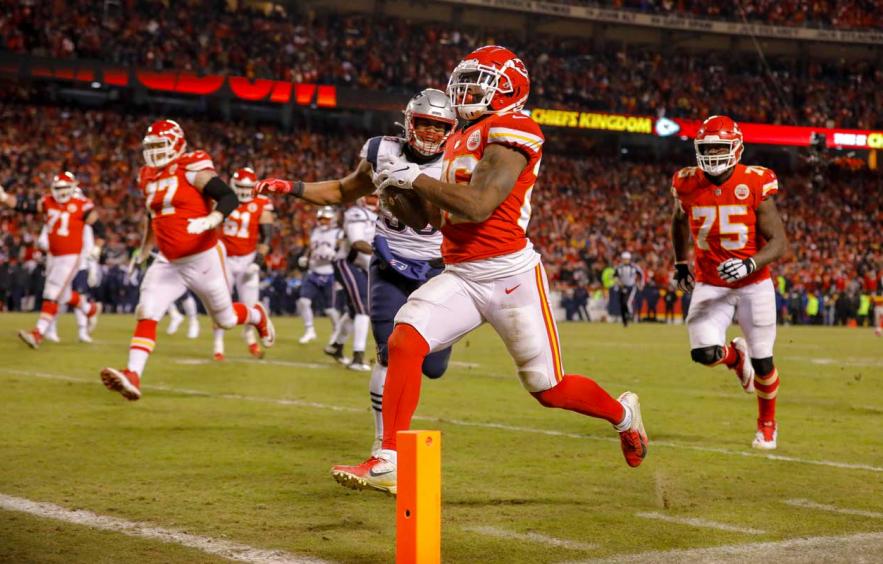 David Eulitt/Getty Images
Now that the 2019 NFL Schedule has officially been released, it's time to hit the (sports)books and find out which teams had Lady Luck on their side and which ones drew the short straw.
Not only does 4for4 adjust for team expectations with our schedule-adjusted fantasy points allowed (aFPA) to each position, it also removes any biases to help compare matchups in a more accurate picture for fantasy owners. This is an easy way to gain a quick, cursory glance at which teams have an edge or challenge versus each position. While there are many factors to be considered here (including some still-moving parts like the upcoming draft), this is a great way to break any ties in current best-ball drafts.
Let's take a look at some of the winners and losers with how the 2019 NFL Schedule panned out through an adjusted fantasy points allowed lens.
Schedule-Adjusted Fantasy Points Allowed to QBs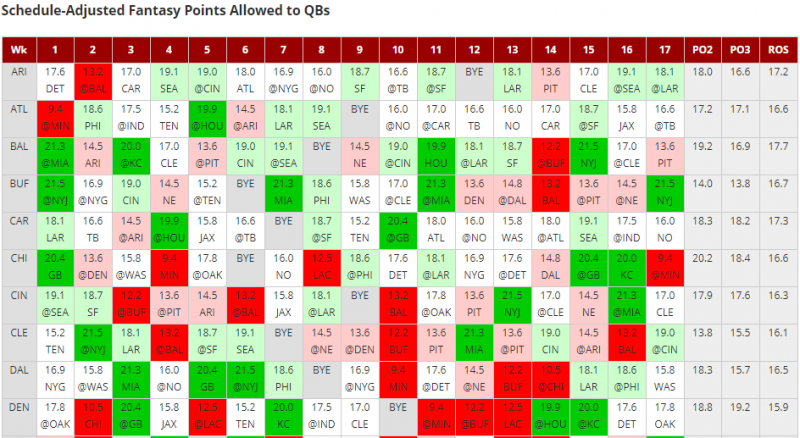 Click image for full view
Starting with the quarterbacks, the sophomore development of Lamar Jackson couldn't have panned out for a better schedule. The Ravens have what looks like the easiest adjusted-schedule for quarterbacks (Weeks 1-16). After completing just 48.2% of his dropbacks in his rookie season, help from the scheduling gods will be welcome in Baltimore. Cam Newton also enters a beneficial schedule, tied with Nick Foles for the second-easiest schedule. Newton continues to work on rehabbing his shoulder but should be ready for training camp. Foles enters a new situation in Jacksonville with new receivers, but they get to ease their way into the 2019 campaign with back-to-back outings against two bottom-five pass defenses in Kansas City and Houston.
Matthew Stafford and the Lions draw a tough 2019 schedule, facing the most difficult one on paper per our metrics. Playing Chicago and Minnesota (two of our top-five most challenging pass defenses) twice in inter-division play is no easy task, but they also must face Arizona and Denver on the road, in addition to a home matchup against the Chargers' elite secondary. For those betting on a bounce-back campaign for Stafford, he'll certainly have his work cut out for him. The Packers and the Chiefs have our next two most difficult schedules. Regression was to be expected for Patrick Mahomes following his 50-touchdown, MVP-season last year, but it also dampers Aaron Rodgers' attempt at a comeback campaign. That being said, if there are any two quarterbacks capable of overcoming tough schedules, Mahomes and Rodgers rank towards the top of the list.
Schedule-Adjusted Fantasy Points Allowed to RBs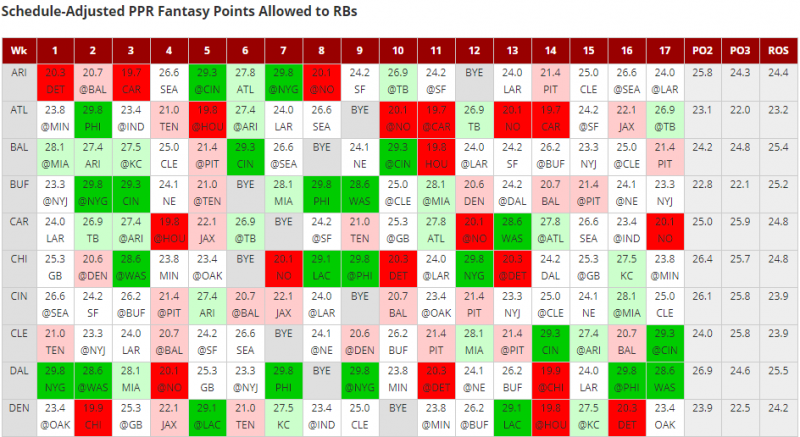 Click image for full view
The running back position (PPR) looks to have two backs at the top in terms of adjusted schedules. LeVeon Bell and the Jets are tied with James Conner and the Steelers for the top-two easiest schedules for PPR backs. Bell takes on four opposing defenses that rank bottom-five in average adjusted fantasy points allowed to opposing backs (@PHI, vs NYG, @WAS, @CIN). That should alleviate some concern for the Jets offensive line. We could soon see Bell supplant Melvin Gordon in ADP (RB7 vs RB6, currently) given Gordon's 31st-ranked schedule. If Conner is given the lead back role like last year, he should have little difficulty racking up fantasy points again (1.02 FPs/Touch). He makes for a solid foundation block at the end of Round 1. The third-easiest schedule for running backs in 2019 belongs to the Dolphins. The Dolphins have a lot of moving pieces prior to the draft, but Kenyan Drake (DRAFT ADP of 57.0, RB27) could end up as a major beneficiary if given the starting nod in a Ryan Fitzpatrick-led offense.
At the other end of the spectrum, Damien Williams will have his work cut out for him trying to replicate 2018's success. Williams scored at least 29 DK points in four of his final five games last year (including playoffs). While the schedule isn't loaded with tough matchups, the lone "easy" matchup he has on his schedule is two faceoffs with the Chargers. Speaking of the Chargers, Melvin Gordon looks like he may have a difficult time based on his 2019 schedule. He draws three of our top-five rated defenses in Detroit, Houston, and Chicago. The Buccaneers have our third-most difficult schedule for PPR running backs. There's still the possibility they address the position in the draft, but whoever takes the majority of the touches there will face a daunting schedule of six matchups against top-five rated defenses.
Schedule-Adjusted Fantasy Points Allowed to WRs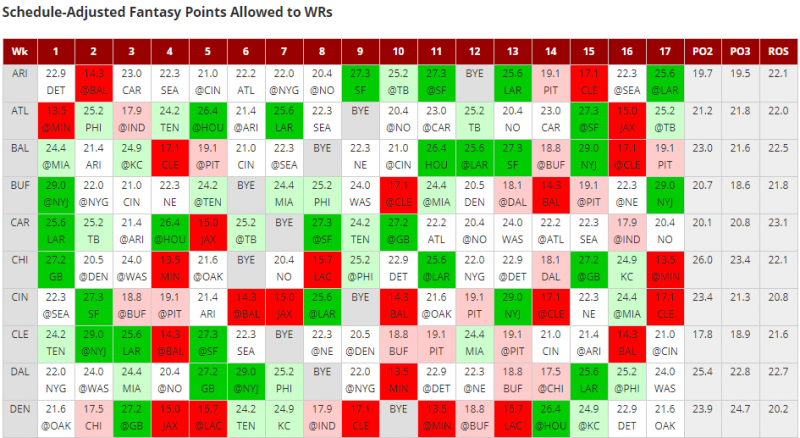 Click image for full view
Unlike the quarterback and running back position, there's still some flexibility here for the wide receiver position. Not every team has their wide receiver depth chart figured out, nor their corresponding cornerback depth chart. With so many unknowns still left to play a part, this is probably a more prudent exercise post-draft. Until then, let's take a rapid-fire look at which wide receivers look to be early winners and losers:
Amari Cooper

, Dallas

Cowboys

- Winner

Cooper draws the easiest schedule-adjusted calendar for wide receivers. After leaving Oakland (5.1 targets per game) in favor of Dallas (8.4 targets per game), Cooper finished the 2019 season as the WR9 while playing for the Cowboys. Give him a full 16-game season with Dallas and he could make his current ADP on DRAFT—WR13—one that we look back on as a screaming value.
D.J. Moore

, Carolina

Panthers

- Winner

Like Newton being a winner in passing, it stands to reason that his receivers should be well-positioned to put up fantasy points as well. Moore is an ascending star and with Devin Funchess now out of town in Indianapolis, Moore should vacuum up a sizeable share of his leftover targets (79) and potentially lead the team in 2019.
Sammy Watkins

, Kansas City

Chiefs

- Loser

Tyreek Hill will get his targets, so the secondary receiver probably stands to lose more volume with the Chiefs drawing the worst schedule for wide receivers. Matchups against the strong corners in Jacksonville, Baltimore, Minnesota, and the Los Angeles Chargers (twice) make this an unenviable schedule.
Will Fuller

, Houston

Texans

- Loser

DeAndre Hopkins will still contend for the league-lead in targets, but the secondary receivers in Houston could take a hit based on their schedule. The Texans don't face a single bottom-five unit in average adjusted fantasy points, and with Fuller's thin volume already (6.4 targets per game), he'll need to sustain 2018's catch rate (71.1%) if he hopes to overcome it.