A Trainer's View on Andrew Luck's Leg Injury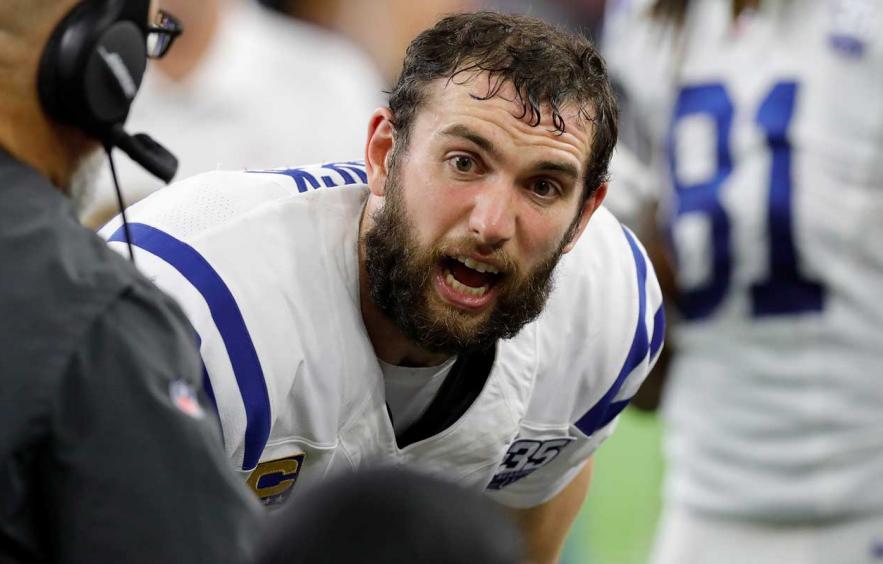 Tim Warner/Getty Images
With the majority of fantasy drafts about to get underway in the next few weeks, the news around Andrew Luck's mysterious leg injury has made a lot of people question if he should be targeted in drafts. While the information out on Luck is all over the place and confusing, there are some tidbits that have been coming out lately that could give us a clearer picture as to what to expect moving forward.
We are going to break down the timetable of when we first heard of Luck dealing with this leg injury, what the reports have been since then and what we really think is going on. Many fantasy owners are expecting big things from Luck this year, but this lingering injury has really given people concern which is absolutely warranted at this point. The thing you have to remember is that we are gathering information from the outside looking in, so we can only make our best-educated guess as to what might be the best-case scenario for Luck.
Timeline of Luck's Injury
April 2019 - Was reported to have strained his calf and would miss a few weeks due to the injury.
May 2019 - Missed all of OTA's.
June 2019 - Missed all of mini-camp.
July 2019 - Participated in a limited fashion in training camp. On July 30th, he apparently suffered a setback with his calf and was shut down until further notice.
August 3rd - Colts announced that Luck would miss first preseason game due to a calf injury.
August 12th - Colts Owner Jim Irsay states that Luck is dealing with a small bone issue in his ankle. The small bone issue is referred to as myositis ossificans, which is bone growth that occurs within the involved muscle normally due to trauma or repetitive stress.
August 13th - Colts GM Chris Ballard believes that the pain causing the discomfort in Luck's calf region is due to a high ankle issue. Luck will miss the rest of the preseason to rehab the injury in hopes to be ready for Week 1.
Deciphering What's Relevant
We're going to list the injuries that Luck is dealing with in order of most concerning to least, so you have an idea of what the biggest issue Luck will have as he recovers. The small bone issue that Colts GM Jim Irsay was speaking about is not an issue we feel you have to be concerned with.
1a) High Ankle Issue - The Colts' sports medicine staff has done more testing on Luck's leg and have found that he's dealing with a high ankle issue that might be the source of all the discomfort he has been experiencing. While it is strange for something like this to go unnoticed this long, the hope is that now the Colts can change his rehab regimen to help him recover faster. The biggest issue we're trying to decipher here is that GM Chris Ballard said Luck is dealing with a high ankle sprain, but the location of the pain is up near the calf, which is not typical of a high ankle injury. What this could indicate is that the thick fibrous tissue between the two bones of the lower leg, known as the syndesmosis, could be affecting Luck in a location is higher than what we normally see in a high ankle sprain. High ankle injuries, depending on the severity, can average anywhere between four to six weeks to get back to a high level. Luck will be up against the clock to get ready for Week 1 so we will have to keep a close eye on any updates we get from the Colts.
1b) Calf Strain - The calf was the original issue that was reported in April. The latest tests still do show that Luck is indeed dealing with a strained calf, but now the high ankle has taken precedent. The thing that people I think are overlooking is that Luck states he suffered a setback in July which is not a good sign, as re-aggravations have a tendency to take longer to recover than the initial injury. The main problem is that we still don't have answers to is whether or not the re-aggravation was due to the calf issue, or was it when he actually injured his ankle which now the Colts are deeming the source of the problem?
Should You Draft Him?
No. The silver lining in all of this is that there have been no reports of surgery being an option for Luck at this point in time. Regardless, this is a really confusing story and unfortunately, there are still a lot more questions to be answered before we get a better idea of when Luck actually might return to practice. It is not a great start to the season for a guy who is going high in fantasy drafts. If you are someone who likes to gamble on draft day and have the opportunity to grab Luck at a much lower position than you normally were expecting then maybe he's the right fit for you. In all honesty, he would be someone that I am fading until further notice because high ankle sprains have a tendency to linger and also do have some vulnerability of re-aggravation. Add in the fact that I'm really not feeling great about the calf issue either as calf strains have a tendency to put more strain on the Achilles and this situation is getting more uncomfortable by the minute (the Colts have downplayed the Achilles, but it's hard to ignore when you've seen someone not long ago in Kevin Durant deal with this same exact issue).
The Colts continue to downplay the situation here, but I would be very hesitant to pull the trigger on making Luck your starting quarterback this year. There's a chance that everything is cleared up before the start of the season, but the fact that there is so much that is up in the air with only three weeks until the start of the regular season does not make me feel comfortable about taking a chance on him.
For now. Luck is ranked as QB11 in our rankings, with an ADP in the mid-fifth round, but that is certainly subject to change as the preseason rolls on.