Projected Three-Down Linebackers (2019 Update)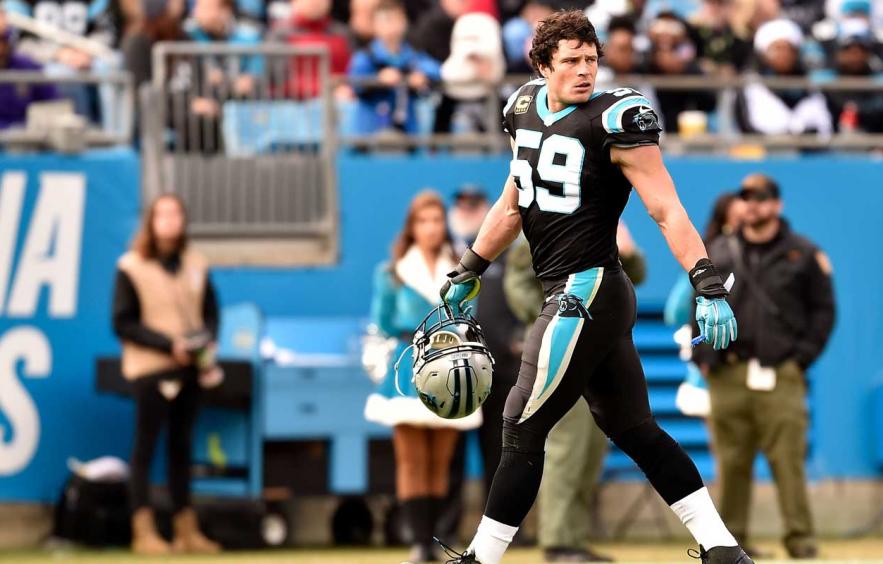 Grant Halverson/Getty images
Volume and usage play an important role in fantasy. Bottom line, if you're not on the field, you're not going to produce. It's the same philosophy in IDP—you can't score points if your defender is not on the field. With defenses now playing the majority of snaps in nickel or subpackages, it's crucial to find the linebackers who won't leave the field in those situations.
With that said, here are the linebackers who are expected to be on the field for the majority of the snaps. You'll note the green dot—that means the linebacker is receiving and calling the plays for the defense. It's important to note since those are the guys who'll be the true three-down players. These projections are based on training camp notes and preseason play and will be updated throughout the remainder of the preseason. I'll also have a weekly snap article once the season starts.
So, with all of that out of the way, dot-hunting season is officially open in 2019...
2019 Projected Three-Down Linebackers

| Player | Team | 2018 Snaps | 2018 Team Snaps | 2018 Snap Rate | Green Dot |
| --- | --- | --- | --- | --- | --- |
| Fred Warner | 49ers | 1060 | 1073 | 98.79% | |
| Kwon Alexander | 49ers | 366 | 1047 | 34.96% | |
| Roquan Smith | Bears | 880 | 1054 | 83.49% | |
| Danny Trevathan | Bears | 1008 | 1054 | 95.64% | |
| Preston Brown | Bengals | 375 | 1129 | 33.22% | |
| Nick Vigil | Bengals | 696 | 1129 | 61.65% | |
| Tremaine Edmunds | Bills | 962 | 1015 | 94.78% | |
| Matt Milano | Bills | 780 | 1015 | 76.85% | |
| Todd Davis | Broncos | 863 | 1078 | 80.06% | |
| Josey Jewell | Broncos | 616 | 1078 | 57.14% | |
| Christian Kirksey | Browns | 474 | 1178 | 40.24% | |
| Joe Schobert | Browns | 907 | 1178 | 76.99% | |
| Lavonte David | Buccaneers | 958 | 1047 | 91.50% | |
| Devin White | Buccaneers | - | - | - | |
| Haason Reddick | Cardinals | 842 | 1116 | 75.45% | |
| Jordan Hicks | Cardinals | 730 | 1116 | 65.41% | |
| Kyzir White | Chargers | 386 | 1038 | 37.19% | |
| Jatavis Brown | Chargers | 637 | 1038 | 61.36% | |
| Anthony Hitchens | Chiefs | 964 | 1179 | 81.76% | |
| Darron Lee | Chiefs | 808 | 1121 | 72.18% | |
| Darius Leonard | Colts | 925 | 1048 | 88.26% | |
| Anthony Walker | Colts | 694 | 1048 | 66.22% | |
| Leighton Vander Esch | Cowboys | 837 | 1026 | 81.58% | |
| Jaylon Smith | Cowboys | 1012 | 1026 | 98.64% | |
| Sam Eguaoven | Dolphins | - | - | - | |
| Jerome Baker | Dolphins | 722 | 1090 | 66.24% | |
| Nigel Bradham | Eagles | 897 | 1041 | 86.17% | |
| Zach Brown | Eagles | 686 | 1045 | 65.65% | |
| Deion Jones | Falcons | 899 | 1093 | 82.25% | |
| Alec Ogletree | Giants | 845 | 1098 | 76.96% | |
| Tae Davis | Giants | 344 | 1098 | 31.33% | |
| Myles Jack | Jaguars | 1024 | 1024 | 100.00% | |
| Quincy Williams | Jaguars | - | - | - | |
| Neville Hewitt | Jets | 267 | 1121 | 23.81% | |
| CJ Mosley | Jets | 874 | 1037 | 84.28% | |
| Jahlani Tavai | Lions | - | - | - | |
| Christian Jones | Lions | 723 | 988 | 73.18% | |
| Blake Martinez | Packers | 1050 | 1069 | 98.22% | |
| B.J. Goodson | Packers | 513 | 1098 | 46.72% | |
| Luke Kuechly | Panthers | 952 | 998 | 95.39% | |
| Shaq Thompson | Panthers | 704 | 998 | 70.54% | |
| Kyle Van Noy | Patriots | 990 | 1043 | 94.92% | |
| Jamie Collins | Patriots | 457 | 1043 | 43.82% | |
| Vontaze Burfict | Raiders | 298 | 1129 | 26.40% | |
| Tahir Whitehead | Raiders | 1025 | 1028 | 99.71% | |
| Cory Littleton | Rams | 964 | 1011 | 95.35% | |
| Bryce Hager | Rams | 53 | 1011 | 5.24% | |
| Patrick Onwuasor | Ravens | 524 | 1037 | 50.53% | |
| Chris Board | Ravens | - | - | - | |
| Jon Bostic | Redskins | 561 | 1045 | 53.68% | |
| Shaun Dion Hamilton | Redskins | 129 | 1045 | 12.30% | |
| Demario Davis | Saints | 877 | 1032 | 85.00% | |
| A.J. Klein | Saints | 764 | 1032 | 74.03% | |
| Bobby Wagner | Seahawks | 967 | 991 | 97.58% | |
| K.J. Wright | Seahawks | 223 | 991 | 22.50% | |
| Devin Bush | Steelers | - | - | - | |
| T.J. Watt | Steelers | 916 | 1045 | 87.66% | |
| Zach Cunningham | Texans | 753 | 1070 | 67.57% | |
| Benardrick McKinney | Texans | 912 | 1070 | 85.23% | |
| Jayon Brown | Titans | 923 | 1048 | 88.07% | |
| Rashaan Evans | Titans | 482 | 1048 | 45.99% | |
| Eric Kendricks | Vikings | 914 | 1042 | 87.72% | |
| Anthony Barr | Vikings | 836 | 1042 | 80.23% | |
Arizona
Cardinals
The Cardinals moved on from Josh Bynes, who was their playcaller last season. Haason Reddick didn't do much defensively, which is why Arizona brought in Jordan Hicks. When on the field, he's a solid tackler and should be the defensive signal-caller in 2019.
Atlanta
Falcons
There's no question that Deion Jones is the leader of the defense. Their run defense got gashed without him. He returns in 2019 as the captain and playcaller. As of now, I'd project Foyesade Olukon to remain on subpackage snaps, with De'Vondre Campbell coming off the field.
Baltimore
Ravens
The Ravens moved on from their captain, C.J. Mosley. As of now, Patrick Onwuasor has grabbed the brass ring and has been calling the plays during the offseason, and so far, the preseason. Kenny Young and Chris Board are battling for snaps opposite Onwuasor, so that will be a camp battle to keep an eye on. Board has the early leg up, but a lot can happen in the coming weeks. Keep Board on your watch list as a deep sleeper. Preseason Week 3 will be the litmus test.
Update 8/31/2019: Chris Board cleared protocol but didn't play in the Ravens' final preseason game. I'm still projecting him as a starter while seeing the majority of the snaps. This is going to be a situation to monitor ahead of Week 1. I'm still targeting Patrick Onwuasor as the only Raven LB.
Buffalo
Bills
Tremaine Edmunds dominated the snap share among the linebackers last season. Matt Milano's usage allowed him to be a serviceable LB3 in most league formats in 2018. I see that trend continuing. Edmunds is the LB I want out of Buffalo.
Carolina
Panthers
As long as Luke Kuechly is in town, he'll be the primary signal-caller. This could be the breakout year Shaq Thompson owners have been waiting for with Thomas Davis heading to the Chargers. It's worth noting that when Davis was suspended for the first four games of 2018, Thompson had the three-down role. The Panthers are going to install a 3-4, so he's looking like the ILB opposite Kuechly.
Chicago
Bears
Roquan Smith ended up appearing in 83% of the defensive snaps and established himself as one of the leaders of the defense early on last season and is already one of the elite LBs heading into 2019. Danny Trevathan should continue to bring value to IDP squads and continues to go under-appreciated—he still remains a solid LB2.
Week 1 Update: Roquan Smith and Danny Trevathan are your three-down LBs, along with Khalil Mack. Leonard Floyd should be picked up in big play leagues, however, he's likely to be boom or bust.
Cincinnati
Bengals
This is the first conundrum, in terms of who to go with at LB. Nick Vigil ended up missing five games, but was a three-down linebacker when he was active. Vontaze Burfict called the plays last season, and that role should go to Vigil this season. Preston Brown wore the green dot in preseason Week 1, but Vigil is quicker and a better defender than Brown. Preston Brown is worth a late-round flier as an LB4/5 for depth - he's a three-down guy who can be had for free in most drafts.
Update 8/23/2019: Nick Vigil wore the dot in Thursday's tilt against the Giants and played in the middle and weak-side. Vigil was the three-down linebacker and played in 31 snaps, while Preston Brown appeared in 24.
Cleveland
Browns
Another potential murky situation here, Joe Schobert and Christian Kirksey, much like the Usos in the WWE tag division, have had the starting roles on lockdown. Schobert has battled missed tackles while Kirksey is coming off hamstring injuries. The Browns will be deploying a 4-2-5, so at the outset, Schobert and Kirksey should be the three-down guys to begin the season. They are being pushed by rookies Sione Takitaki and Mack Wilson. I feel comfortable with Schobert and Kirksey as my LB2.
Update 9/2/2019: The Browns base defense appears to be a 4-2-5, so Kirksey and Schobert are going to be the three-down guys this season.
Dallas
Cowboys
This one is simple—Leighton Vander Esch and Jaylon Smith will be on the field. Smith broke out in his second year, recording 121 tackles while Vander Esch made Sean Lee all but forgettable in his rookie year. Both can be targeted as LB1s and you can even pair them up together.
Denver
Broncos
You'll notice a dot was missing here. Last season, Justin Simmons called the plays. Todd Davis and Josey Jewell are expected to be on the field for the majority of the snaps. One of them could be calling the plays in 2019. In Week 1 of the preseason, Alexander Johnson wore the dot, so signs are pointing to an LB wearing the dot this season. We should get a better idea this week. I like Davis as an LB3 and Jewell has breakout potential if he earns a three-down role.
Update 8/31/2019: Once Todd Davis returns from injury, he'll slot back in as the three-down LB opposite Josey Jewell. A.J. Johnson is shaping up to be the Week 1 starter opposite Jewell, but a three-down role isn't guaranteed for Johnson - he could see a rotation with guys like Justin Hollins and Josh Watson.
Detroit
Lions
Jarrad Davis has been the MIKE for Detroit the past two seasons, however, he's on a short leash. He's been solid when sent in to blitz, but he's been a liability in the run and has his tackling has been poor, missing 36 tackles in two seasons which has resulted in a missed tackle in every six attempts. You're going to want to keep Jahlani Tavai on your radar if Davis misses time or is benched. He's his backup and will wear the dot.
Update 8/31/2019: Jarrad Davis's ankle injury won't put him on IR, but he could miss the first 4-6 weeks of the season. Jahlani Tavai will fill in at MIKE and call the plays while he's out.
Green Bay
Packers
Blake Martinez has been Green Bay's three-down LB for the last several seasons, and as a result, has been an elite IDP. He enjoyed a breakout 2017 season where he recorded 142 tackles and followed that up with 144 tackles in 2018. As of now, the role opposite Martinez is up in the air. Oren Burks, who was slated for the job, suffered a pectoral injury, but it's not believed to be torn. Martinez is the only LB to target. Whoever earns the role opposite Martinez will have sleeper appeal.
Week 1 Update: No BJ Goodson meant Blake Martinez handled 100% of the snaps. With Green Bay decimated at LB, Martinez was the only ILB while Preston and Za'Darius Smith received the majority of snaps on the outside. Ty Summers was a non-factor, playing just on special teams. Green Bay went mostly with their Dime package. You'll want to put in a waiver claim on Raven Greene, as he spent 53 of his 56 defensive snaps in the box - he appears to be that 'big nickel' hybrid. At this point, the Smiths are big play targets and leave the other GB ILBs alone.
Houston
Texans
Zach Cunningham and Benardrick McKinney should be on the field for the majority of the snaps. McKinney should continue to call the plays and both are solid LB2s in most scoring formats. Cunningham missed a few games last season but had seven games where he played in more than 80% of the snaps.
Indianapolis
Colts
Darius Leonard is the man in Indy. He landed in the advantageous WILL spot for the Colts and finished 2018 as the overall LB1. Bobby Okereke is challenging Anthony Walker for the MIKE role.
Jacksonville
Jaguars
In a surprise, Telvin Smith announced he was sitting out the 2019 season. He didn't retire, just stated that he's not playing this season. This leaves Myles Jack as the only true three-down LB. Quincy Williams, even though he's battling a knee injury, looks to be the favorite for the WILL role opposite Jack. The next few preseason games could tell a different story.
Update 8/31/2019: Quncy Williams returned to practice, which is good news. He's on track to be ready for Week 1.
Kansas City
Chiefs
The Chiefs traded for Darron Lee to compete with Reggie Ragland to play opposite Anthony Hitchens. Hitchens is the unquestioned LB1 of the group and will be calling the plays in 2019. I'm more apt to target Lee if he wins the job over Ragland.
Update 9/2/209: In their unofficial depth chart, the Chiefs portray a 4-2-5 package with Damien Wilson alongside Anthony Hitchens. I still believe Darron Lee could get the majority of the snaps over the course of the season, but it appears Hitchens could be the only guy to rarely leave the field as the signal caller. It's going to be another muddled situation to largely stay away from. Hitchens is the only LB I want.
Los Angeles
Chargers
Another mess at LB, this situation could go in a myriad of directions. In Week 1 of the preseason, while Denzel Perryman was on the field, he wore the dot. I project Perryman to call the plays while Thomas Davis should man the weak side. Jatavis Brown and Kyzir White should also factor in.
Update 9/2/2019: Anthony Lynn named Kyzir White starting MIKE and Jatavis Brown will start opposite. Perryman is still dealing with some injuries according to coach Lynn. White has some upside now that the situation is clear as an LB3 in deeper formats where you're starting three or more LBs.
Los Angeles
Rams
Cory Littleton established himself as a top-10 LB and called the plays last season. Mark Barron is no longer in town, Micah Kiser was slated to win the job, but a pectoral injury has put that in doubt. Keep Bryce Hager on your radar. Hager's a 7th rounder, so I'm sure his leash will be short and there's always the chance the Rams bring in vets post cuts. Taylor Rapp is also a safety who could play up near the LOS, so he could be one of those S/LB hybrids.
Miami
Dolphins
This is going to be a situation to monitor. Ultimately, Jerome Baker and Raekwon McMillan should be the three-down guys, with Alonso coming off on subpackages. Jerome Baker has been wearing the dot, however, McMillan hasn't suited up.
Update 9/1/2019: Kiko Alonso is demanding a trade out of Miami and got his wish - he's off to New Orleans. I'm fully on board the Sam Eguaoven and Jerome Baker hype-trains. Rumors are swirling that Raekwon McMillan has been cut.
Minnesota
Vikings
Kendricks has now recorded consecutive 100-tackle seasons and he's the only LB I want out of Minnesota. Anthony Barr should continue to call the plays for the defense, however, he's a non-factor in IDP.
New England
Patriots
Jamie Collins returns to New England where he enjoyed some productive seasons. Kyle Van Noy and Donta Hightower have both called plays in the past. Typically, I've avoided the LB situation and NE and I suggest you do the same.
Update 8/31/2019: Jamie Collins is wearing the dot.
New Orleans
Saints
After recording 135 tackles for the Jets in 2018, Demario Davis recorded 110 for the Saints in 2018 and appeared in 85% of the snaps. Davis is a strong LB2 and is the only New Orleans linebacker I want. Davis and A.J. Klein will swap playcalling duties, but Klein isn't a serviceable fantasy linebacker.
9/1/2019: Saints acquired Kiko Alonso and it muddies the LB situation for anyone other than Demario Davis. A.J. Klein has acted as their MIKE and signal caller in the past, so I think he's in competition with Alex Anzalone for snaps. I don't envision Kiko as a three-down player, however, his reputation seems to land him volume.
New York
Giants
This one is simple—target Alec Ogletree. B.J. Goodson hasn't proved durable enough to handle a three-down role. He started out strong in 2017, however, injuries caused him to miss most of the season. In 2018, Goodson played fewer than 50% of the snaps. Ogletree should be the only Giant LB you target.
Update 9/2/2019: The Giants released oft-injured B.J. Goodson, leaving just Ryan Connelly, Tae Davis and Nate Stupar to play alongside Ogletree. It appears that Davis is going to get the nod at starter snaps. Deep leaguers in re-draft formats will want to look at Davis if they are starving for LB depth. Ryan Connelly is the add in dynasty leagues.
New York
Jets
Avery Williamson tore his ACL and now puts Neville Hewitt on your redraft radar. Blake Cashman should be gone in dynasty, but if not, dynasty leaguers will want to dial him up. C.J. Mosley isn't going to leave the field and will call the plays, so I'm targeting him as an elite LB1. Target Hewitt as an LB4. Hewitt ended up playing 87% of the snaps in the Jets' final four games of 2018 season and they seem to like him. He could get the first crack at ILB.
Oakland
Raiders
Vontaze Burfict and Tahir Whitehead are looking like the three-down linebackers with Brandon Marshall coming off on subpackages. Whitehead knows the system, so he has a leg up. Burfict, even though he's injury- and suspension-prone should be considered an LB3. Both are going cheap in drafts. I'd target both in your IDP drafts.
Update 8/31/2019: Raiders cut ties with Brandon Marshall. Tahir Whitehead and Vontaze Burfict are shaping up to be the three-down guys for Oakland. Marquel Lee could see snaps, but not enough to cut into Burfict or Whitehead's value.
Philadelphia
Eagles
Nigel Bradham is set to call the plays now that Jordan Hicks is gone. Zach Brown was brought in after the Redskins released him, but it remains to be seen if he's going to get the three-down role—he did turn in a solid preseason debut. If the Eagles do go two LBs, I see Bradham and Brown getting the majority of the snaps. Brown should man the MIKE with Bradham on the weak side.
Pittsburgh
Steelers
Devin Bush has been as advertised and has already earned the dot. He won't be leaving the field. Vince Williams was a rotational linebacker last season, so the only other LB I see getting the majority of snaps is T.J. Watt. Watt is a target in big-play scoring formats, while Bush is a potential LB1 in most IDP scoring formats.
San Francisco
49ers
Kwon Alexander swashbuckled his way out of Tampa in free agency and drops anchor in San Francisco. Fred Warner was in on virtually every snap as a rookie, so he and Kwon should be on the field for the majority of the snaps. Kwon will be calling the plays and should be an LB1. Warner should be looked at as an LB2.
Seattle
Seahawks
Eat. Sleep. Bobby Wagner. Repeat. K.J. Wright should resume his role as weak-side LB after battling an injury-plagued 2018, where he only played in five games. Wright could be in the mix for more pass-rush snaps, so there's sack upside to go along with his tackles. Wagner is my overall LB1 and Wright can be had as an LB4 with upside to produce as an LB3.
Tampa Bay
Buccaneers
The Bucs allowed Kwon Alexander to walk in free agency but replaced him with Devin White. White gets to learn the NFL ropes alongside Lavonte David. David should be calling the plays this season. David produced an elite tackle rate of 13% in 2018 and White has the upside to produce at that rate. I don't see either leaving the field and both can be targeted as LB1s in 2019.
Tennessee
Titans
Jayon Brown and Rashaan Evans started in preseason Week 1 and Brown looks ready to call the plays. Brown enjoyed a breakout of sorts in 2018, producing 97 tackles and a 10.5% tackle rate. He should hit the 100-tackle mark in 2019. Evans, if he earns a three-down role, is poised for a breakout and has sleeper potential. I'm targeting Brown as an LB3 and Evans as depth as he can be had cheaply in drafts.
Washington Redskins
I might avoid this situation altogether and just target Landon Collins—he should be Washington's leading tackler anyhow. If you're in a deep or all-IDP league, Jon Bostic is the only Redskin LB I'd target in drafts. If you need a name to keep on a watch list, Shaun Dion Hamilton - he's running with the ones.