Kirk Cousins: The Value of a Quarterback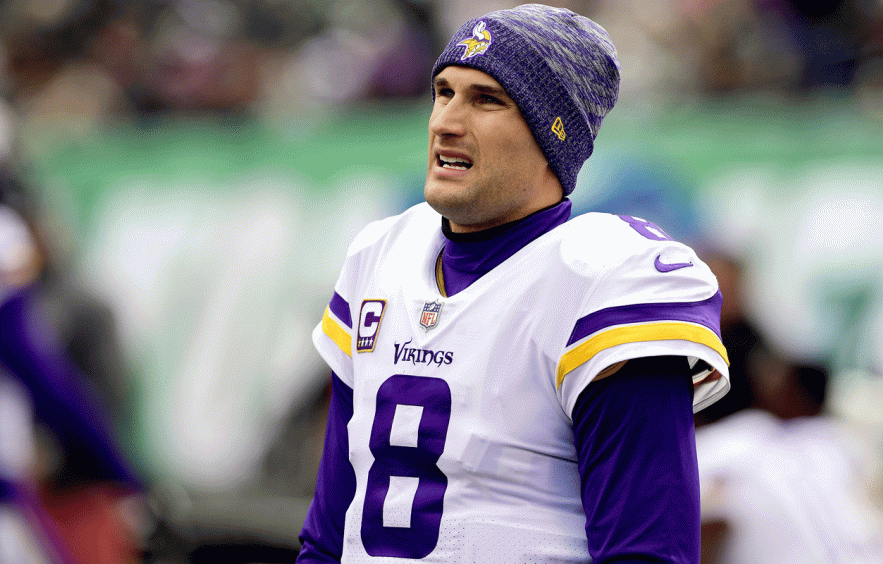 Steven Ryan/Getty Images
It was all fun and games until money became the focal point. It's reductive to try and boil down such a wild career arc, but it gives context to the situation fantasy gamers find themselves in seven years later. It started in the 2012 draft. Washington selects Robert Griffin III at second overall with raucous cheers immediately following. Washington had their franchise quarterback. Or, so we thought. Adding Kirk Cousins set both players (and the franchise) on a path that no one believed would end well. The draft capital used to get Griffin juxtaposed with the team's record, and Griffin's injuries served as a black spot the team immediately wanted to remove. Luckily, they had a decently-skilled back up holding the clipboard in the meantime.
The fantasy community doesn't typically value player contracts. Just the production. But an $84M fully-guaranteed contract with a $3M signing bonus sets a level of expectation. Cousins had finished as a top-10 fantasy quarterback the past three seasons since his rise to starter in 2015. His receiver group was considerably upgraded along with a competent running back to help move the offense. But after an 8-7-1 team finish and a QB13 fantasy rank, fantasy managers don't know how to proceed. Has the contract hamstrung the team or can Cousins regain our confidence in 2019?
What Happened in 2018
The optics couldn't have been worse. Losing to the rookie-led Bills. The primetime loss to Chicago. Arguing with the hometown-favorite receiver. The expectation should never have been that Kirk Cousins alone was the answer to Minnesota's playoff woes. Their defense was first in yards per game allowed in 2017. The combination of a potent defense along with an upgrade at quarterback was the key. But, the figurehead is always easiest to blame.
Kirk Cousins was…Kirk Cousins. For $84M, Minnesota got it all. The highs and, of course, the back-breaking lows. It wasn't all bad, though. Cousins' 73% completion rate when not pressured was top-12 and his 5.0% touchdown rate rested right above league average. He also had a 64.8% completion rate while under pressure with an on-target percentage of 90.2%. The highest in the league. But the keywords in all that praise were 'not pressured'. Cousins' penchant for interceptions and fumbles didn't remain in FedEx Stadium.
SMASH (Amos) & GRAB!#MINvsCHI | #DaBears pic.twitter.com/fBITc8XO7J

— Chicago Bears (@ChicagoBears) November 19, 2018
His 221 dropbacks under pressure were the most of any quarterback in 2018. In the process, his quarterback play declined at an alarming rate. Captain Kirk was fifth-worst in interceptions and fourth-worst in sacks when trailing late in games. While unsurprising to Vikings' fans that have already soured on the new signal caller, his comparison to his own past performances is somewhat alarming.
3rd/4th Quarter Interception and Sack Rankings

| Year | Interceptions | Sacks |
| --- | --- | --- |
| 2018 | 5th | 4th |
| 2017 | 4th | 4th |
| 2016 | 9th | 42nd |
| 2015 | 13th | 26th |
Under Jay Gruden and Sean McVay (2015, 2016), Cousins was schemed into success and was able to keep the ball safe. Afterward, it was easy to use the injuries and depleted offensive line as justification for his decline. But it's clear the accuracy is still there. It's the on-field processing that's still a problem. His 2.74 time to throw while under pressure 33% of his dropbacks indicates he's still looking to make plays downfield. Good plays and bad plays. But again, the Vikings success hinges on two units working together. The offense and defense. So, while Cousins needs to continue working with his receivers, Minnesota also needs to focus on their defense. It's just not the same dominant unit it once was in 2017.
The Vikings were arguably the most dominant defensive unit in 2017. Jacksonville stole the show due to their fantasy appeal. Sacks, fumbles, and touchdowns are an easy way to garner the attention of fantasy gamers. However, the Vikings just knew how to stifle an opposing offense. If you look at the 2018 season in totality, the picture painted in 2017 isn't quite as blurred. The talent level was still on display, but it was inconsistent on a week to week basis. That's likely due to the multitude of injuries sustained by their skill players.
Vikings

Defensive Injuries 2018

| Player (Ailment) | Position | Games Missed |
| --- | --- | --- |
| Andrew Sendejo (Groin) | SS | 11 |
| Mike Hughes (ACL) | CB | 10 |
| Everson Griffen (Personal) | DE | 5 |
| Anthony Barr (Hamstring) | LB | 3 |
| Eric Kendricks (Hamstring) | LB | 2 |
| Xavier Rhodes (Multiple) | CB | 2 |
| Linval Joseph (Various) | DT | 1 |
By November, Minnesota was considered one of the teams most affected by the injury bug. Their 83.6 yards per game allowed on the ground in 2017 had ballooned to 113.4 YPG by season's end. They were 19th in solo sacks while 23rd in both hurries and pressures. This drop-off in play translated into the fantasy arena. Typically selected as the third defense off the board, their sixth-ranked finish only served as a reminder that selecting defenses by prior year performance isn't always a winning strategy. It also compounded the mistakes committed by a quarterback in his first season with a new team, offensive coordinator, and scheme.
Quarterbacks are the face of their respective franchises. Winning is what's expected of them and losses will be laid at their feet. But while a portion of Minnesota's woes came from the unexpected offensive shortcomings, a boost from the defense would better complement what Kirk does best. What would you rather have? Kirk trying to manufacture a winning drive from behind? Or the Vikings' defense holding an already accumulated lead?
So, Now What?
$84 million dollars. Fully guaranteed.
His cap hit will always be a lightning rod if the team continues to underperform. The thought behind this holds logic. By investing a significant amount of cap space into a single player, it limits the ability of the team to improve elsewhere. A look into the top 12 paints a slightly different picture.
Top-12 Salary and Cap Hit for Quarterbacks

| Player | Team | Initial Year of Deal | 2019 Equivalent | % of Cap |
| --- | --- | --- | --- | --- |
| Aaron Rodgers | GB | 2018 | $35,541,761 | 18.9 |
| Russell Wilson | SEA | 2019 | $35,000,000 | 18.6 |
| Matt Ryan | ATL | 2018 | $31,828,442 | 16.9 |
| Matthew Stafford | DET | 2017 | $30,395,210 | 16.2 |
| Andrew Luck | IND | 2016 | $29,778,270 | 15.8 |
| Kirk Cousins | MIN | 2018 | $29,706,546 | 15.8 |
| Jimmy Garoppolo | SF | 2018 | $29,176,072 | 15.5 |
| Ben Roethlisberger | PIT | 2015 | $28,669,738 | 15.2 |
| Derek Carr | OAK | 2017 | $28,143,713 | 15.0 |
| Eli Manning | NYG | 2015 | $27,554,439 | 14.7 |
| Philip Rivers | LAC | 2015 | $27,308,417 | 14.5 |
| Cam Newton | CAR | 2015 | $27,239,531 | 14.5 |
Cousins carries the sixth-highest cap in the league hit relative to his team. So while the Vikings aren't paying their quarterback like New England is, the constraints on team building aren't as tight. In addition, the team used their draft capital in the 2019 NFL draft to address their needs. Investments at interior offensive line and guard with additions to both the running back and receiving corps are promising. This level of self-scouting is what the fantasy community wants to see. They're looking to build around their quarterback and address the issues that plagued them in 2018.
Regardless, this is a quarterback that has averaged nearly 4,400 yards and 28 touchdowns per season. The current narrative is that the Vikings' have completely shifted to a run-first offense. That's held by the fact that their Pass to Rush ratio significantly shifted over the final three games of the season (2.5 to 1.2). While true, it's just as likely that a team with minimal playoff chances and just released their offensive coordinator looked to finish out the season as healthy as possible. Cousins sits in the late tier of quarterbacks around Tom Brady and Lamar Jackson (134 ADP in bestball drafts). At that cost and the additional time for him to acclimate to the offense, he should be a target worth acquiring in 2019.