Is Jamison Crowder A Late-Round PPR Dynamo?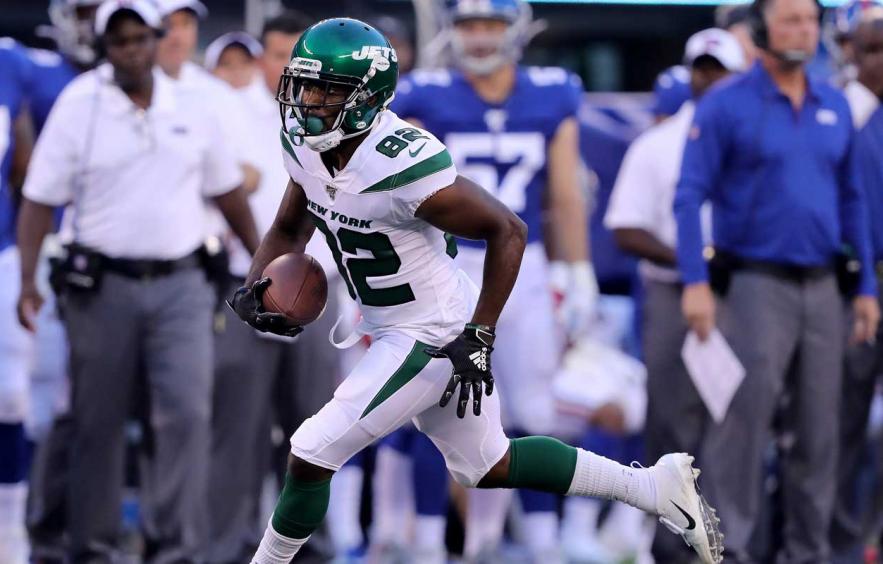 Elsa/Getty Images
Before one deploys the narrative that Jamison Crowder is the heir to the Adam Gase slot receiver throne, we might examine who, exactly, has held that vaunted title.
There was Wes Welker, he of nearly 10,000 career receiving yards and more than 900 receptions. Then there was Jarvis Landry, who hauled in 400 catches in four years with the Dolphins. I'm not completely discounting Crowder joining the ranks of dominant slot guys in a Gase-led offense, but we should acknowledge Crowder—with 221 receptions in four pro seasons—doesn't exactly fit the pedigree of Welker and Landry.
Last year we saw Albert Wilson make a nice little run as Gase's slot receiver. Wilson, before succumbing to injury at midseason, saw 21 targets during a three-game stretch in which he went for 217 yards on 15 catches—posting top-25 receiver numbers. Most of that yardage, of course, came on fluky breakaway touchdowns. Wilson's production stands out but the opportunity was yawn-inducing. Perhaps it shows that not all slot receivers are equal: Landry during a four-game run on Gase's 2017 Dolphins saw 49 targets. Wes Welker in his first four games in the Gase system averaged 9.3 targets. Simply being Gase's primary slot receiver doesn't automatically turn one into a target hog and an insanely productive pass catcher.
Then there was Eddie Royal, who served as Gase's slot receiver for nine games in 2015. Royal in the Bears offense averaged 5.5 targets per game during that run, eclipsing six targets in five of those games. Royal was the WR70 after Week 9.
Jamison Crowder

's Price and History

Thankfully, with an average draft position in the 12th round, you won't have to burn much draft capital to see if Crowder can produce in a Jets offense that could feed whoever is in the slot. Crowder makes for a fine and dandy late-round pick for any fantasy manager who invested heavily in running backs and finds herself in need of cheap wideout points, especially in PPR leagues. Crowder makes sense as a WR4 for those who go RB heavy in team construction. I'm not sure he has value in a standard scoring league—or even .5 PPR formats—but he makes sense in a part of the draft where guys like Michael Gallup, Marquise Brown, and Parris Campbell are being drafted. None of those receivers have the volume upside that Crowder brings into 2019.

Crowder lived in the slot during his four years in Washington, where the undersized pass-catcher played 77% of his offensive snaps inside. He's expected to play a similar role in New York. Crowder has been efficient in recent campaigns—he turned 99 targets into a WR25 finish on the strength of seven touchdowns in 2016—though we should remember efficiency isn't the stickiest stat in the book. In other words, efficiency largely doesn't carry over from one season to the next, as we saw in 2017 when Crowder saw 103 targets but scored just three touchdowns. He finished as the WR33 that year, which would be something south of hateful in 2019 for the 57th wideout off the draft board. If you have to start three wideouts in your league, tossing Crowder into the WR3 spot is a reasonable floor play, with the hope your other two wideouts have real weekly ceilings.
What to Expect in 2019
It's hard to get a solid grip of how much Gase wants—or doesn't want—to throw the football, and it's a key question in understanding how fantasy viable Crowder might be in 2019. After being among the league leaders in pass attempts as offensive coordinator for the Peyton Manning-led Broncos, Gase's offenses have mostly tended toward a conservative, run establishing approach. Gase's 2015 Bears offense was 25th in pass attempts; his 2016 Dolphins were 31st in attempts; the 2018 Dolphins finished 30th in passes. It was the 2017 version of Gase's Miami team—the one with legendary King DGAF Jay Cutler—that ranked fourth in pass attempts. Perhaps the biggest, brightest red flag: Gase's offenses have been among the NFL's bottom dwellers in passing yardage during his entire time outside the friendly confines of Peyton Manning's offense.
Maybe that won't mean all that much with an emerging quarterback like Sam Darnold. Maybe Gase won't try to hide Darnold like he did Ryan Tannehill during their disastrous run in Miami. Recent history says there won't be a truckload of passing yards to go around in New York. But barring an outrageous ADP spike in the waning weeks of August, Crowder is a fine pick—as good as any pass-catching option in that part of the draft.