How Mark Ingram to Baltimore Impacts Fantasy Football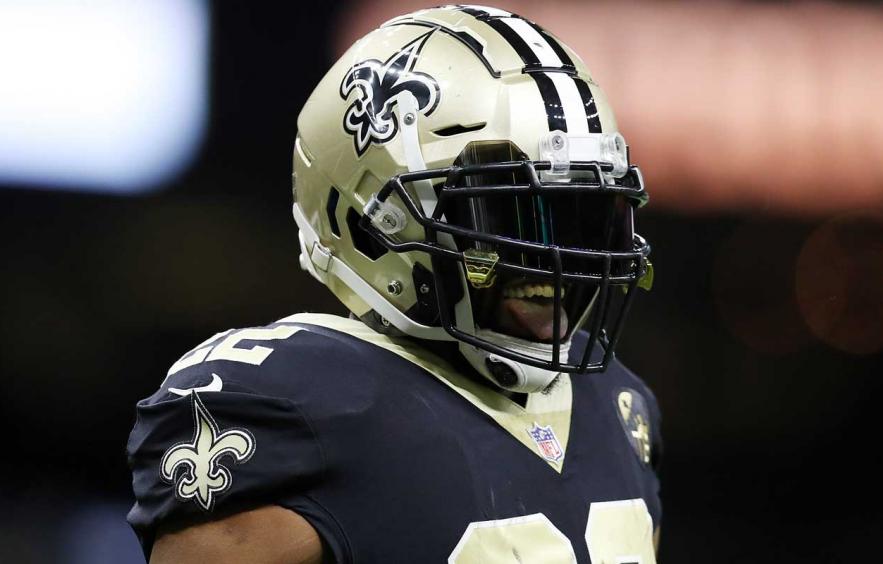 Chris Graythen/Getty Images
New Orleans has been in the Top 10 for rushing touchdowns per game for the past five years. They've led the league with 1.4 rush TDs per game the last two seasons. Mark Ingram has been there for it all. But now 'Boom', from the popularized 'Boom and Zoom' duo, has signed with the Ravens. While his fantasy outlook has somewhat worsened, let's walk through his impact on both his current and former team.
Impact on the
Ravens
The Ravens are undergoing their own set of changes after a tumultuous 2018 season. Joe Flacco is poised to begin his 'best years' in Denver. The age of Lamar Jackson is upon us. But, most notably, their wide receiver group is woefully depleted. Headlined by Willie Snead and three tight ends, a running back of Ingram's caliber could be of use in 2019.
BAL Backfield
Something. That's the best way to describe the 2018 Baltimore backfield. It was something.
PPR and yardage total for the 2018

Ravens

' backfield.

| Name | Total Yards | PPR Points |
| --- | --- | --- |
| | 516 | 108.6 |
| | 306 | 93.6 |
| | 384 | 54.4 |
| | 738 | 89.8 |
Collins debuted as the starter with Allen as the change-of-pace back. Neither finished in the Top 40. Admittedly, Collins suffered a foot injury cutting his season to 10 games, but his end was nigh. No games over 100 yards. Only 21 targets. Even worse, a 71.4% catch rate which was 50th best in the league for all RBs with 20 or more targets. Collins' lack of speed, agility and power for a 215-lb back were all red flags generally overlooked by the fantasy community as his price hit the third round. Volume and opportunity were all that mattered. The result? Again, it was…something.
With Collins released and Allen stuck in free agency limbo, that leaves two running backs to compete with Mark Ingram for touches. Each brings their own style and utility to the offense, but both have their warts. Let's dive into their strengths and weaknesses.
Gus Edwards
The UDFA out of Rutgers got his opportunity in Week 11 and immediately stole the show. He had 115 rush yards that game despite sharing carries with both Alex Collins and Kenneth Dixon. 'Cliché alert', but the genie was out of the bottle and offense had found some footing under the rookie running back and quarterback.
Gus Edwards had the highest success rate (63%) among all qualified running backs in 2018. But while considering that Baltimore's offensive line had the ninth-highest adjusted line yards (success metric assigning credit to the line), Alex Collins ran behind the same line. Their left guard, right tackle and center all sustained injuries throughout the year, but Edwards continued to stand out.
Gus Edwards

vs

Alex Collins

| Name | Broken Tackles per game | First Downs per game |
| --- | --- | --- |
| | 2.7 | 4.7 |
| | 1.8 | 3.2 |
Edwards' burst and agility are far superior to Collins' making the greater 'Broken Tackles' no surprise. The 'First Down' comparison is key. In Collins' first six games, the Ravens scored 25.5 points per game. This dropped to 20 points per game as his production and carries began to dwindle. Baltimore's offensive production shot back up to 28 points per game with both a change at quarterback and running back. With Edwards capable of keeping the offense on schedule, it aided in the team being competitive down the stretch.
Edwards' greatest liability is his receiving ability. Or, lack thereof. He received two targets in 2018. Only one came from the current starting QB. Those duties were split between the remaining members of the backfield, capping his fantasy potential. Here's where Ingram will make the greatest impact.
At 29 years old, Ingram won't have the same on-field athleticism as his 23-year-old counterpart. But Ingram has 286 targets over his career (35.8 per season). That's while playing with both Pierre Thomas and Darren Sproles as change-of-pace backs. After they both departed by 2015, Ingram's targets increased from 1.8 targets per game to 3.9. His dual-threat ability, even alongside Alvin Kamara, was valued by one of the best offenses in the NFL. Edwards will need to compete with Ingram to remain in the lead or be relegated to short-yardage situations.
Kenneth Dixon
Dixon was an asset the fantasy community was waiting to be given an opportunity. Stuck behind Terrance West (33rd highest success rate in 2016) and Javorius Allen, the rookie was forced to wait his turn behind replaceable talent. The meniscus tear and subsequent PED suspension have derailed most expectations for the once-coveted prospect. He entered the league at 215 lbs and now plays at 228 lbs and the added weight appears to have sapped his once-tantalizing burst. He becomes an unrestricted free agent after the 2019 season leaving little time for Dixon to improve his resume.
Mark Ingram's addition casts a pall over Dixon's NFL future. Dixon received 61 touches after Lamar became the starter. His 9.4 attempts per game would have put him in solid RB2 company if extended to a full season. However, 99% of his touches were rush attempts. Over 30% of his touches were through the air in 2016, but the offensive shift (along with Ty Montgomery on the squad) played to his detriment. With Montgomery released, Dixon could absorb some of the targets left behind, but his rush attempts will be severely diminished. Barring injury, Dixon will likely be used similarly to Montgomery limiting his season-long production.
Impact on
Lamar Jackson
Let's just set aside Jackson's passing ability. For now. His rushing is something of a concern. Approximately 70% of his rush attempts were either draws or designed. While it's not a knock on his pass skill nor an indicator of his ability to read a defense, it does elevate his injury risk. Defenses tend to pick up on running style and tendencies in sophomore seasons likely limiting Jackson's production and opening himself up to more hits or fumbles which were already an issue. Baltimore's coaching staff needs to ensure he's protecting his body to continue playing without serious injury. Mobile quarterbacks have decreased their attempts in successive as the hits pile up. Cam Newton and Russell Wilson have decreased their rush attempts by 44.8 and 71.4% since their rookie seasons. While we can't expect Jackson to continue this production path, Ingram can help as a receiver.
Multiple studies have shown a relationship between quarterback rushing and running back value. It's certainly not a direct connection, but both volume and efficiency from the quarterback can help the running game. Drew Brees' completion percentage and PACR (passer efficiency stat) actually rose in the years following Ingram's target increase. Admittedly, this increase likely speaks to Brees' innate skill and the Saints surrounding cast. However, Ingram has commanded between 12.3 and 18.4% of Brees' targets. The Ravens haven't had a running back with this capability since 2013. With their receiving corp lacking in talent, Ingram's rush and receiving ability will help Lamar Jackson as he continues to develop as a quarterback.
Impact on the
Saints
New Orleans has produced at least one Top-10 PPR running back every season since 2015. Ingram and Kamara finished seventh and third in 2017, respectively. The team itself has been in the top 10 for total points per game for the same time period. It's not reductive to assume that a Brees offense is a productive one. So while the team chemistry takes a hit, the offense remains a Super Bowl favorite despite the loss of Ingram.
Latavius Murray is the obvious winner. Only slightly younger than Ingram, his athletic abilities are far superior to Ingram. The problem is that those traits have never fully translated to production. His greatest success rate was 49% back in 2016. Perennially caught in timeshares, Murray's market share has decreased each season without a compensatory uptick in targets. From Deandre Washington to Dalvin Cook, the data indicates that teams have not been confident in Murray playing a primary role. Murray should absorb Ingram's carries (51.9% market share) with a role in the passing game. While he didn't have a significant amount of targets, his 91.7 catch rate was 20th in the league for running backs who received 25 targets or more. A capable running back with athletic talent making him an ideal fit with the Saints.