FanBall Week 6 AAF Breakdown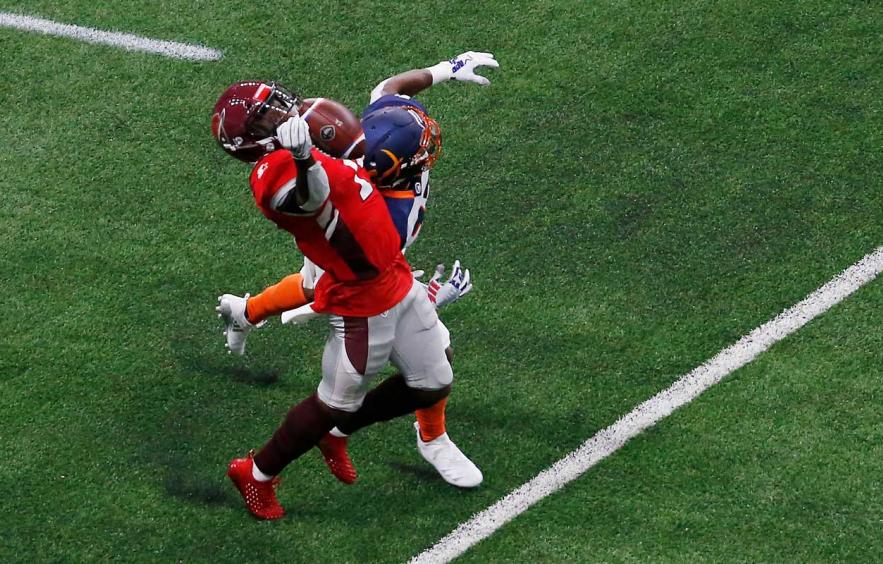 Edward A. Omelas/Getty Images
Note: All stat lines reference the previous week's game, unless otherwise noted. If there is no injury news about a team, the team has not released injury reports to the public/beat writers so be sure to check back for updates as injury news continues to be released closer to lock!
Jump to Season Long Touch and Target Shares
Memphis Express vs Salt Lake Stallions (-8); O/U 39.5
Express Running Game
The Express running game will have their hands full this week against a stellar run defense in the Stallions that has managed to give up 2.74 yds/car over the last three weeks. Zac Stacy (13 car, 41 yds, 3.2 yds/car, 2 TD), who is the bonafide lead back for the Express has lacked efficiency but has a solidified role in the offense amassing a 60% snap count last week with four red zone touches, including three at the goal line. Behind him, Terrence Magee (5 car, 12 yds, 2.4 yds/car, 1 2PT) saw his on-field role increase with the injury of Sherman Badie. While Magee's 28% snap share doesn't seem to impose much of a threat, Magee received two touches at the goal line with one of them resulting in a two-point conversion.
Express Passing Game
Zach Mettenberger wasn't brilliant last week against a Legends team on the rise, but he was serviceable. Completing 9-of-17 passes for 181 yards and 1 INT, the highlight of Mettenberger's day was a rushing touchdown from the 2-yard line. With the Stallions being so stout against the run, we can expect that the passing volume for the Express will follow. The problem here will be targeting a receiver out of the two most attractive options in Reece Horn (4 tgts, 1 rec, 29 yds) and Alton "Pig" Howard (3 tgts, 1 rec, 9 yds). They both draw plus matchups in the Stallions' secondary with the cornerbacks across from them allowing an average catch rate of 71% on the season.
Stallions Running Game
Last week, we saw the Stallions place Brandon Oliver on IR and it lined up perfectly for it to be Bouagnon (11 car, 36 yds, 3.3 yds/car, 2 TD) and Newby (6 car, 2 yds, 0.3 yds/car) SZN. Bouagnon did not get the workload we expected him to receive as the Stallions ended up going with a pass-heavy approach, but he did receive three touches inside the five. While efficiency may not be something we can expect from Bouagnon going forward, his goal line role is something we should consider an absolute premium when comparing running backs for our roster this week after receiving 11 red zone snaps and 5 goal line snaps in Week 5.
Stallions Passing Game
Last week, Josh Woodrum heaved the ball a season-high 48 times completing 31 passes for 380 yards, one touchdown, one two-point conversion and three picks. While not the most efficient outing, with a thin backfield moving forward if Woodrum maintains this workload he'll always make his way into weekly top QB consideration. With Woodrum at the helm, we're starting to see a clear path forming to his favorite targets with the receiving corps being led by De'Mornay Pierson-El (9 tgts, 8 rec, 130 yds), Nick Truesdell (6 tgts, 6 rec, 71 yds, 1 TD), and Brian Tyms (9 tgts, 3 rec, 30 yds).
Pat's Thoughts
For the Express, Stacy ($6,500) would purely be a volume and goal-line equity play at his price versus the Stallions. Outside of that, I don't necessarily feel comfortable rostering Mettenberger ($5,900) or any of their receivers unless you want to throw a couple of low-owned darts at Horn ($5,000) and Howard ($4,100) but I believe I'll be finding my value elsewhere.
The Stallions are the complete opposite of the Express for me this week as there's a lot to love here. Starting with QB Josh Woodrum ($5,500), his price is too low against a weak Express defense, especially if we can project him for 35-37 attempts. Bouagnon ($6,400) makes for a great pivot off of Zac Stacy ($6,500). Pierson-El ($6,000) has finally seen his price rise after last week but it's definitely worth going back to the well based on workload alone. Nick Truesdell makes for a great punt option priced at $4,700 if Woodrum is going to keep feeding him looks, as well. I don't usually roster TE's but he may find his way onto my main lineup.
Arizona Hotshots vs Orlando Apollos (-9); O/U 43
Hotshots Running Game
Last week, we got an odd game in which the Hotshots' offense wasn't working efficiently at all and found themselves trailing in the first half. This is a situation we just might catch wind of again as they face off with the favorites to win it all this year, the Apollos. Jhurell Pressley's (8 car, 20 yds, 2.5 yds/car) lack of production last week was due to a lack of opportunity. Per NoExtraPoints, Jhurell ran 26 routes last game but was only targeted four times. We can consider this his target floor in this type of game script and a more reasonable target projection for him would be in the range of 6-8 targets. We also got a taste of the reemergence of Tim Cook (12 car, 33 yds, 2.8 yds/car, 1 TD) last week who appeared on 29% of snaps, four of which came in the red zone, and more specifically at the goal line.
Hotshots Passing Game
Rashad Ross. Rashad Ross. RASHAD F'N ROSS. Despite the mediocre play of Week 1 fantasy superstar John Wolford (19/33, 246 yds, 2 TD, 3 INT, 2 2PT), Ross (6 tgts, 5 rec, 106 yds, 1 TD, 1 2PT) once again found a way to have the best offensive performance on his team, scoring his sixth touchdown in five games and once again breaking 100 yards. We have yet to see if Ross is truly matchup proof, and this week he'll have his hands full with Apollos CB Cody Riggs who, although is allowing a 63% catch rate on the year, PFF grades out to an 81.2. Outside of Ross, we can't expect much from the Hotshots pass catchers against this vaunted Apollos' secondary.
Apollos Running Game
With Ja'Quan Gardner morphing into Ja'Fraud over the last couple weeks, the Apollos now have a Kamara/Ingram-like duo in D'Ernest Johnson (9 car, 49 yds, 5.4 yds/car) and De'Veon Smith (14 car, 119 yds, 8.5 yds/car). We've seen De'Veon's carries rise over the last three weeks from eight, to 12, to a league-high 14 in Week 5 and this is where he should reside for the remainder of the season. While he hasn't scored a touchdown since Week 2, he provides a nice yardage floor as he has the best efficiency in the league over the last three weeks, averaging 6.43 yds/car. For Johnson, he's been efficient as well, logging 5.4 yds/car last week on nine carries which we should expect to rise if this game remains close.
Apollos Passing Game
Who knew that in a league filled with young talent that has been overlooked, that the player leading the league in receiving would be 30 years old? Charles Johnson (10 tgts, 6 rec, 83 yds, 1 TD, 1 2PT) paired with Garrett Gilbert (23/55, 286 yds, 2 TD, 2 2PT) once again is a top stacking option this week. After Johnson, the receivers get pretty thin to target, but D'Ernest Johnson has proven to be capable of maintaining his passing game role, receiving a season-high six targets in the passing game last week.
Pat's Thoughts
For the Hotshots, I don't think I'll be prioritizing any of their running backs, but Pressley's price has dropped all the way to $5,300 which makes him intriguing given the savings and he should be relatively low owned due to his lack of production as of late. His passing game usage is really the one thing that could vault him into my main lineup this week. Outside of Pressley, there isn't much to love—you can test out Ross ($7,600) against Riggs, but that's a hefty price to pay to go up against a stout secondary.
On the Apollo's side of the ball, Gilbert ($7,100) would be the most cash-game-worthy QB option, but on a point-per-dollar basis, there are a ton of better options on the slate. Charles Johnson has had an Antonio Brown-like season and he's definitely priced like it as he's the first receiver to reach the $8,000 mark on FanBall. I'm a little more bullish on taking Johnson over someone like Ross, as I believe in Gilbert's QB skill more and Johnson has seen more targets on the season. In regards to the Apollos running game, there's merit to playing both De'Veon ($5,500) and D'ernest ($5,700) as two mid-range punts together to take up the bulk of the Apollo's production on the ground as a nice floor for your lineups.
San Antonio
Commanders

vs Atlanta Legends (-1.5); O/U 40
Commanders

Running Game

The Commanders pose one of the most complicated backfields in the league to project. To show this I'll present every backfield member's usage from Week 5.

Farrow (12 car, 25 yds, 2.1 yds/car, 1 TD) remains the lead back and has the highest TD equity, but Williams (10 car, 22 yds, 2.2 yds/car) and Green (3 car, 12 yds, 4.0 yds/car) always pose a threat if Farrow starts out a bit slow like he did last week, rushing for just 2.5 yds/car throughout the whole game.
Commanders

Passing Game

Led by QB Logan Woodside (21/27, 290 yds, 2 TD, 1 INT, 1 2PT) and stud WR Mekale McKay (5 tgts, 5 rec, 91 yds, 1 TD), the Commanders have one of the prettiest matchups on paper this week. McKay, who is third in the league in air yards with 493, is criminally underpriced this week and will be seeing time against Doran Grant and Desmond Lawrence, who PFF grades out at 52.1 and 66.2, respectively. We're blessed this week as well as slot Receiver De'Marcus Ayers (5 tgts, 4 rec, 50 yds) gets a dream matchup against Legends CB Carlos Merritt, who PFF grades out to be the worst CB in the league with a 34.0 allowing a 74% catch rate.
Legends Running Game
Tarean Folston (11 car, 83 yds, 7.5 yds/car, 1 TD) is back and in full effect as the lead back for the Legends, but he'll still be giving up snaps to Brandon Radcliff (11 car, 31 yds, 2.8 yds/car) in early downs—they posted a 44% and 35% snap share, respectively, in Week 5. The notable takeaway here would be Folston's red zone usage as he had seven touches on 10 snaps in the red zone and two touches on four snaps at the goal line. Against a middling Commanders team that has allowed 4.0 yds/car over the last couple weeks, this will be a backfield worth targeting.
Legends Passing Game
Aaron Murray showed out in Week 5, completing 27 of his 43 attempts for 306 yards, one touchdown and one two-point conversion. We also finally saw the Seantavious Jones (6 tgts, 5 rec, 89 yds) coming-out party and quite possibly the most efficient game for the Legends' receiving corps of the season. Targeting someone specific outside of Seantavious this week will be tough with Bug Howard (5 tgts, 3 rec, 59 yds), Keith Towbridge (4 tgts, 4 rec, 56 yds), Malachi Jones (5 tgts, 2 rec, 31 yds) and Ervin Philips (5 tgts. 3 rec. 23 yds) all competing for targets, but Philips draws the easiest matchup in the slot against Zack Sanchez.
Pat's Thoughts
My top correlation stack of the week is going to come from the Commanders and it will allow for massive spending in your non-stacked positions as it includes Woodside ($5,700)-Farrow ($6,100)-Ayers ($4,600). If the Commanders are going to keep this one close, it'll be on the backs of these three guys as the Legends have tuned things up on both sides of the ball over the past two weeks.
On the Legends side of the ball, Folston ($5,800) will be the only play I'm targeting as he's my top point-per-dollar running back this week and QB Aaron Murray ($6,600) is just too expensive for my liking. This will more than likely be the last week we get to roster Folston at a sub-6k price tag so we've got to make the most of it while we can.
Birmingham Iron vs San Diego Fleet (-5.5); O/U 35.5
Iron Running Game
Week 5 passed and yet again, Trent Richardson (8 car, 21 yds, 2.6 yds/car, 1 TD) had a wildly inefficient game saved by a touchdown and his passing game role. If there were ever a week to hop off this train, it would be this one as they go up against a Fleet defense that has finally got their legs under them, allowing 2.3 yds/car over the last two weeks to opposing running backs.
Iron Passing Game
I've been looking forward to writing this part of the column all week as I get to write about one of my hometown boys from St. John Bosco High School, Keith Price (18/29, 234, 1 TD, 1 2PT). Price was a great player at the University of Washington playing with both Jermaine Kearse and Austin Seferian-Jenkins. Price spent time in the CFL after graduating and this is probably his last shot to make the league and he made the most of his first audition last week as he replaced Luis Perez and completed 18 of 29 passes for 234 yards and the first passing touchdown of the Iron's season. Quinton Patton (11 tgts, 4 rec, 26 yds, 1 2PT) remains the guy to have out of these receivers as well as Richardson (5 tgts, 4 rec, 37 yds) with his secure pass game role. With Price at the helm, Wes Saxton Jr. (4 tgts, 3 rec, 75 yds), and Tobias Palmer (5 tgts, 5 rec, 36 yds) make for decent punt plays, as long as Price can keep up what he showed last week.
Fleet Running Game
The best way to beat the Iron is on the ground and that makes this Fleet backfield especially hard to target this week, as we've seen the efficiency of both Ja'Quan Gardner (9 car, 3 yds, 0.3 yds/car) and Terrell Watson (5 car, 14 yds, 2.8 yds/car) diminish, leading to former Titans RB Bishop Sankey (5 car, 11 yds, 2.2 yds/car) entering the mix. Last week, Watson received 41% of the snaps, Gardner saw 35%, and Sankey received 22%. Much of this decreased usage could be because Mike Bercovici is back under center for the Fleet, but if Berc shows signs of inefficiency against the Iron, Watson, Gardner and/or Sankey will be asked to step it up. Good luck guessing which one will be the highest producer.
Fleet Passing Game
Mike Bercovici finally showed the Fleet the version of himself that they drafted, completing 22 of 43 attempts for 304 yards, one touchdown and one interception last week. Ford (8 tgts, 3 rec, 94 yds), Brown (8 tgts 4 rec, 44 yds) and Spruce (8 tgts, 4 rec, 47 yds) all tied for the team lead in targets with 8 and Ford led the team in yards at 94. With Ford looking like he'll be the most popular option this week but drawing Jamar Summers, Spruce and Brown would be my preferred targets just from an efficiency standpoint—the CB's they'll spend the most time against allow catch rates of 63% and 56%, respectively.
Pat's Thoughts
This will be the first week I don't roster Trent Richardson ($7,500) but there's merit to a Price ($5,200), Richardson, Patton ($5,300) stack as it's relatively cheap and the PPR points will provide a nice floor. With Patton's 11 targets last game, the sky's the limit and as long as he can catch at least half of his targets from Price, Patton could provide a slate breaking performance.
From the Fleet, I'm not too fond of targeting anyone in the passing game, but if there were ever a low-owned bounce back spot for Gardner ($5,000) and Watson ($4,400), it would be this one given how cheap they are and what they'll allow you to spend up at for other positions.
---
AAF Target Leaders, Weeks 1–5
Click headers to sort
AAF RB Touch Leaders, Weeks 1–5
Click headers to sort