Is Brandin Cooks a Top-Tier Wide Receiver in 2019?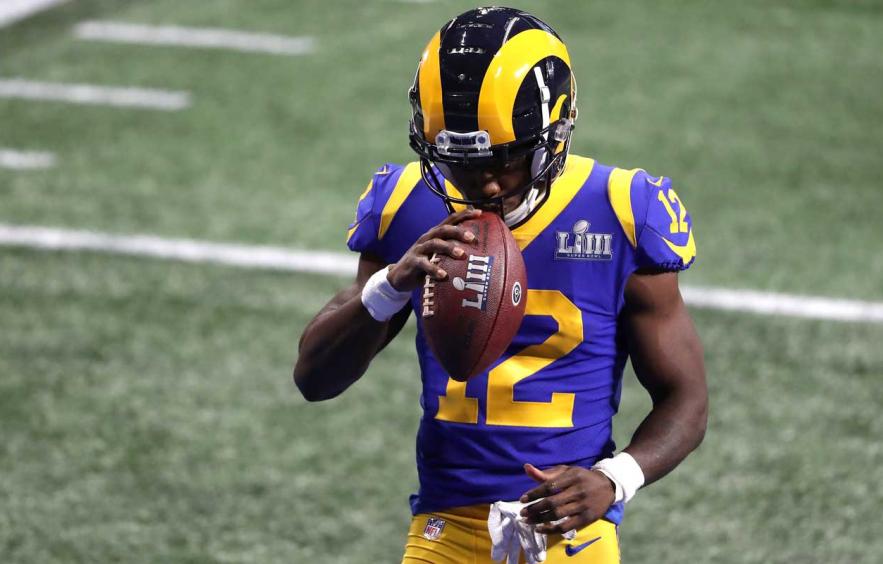 Streeter Lecka/Getty Images
While Todd Gurley stole the show in Los Angeles last season, Brandin Cooks quietly produced his fourth straight 1,000-yard season. Finishing as the WR13 in PPR leagues, Brandin Cooks averaged 16.2 points per game. Now entering his second full season in Los Angeles, Cooks has a chance to take another step forward.
After a trip to the Super Bowl, the Rams enter 2019 with a few question marks. Todd Gurley and Cooper Kupp are recovering from injuries. The Rams also lost Rodger Saffold and John Sullivan from an offensive line unit that ranked first overall in run blocking.
Coming off the board as the 40th overall pick, Cooks' ADP ranks 17th among receivers in early best-ball leagues and 16th in redraft leagues. Here's a look at Cooks's NFL journey thus far, what to expect this upcoming season, and why he remains a target in the top four rounds of best-ball and redraft leagues.
College and Early NFL Career
Coming out of Oregon State, the New Orleans Saints used the 20th overall pick on Cooks. In college, Cooks produced over 1,100 yards in both of his final two seasons, including 1,730 yards his junior year. Forgoing his senior year, Cooks then blazed the NFL Combine with a 4.33 40-yard dash at 5'10", 189 pounds.
Playing in only 10 games as a rookie, Cooks produced 550 yards and three touchdowns in his first season with New Orleans. Each of the following two seasons, Cooks easily eclipsed 1,000 yards and 8 touchdowns. He also achieved this feat while averaging 13.3 yards per reception and 9.1 yards per target in New Orleans.
However, despite his early career breakout, Cooks saw himself traded twice after the 2016 season. Spending one season in New England and another in Los Angeles, Cooks still managed to crest 1,000 receiving yards, despite a lack of familiarity with the offenses. Playing in 2018 in Los Angeles, Cooks actually set a career-high with 1,204 receiving yards.
On top of the impressive counting stats, Cooks showed improved efficiency while playing with Jared Goff last season. His 10.4 yards per target ranked ninth overall in the entire NFL. He also showed the ability to make plays downfield, recording a 68.4% catch rate with an average depth of target of 12.7.
Opportunity
Part of the concern surrounding Cooks is the Ram's tendency to spread the ball across their offense. Factoring games played, Woods, Cooks and Kupp finished with target shares of 23%, 22% and 20%, respectively.
However, this may not matter. The Rams ran the third-most plays in all of football last season. According to TJ Hernandez, the Sean McVay offense had one of the pass heaviest rates with a neutral game script. The team also found plenty of creative ways to get their receivers the ball. The Rams ranked second in all of football last season in wide receiver rush attempts (43). While this may not provide a sustainable source of fantasy production, it provides another way for Cooks to accumulate points.
Finally, Cooks might see more opportunity outright, due to injuries to Gurley and Kupp. Reportedly dealing with arthritis in his knee, Todd Gurley's workload is expected to be scaled back this season. Gurley saw 81 targets last season with 19 occurring in the red zone. Any reduction in this workload could benefit Cooks. As for Kupp, Sean McVay recently stated that Kupp is right on track in his recovery. However, Kupp's injury occurred in November, putting his Week 1 availability in doubt.
Offensive Role
Within the Rams' offense, Cooks played an important role in the red zone. Behind only Gurley, Cooks finished with 17 targets in the red zone and eight targets inside the 10-yard line. Playing for a team that averaged the second-most points per game in 2018, Cooks should provide a solid red zone weapon for the Rams again in 2019.
Cooks also brings the potential for huge fantasy weeks, due to his big-play ability and his 4.33 speed. Last season, Cooks finished the week as a top-10 fantasy receiver on five occasions during the regular season. The Oregon State product tied for fifth in the NFL in catches that went 20+ yards (22), adding four grabs that went for 40+ yards. Also noted by TJ Hernandez, the Rams showed a propensity to throw the ball deep, attempting deep passes at the eighth-highest rate.
Cooks should also benefit from another season playing with Goff. While Goff's interception rate rose to 2.1%, he recorded career highs in completion percentage (64.9%), yards per attempt (8.4) and passing yards per game (293.0). This allowed Goff to finish with the fourth-most passing yards in all of football last year (4,688).
2019 Outlook
Despite the up-and-down nature to his game, Brandin Cooks has proven himself as an elite receiver throughout his time in the NFL. The main question heading into 2019 is whether he can repeat in year two with LA.
While movement on the offensive line introduces new questions, Gurley and Kupp's injuries may provide more volume for Cooks. The 26-year old receiver should also benefit from his second year with Goff and Sean McVay.
Heading into the 2019 season Cooks comes off the board as the 17th wide receiver in early best-ball leagues and the 16th wide receiver in PPR leagues. Usually a fourth-round pick, Cooks has legitimate WR1 upside this season. 4for4's projections currently have Cooks slated for 69 catches, 1,140 receiving yards, and 5.7 touchdowns. With upside for even more, Cooks remains a solid target in the fourth round of fantasy drafts.