10 Dynasty Players to Drop Before the NFL Draft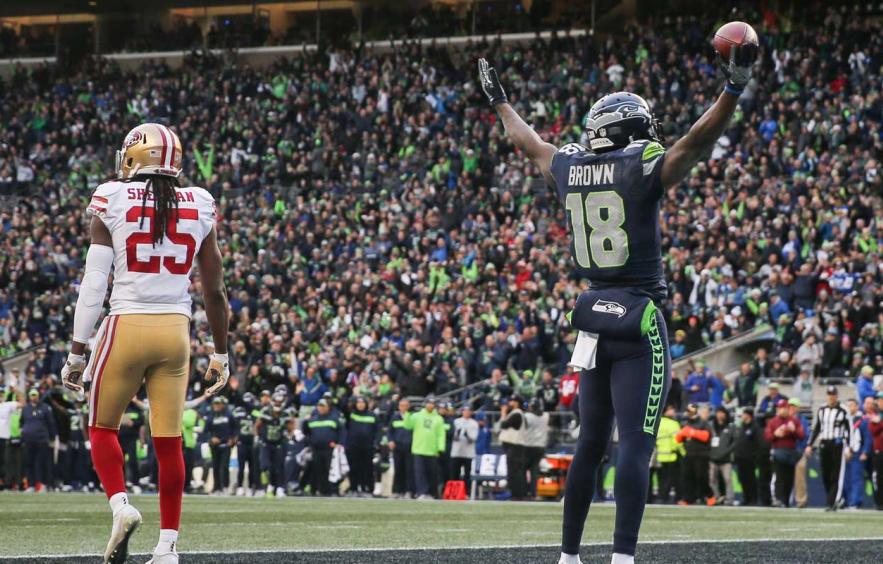 Abbie Par/Getty Images
One of the best parts of playing in dynasty leagues is being able to roster your favorite players. While the superstars will cost you a pretty penny, there are other, less-heralded players that you may gravitate towards for one reason or another. Perhaps you're extremely fond of a player that went to the same college as you did. Maybe you were blown away by a prospect's speed and measurables at the NFL Combine. Whatever the case, dynasty leagues with deep rosters allow you the opportunity to invest in these players as their career develops, with the hope that they eventually become a contributing fantasy player.
For whatever reason, not all "late gem" players we have our eyes on develop at the next level, leaving our aspirations for these players as just that. Aspirations. It's tough, but smart dynasty owners know when to move on.
Yesterday, we took a look at some players that may have some dwindling value that would be prudent to trade prior to the NFL Draft. The same can't be said for this next set of ten players. These are players that are likely bottom churners on your roster, that while it may be difficult to let go, I'm here to reassure you it's okay.
With the NFL Draft coming up rapidly, we'll need to make roster room as our draft picks turn into actual NFL players. Here are ten players that are droppable in traditional 12-team PPR leagues.
Jaron Brown

, WR, Seattle

Seahawks

After a tumultuous start to his career in Arizona, Brown made a name for himself as a deep threat specialist (career aDOT of 13.5), but it was David Moore who asserted himself as the primary deep threat for Seattle. Moore posted a 17.4 adOT last season, falling just three yards shy of leading the Seahawks in Air Yards on the 2018 season. Brown enters the second year of his two-year deal with Seattle, but at 29 years old, it's probably fair to let Brown walk and hit the free agency pool. He won't see enough snaps as the Seattle WR4 on the league's most run-heavy squad (52.4%) to warrant much fantasy value.
Corey Grant

, RB, Free Agent

One of the few things that trumps pure athleticism is NFL production. Fortunately for Grant, he has shown both. Combining a 96th percentile SPARQ score with 4.33 speed, Grant has shown on the football field that he's a force to be reckoned with when given the ball. Sporting a healthy 5.6 yards per attempt over the course of his career, it's a shame that Jacksonville hasn't utilized him more. Unfortunately for Grant, he ended his 2018 season early with a Lisfranc injury, which has a median return time of more than 11 months. Grant has yet to meet with any teams during the free agency period, and if he takes 11 months to rehab this injury (suffered October 7th, 2018), he may be sitting the large majority of 2019 out (and beyond). That will likely spell the end for Grant, who would then be entering his age-29 season without ever surpassing 250 rushing yards in a season.
Alfred Morris

, RB, Free Agent

Morris was a popular riser in redraft leagues late August with the 49ers getting hit by the injury bug at the running back position. While a capable fill-in, Morris showed us that he's still a replaceable veteran. Morris averaged 5.32 PPR fantasy points during the first ten weeks with just zero top-24 fantasy performances. Morris later became a healthy scratch for several weeks before an outlier Week 17 explosion, but its likely safe to say his fantasy-relevant days are over entering what would be his age-31 season. The one-dimensional back offers a near-zero in the receiving game and is a safe drop in every format.
Chad Williams

, WR, Arizona

Cardinals

If you spend enough time in the deep abyss of rookie scouting, you sometimes find what you think could be a diamond in the rough from a small school program. Williams fit this bill to a tee (Grambling State), and with Bruce Arians drafting him in an aggressive, downfield passing scheme, Williams looked like a promising player worth stashing. Unfortunately, things never went the way we expected with Williams, as the coaching staff elected to bypass him with other players time and time again. Now with a new coaching staff in place that doesn't have any allegiance to Williams, he may not make it to the final 53-man roster come August after sporting a career 37.7% catch rate to date.
Chris Conley

, WR, Jacksonville

Jaguars

Conley was a favorite of the draft community back in 2015 due to his size, athleticism, and potential after leaving the run-heavy program at Georgia. However, with Sammy Watkins in and out of the lineup frequently last year, Conley put up disappointing numbers across the board when given an opportunity. That was with Patrick Mahomes throwing the ball during his breakout MVP performance! Now he goes to a Nick Foles-led offense that likely won't be throwing often due to their run-heavy scheme and one where he'll have a tough time fighting for targets. Conley could find himself even further down the target totem pole if the Jaguars use their seventh overall pick in the draft to help their offense (they've been tied heavily to Iowa tight end, T.J. Hockenson).
Dan Arnold

, TE, New Orleans

Saints

Arnold filled in from time to time last year as a rotating DFS punt, but the WR/TE hybrid never saw enough time to get a chance to shine. After the Saints brought in veteran Jared Cook to help bolster the Saints passing attack, there isn't much potential for Arnold to become fantasy relevant. He's undersized at 222 pounds to provide any kind of impact in jumbo/red zone personnel, and he's too slow (4.68) to separate consistently from defenders. Josh Hill remains on the roster, leaving Arnold for TE3 duties at best. He's an easy drop if roster room is needed.
Jonathan Stewart

, RB, Free Agent

The Jonathan Stewart era in New York is over before it ever began. The Giants brought Stewart in during the 2018 offseason and then used the second overall pick on Saquon Barkley several weeks later. New York has elected not to exercise it's 2019 option on the 32-year-old. Teams are likely going to prefer the potential of the incoming rookie class over Stewart's veteran services coming off injury.
Pierre Garcon

, WR, Free Agent

Garcon was a popular value pick last offseason in San Francisco. There was little competition for him to compete for targets and the 49ers upgraded their quarterback situation substantially with Jimmy Garoppolo. The Garoppolo train was derailed due to injury before it ever got started and Garcon wasn't far behind him joining him. Garcon has now had a severe neck injury and knee injuries cut his last two seasons short. Now well over a month into free agency, there doesn't look to be much of a market for the soon to be 33-year-old wideout. The 2019 rookie class has quality depth that may keep Garcon off a team until late summer (or for good).
Martavis Bryant

, WR,

Raiders

I hate putting a guy on here for non-football reasons, but after three suspensions due to the league's substance abuse policy, I'd rather have the empty roster space at this point in Bryant's career. Bryant remains suspended indefinitely by the league and is tough to keep a roster space occupied with his name over the potential of an incoming rookie.
Vernon Davis

, TE, Washington Redskins

The days of Vernon Davis being a fantasy contributor are likely over. Sadly, the market for backup tight ends on teams with terrible quarterbacks means there isn't much value to be had here. You can likely cut Davis outright without fear of someone scooping him on the waiver wire. He'd be a tough sell to get anything back in return.