How to Win DraftKings Showdowns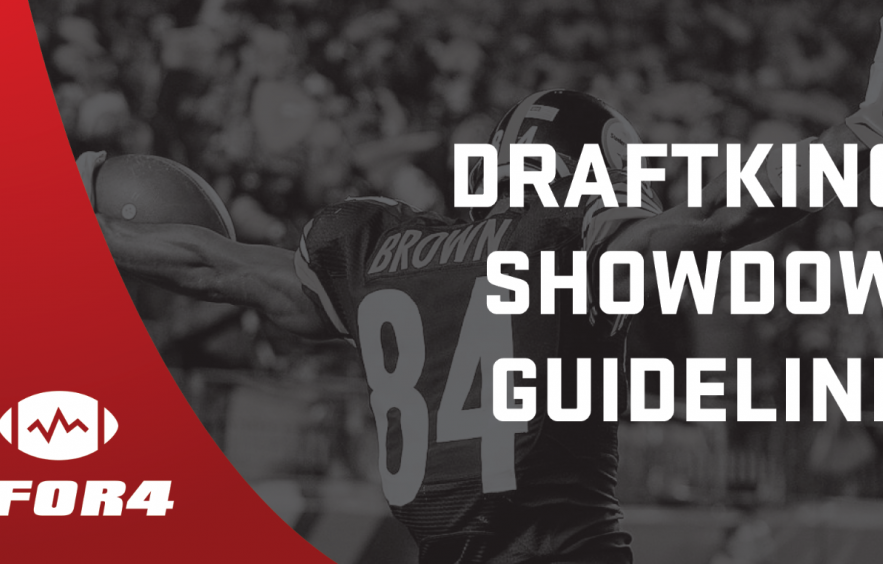 General Rules
In DraftKings showdown contests, you pick six players from a single NFL game and fill out your $50,000 salary cap roster. You must have at least one player from each team. Each roster is made up of one captain and five flex spots. The captain spot gets his fantasy points multiplied by a factor of 1.5 but you also pay 1.5x his normal salary.
Picking a captain
The most important part of your build is the captain spot. Since they receive 1.5x the points and cost 1.5x the salary, it is important to nail your selection. When selecting a captain, there are a few important things to consider:
What format are you playing? - The optimal captain depends heavily on whether you are playing cash games or GPPs as well as the size of the GPP that you are in. We will go into that a little later.
Price - While you would think that you simply want to take the player who is going to score the most fantasy points, you really need to take the price of your captain into consideration. If you use a captain who is $17,400, for example, you will be left with $6,520/player. This will often hamper your ability to roster other high-priced players.
Floor - Since the captain takes up a higher percentage of your salary, you want to make sure you are getting a high floor to lock in fantasy points. In showdown, you can overcome a bad game from one of your players (since most players hover around 40–60 percent ownership), but if the bad game is in your captain spot it will leave you in a huge hole.
Cash Game Lineup Construction
Similar to full slates, lineup construction differs between cash and GPP. In cash game,s you should generally try and get four studs and two value plays into your lineup (This obviously slate dependent). Quarterbacks often have the highest floor, so it is a priority to get both quarterbacks onto your cash team. On a full slate, there are typically 2–3 strong value plays across a slate of 9–10 games, which makes it difficult to find strong value in showdown slates. Although everyone hates kickers, they are people too. People who just so happen to come with a pretty high floor that is perfect for cash games. Kickers are typically priced at about $3,000-$3,500, which is only about 6 percent of your salary cap. Let's take a look at a Jaguars/Cowboys showdown from Week 6 of the 2018 season:
The most expensive kicker is Josh Lambo at $3,600 and he is averaging about the same amount of DraftKings points per game as the Jaguars defense and Cole Beasley but Lambo is at least $1,000 cheaper than both plays. Kickers are priced in the same range as third, fourth, or even fifth options from offenses. Using a kicker in cash, while scary, often offers you lineup flexibility to be able to fit up to four studs into your lineup.
In the example below, by using a kicker as my captain, I was able to get four of the five most expensive players and build the highest-floor team possible. Many owners will often fade a play like Dak Prescott in showdowns because they put too much value on the matchup against a tough defense, but a quarterback on a one-game slate is almost always going to be one of the highest-floor plays.

Speaking of defenses, they are almost always in play for cash as well. They will typically be priced around the same price as a kicker. Unlike a kicker, defenses come with more upside because they have the ability to score touchdowns.
It is also much more important to monitor injury news on showdown slates compared to full slate DFS games because players lower on the depth chart are in play. Players can be priced as cheap as $2,000, and become valuable pieces in games full of high-priced plays. These last-minute plays typically are not safe enough for cash, but there are scenarios where a cheap player is expected to step into an important role on a high-powered offense that makes it worth the savings.
GPP Lineup Construction
In GPPs, there are a couple of important things to consider when building your lineup:
Pick a high-ceiling captain - while it is important to get a high floor player in your captain spot in cash, it is more important to find a high ceiling in GPPs. If a wide receiver goes for 35 DK points, you are not going to be able to compete in GPPs without him. Scared to use a wide receiver in cash because of high average depth of target and volatile weekly output? He's the perfect selection for the captain spot. Since kickers have a relatively low ceiling, they should be avoided in the captain spot.
Stack with your captain - If you are using a wide receiver at the captain spot, you should be using their QB in the flex. If you are using a QB at captain, pick a pass catcher or two to stack him with. If these players are going to hit their ceiling game, they aren't going to do it alone.
Tell a story - Similar to a game stack on a full slate, you want to tell a story with your team. Give yourself a path to a ceiling game. Is it going to be a shootout between both teams where they both throw 40+ times? Get as many pass catchers as possible and both quarterbacks on your team. Do you project one team to get up big early and then run the ball? Use pass catchers from the team you project to be trailing and the running back from the team trying to run out the clock. This narrative should largely be built around who you decide to use as your captain.
Leave salary on the table - This is a popular strategy on most short slates for GPPs. With a limited player pool, there are often ties at the top of GPP's. It is programmed into players heads that they have to use as much of the salary cap as possible. Never be afraid to leave salary on the table, as it will give you a unique lineup construction and a chance to be atop the leaderboard alone. Don't be timid about it either. As seen below, a viable GPP lineup will sometimes use less than 90 percent of the salary cap.