TJ's Take: Week 4 NFL DFS Recap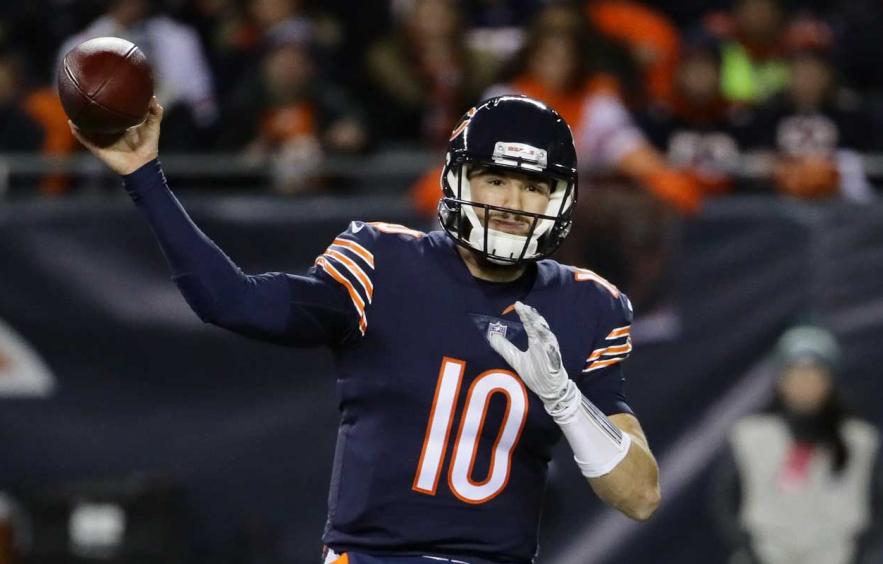 Reviewing your own hits and misses each week is imperative if you want to be a profitable DFS player but examining winning lineups is also a useful exercise in cultivating a winning approach. Week 4's winning lineups from the biggest contests on FanDuel and DraftKings can be used to tease out lineup-building strategies and offer clues on how you could have landed on a similar team.
This is a free offering in our weekly content contained in the 4for4 DFS subscription. To get access to all of our weekly DFS analysis, sign up here!
DraftKings Week 4 Millionaire Winning Lineup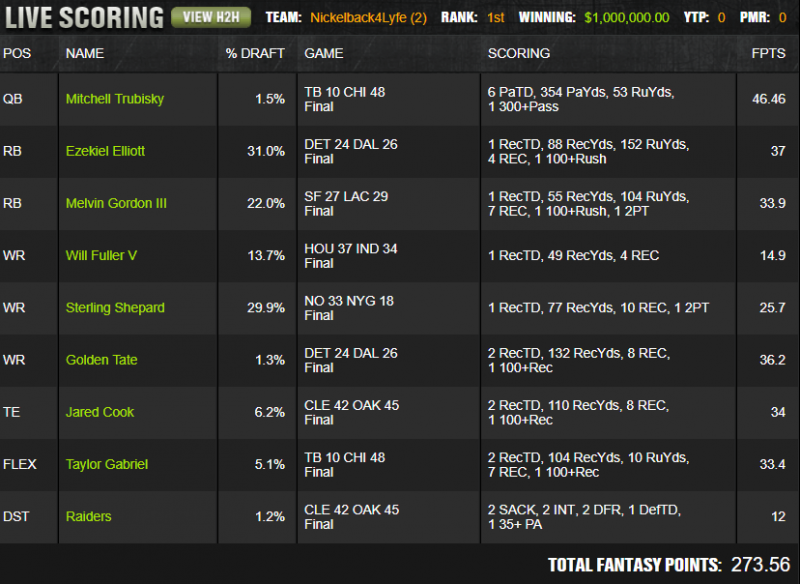 Nickelback4Lyfe rode a Rockstar performance by Mitch Trubisky to a million-dollar payday, balancing a handful of chalk plays with multiple players rostered on fewer than 10 percent of lineups. Running back is the most predictable position so if there is a spot to go with the grain, that's often the place, as the Photograph of this winning lineup shows us.
Probably the most notable aspect to this lineup is the heavy fade of the most popular games of the week, namely the Falcons/Bengals and Giants/Saints games. Early in the season, games with the highest over/unders have met and exceeded scoring expectations but Someday Vegas has to be off. Big Game Profiles highlight the importance of building lineups that don't always focus on games with the highest over/unders. This doesn't mean completely fading those games—Matt Ryan and Andy Dalton were two of Nickelback4Lyfe's most popular quarterbacks within his 49 lineups and he had plenty of exposure to Saints and Giants players. For those playing multiple lineups, though, it's important to remember to take an antifragile, or barbell, approach to both lineup and portfolio construction.
What Were the Indicators for the Low-Owned Plays?
It's Gotta Be Somebody who blows up against a Tampa Bay defense that, going into Week 4, ranked just 20th against quarterbacks in 4for4's schedule-adjusted fantasy points allowed (aFPA) and 29th against receivers. Through three weeks, only five defenses had allowed more touchdowns and two defenses had allowed more scores through the air than the Buccaneers. Allen Robinson was a relatively popular industry value and ended up nearly 12 percent owned in the millionaire but Taylor Gabriel made for a cheap leverage play. Gabriel was coming off of a 10-target performance in Week 3 and with Anthony Miller out, Gabriel carried a top-two leverage score at his position, as highlighted by Pat James in his weekly Ownership Analysis.
A week like Golden Tate had is How You Remind Me to follow the volume. In Week 4's Slate Breakdown, I highlighted the importance of Tate's top-10 target volume, especially on a full-PPR scoring site. Despite his volume, Tate was the third-most popular receiver on his own team.
Jared Cook led the Raiders in targets going into Week 4 but his targets had also waned since Week 1. To that point, Oakland had a different target leader every week, so going back to Cook at some point was inevitable. With tough matchups for Raiders receivers, Cook popped as a top-two value at his position.
In his weekly streaming article, Mike Woellert reminds us to target rookie quarterbacks whenever possible and that's because they have a propensity to turn the ball over. Since fantasy scoring for defenses favors turnovers so much, it can be a viable strategy to target turnovers, even if a defense is susceptible to allowing points.
FanDuel Week 4 Sunday Million Winning Lineup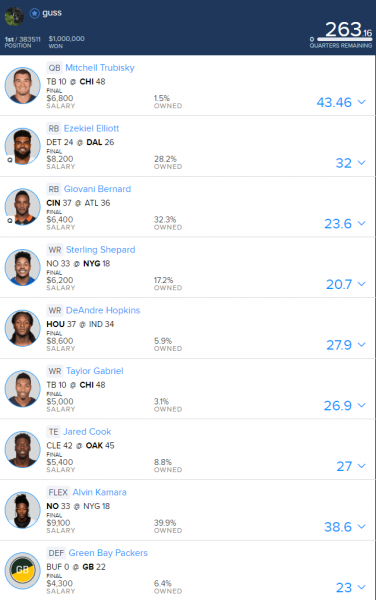 guss also rode a Trubisky/Gabriel stack to take down FanDuel's weekly main event. Similar to DraftKings, DeAndre Hopkins was an unpopular play despite his teammates, Deshaun Watson and Will Fuller, commanding double-digit ownership. While it's often wise to go with the chalk at running back, this is a perfect example of why fading popular receivers can be profitable. We know that wide receivers don't need perfect conditions to put up big games, especially the expensive, high-volume ones. Because wide receiver is so volatile from week to week, even among the top players, a player like Odell Beckham is almost never four times as likely to put up a big game as Hopkins but the most popular plays will often be rostered in four-to-five times as many lineups, as was the case between those two in Week 4.
The Bills reminded us that they are, in fact, the Bills. Green Bay went into the week ranked 27th in total aFPA to opposing offenses and Buffalo still couldn't manage to score a single point. Few defenses ever reach double-digit ownership but the Vikings' flop against the Bills in Week 3 kept Green Bay's ownership largely in check against an offense that DFS owners should be targeting on a weekly basis.
TJ's Final Take
DFS scores have been noticeably higher this year. On FanDuel, for example, my opponents averaged about 113 points in main slate head-to-head games at the $1–$5 level last season—through four weeks this year, that average is roughly 142 points. With a flex position replacing the kicker, we should have expected a bump in scoring but it's not just FanDuel. Scoring is up across the industry. Every DraftKings Millionaire winner has scored more than the winning lineup average score in 2017.
Are games getting tougher? Probably. But there's also another factor at work here. Popular plays seem to be hitting at an extremely high rate. There aren't enough data points this early in the year to compare 2018 to other seasons in terms of the success rate of chalk plays, but the impact of the chalk hitting is higher scores, especially when the chalk is high-priced, high-volume players like Alvin Kamara. Football is a high-variance game and the chalk simply can't continue to dominate scoring. Even the best football prognosticators are only right about 60 percent of the time and the public—which is represented in the form of ownership percentages—is wrong more often than not.
Hoping that scoring normalizes is a very passive approach, though, and doesn't address the possibility that the public is simply identifying the best plays more accurately than we've seen in the past. If that's the case, then DFS players should be thinking about lineup differentiation in every format, not just in GPPs. In cash games, this might mean embracing a more volatile approach to lineup construction and foregoing the highest-floor possible strategy that has largely been the norm. Ideas such as stacking and looking for correlation plays do theoretically lower the floor of a single lineup up but could start proving critical methods to get ahead of a game shrouded in groupthink. To be clear, I'm not saying we should often be looking for low-owned plays in cash games but finding spots to be unique is an important aspect to any format, especially if the average player is becoming more skilled.
Photo by Jonathan Daniel/Getty Images.