Is Trey Burton the Next Travis Kelce?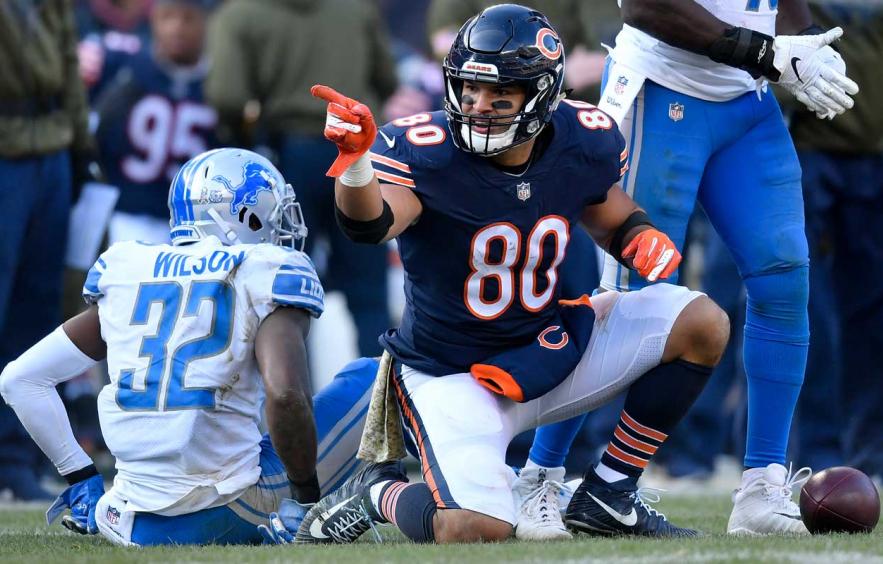 The Chicago Bears raised a few eyebrows when they signed Trey Burton to a four-year contract worth $32 million, with $22 million guaranteed. It was more guaranteed money than Jimmy Graham got from the Green Bay Packers ($18 million), and the most guaranteed money since Julius Thomas and Charles Clay got $24 million apiece back in 2015. (Thomas scored 24 touchdowns in his previous two seasons, while Clay caught 127 passes for 1,364 yards and 9 touchdowns in the same two-year span, so they had proven themselves by the time 2015 free agency rolled around.) Clearly, by making this sort of an offer to Burton early in free agency, the Bears confirmed that they covet his skill set.
Editor's Note: Find all our 2018 Player Profiles here.
Let's connect the dots: Burton was undrafted back in 2014 because he played multiple positions at the University of Florida and was a late bloomer at tight end. If a bit undersized, he is fast and agile for the position, checking in at 6-foot-3 and 235 pounds, while running a 4.62 40-yard dash. Looking at his game speed data at airyards.com, his speed compares to that of Travis Kelce and Zach Ertz at similar distances. He's not quite as big as either of those players, but Bears head coach Matt Nagy confirmed he would play Kelce's receiver/tight end hybrid role in his offense:
"It's an important role," Nagy said. "It's easy to create some plays for. And when you have a guy that has the size that Trey has and the speed that he has, it's about mismatches."

Burton's size can beat smaller nickel backs, while his speed can be a problem for larger players, i.e. linebackers.

"That's one of the things that I learned through coach (Andy) Reid is getting mismatches throughout, and that's what Trey does," Nagy said.
Burton only saw 32 targets last year, but he made them count, catching 23 passes for 248 yards and 5 touchdowns. His 2.51 fantasy points per target (FP/T) was the second-highest among all tight ends with at least 30 targets. His career FP/T (1.70) is roughly equal to the average FP/T (1.69) of the nine tight ends not named Rob Gronkowski, Kelce, or Ertz who finished in the top 12 in 2017, so the real question is will Burton get the number of targets necessary to finish as a TE1?
The aforementioned group of nine tight ends averaged 93.0 targets last year, so if Burton sees that sort of volume and maintains his career FP/T he's looking at a No. 8 finish at his position.
His primary competition for targets will be Allen Robinson, who was signed to be the Bears' go-to receiver, but Burton figures to be ahead of Taylor Gabriel, Anthony Miller, and Tarik Cohen in the pecking order. The Bears' eagerness to pony up $22 million guaranteed also indicates that he's a big part of Matt Nagy's plans.
Bottom Line
Burton's stock is certainly rising as more and more fantasy analysts are touting him as a good value at his position. He's currently the 12th tight end off the board. I have him ranked No. 10 in PPR formats, and I believe he has upside from there. With Hunter Henry out for the year, Burton will be my primary tight end target in the middle-to-late rounds. If I don't land Kelce or Ertz in the first four rounds, Burton will be my Plan B.
Photo by Quinn Harris/Getty Images.
---
Related Articles