Raybon's Review: What We Learned From Week 3 DFS on FanDuel & DraftKings Analyzing the prior week's results is one of the most valuable investments of your time as a DFS player. In this space, I will deconstruct the winning lineups from FanDuel and DraftKings' biggest GPPs. I will also list general DFS takeaways from the past week.
DraftKings
Winning Week 3 Millionaire Maker Lineup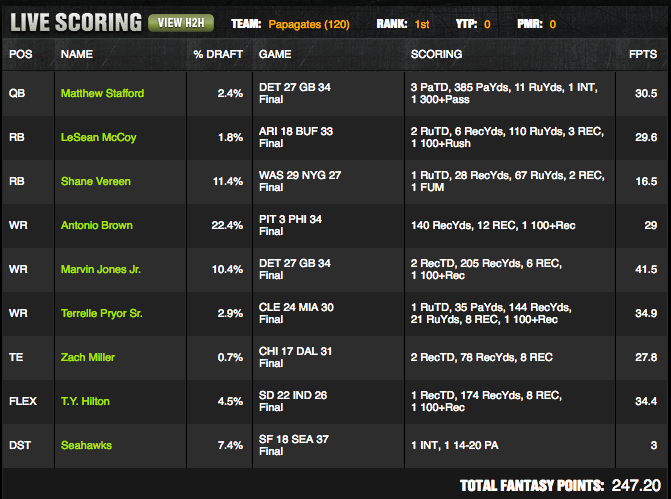 A couple of things stand out in PapaGates' lineup, with the first being that he exploited the opposing passing game correlations I discussed in The Definitive Guide to Stacking on DraftKings. Opposing QBs and WR1s are correlated, making the Matthew Stafford-Marvin Jones stack a nice leverage play off the Aaron Rodgers-Jordy Nelson stack at lower cost.
The other thing that stands out is PapaGates did what looks like an excellent job of reacting to late-breaking news. While it's possible he intended to play Shane Vereen and Terrelle Pryor all along, it's more likely that he inserted them on Sunday morning after the news broke that Vereen would start with Rashad Jennings out and Pryor would take reps at QB. Reacting to late-breaking news is tricky, as you can easily get caught up in overreacting and tinkering too much with your lineups. However, both Vereen and Pryor represented low-cost investments, and ownership for both was held in check because not everyone checks or adjusts based on Sunday morning news. PapaGates also made the right call by not reacting to the news that the Lions-Packers game would be rainy and windy. When you see late-breaking news, ask yourself how you can best leverage it, and if you can't, don't make any changes. In the case of Vereen and Pryor, there was leverage to be had in potentially getting high-volume players at low ownership. On the other hand, in the case of potential poor weather in Green Bay, if your process led you to identify the players involved in the game as strong plays, the best way to react would be by not reacting, leveraging the fact that the players' ownership will likely be reduced because other DFS players will remove players in that game from their lineups.
FanDuel
Winning Week 3 Sunday Million Lineup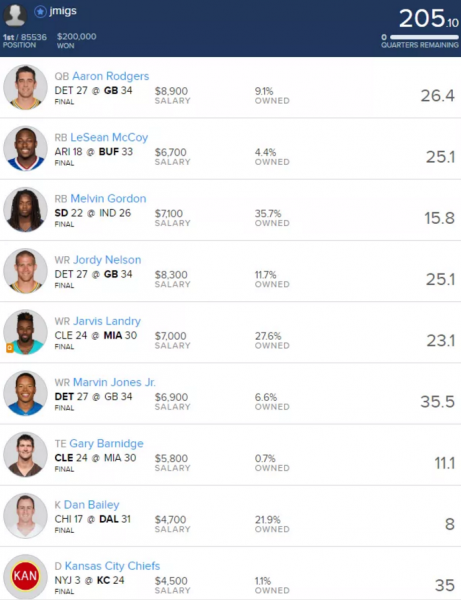 Jmigs won the Sunday Million by utilizing opposing passing game correlations, using the more popular Aaron Rodgers-Jordy Nelson stack paired with Marvin Jones in the same game, which worked out beautifully, as Rodgers and Nelson connected for two scores early and then Jones went bonkers when the Lions went into comeback mode.
This lineup is consistent with my research of winning lineups that revealed that one chalk play tends to be okay at RB and WR.
Give 4for4's TJ Hernandez some props for writing up LeSean McCoy in his Week 3 FanDuel GPP column; TJ astutely noticed the reverse line movement could be favorable for McCoy.
The Chiefs defense was a key play in this lineup. Many times, certain defenses that fit the ideal profile (home favorite) will go overlooked because of a matchup that is deemed average. The Jets were coming off a huge offensive game the week before, but sometimes that's what you want: a team that isn't afraid to put the ball in the air. Just as RBs need touches and receivers need targets, fantasy defenses need to see pass attempts in order to rack up sacks and interceptions.
Quick Hitters
Recency bias continues to be strong driver of DFS ownership. In the Millionaire Maker, Stefon Diggs was in 21% of lineups and Kelvin Benjamin was in 14% of lineups. Both were coming off back-to-back big games, which for some reason held more weight than the fact that each was going up against one of the NFL's top defenses. Benjamin was held without a catch, while Diggs was held to a pedestrian 4-40 line. NFL teams watch the last few games of their current opponent closely, so back-to-back big games will put a defense on high alert, and the better defenses usually devise a plan aimed at taking out a player who has been performing well as of late, forcing the opposing offense to beat them some other way.
Volume trumps efficiency at RB, and Carlos Hyde ended up being a nice contrarian play, putting up 103 yards and 2 TDs on the Seahawks at a price of $4,400 on DraftKings. It was Hyde's second 100-yard, two-TD game this season, one coming in a blowout win and the other coming in a blowout loss, so Chip Kelly is obviously willing to ride Hyde late no matter the game script. Despite the aforementioned performances, Hyde's DraftKings price has dropped every week this season, and is now down to $4,200 after opening the season at $5,600.
The Broncos having two 100-yard WRs that caught TDs against the Bengals is a reminder of how scheme can drastically affect a matchup and looking at defense versus position stats can at times be misleading. In the first two games, the Bengals were obviously most concerned with the opposition's WRs, and were able to hold Brandon Marshall, Eric Decker, and Antonio Brown all under 40 yards. In Week 3, the Bengals seemed to employ a defensive game plan centered around stopping the run and forcing Trevor Siemian to beat them through the air. The Bengals held C.J. Anderson to a 14-37 rushing line and the Broncos to 52 total rushing yards on just 23 attempts, but Siemian was able to make them pay, attempting 35 passes and racking up 312 yards.