Rushing Expectation: Spencer Ware vs. Charcandrick West - Be Open to the Potential for Greatness A good majority of people, before they even clicked this link, were probably thinking, "Wait, but what about Jamaal Charles?!"
To those people, let's get one thing out of the way early. I love Charles, I hope more than anything he comes back this year from yet another ACL tear to be the player we have grown accustom to watching.
All I am asking is to open your mind of the possibilities surrounding a potential breakout talent waiting in the wings on the same team. No, I am not talking about Charcandrick West; I'm talking about the guy to own in this entire backfield is without question: Spencer Ware.
We're going to try something new today with Rushing Expectation, so hopefully it goes terribly because it's twice the work for me. We are going to compare the results of both the aforementioned players behind Charles for two reasons. Talented players behind 29-year old running backs are always relevant, but more importantly, because Matt Waldman asked me to.
When the mastermind behind the Rookie Scouting Portfolio says something, you listen. It just so happens it led me to charting my favorite player to date; for that, thank you Matt. Full disclosure, Waldman has been pumping up Ware for years and deserves all the credit.
Defining Roles in the Kansas City Backfield
It doesn't happen often that we get a decent sample size of data from the number-two and number-three options in a backfield in the same season. What is even stranger is that Kansas City actually improved after Charles went down, going 10-1 down the stretch after a 1-4 start.
Both Ware and West signed identical two-year extensions worth 3.6 million this offseason, effectively shutting the door on the relevance of Knile Davis. It is entirely possible, if not probable, that the Chiefs will reduce Charles workload early in the season coming off this injury.
West has a skillset that more closely mirrors Charles' if he were to go down, though West is prone to overthinking instead of reacting behind the line of scrimmage. Ware could be a better compliment and have standalone value as a between the tackles, goal line grinder.
The Chiefs have leaned heavily on Charles in the red zone over the past few season but Ware's productiveness in this area could lead to more opportunities in 2015.
Ware's frame of 5-foot-10', 230-pounds, and his punishing running style led him to five scores on seven carries within the 5-yard line. This was the most efficient of any running back in the NFL with at least 10 red zone carries last year. The red zone role is especially important for fantasy purposes on Kansas City as they have finished first, third, and fifth over the past three seasons, respectively, in rushing touchdowns.
To say Ware was more efficient than Charles last year will surprise some, but what is even more significant is Ware tied for first in the entire league in yards per carry among running backs with at least 50 carries.
Yards per carry can be a stat that is highly skewed by big plays, which is why I use Success Rate. But even from a Success Rate perspective, Ware's smaller sample size concerns are completely alleviated in my eyes. He made consistent gains that helped the offense and wasn't dependent on big plays like West.
Rushing Expectation
Attempts and Targets
It is time to jump into the two players Rushing Expectation. Let's take a quick peak at how Ware and West differed as far as what lane they took on their rush attempts and what kinds of targets they received in the passing game.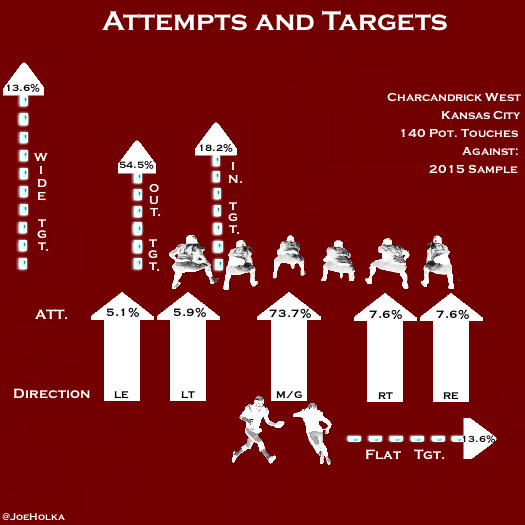 I wont spend too much time on alignment data. Trust me I would love to, I think it's really interesting, but my editors tell me that no one wants to read a 2500-plus-word article on alignment data.
One thing that stands out is I charted both players with an extremely high distribution of runs through the middle lane, which includes runs behind the center, left guard, or right guard.
Ware is a technically sound, physical runner with elite strength paired with unique power and leg drive at the point of attack.
In comparison, West has solid strength characteristics who is capable of running inside, though it is not his strength.
West out-targeted Ware 22-6 in these samples. With that said, the vast majority of West's targets came through on the outside, at 54.5%.
It is being reported that Ware has "caught a lot of passes" in OTAs. This is an encouraging development, as I found his receiving ability to be above average even in a limited sample size. Ware showed a good ability to make adjustments on the football in tight coverage and catch the ball with his hands. This could even become a factor in the red zone as well, as Ware could be an asset on short flat routes or even with his back to the quarterback.
Success Rate vs. Expectation
The backbone of this methodology is the Expected Success Rate (eSR) metric. We use this to attempt to separate running back skill from offensive line play, as well as get a better idea of where a player exceeded or fell below expectation in 2015.
Let's jump back into our Ware versus West comparison: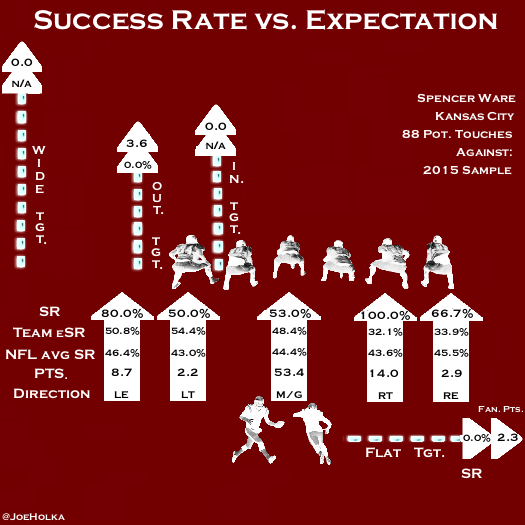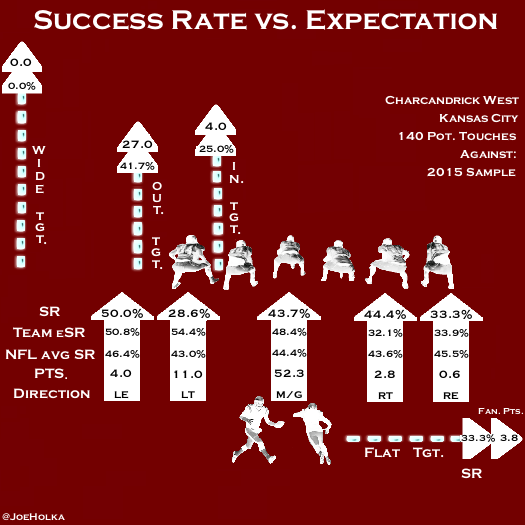 The overall eSR for a running back for the Chiefs in 2015 was 46.5%, the fifth-highest expectation in the league and above the league average SR of 44.3%. They also performed very well in pass protection with an eSR of 44.9% per target at the running back position.
As you can see, Ware vastly outperformed West through every single running lane. West fell below expectation on four out of five lanes, but most importantly through the middle (-4.7%). In comparison, Ware performed above expectation by 4.6% through the middle lane, a huge difference between these two behind the same offensive line.
Ware charted well above the league average through all five rushing lanes, and well above expectation in all but behind the left tackle, where he only saw 4.9% of his total rushing attempts.
Ware had an extremely small sample size in the passing game, so I am not weighing these SR scores against him heavily in my overall analysis.
Rushing Expectation
The overall Rushing Expectation results highlight not only the comparison to West, but also how impressive Ware's season was in general.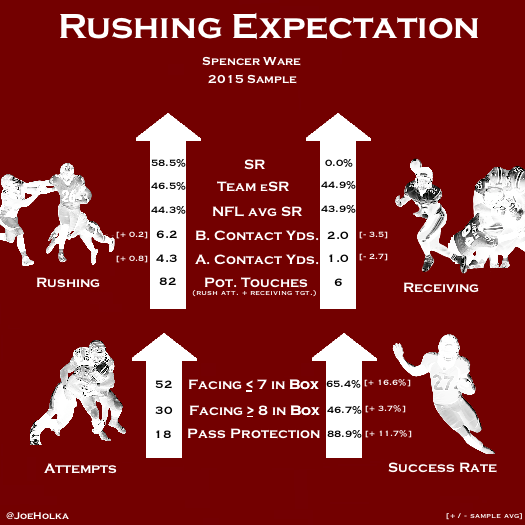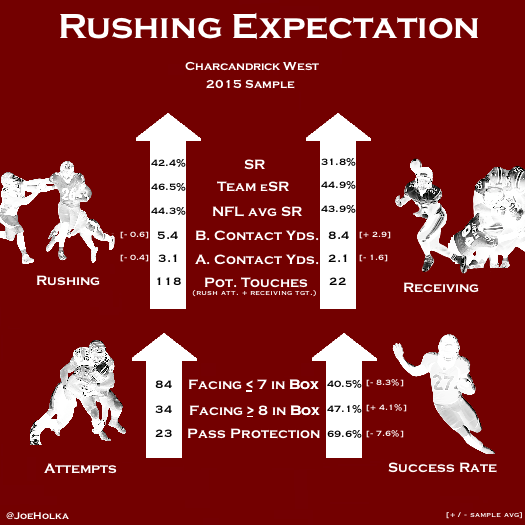 Ware performed above expectation in his 2015 sample by 12.0% in the run game where West fell below expectation by 4.1% behind the same Kansas City offensive line.
This put Ware number-two overall in the rushing category for my methodology, behind just Ryan Mathews (18.6%), who had a much lower expectation behind a poor Eagles offensive line. Ware's overall SR was higher than Mathews' by 6.9%.
Before contact yards are a big part of my philosophy on what constitutes a great feature back. The best example of this actually comes from Charles in this same backfield as he continuously leads the pack in this category according to PFF. Charles is the kind of player that makes his offensive line look better through his vision and agility, not the other way around.
Ware's 5.4 yards before contact put him one spot behind the top 25 percentile of my initial 20-player sample. West might be a bigger home run threat than Ware, judging by his big play skewed numbers in the passing game, but Ware's agility behind the line of scrimmage is highly underrated.
Ware's athletic ability is very good and his hot-running, short area quickness is rare. He displays quick feet, low pad level, second effort, and rare balance, all of which are huge components of an excellent short-yardage runner.
West has very good breakaway speed (4.4 forty at the combine) and is definitely faster than Ware. That said, Ware still has solid burst and had four carries of 20+ yards last season. I am finding more and more that as long as a player has baseline speed other things then come into play that are much more important. Just ask Arian Foster or Marshawn Lynch if speed should be a running backs primary weapon.
While on the subject of Lynch, yards after contact is an area where Ware is special. He finished second overall in this category from my initial my sample and Pat Thorman of PFF gave Ware a rousing endorsement back in March using their metrics.
Ware is one of the best runners I have ever seen working through contact and his pad level may be one of his strongest attributes. His elite level balance through arm tackles, wraps, size differential, are truly unique. Ware is consistently looking to punish anyone who dares come near him. He's a player who is going to put everything he has into every play and fight for extra yardage.
West did not earn much after contact. He was a full 0.6 yards below the sample average and doesn't tend to turn potentially negative situations into gains very often. West has average finish and solid balance but not in the same stratosphere as Ware in this category, though he's fine at break arm tackles and use his quickness to avoid defenders.
If the above isn't enough to put you on "Team Ware," this next sentence should put you over the edge. Ware had these ridiculous efficiency numbers facing eight or more in the box on 36% of his runs, or his overall numbers could have been even better. That was second highest distribution of total rush attempts of my initial sample against a loaded box. Against base sets, Ware's SR was 65.4%, which absolutely demolishes every other player I have charted and nearly 20% above the Chiefs 46.5% expectation.
Ware's mental processing skills are rare and his vision behind the line is very good -- he consistently avoids penetration to get positive yardage. He uses his quickness to move through tight spaces and make defenders miss even before he starts to run through tackles and contact.
West is adequate or below average as far as these same skills. However, West has shown the willingness to take what the line is giving him instead of bouncing plays outside too often.
I am willing to overlook "coach speak" at times early in the season. Chiefs coach Andy Reid has said recently that Ware needs to "improve in pass protection". I found that to be a strength of Ware's game, and intuitively this type of comment is actually a positive in my eyes. It means that Ware is actually being considered in passing situations. The fact that Reid is mentioning him at all in this way is bad news for West and great news for Team Ware.
The best way to describe Ware in pass protection is that he has a high level of competitiveness on every play. Even if he isn't positioned in the best spot to make a play, he is physical and shows no fear attacking what comes his way. Positioning is a teachable skill -- unlike competitiveness and heart -- which Ware has in excess.
2016 and Beyond
Ware isn't necessarily a household name for many people because of injury issues and DUI arrests in the past. It wasn't long ago that the Seahawks truly valued him in their plans before his second mistake off the field. From there he had a tryout with the Giants and ultimately ended up with the Chiefs.
Ware is a versatile runner that has proved he can be a feature back if called upon. Labeling Ware as the number-two back behind Charles shouldn't necessarily be a hot take at this point, and it looks like Ware's involvement in the passing game could increase as well.
Ware's floor in 2015 is significant short yardage and goal line work, but at least that gives him standalone value. The same cannot be said for West, and the long-term ceiling could be much greater for Ware if he continues to prove himself.
With Charles at 29 years old it would be wise of Reid to begin to think about the future, and the future is staring him right in the face with a No. 32 jersey.
Followers of Matt Harmon's Reception Perception will get this reference, but best case, Ware is on the verge of a massive breakout and is my 2016 running back version of Allen Robinson ... but he could easily be my Albert Wilson. For the love of God lets just hope he's not my Cordarrelle Patterson.
Still not a subscriber? Sign up here!
---
Related Articles