The 2014 Quarterback By Committee (QBBC) Matrix A fantasy owner who is following the Quarterback By Committee (QBBC) strategy will ignore the quarterback position on draft day until the middle or late rounds, and then take 2-3 QBs to form a committee that they can use throughout the season based on weekly matchups.
The QB position is probably the deepest it has ever been. This makes a committee that much more viable, as the QB2 group -- players ranked #13-#24 in our rankings -- is loaded with proven veterans.
While Quarterback By Waiver Wire (QBBWW) is also a good strategy, fantasy owners will want to consider a QBBC approach if the roster size in their league is relatively large (18-plus) or if the number of teams exceeds the 10- or 12-team norm. As the number of roster spots and/or teams in the league increases, the thinner the QB position becomes, and it becomes that much more difficult to find quality replacements on the waiver wire.
Below you'll find a table of the 351 possible combinations of the 26 teams with QBs ranked #7 to #32 in our preseason rankings. Each combination has been assigned a grade based on the duo's combined schedule, which is derived from our preseason Hot Spots report. Duos with an "x" should be avoided since they have the same bye.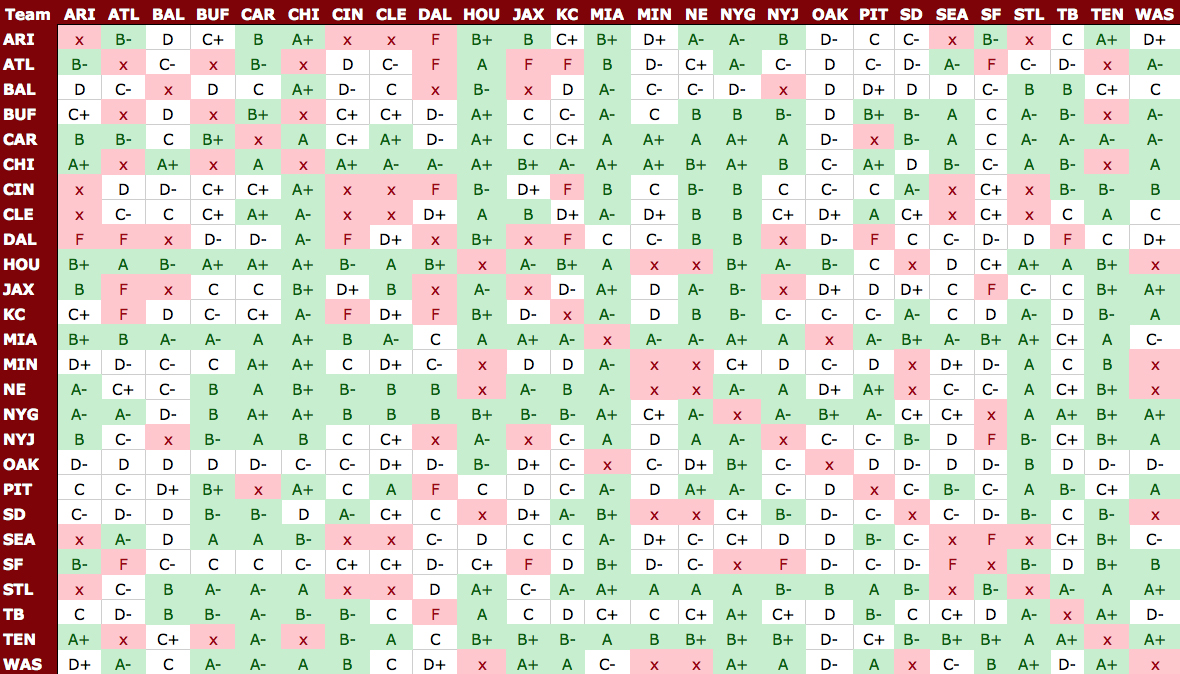 Keep in mind that preseason passing strength of schedule (SOS) is not as predictive as rushing SOS, so use these letter grades loosely as a guide. If you like a pair of players, and their combined schedule is a "C" or better, don't be afraid to use that duo in a committee. However, if you're trying to decide between two different committees -- one "A" and one "F" -- you can be reasonably certain that the "A" committee is the better choice. Also, the grade only applies to the combined schedule, not to the players in question. For QB rankings, click here.

Building Around
Carson Palmer
Palmer was the #22 QB through eight weeks, but was #6 from Week 10 to Week 17, after the team's Week 9 bye. He confirmed that the offense started to click in the second half of the season, which explains the improvement down the stretch. He has one of the best WR duos in the league in Larry Fitzgerald and Michael Floyd, who had a breakout season in his second year, and the team is expected to use Andre Ellington in the passing game. Also, the defense has taken a couple of offseason hits and that may result in a higher pass/run ratio than last season.
The downside with Palmer is that he plays in a rugged division, and has to face the Seahawks and 49ers twice each. The good news is that one of those matchups falls in Week 17, after most fantasy leagues have wrapped up their playoffs.
His schedule meshes well with a number of interesting passers. The first is Jay Cutler, who has top 5 upside but is a bit injury-prone. Palmer would be a very solid backup in this pairing. One reason is that Palmer plays the Cowboys during Cutler's bye.
Ryan Tannehill, Eli Manning and Jake Locker jump out as possible (very cheap) QBBC combinations with Palmer.
There are five weeks that jump out as potential land mines for Palmer: Week 2 (@ NYG), Week 3 (vs. SF), Week 4 (bye), Week 12 (@ SEA) and Week 16 (vs. SEA).
Building Around
Ryan Tannehill
Through the first 15 weeks, Tannehill was the #12 QB in fantasy. Unfortunately, he stunk it up in the final two weeks of the season, posting just 286 yards to go along with one TD and three picks in the final two games combined as the Dolphins skidded out of a playoff spot. Josh Freeman's 2012 late-season swoon was similar, but the Dolphins are more committed to Tannehill than the Bucs were to Freeman. The arrival of OC Bill Lazor (from Philadelphia) should help. The players are raving about the new offense.
Tannehill's schedule meshes well with just about everyone since he doesn't have any (projected) tough matchups on the docket. Eli Manning looks like a particularly good pairing with a matchup against the Falcons during Tannehill's Week 5 bye, the Cowboys in Week 7 (when Miami plays at Chicago) and the Cowboys again in Week 12 (when Miami plays at Denver).
Building Around
Alex Smith
Smith posted the #12 average (17.3 PPG) on the season. Prior to the Chiefs' Week 10 bye, he averaged 213 yards and 1.0 TD. After the bye (and including the playoffs), he averaged 253 yards and 2.6 TD. That's 22.7 PPG -- for reference, Drew Brees averaged 22.6 PPG in 2013.
Smith is a little tougher to match, but Tannehill, Cutler, Rivers, Sam Bradford all pair pretty well.
Other Options
Owners who don't want to build a committee around Palmer, Tannehill or Smith shouldn't fret. There are plenty of opportunities to build a QBBC around virtually any passer going in the 7th/8th round or later. Here are a few that jump out:
The easiest way is for owners to pick out a couple of QB2s that they like and see how their schedules match up.
Three-Man Committee
Owners who elect to go with a three-man committee should be able to find a mediocre-to-favorable matchup each week, so they don't need to worry too much about the matrix, though it's not a bad idea to start with a duo with a decent grade and then add a third QB to the mix.